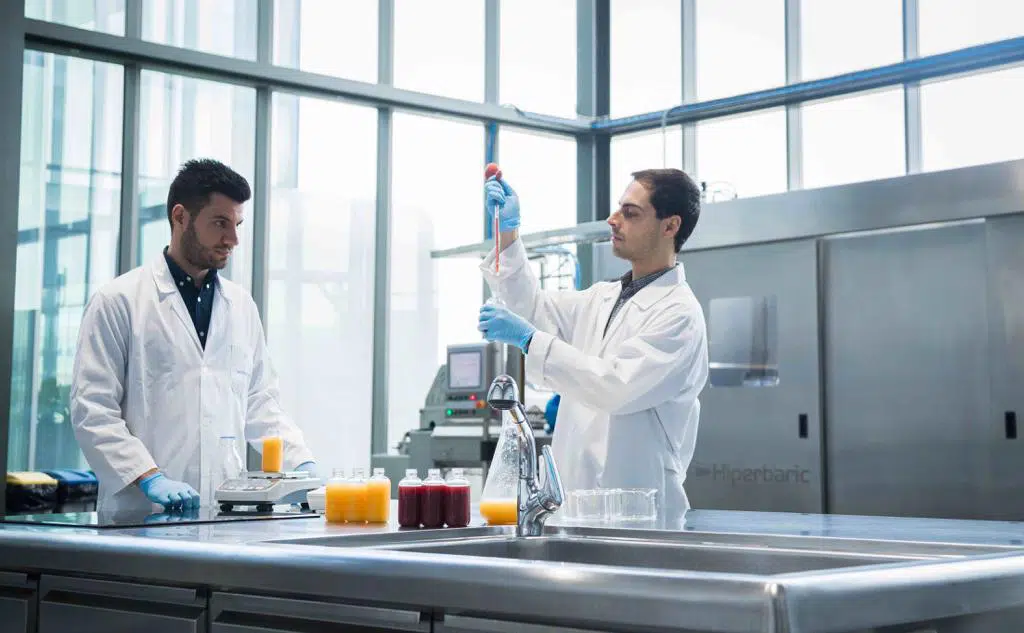 HPP Academia Network includes institutions in Europe, USA and Canada, that are committed to research and technology for additive-free and safer products through High Pressure Processing (HPP).

The network of partners has HPP industrial equipment for testing, product validation, work and meeting space, educational services, and offers business planning and consulting.

The Academy is the only initiative of its kind in the world, created by Hiperbaric, the world's leading manufacturer of high-pressure technology equipment.
Burgos, 15 de febrero de 2022 (Spain)
To drive the development of High Pressure Processing (HPP) and improve food quality and safety, research centers, universities and laboratories around the world have joined forces under the umbrella of HPP Academia Network. This network of collaborators, created, promoted and led by the Spanish company Hiperbaric, the world's leading manufacturer of high-pressure industrial processing equipment and based in Burgos, seeks to bring this technology closer to the food industry through a combination of consulting, technical advice and industrial development services. 
The network is made up of 20 universities, research centers and laboratories from countries in Europe, the United States, Canada and Asia that own HPP industrial equipment and help individuals and companies to conduct research, develop new products and launch businesses related to food and high-pressure processing.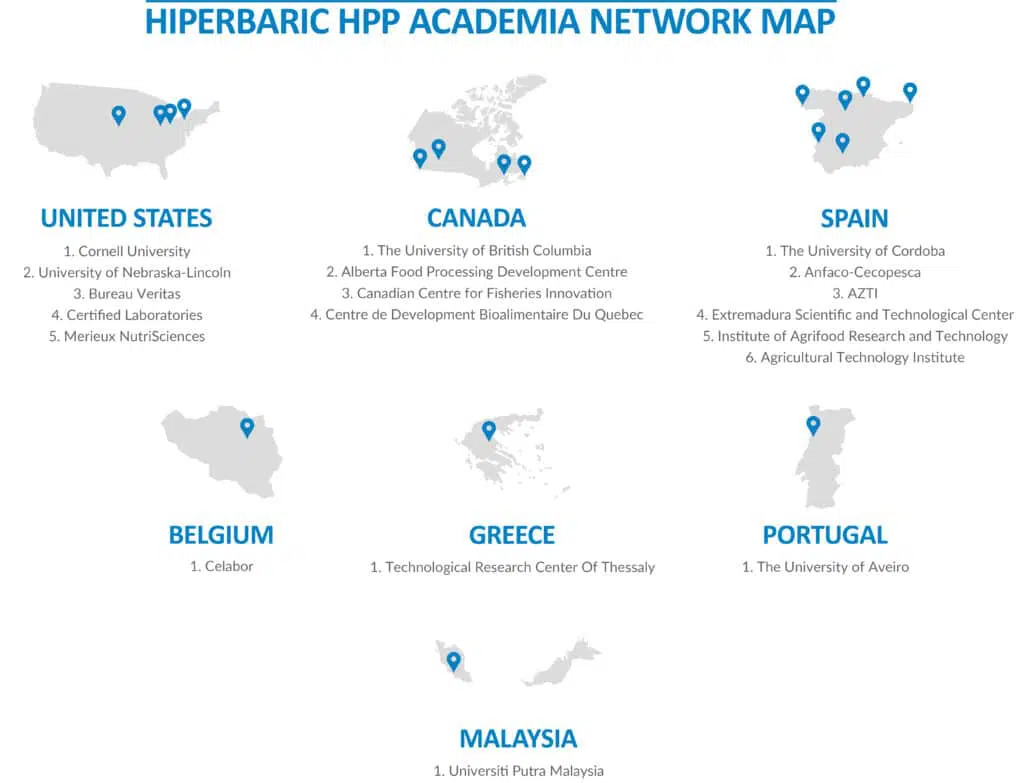 The partners own HPP equipment for testing, have complete equipment available to the food industry for testing different product formulations and ingredients, and offer classes and workshops. In addition, they provide microbiology services, including pathogen and shelf-life studies, and offer planning and support to companies researching a new product with HPP applications to bring to market. The industries that use cold pressure in Spain are mainly juices and beverages, avocado products, fruits and vegetables, meat products, maquila, fish and seafood, preparations and dairy, baby food and animal feed.
Among the Spanish collaborators are the University of Cordoba, the Institute of Agri-Food Research and Technology (IRTA), the National Association of Canned Fish Manufacturers (Anfaco-Cocopesca), the Center for Scientific and Technological Research of Extremadura, the Agrarian Technological Institute and the Marine and Food Science and Technology Technology Center (AZTI).
Other European organizations that make up the HPP Academia Network are the University of Aveiro in Portugal, the Celabor technology center in Belgium and the Thessaly Technology Research Center in Greece.
In the Americas are the Cornell AgriTech Food Research Laboratory; Bureau Veritas; Certified Laboratories; Mérieux NutriSciences; Cornell University, Pennsylvania; and the University of Nebraska-Lincoln. Canadian institutions are represented by the Canadian Fisheries Innovation Centre; the University of British Columbia, the Alberta Food Processing Development Centre and the Quebec Agri-Food Innovation Centre. Finally, Asia is represented by the Malaysian Research University.
'Hiperbaric was born more than two decades ago from an R&D project, and since then we have been involved in more than 20 research projects to improve food and its processes. Currently, 25% of the staff is involved in R&D processes. For all these reasons we were encouraged to launch the HPP Academia Network with the aim of creating a global network to help more companies and initiatives to conduct research, develop new HPP products and start new food-related businesses," explains Andrés Hernando, CEO of Hiperbaric.
Clean Label, safe and sustainable products 
Cold Pressure or high pressure processing is the food and beverage industry's response to the growing social demand for additive-free, safer and more sustainable products. It is a method based on applying high levels of water pressure of up to 6,000 bar for a few seconds or minutes, which inactivates the microorganisms responsible for food spoilage and preserves the nutritional characteristics of the fresh product. The cold-pressure preservation technique replaces preservatives and colorants or thermal and chemical treatments, prolonging the shelf life of foods and maintaining their nutritional values. It also extends their shelf life, allowing them to be exported to new markets and helping to reduce food waste.
This sector, with hundreds of producing companies in USA, Europe and Asia, will grow by 75% in five years, with an average annual increase of 15%. In 2020, 1,800 million kilos of products were treated under HPP processing in the world, and the trend marks an average annual increase of 15%, which determines a very favorable future for this production sector by means of an innovative technology that increases the sanitary quality of products by prolonging their shelf life, maintaining their nutritional and sensory characteristics and eliminating the use of preservatives and colorants.
In Spain, meat companies such as Campofrío, Noel or Espuña; avocado products companies such as Paltavo, Frutas Los Cursos or Caña Nature; beverage companies such as Originia Foods and Delafruit; and fish companies such as Profand, among others, use this technology.