The compression of hydrogen at high pression can be applied to various different sectors, particularly to new means of sustainable mobility. At Hiperbaric, we develop hydrogen compressors and offer our engineering and technical advice service to companies, research centers and any public or private entity that wishes to carry out a project related to H2 compression.
MOBILITY AND H2 FUELING STATIONS

HYDROGEN FOR THE MOBILITY OF THE FUTURE
Renewable or green hydrogen is one of the most viable and attractive solutions to replace the current transport and energy industry models. Thanks to this, sustainable mobility projects will be able to continue advancing in the future thanks to hydrogen. In addition to promoting the use of emission-free cars (only water and water vapor are released through the tail pipe), vehicles propelled by hydrogen already have the same range as many other saloons (up to 900 kilometers) and can be refilled completely in just 5 minutes.
The hydrogen storage and refilling infrastructure, or hydrogen stations, allow H2 mobility technology to be rolled out. These stations have the potential to process the hydrogen on-site or have it transported to the station ready-processed.
Before hydrogen can be used to fill a fuel cell vehicle, it first needs to be compressed using hydrogen compression equipment supplied by Hiperbaric. At the hydrogen stations, hydrogen gas that has been compressed at a high pressure is pumped into vehicles in a way that is quick, clean and safe.
Hydrogen stations are designed to provide services to cars using the road network. At these filling station, hydrogen is dispensed at a high pressure: 350 bar for use in buses and trucks, and 700 bar for use in saloons, offering the vehicle excellent range. Refilling is simple and agile, with complete safety guaranteed.
The time it takes to refill a hydrogen-powered vehicle is similar to the time it takes to fill a regular fossil fuel-powered car.
Read more >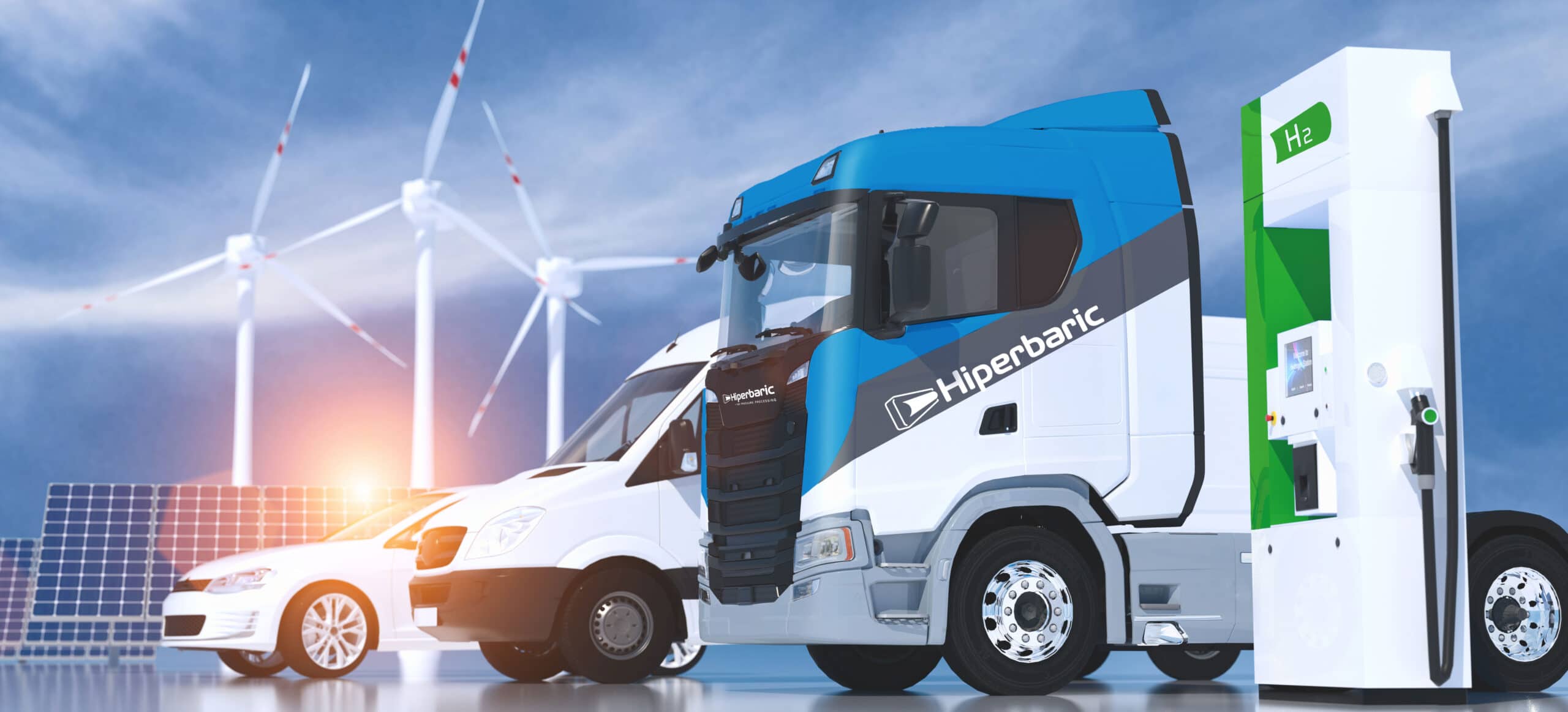 COMPACT AND EFFICIENT HYDROGEN
Storing H2 is one of the key factors to boosting the hydrogen economy. For decades, storing this gas has been a particular challenge, among other things due to its very low density, meaning that tanks with a huge volume were needed to store it, and also because it is a quite flammable gas.
Compressing hydrogen at high pressures is one of the most wide-spread, efficient, safe and sustainable methods of storing the gas. H2 is collected in high-pressure storage systems and containers, with typical pressure levels being between 200 and 900 bar, depending on the final use of the hydrogen. It can be stored as a gas in different types of containers, such as portable or stationary above-ground containers or underground caverns.
The main sector that benefits from storing hydrogen is sustainable mobility as a result of its use in hydrogen filling stations. Another one of the major uses of storing hydrogen is in solar and wind energy plants which accumulate surplus energy produced during the peak generation hours in the form of hydrogen so that it can later be stored and used during periods with greater energy demand, acting as an energy vector.
There are currently several different lines of investigation centered around storing hydrogen.
Read more >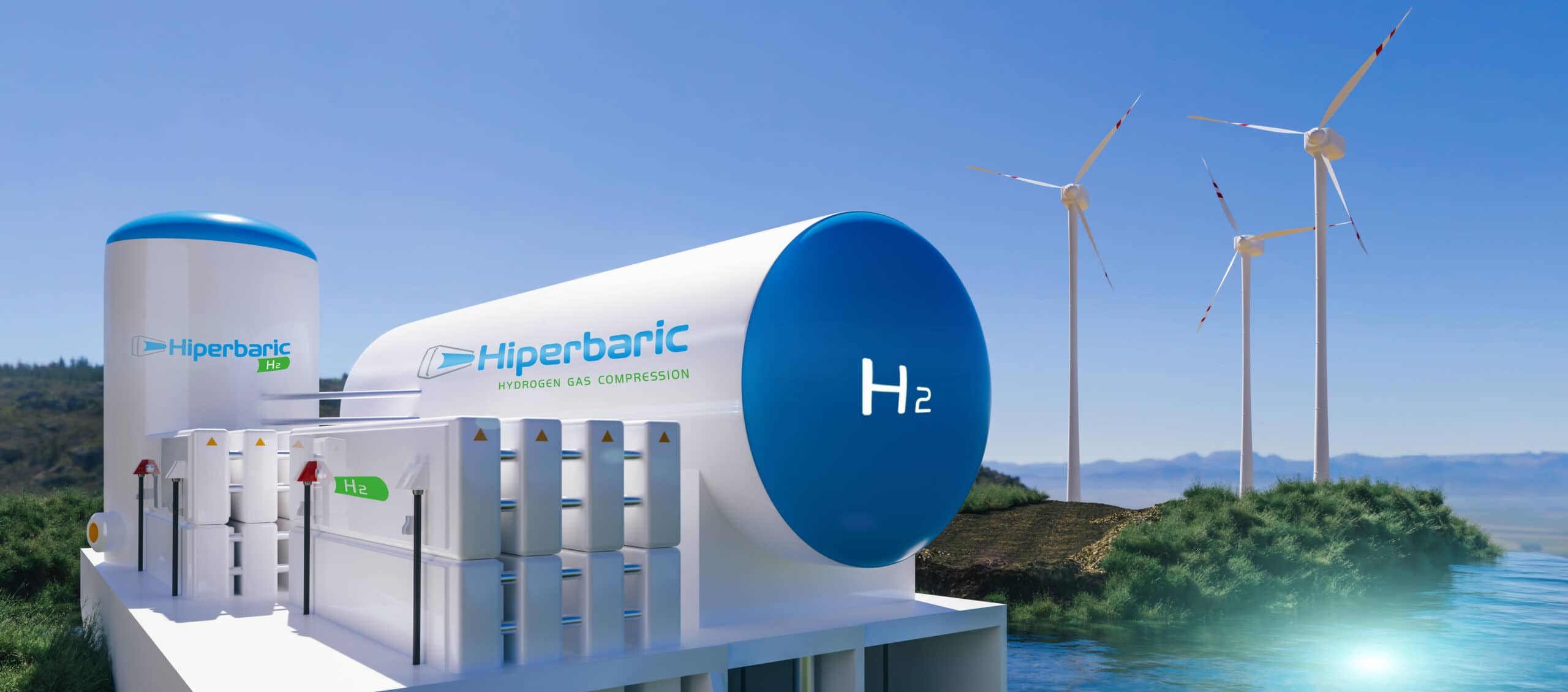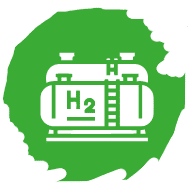 NEW LINES OF RESEARCH INTO H2
After several decades of researching production and usage techniques for renewable hydrogen, it has now realized its full potential as one of the fundamental elements to help us become carbon neutral by 2050, with many considering it to be a key factor in the decarbonization of the mobility sector.
Para que la economía del hidrógeno se haga tangible es aún necesario recorrer un camino marcado por la investigación y desarrollo de nuevas tecnologías, procesos y soluciones a lo largo de toda su cadena de valor.
Algunas de las líneas de investigación más mediáticas son aquellas relacionadas con el desarrollo de vehículos de pila de combustible con mayor autonomía y total fiabilidad. Sin embargo, un aspecto clave en la movilidad sostenible es la creación de una nutrida red de abastecimiento de hidrogeno y para ello es imprescindible desarrollar tecnología propia país en cuanto a producción, compresión y almacenamiento de este gas.
Hiperbaric se ha volcado en el desarrollo de una tecnología de compresión fiable y versátil, que permita crear sinergias con el resto de etapas de la cadena. Como ejemplo cabría mencionar que su amplio rango de presiones de admisión le permiten posicionarse tanto en la etapa de producción, pudiendo ser alimentado directamente de un electrolizador, como en la etapa de almacenamiento o de repostaje, ya que el rango de presiones de salida es también amplio.
Read more >