Baby Food and Fruit Purees
Baby food is one of the applications with the most growth potential in the HPP industry. Parents want to offer their little ones with the healthiest and most nutritional products, however, when they do not have time to prepare something in the kitchen, they have to grab products of retail shelves.
When this is the case, HPP products come out on top as the best solution to offer natural, healthy baby food products that are ready-to-eat. This cold preservation technology guarantees food safety without the need to add sugar or any preservatives.
HPP is an alternative to thermally sterilized baby food (recently marketed as ultra-processed) losing its color, aroma, flavor and significantly reducing its nutritional value.
Read more >
100% NATURAL PRODUCTS WITH A HOMEMADE FLAVOR PROFILE



100% Natural. HPP allows the development of natural, healthy and added-value products.
Clean Label. Reduces or eliminates the need to add sugar or any preservatives.
Minimally Processed. Refrigerated baby food that has a homemade fresh taste and an extended shelf life.
Premium Quality. Maintains the concentrations of vitamins, polyphenols and other bioactive compounds, as well as color, flavor and aroma by not applying any heat.
Food Safety. HPP technology inactivates foodborne pathogens and spoilage microorganisms such as Salmonella spp., coli, and Listeria monocytogenes, achieving a 5-log reduction.
Development of Innovative Products. HPP allows the development of innovative and ready-to-eat (RTE) refrigerated products such as fruit and vegetable puree and chunks, juices and smoothies, and other fruit and vegetable snacks.
Variety of Formats. HPP has a wide range of packaging formats that can be used, such as tubs, large bags, individual pouches, and much more.
HPP for Fruit Purees Scientific Information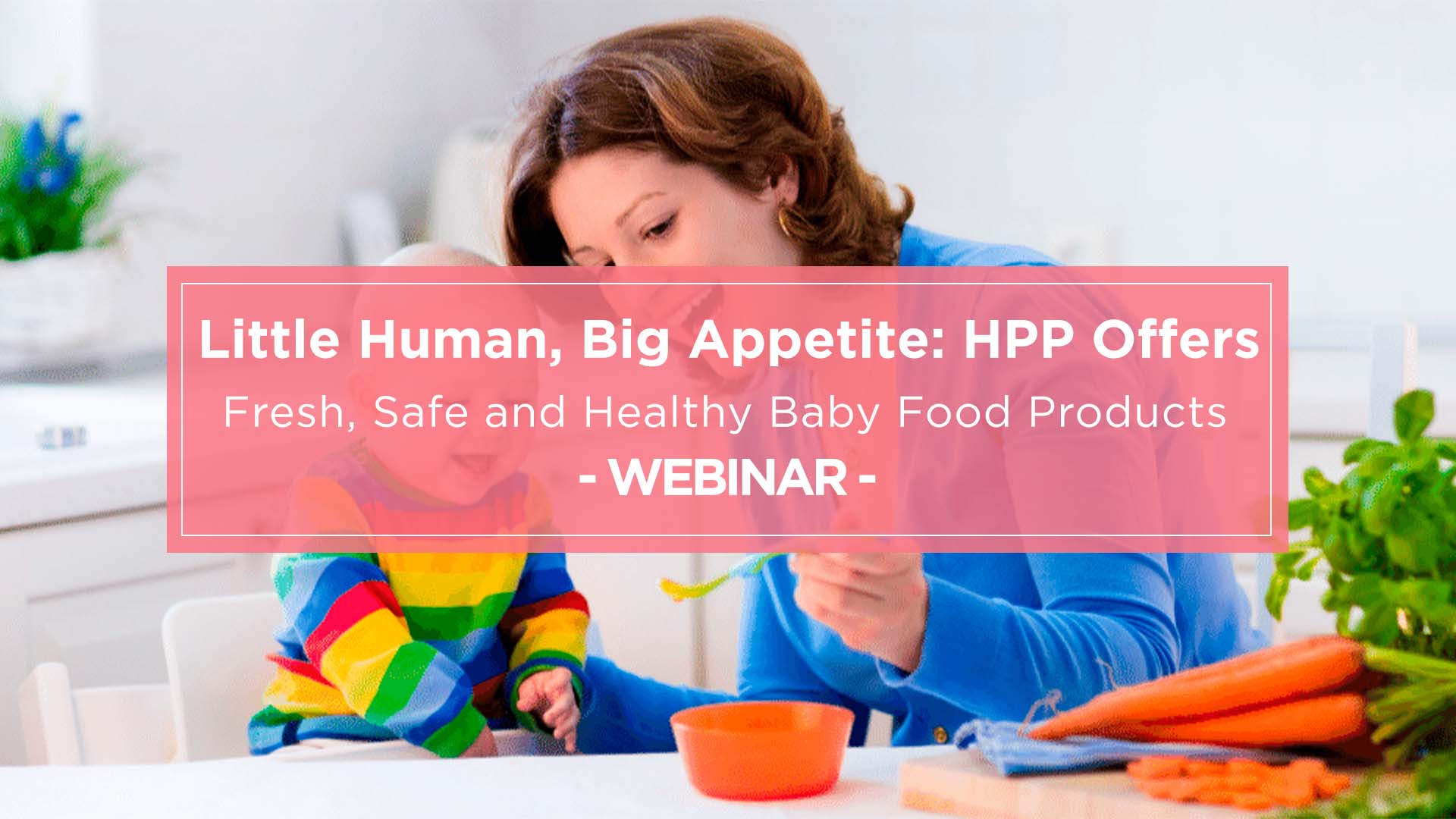 HPP for Baby Food Webinar
A great opportunity to discover why HPP is the future of baby food. It allows to preserve the nutrients, the flavor and the texture of fresh and first quality ingredients, while offering a 100% safe for the little ones. Mia & Ben and lil 'gourmets brands expose the multiple advantages this technology has brought them after implementing it.
You may also be interested in