Hot isostatic pressing (HIP) is a manufacturing process used to densify metal and ceramic parts. It is based on applying high levels of pressure (up to 2,000 bar / 200Mpa) and temperature (up to 2,000 °C) through an inert atmosphere to mainly metallic and ceramic parts and components, in order to densify them and give them excellent mechanical properties.
Improves the properties of critical components
Thanks to the densification of the structure, the material develops better mechanical properties such as fatigue life, resilience or ductility. In addition, these and the rest of the mechanical properties present less variability and better consistency, thus obtaining more reliable components.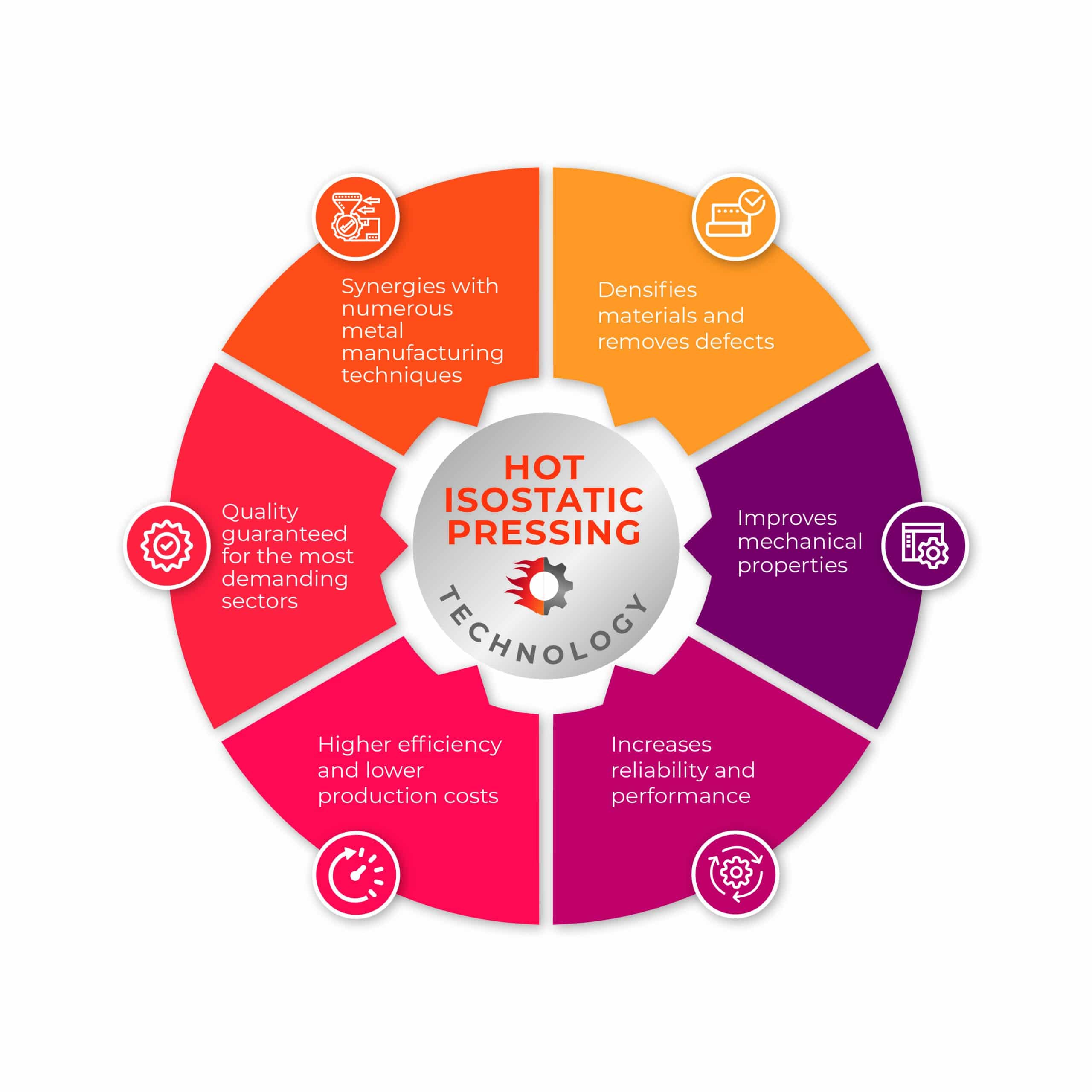 HIP processing is fully complementary and synergistic with different manufacturing techniques such as Casting; Metal Injection Moulding (MIM); Powder Metallurgy (PM) including Near-Net-Shape (NNS) forming; Diffusion Bonding (DB) and the different Additive Manufacturing technologies (AM).
It allows parts to be developed that reach the quality standards required by sectors interested in manufacturing precision components to be subjected to extreme working conditions. The aerospace, oil and gas, nuclear, automotive, medical implants, defense or industrial sectors are the main beneficiaries of HIP technology.
Improves material properties and performance:
Improves mechanical properties such as fatigue life, resilience or ductility.
Increases resistance to corrosion.
Produces parts with fine grain microstructure with good mechanical properties and without anisotropy, thanks to a homogeneous treatment.
Joins different metals without the need for adhesives that impose limits on temperature.
Reaches 100% of the theoretical density:
Eliminates porosities and achieves a high degree of material densification.
Eliminates internal and casting defects of materials.
Gives greater statistical consistency to high performance materials.
Improves reliability.
Allows defective parts to be salvaged, reducing scrap rate levels.
Enables lighter and/or more lightweight designs.
Increased production efficiency in manufacturing processes:
Reduces the requirements for quality control.
Optimizes the use of metal powder in additive manufacturing processes.
Allows the combination of different treatments in a single HIP cycle.
Cost saving:
Reduces material consumption thanks to the combination of different manufacturing techniques.
Reduces the number of defective components that otherwise would not pass quality control.
Reduces costs associated with quality controls thanks to the implementation of statistical control by non-destructive testing (NDT), reducing the number of units that need to be tested.
The Hot Isostatic Pressing (HIP) process is suitable for improving the properties of critical components produced from the following materials:
Aluminum alloys
Chrome-cobalt alloys
Copper-based alloys
Cemented tungsten carbide
Ceramics
Metal compounds
Intermetallics
Magnesium-based alloys
Titanium-based alloys
Magnetic materials
Metal matrix compounds
Nickel and cobalt based superalloys
Optical materials
Plasma spraying and other types of coating
Low and high alloy steel casting
Members of some of the most prestigious associations around the globe