Powder Metallurgy (PM) and Near Net Shape (NNS)

Near Net Shape (NNS) is a powder metallurgy manufacturing process in which powdered material is fed into a canister (container) previously manufactured by means of welded sheet metal. Once the metal powder with the desired composition is introduced, it is emptied and the canister is sealed. It is then fed into the HIP press, where the canister is deformed in a predetermined manner and the inner powder is densified. Finally, the canister is removed to obtain a part with a tolerance close to the final part.
SYNERGIES AND BENEFITS OF NNS USING HIP



HIP technology is crucial in the NNS manufacturing process. Several industries rely on this form of manufacturing to produce bulky components close to the final shape. The mechanical properties are consistent and equivalent to those of the wrought material thanks to a consistent, fine-grained microstructure.
The design of NNS components makes it possible to combine elements (e.g. fins on valve bodies) that would otherwise have to be welded together, increasing the risk of the part being non-conforming and raising the cost.
The products obtained by NNS can be easily inspected by UT-NDT (non-destructive testing by ultrasound), ensuring that the quality of the component is adequate in a straightforward manner.
Typical examples of HIP, Powder Metallurgy and NNS combinations:
A component manufactured by NNS and subsequently mechanized.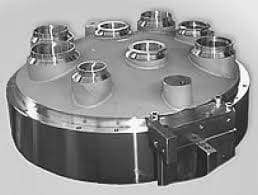 Other HIP manufacturing techniques