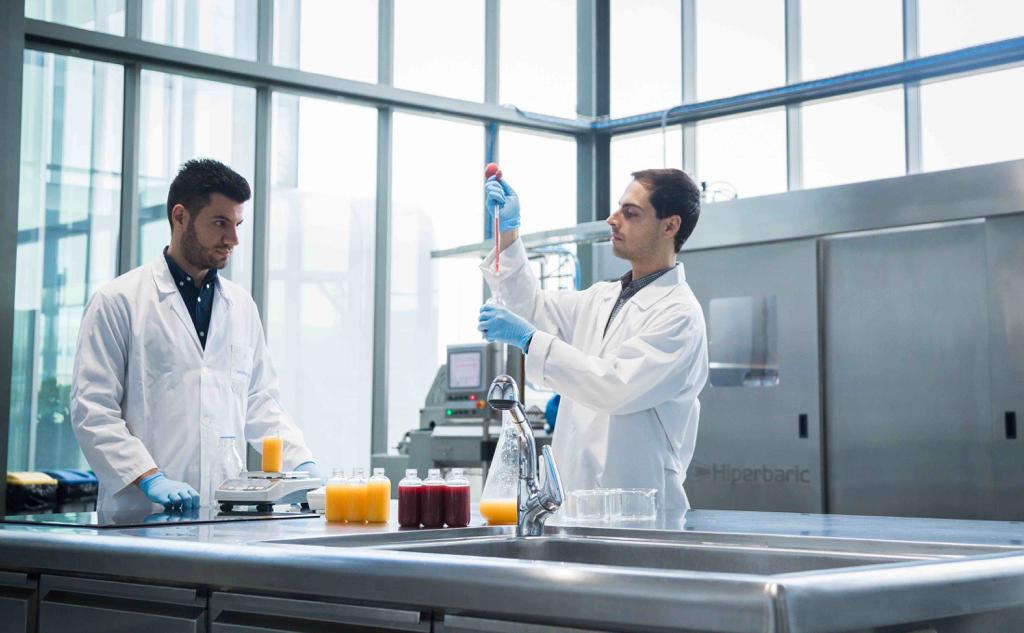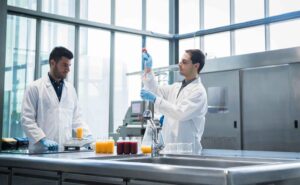 Hiperbaric takes pride in its continuous R&D efforts, which have paved the way to become the global leader in the HPP industry. This has been possible by collaborating with many R&D organizations in the food industry. Hiperbaric has an exclusive academia network that comprises universities, R&D, and lab testing centers. Many of them serve as a multi-disciplinary resource for the food industry, providing a combination of consulting, educational, technical, and business development services. Discover our HPP Academia Network in our upcoming webinar, "Meet our HPP Academia Network – R&D Driving Food Innovation" on Nov 24th at 12pm EST.
---
R&D is in Hiperbaric's DNA
Hiperbaric was born from an R&D project, therefore, it can be said that R&D is part of the company's DNA. Since the very beginning, the company has aimed to be at the forefront of HPP technology and now also to lead other industries related to high pressure technologies. To be able to achieve it, innovation has been present in every step of the process, making the Hiperbaric brand synonymous with innovative and reliable technology.
Our technological superiority is the result of a constant effort in R&D, in which we invest more than 10% of our yearly profit. We also dedicate more than 20% of the workforce to these functions and protect the results of our numerous projects. We have historically participated in more than 20 R&D projects and have invested more than 25 million euros.

Here are some of the most distinguished accomplishments Hiperbaric has achieved in the HPP industry thanks to the continuous R&D efforts carried out by the company:
First horizontal HPP unit in the market.
In 1999, Hiperbaric launched the first horizontal HPP prototype system, allowing the implementation of HPP technology at an industrial scale.
The most productive HPP unit in the world
We have developed the widest HPP system; which occurred twice in 2008 with the Hiperbaric 420 model and more recently, in 2014, with the Hiperbaric 525 system.
HPP Integrated Units
Hiperbaric is the only HPP manufacturer able to provide the largest models with the intensifiers integrated on top, reducing space and costs for the client.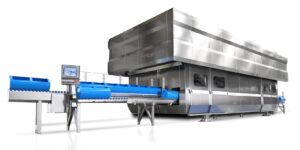 Quality and Reliability
The two key factors in the success of Hiperbaric, which have been endorsed by our more than 20 years of experience in the HPP industry, our specialization in the technology, and our constant R&D dedication. Our equipment meets the most demanding international standards and is characterized by its high reliability, with a guaranteed uptime greater than 95%. One of the main focuses of our R&D engineering team is to improve the reliability of the key components of our HPP units.
HPP In-Bulk Technology.
A global innovation for high volume processing of HPP beverages. It is a revolutionary concept (patent pending), in which beverages are processed in-bulk before bottling, simplifying the process and offering the highest productivity in the world, along with the lowest processing cost and lowest energy consumption. In addition, it allows the use of any type of container after HPP processing, regardless of material, design, or size. This technology has been recognized several times with international innovation awards.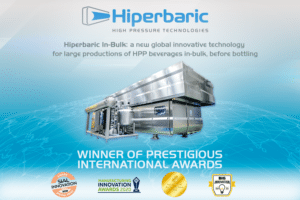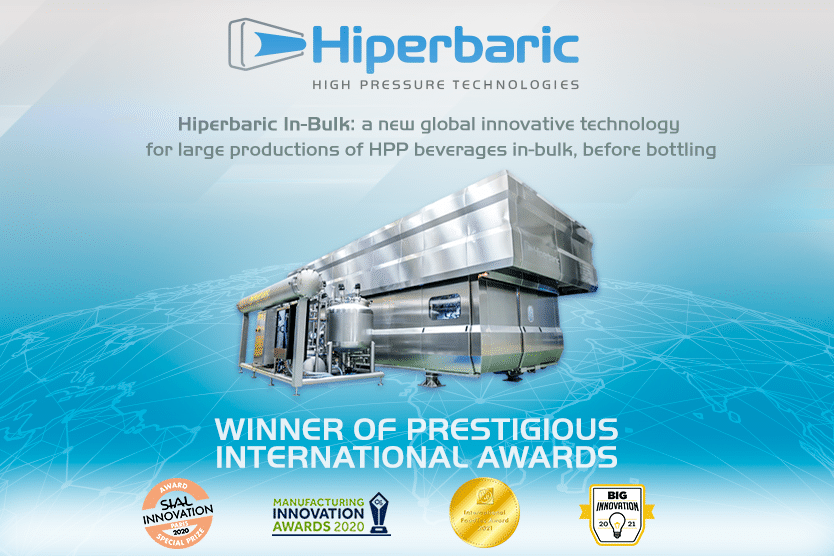 Multi-layer Yoke
Hiperbaric offers a solid yoke composed of several layers of stainless steel. Its excellent resistance withstands deformation caused by high pressure and the oxidation derived from water filtration. A trustful sign of its robustness and reliability is that every Hiperbaric equipment installed in the world during our 20 years experience (300+), keeps its original yoke with no reparation needed. This implies a cost optimization since it does not require annual revisions and avoids the installation of a new yoke that would provoke the complete stoppage of the machine. Thus, Hiperbaric offers a warranty with no limit of cycles.
Vessel
Hiperbaric vessels have a new design since 2013 which has led us to extend their operational lifetime, increasing their reliability substantially. Its resistance allows us to offer a warranty with no limit of cycles.
High Pressure Pipes
Hiperbaric is the only manufacturer who has developed a specific pipe system to stand high pressure with a proven durability of 50.000 cycles at 6,000 bar for 9/16" pipes. In addition, Hiperbaric designs its own high pressure fittings with an improved design and a longer lifetime.
Own Spares and Components
Hiperbaric manufactures 95% of the components to control its production process and to include them in its continuous improvement program in reliability. Furthermore, the absence of intermediaries and the economies of scale achieved allow us to offer extremely competitive prices.
HPP Return Conveyor
Hiperbaric is the only manufacturer that offers a return conveyor for HPP baskets, which reduces the cost of operation and increases efficiency.
Automation
Hiperbaric offers a full automated turn-key solution, including product handling, loading and unloading, peripherals that improve efficiencies, such as hoppers, post-HPP product dryers, and the customized product containers and baskets for each client to increase throughput.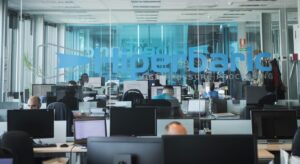 With this background, we consider it strategic to collaborate with all the R&D organizations involved in the food industry to drive food innovation based on HPP technology. This proactivity has allowed us to create our exclusive HPP Academia Network formed by universities, R&D, and lab testing centers.
What has been the result? To be one step ahead of our competition and help customers all around the world to launch innovative and disruptive HPP products.
About Hiperbaric's HPP Academia Network
Hiperbaric has an exclusive academia network that comprises universities, R&D, and lab testing centers. Many of them serve as a multi-disciplinary resource for the food industry, providing a combination of consulting, educational, technical, and business development services.
Generally, our academia network offers High Pressure Processing (HPP) testing, product validation, including shelf-life and challenge studies, shared or private commercial kitchens, a pilot plant, working and meeting space, educational services – including classes and workshops, business planning, support of a HPP process authority to comply with regulations, and referrals to outside services such as contract manufacturing, packaging, distribution and financing.

Our global HPP Academia Network helps individuals and companies with new product development, launching food-related businesses, and research activities.
Additional Support: Meet our Applications Team and HPP Incubator Program
The Hiperbaric Applications Team is comprised of PhD's and MSc's specialists in food science, food safety, and related areas who are process authorities and can provide industrial solutions concerning high pressure process, packaging, and products. Our Applications Team can provide support in both food safety assessment and new product development.
Food Safety Assessment
Helping you achieve your food safety objectives by:
Interpreting the most updated food safety regulations
Designing validation studies for HPP products
Interacting with food safety authorities around the world
New Product Development
Working together with you and your R&D team to create healthy and delicious foods:
Performing tests in our pilot plants in Burgos, Spain or Miami, FL
Recommending and testing suitable packaging
Optimizing processing parameters and formulation
LIVE WEBINAR: "Meet our HPP Academia Network – R&D Driving Food Innovation"
Join us in our upcoming free live webinar, "Meet our HPP Academia Network – R&D Driving Food Innovation", which will be held on November 24th at 12pm EST / 9am PST / 6pm CET (Europe).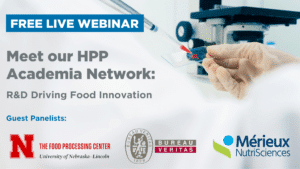 In the webinar, we'll discuss:
Introduction to Hiperbaric's HPP Academia Network and recent HPP innovations
Overview of HPP validation and shelf-life studies
The latest HPP trends and innovative applications
Live panel discussion with three of our HPP Academia Network partners
Guest panelists include Dr. Grace Danao, Research Associate Professor, University of Nebraska-Lincoln Food Processing Center, Greg Vallee, Sales Manager, Bureau Veritas, and Dr. Erdogan Ceylan, Fellow, Merieux NutriSciences.
The live panel discussion will be moderated by our very own, Dr. Vinicio Serment-Moreno.