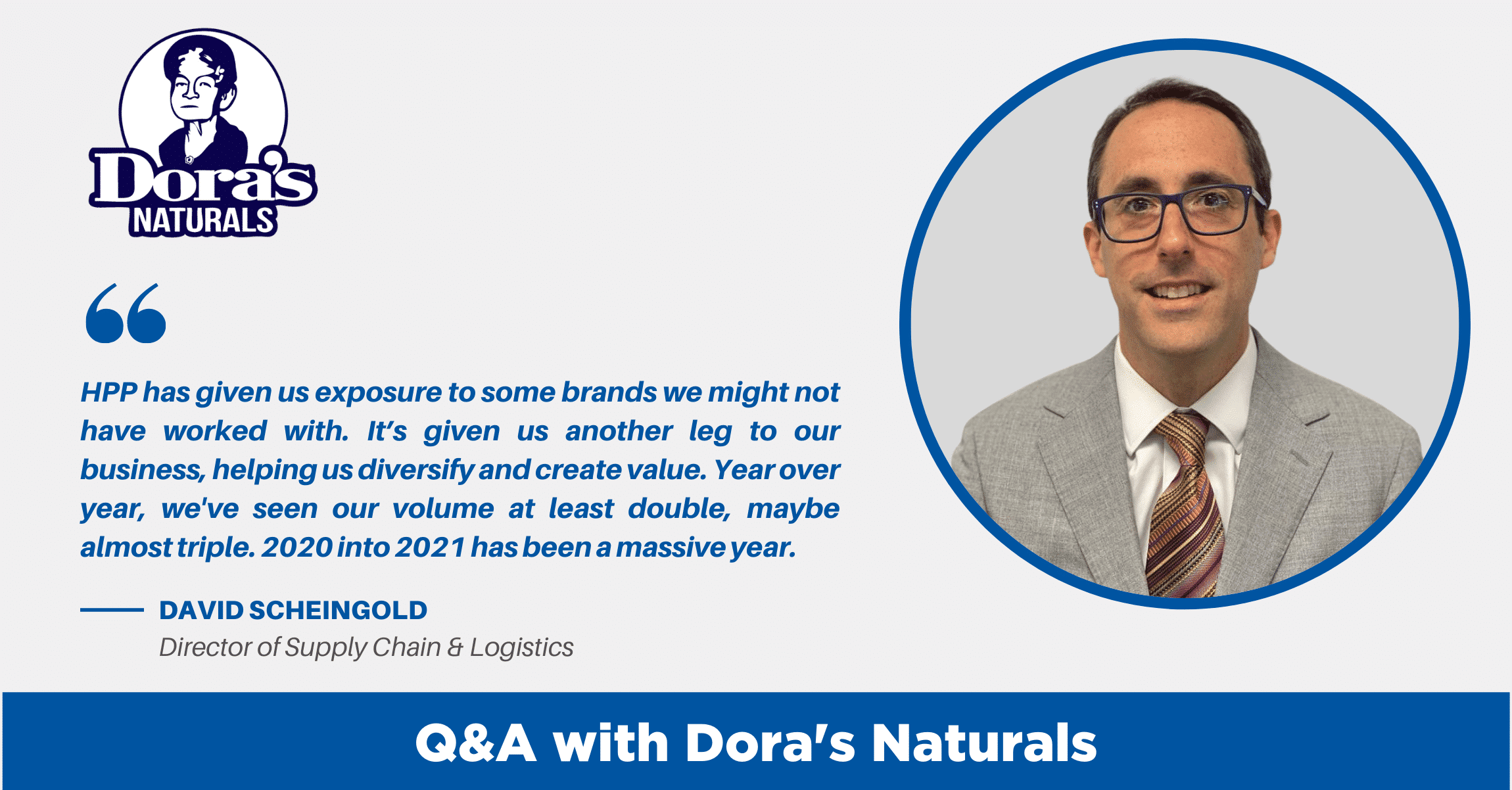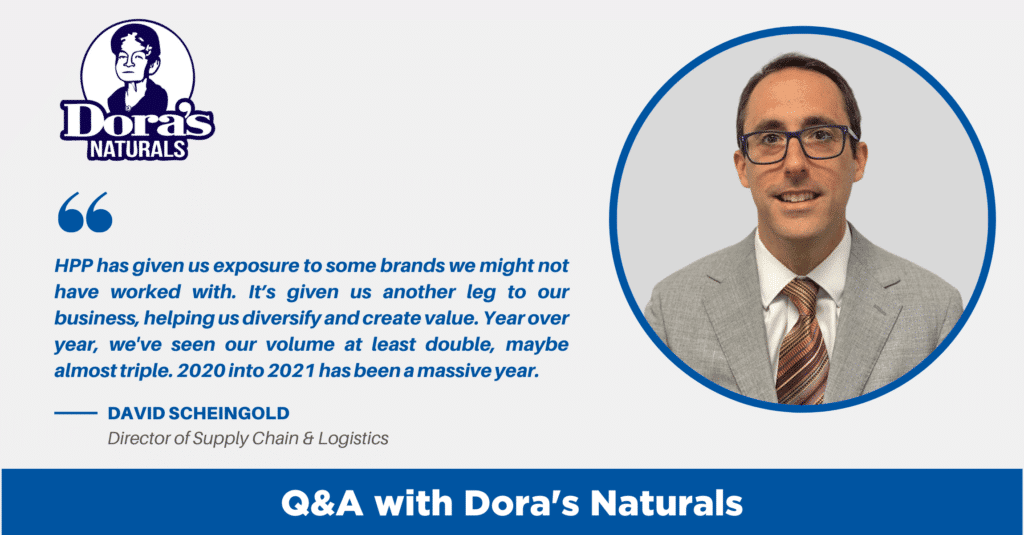 In this Q&A, we sit down with David Scheingold, Director of Supply Chain and Logistics for Doras Naturals, a high pressure processing (HPP) toller in Moonachie, N.J., which primarily serves the metro New York and tri-state area. David has been with the company nine years, starting with managing one division to today overseeing several areas in Operations and Sales.
---
About Doras Naturals
Doras Naturals is a privately owned distributor of natural and organic perishable products, cold pressed beverage co-manufacturer and high pressure processing (HPP) toller in New Jersey. Their mission is to provide quality, non-perishable, natural, organic, and specialty foods and beverages to retailers in the Northeastern United States at unparalleled service levels. In addition to logistic services to retailers and distributors, they also offer direct-to-consumer fulfillment services. A true one-stop shop.
Q&A with David Scheingold, Director of Supply Chain and Logistics
Q: Welcome, David. It's good to talk to you about Doras Naturals. Tell me about the origin of Doras Naturals name and how the company got started.
A: Our owner, Cyrus Schwartz, started in the organic milk space in the 1990s. He created a brand of organic milk called Juniper Valley, the name of the farm his great grandmother, Dora, ran in Queens at the turn of the century. When Horizon went public in 1998, they wanted to buy the brand because he had grown it to the No. 1 milk in the metro New York area and No. 2 in the country.
Horizon became our first distribution customer. We then added brands and focused on natural, organic, better-for-your products with functional benefits – products leading the healthy revolution we're seeing more people interested in.
Q: How did Doras Naturals get into the tolling business?
Many of our brands said, "You know what? My product is being made somewhere in New York City, and I'm buying bottles from Miami, and labels from Ohio. And then we're sending the bottles to Pennsylvania or Connecticut to be HPP'd and then back to you. And every time product moves, it's costing me five cents here, ten cents there. Would you consider doing HPP, high pressure processing?"
It was an interesting value proposition because we have such strong relationships with our brand partners. We thought, "If we can be a little more vertically integrated with HPP, we can provide additional value to our brand partners." As a test, in 2016, we purchased a 55-liter HPP machine from Hiperbaric as a proof of concept. Our brands liked the idea and others began to reach out.
As business grew, we purchased an additional building to house Hiperbaric's largest machine, the 525, which processes about 7,100lbs. per hour, and began tolling in 2018.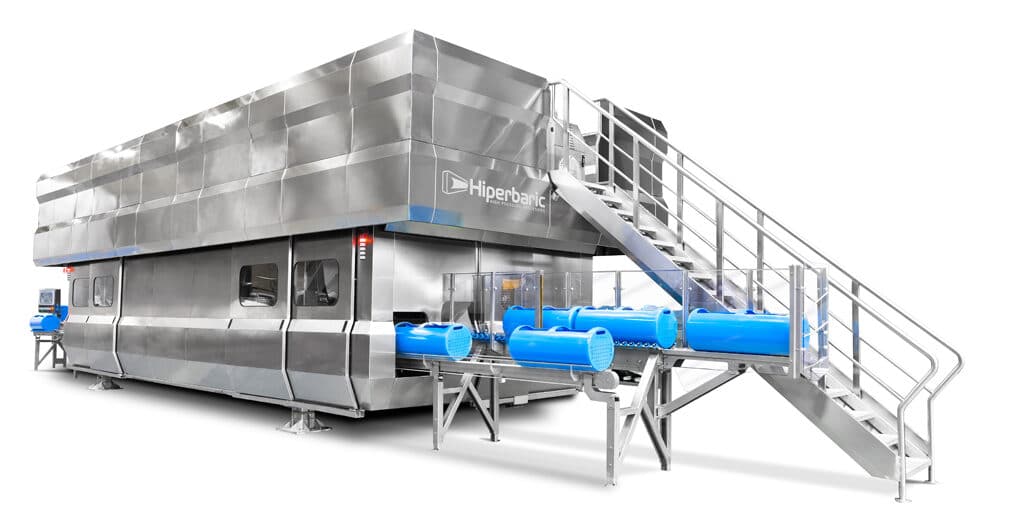 Hiperbaric HPP 525i L Unit
Q: How did the HPP tolling business grow for Doras Naturals?
A: We're a high-service, high-touch business. We're detailed-oriented and strive for excellent customer service. We provide quick turnaround, constant communication, and are nimble in processing custom orders.
As word got out, we started onboarding more and more customers, and the business grew. When we first started, we focused on juice, but in the last few years, we've added meat, pet food and sauces. We're always looking for new, interesting categories for HPP.
Q: What percentage of the business is still juice?
A: We're 50% juice and 50% other categories.
Q: What has HPP technology brought to your company? What do you see as the main advantages?
A: HPP is a forward-thinking way of providing food safety and shelf-life expansion and offers a clean label solution. HPP enables juices to retain the characteristics of a product in its raw form such as the flavor profile and vitamin and nutrient content. The food safety aspect also gives our customers the peace of mind that the product is safe.
Q: How has HPP grown your business?
A: HPP has given us exposure to some brands we might not have worked with. It's given us additional product awareness and another leg to our business, helping us diversify and create value.
Year over year, we've seen our volume at least double, maybe almost triple. 2020 into 2021 has been a massive year.
Q: How important is it to find the right HPP equipment manufacturer? What was Doras Naturals looking for?
A: Incredibly important. You have to have the utmost faith in your manufacturer because as a toller, you're providing food safety and shelf-life extension for millions of food packages annually. You want machinery that's well built and can withstand the test of time. You want people on site who can answer your questions and are in touch with new regulations. Hiperbaric has a team of PhDs ready to answer questions about a new product category and studies they've done. They have the experience in the industry, and we felt comfortable with their technology.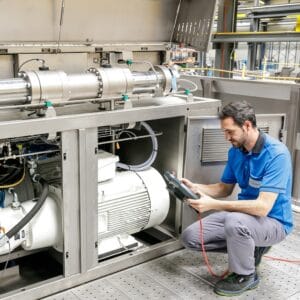 Hiperbaric's 24/7 After-Sales Tech Support Team
Q: How did Doras Naturals find and select Hiperbaric?
A: When we got serious about HPP, we did our research and there's basically two major companies offering HPP machines. We visited facilities with these machines, including a facility that had two Hiperbaric machines, and we were very impressed by what we saw.
Q: What's most important to you regarding the HPP manufacturer: personal relationship, customer service, 24/7 tech support?
A: I think at the end of the day the most important thing is that our machine is up and running. And just having that feeling of comfort that when you walk in in the morning and when you leave, it's always operational. If there are any issues, Hiperbaric is always there to guide us through anything and make sure that we have the appropriate spare parts on hand.
Q: Are there any new or interesting HPP applications you've seen, or that you're using HPP for?
A: The pet food category is expanding. People want to give their pets nutritious, fresh chicken, beef, lamb, those type of things. You're seeing more interest in HPP in that arena. You're also going to see more ready-to-eat meals and foods that are vacuum sealed that can be HPP'd.
I think the juice space will continue to grow. And we've seen massive increases in deli meats. Those are mature categories that are growing, but now you've got new players that are coming into focus.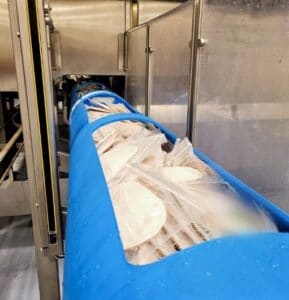 High Pressure Processing of Deli Meats at Doras Naturals
Q: What other services does Doras Natural offer besides HPP?
A: In addition to HPP, Doras Naturals runs a large perishable natural food and beverage distribution business with over 65 trucks on the road six to seven days a week where we are providing high-level service to our over 4,000 customers. If a product needing HPP is made or bottled by one of our co-packing partners, one of our trucks can pick it up the same day and bring it to us for HPP.
We also offer logistics services, including refrigerated storage and warehousing. We can pick and pack products and deliver them on behalf of our customers to either a warehouse, retailer or direct to consumer (DTC). It's a one-stop shop.
Q: How many pounds of food does Doras Naturals HPP yearly?
A: We have roughly a 20 million pound annual run rate.
Q: Where do you see the HPP industry heading?
A: I see it becoming much more commonplace. I think people will get more and more familiar with the technology, considering the benefits and consumer demand.
Q: How do you think the industry can increase consumer awareness of HPP?
A: The Cold Pressure Council's seal is certainly a good first step. In general, consumers are becoming more aware of how food is being manufactured and further processed. As the direct-to-consumer business grows, I think you'll see more of a consumer-driven impact. And with social media, the more HPP is called out, the more it will have a place in the consumer's mind.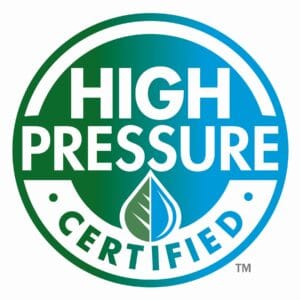 High Pressure Certified® Mark offered by the Cold Pressure Council
Q: Now comes the fun question. Are you a salsa or guacamole guy? Do you have a favorite HPP food?
A: I love guac, I'm not going to lie. A good guacamole with chips is delicious. I also am a fan of HPP juice shots such as ginger citrus with cayenne – it's a natural energy booster.
Q: How has COVID affected your business?
A: We started HPPing more products like deli meats, meatballs, and pet food, and the volumes just kept accelerating. And now that we're beginning to enter a post-pandemic world, we're seeing increases return in the juice space. And we don't see meats slowing down. We've had a series of record months, month over month. It's been pretty exciting.
If you want to learn more about how high pressure processing can help you enhance food safety, extend product shelf-life or achieve cleaner labels, do not hesitate to contact us.