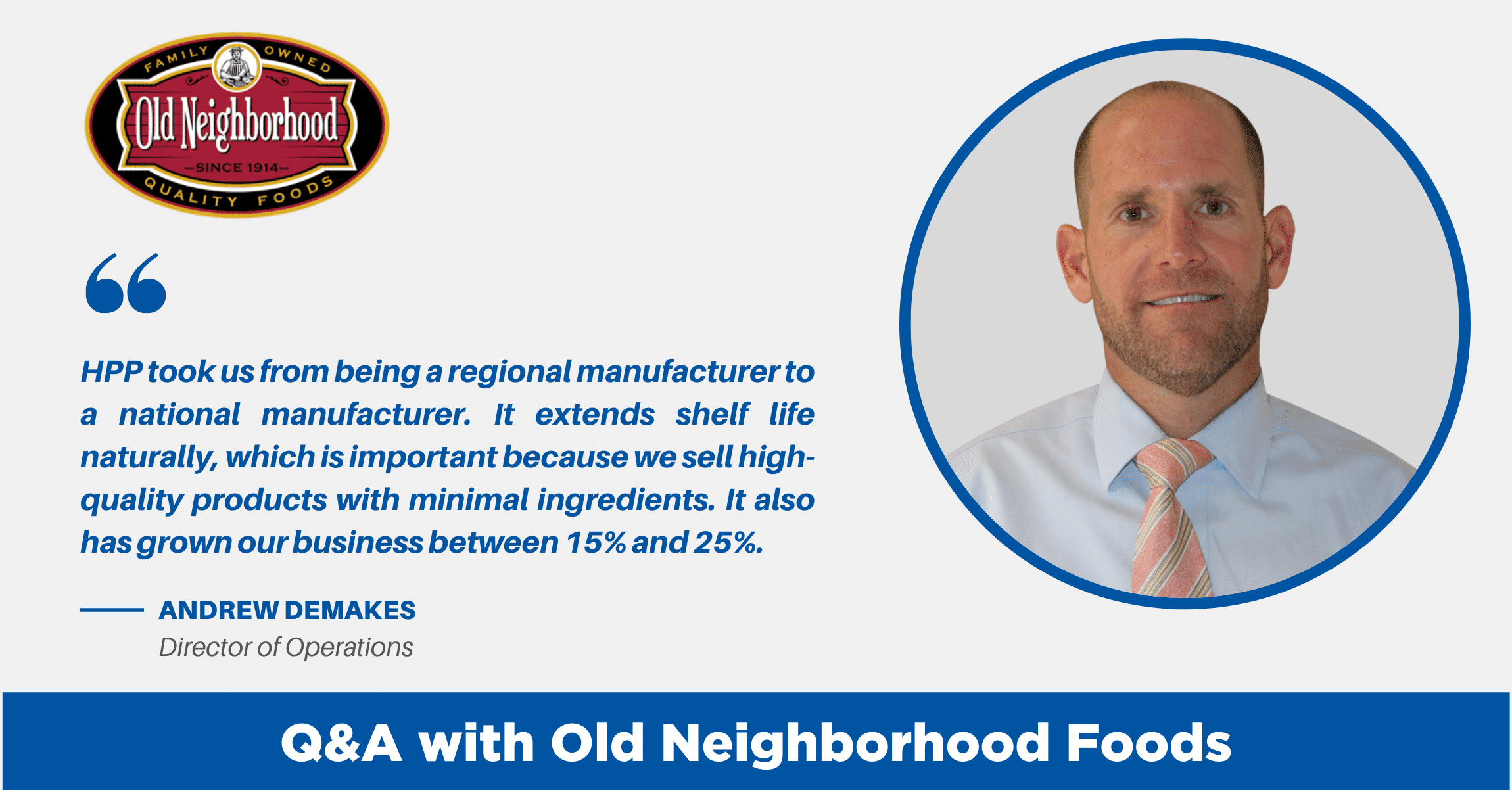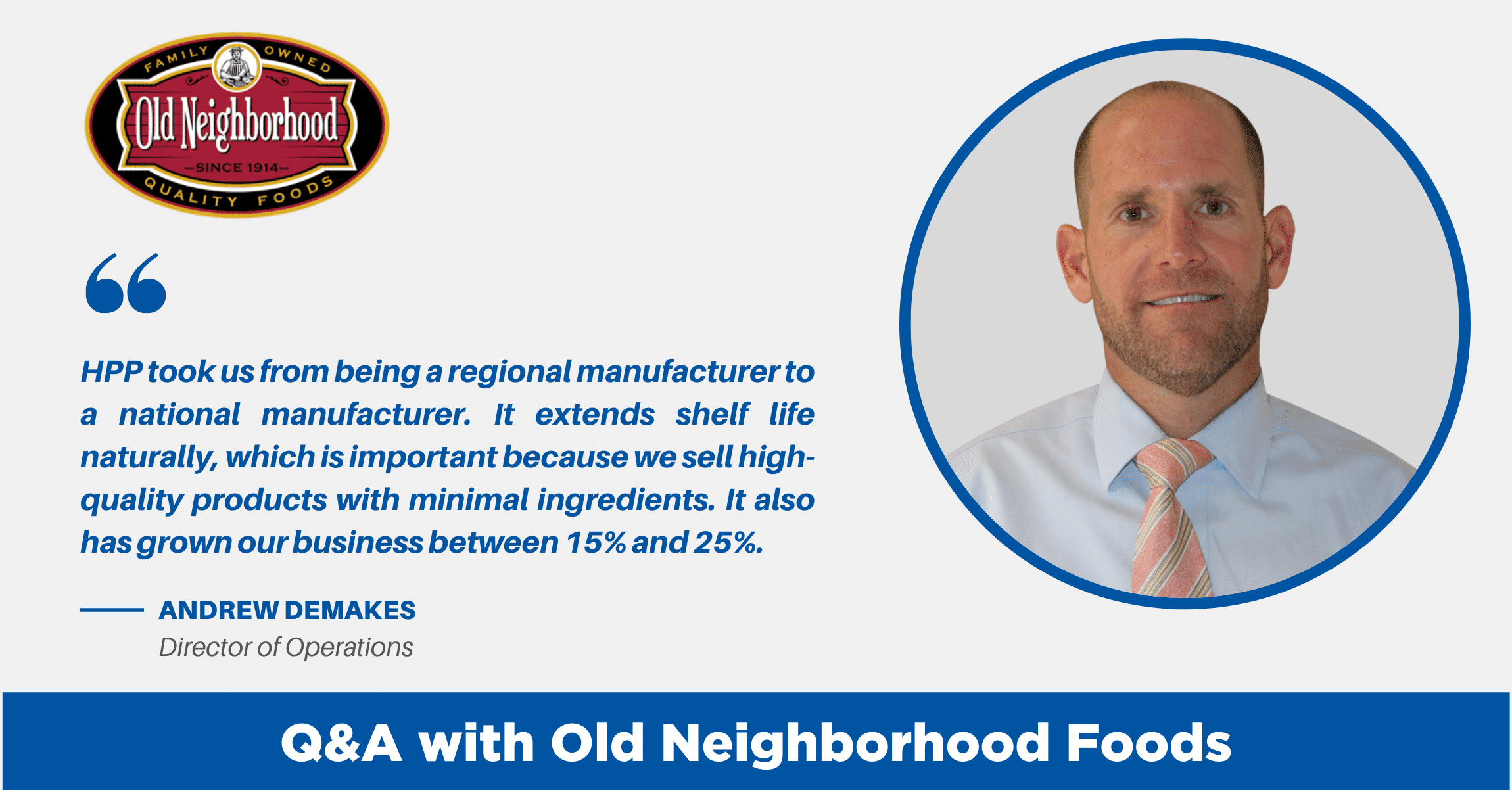 In this Q&A, we sit down with Andrew Demakes, Director of Operations for Old Neighborhood Foods/Demakes Enterprises of Lynn, Mass., a producer of low-sodium deli meat products, as well as other deli meats such as roast beef, turkey, ham and marinated meats. The company owns two Hiperbaric HPP units.
---
About Old Neighborhood Foods
Old Neighborhood Foods is a small, neighborhood company, led by the third generation of the founding Demakes family & staffed by neighbors & friends. They enjoy working together to bring you the best food experience possible & have earned a reputation for nothing short of excellence. Based in Lynn, Mass., they produce low-sodium deli meat products, as well as other deli meats such as roast beef, turkey, ham and marinated meats.
The foundation of their performance year after year is their understanding that you cannot deliver a superior product unless you invest in superior ingredients. Add in continuous training, state-of-the-art plant improvements & new equipment, plus continually improved quality control & quality assurance standards & you have the best product on the market.
Q&A with Andrew Demakes, Director of Operations
Q: Hi Andrew. Thanks for sitting down with us today. Tell me a little about Old Neighborhood Foods and how the company got started.
A: We're a fourth-generation, family-owned company.
The company was started by my great-grandmother, a Greek immigrant, in 1914. Her family had a little convenience store and heard people were looking for a Greek sausage called locanico. My grandmother said, "Oh, I know how to make that." She had her own specific recipe.
What they did was, the boys would go into town and get orders and bring them back to my great-grandmother and she made the product. Then they would distribute it into the city or whoever had orders for it. Over time, the company evolved. But really, whatever the company is today is because of my father, who came out of Vietnam, and really professionalized the business, and helped grow it into what it is today.
Q: When did you purchase your first Hiperbaric machine?
We were doing some tolling in Connecticut and then we bought a Hiperbaric 420 in 2014 and installed it in 2015. We've had it for about six years plus. It's totally changed how we do business.
We went from more of a regional player to much more of a national player. We extended shelf life on products that we were very successfully selling regionally but getting that additional shelf life enabled us to pick up bigger customers that sell all over the country.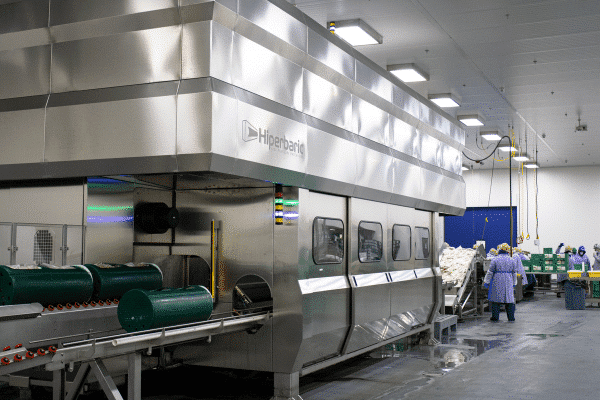 Hiperbaric HPP unit installation at Old Neighborhood Foods
Q: How did you first learn about HPP?
A: A few people within our company had talked about it probably close about 10 years ago. And we knew it was a newer technology then, and we just started researching it. We knew one company in Connecticut had it. We were literally loading up a truck, sending product down every week, waiting there to get it taken care of, and then just coming back around.
Then, we made the decision that if we wanted to grow as a company, we needed to make the financial investment. We didn't have the business to warrant buying our own machine at that time, but we thought if we had one, we could eventually utilize that machine more and more. Which obviously we have, as we've purchased another machine. We don't do much tolling anymore. Today, 95% of the products that go through the machine are our products.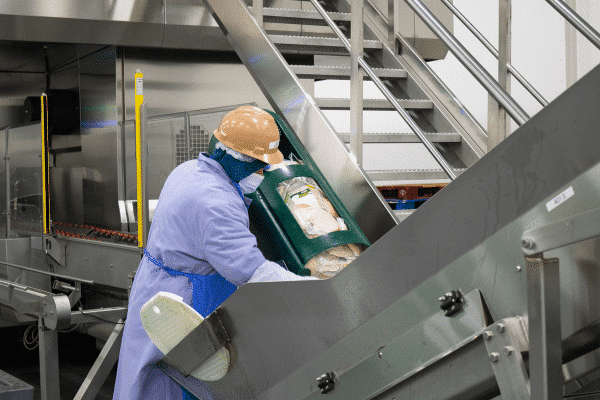 Old Neighborhood Foods using HPP for organic deli meats
Q: How did you learn about Hiperbaric?
A: We used a broker, but then we built a relationship with Hiperbaric. We buy directly from them.
Q: What are the benefits of HPP for your company?
A: It took us from being a regional manufacturer to a national manufacturer, which is the biggest benefit. It extends shelf life naturally, which was a big component because we sell very high-quality products with minimal ingredients. We want to make sure that we maintain the integrity of the product, so being able to pick up that additional shelf life without compromising quality was very important to us.
The kiss of death in retail is if someone's marking something down or throwing something away for the shrink factor. They'll discontinue your product line, so extended shelf life is very important.
Q: What products are HPP'd? Is there anything new?
A: Marinated meats, organic hotdogs, chicken sausage, sliced corn beef, pastrami, sliced organic deli meats. Our newest, biggest initiative is our new marinated meats line, which has been a huge success and one of the main reasons we've invested in the new HPP machine.

Old Neighborhood Foods HPP marinated beef sirloin strips
Q: Who are your customers?
A: We're all over the country. About 40% of our business is food service and 60% is retail. We're in local retailers like Market Basket, Stop and Shop, and Hannaford regionally. We're also in Kroger, Walmart and Target. Some products are under the Old Neighborhood Foods brand, while others are private label.
Q: How has HPP impacted your business?
A: I would say it has grown the business between 15% and 25%.
Q: What do you say to companies considering whether to purchase their own HPP machine?
A: I'm not an expert in this area, but I know it brings value to our business. If you have the budget, space and enough product capacity, there is potential for limitless growth. I can't say if it would be right for everybody, but for us, it's been very beneficial.
Q: What does the future look like for Old Neighborhood Foods/Demakes Enterprises?
A: We're growing and have great employees. We feel we're well-positioned to grow into the future. For more information about Old Neighborhood Foods, visit https://oldneighborhoodfoods.com/.
WEBINAR: 'Meating' Your Food Safety and Clean Label Expectations Using HPP
Meat products have been one of the main drivers of high pressure processing (HPP) technology in the last few years, prompted by the need for improved food safety and demand for fresh, clean, ready-to-eat (RTE) and ready-to-cook (RTC) meat products.
HPP is an effective technique to extend shelf-life maintaining freshness, keeping the flavor and nutritional qualities intact and improving food safety without the need of additivities or artificial preservatives. Deli meats, uncured ham and sausage, pulled chicken and pork, ground turkey, raw and marinated chicken and beef are among the many meat products that benefit from HPP.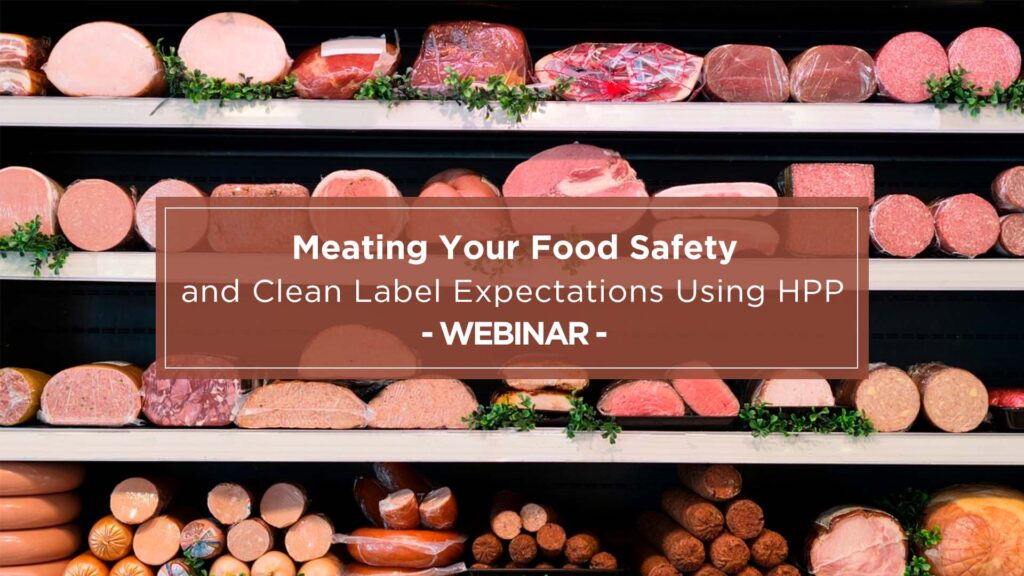 In this on-demand webinar, you will learn about:
Introduction to HPP, meat market overview and HPP meat product trends
Microorganism control using HPP for food safety and extended shelf life
Case study presented by West Liberty Foods, manufacturer and co-packer of HPP meat products
Q&A