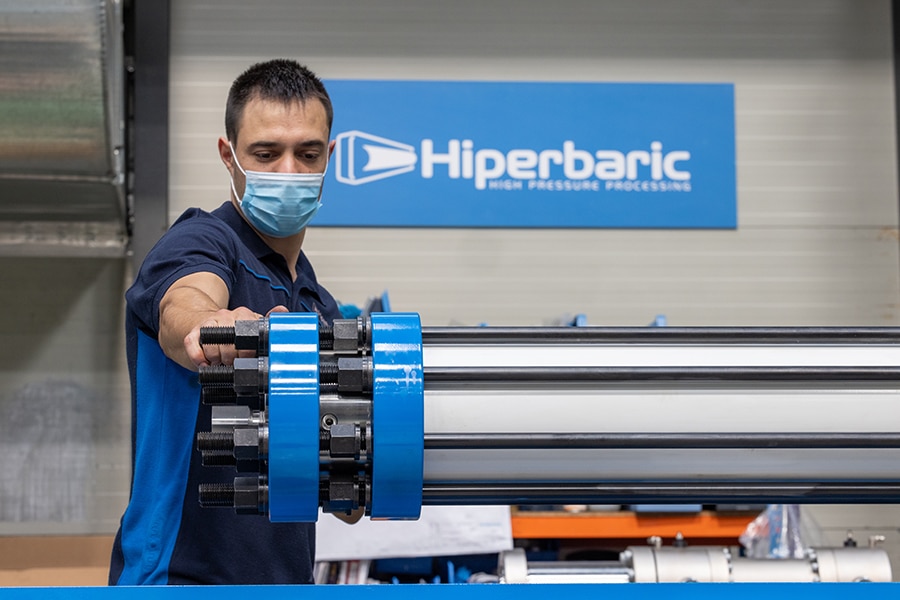 Hydrogen Technology Expo, in Bremen (Germany), and Hyvolution, in Paris (France), are the company's first two international events to showcase its hydrogen compression technology for sustainable and decarbonized mobility.
Hiperbaric presents complete high-pressure hydrogen compression solutions up to 1,000 bar for refueling the tanks of the latest generation of fuel cell vehicles.
The company, a world leader in high-pressure technology for food and beverages, is the first Spanish manufacturer of high-pressure hydrogen compressors, which aspire to be installed in the future network of hydrogenerators

that in the coming years will populate the road map of Europe.
Burgos, 15 de octubre de 2021. Hiperbaric will present its new hydrogen compression technology up to 1,000 bar at Hydrogen Technology Expo, in Bremen (Germany) on October 20 and 21, and at Hyvolution, in Paris, on the 27th and 28th of the same month, in the most important fairs of the hydrogen panorama for industry, energy and transport. These international events are the starting signal for the worldwide promotion of Hiperbaric's new range of hydrogen compressors, once it has become the first Spanish manufacturer of high-pressure hydrogen compressors.
These are complete, modular and scalable solutions of compressor units up to 500 and 1,000 bar pressure, adaptable to any level of production and demand and different suction and discharge pressures. The most important component of the compressor unit is the high pressure multiplier, which has different sections to carry out the compression, as well as different systems that make the units safe, efficient and reliable. One of the main features of this unit is that it achieves maximum hydrogen purity, thanks to the absence of oil lubrication.


The German Hydrogen Technology Expo and the French Hyvolution are the main European trade fairs for suppliers of hydrogen engineering solutions, and the major meeting points for the main players in this advanced technology. For Andrés Hernando, CEO of Hiperbaric, these two events "bring together the entire hydrogen value chain, among which we are part, where we will show our solutions and innovations for hydrogen compression".
HYDROGEN COMPRESSION
High-pressure renewable hydrogen is necessary to achieve sustainable and decarbonized mobility. To make its use extensible to different fields and applications, it is necessary to compress it at very high pressures. High-pressure hydrogen compression is applied in different areas, especially in new forms of sustainable mobility without polluting emissions for hydrogen refueling stations or hydrogenerators. It is also used for energy storage and H2 R&D projects.
Recently, Hiperbaric has installed at the National Hydrogen Center (CNH2) the first Spanish innovation hydrogen compressor for sustainable mobility. The equipment, which has been delivered to the hydrogen plant in Puertollano, Ciudad Real, will supply hydrogen at 900 bar pressure, which is the highest hydrogen storage pressure for a state-of-the-art hydrogen plant. The new Spanish technology can reach a refueling pressure of up to 1,000 bar.
This industrial technological development will allow Hiperbaric to be prepared to meet the strong supply demand in the coming years of compressors with similar characteristics for the installation in Spain and other countries of a wide network of hydrogenerators, which allow the circulation of fuel cell vehicles.
Hiperbaric has been a world leader in High Pressure Technologies for different sectors for more than 20 years and has 1,000 water compressors up to 6,000 bar installed in the five continents.