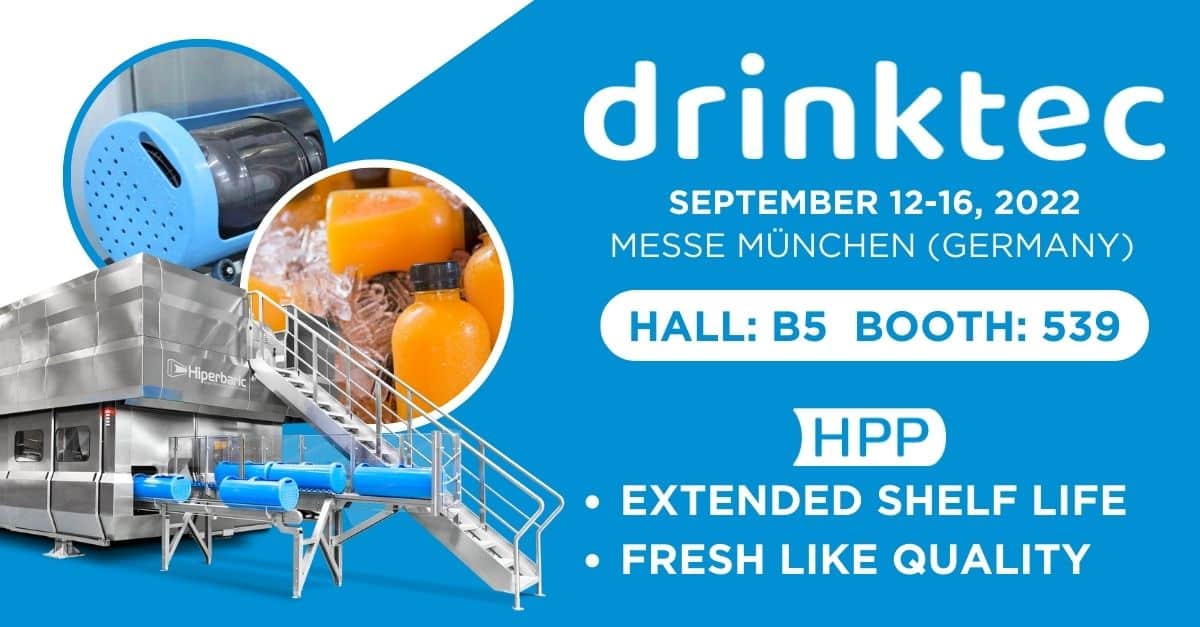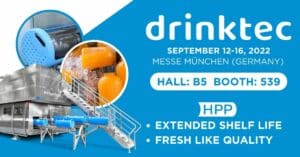 Hiperbaric will be exhibiting at Drinktec, taking place on September 12-16 in Munich, Germany. As the global leader in HPP, we're excited to connect with the beverage industry and showcase the latest technology innovations. These development range from automation equipment to sustainable packaging, which will allow expanding the business opportunities of HPP beverage producers. Visit us in Hall B5 | Booth 539.
Visit our stand and discover all the innovations that we will be presenting:
HPP automation & material handling solutions for beverage processing
Taste HPP juice and beer, which will be served on tap using Petainer Kegs
HPP In-Bulk Technology for processing large volumes of liquid
Presentation by Mario González: "Reducing or avoiding the use of plastic for High Pressure Processing"
VISIT US: HALL B5 | BOOTH 539

HPP for Juices & Beverages
High pressure processing, also known as HPP, reaches up to 6,000 bar / 600 MPa / 87,000 psi, guaranteeing the current demand for minimally processed, high-quality, safe beverages with a longer shelf life (up to 10 times longer) and free of additives. Its perfect compatibility as a preservation method for cold press juices and its versatility to process practically any type of beverage have boosted the growth of this category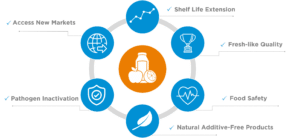 HPP Automation & Material Handling Solutions
In addition to offering the widest and most reliable range of equipment, Hiperbaric also designs, manufactures and supplies flexible and personalized solutions for the automation of HPP production lines. These services include automation solutions, product handling and industry 4.0.
During Drinktec, Hiperbaric will showcase the latest advances in HPP Automation & Material Handling and the success story of a customer who is already benefiting from these developments.
The World's First Keg for HPP Beverages
Drinktec attendees will have the opportunity to taste HPP juice and beer on tap, thanks to the world's first keg/barrel for high pressure processing of beverages. Sonatural, a pioneer company in the development of HPP juices in Europe, will sample their HPP orange juice. Attendees will be able to taste first-hand the similarities of an HPP juice with a freshly squeezed juice at home. Also, Mica will sample their craft beers. For both samples, we will have treated and non-treated product. Our challenge to you – will you be able to differentiate which of the samples has been processed by HPP?
Petainer and Hiperbaric have worked together to develop the world's first HPP beverage keg/keg, a global innovation that will revolutionize the HPP sector by offering beverage manufacturers a safe, sustainable and profitable solution that opens up new business opportunities.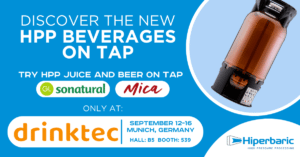 HPP-In Bulk Technology
Traditional HPP equipment works following an in-pack concept, processing products already packaged or bottled in their final packaging. This container must be flexible and resistant to water, which can be a limitation for some packaging alternatives.
To overcome the limitations of HPP In-Pack technology, Hiperbaric developed HPP In-Bulk technology, a global innovation for the production of large volumes of HPP beverages. It is a revolutionary concept in which the beverages are processed in bulk before being bottled, which also allows them to adapt to the usual workflow in the beverage sector: extraction > stabilization (HPP) > packaging. Likewise, it allows the use of any container format, opening the doors to more sustainable solutions, such as carton or glass.
With a facility operating in France, there are numerous international awards that this technology has received. The last milestone achieved thanks to this technology has been achieved by the company Juste Pressé, who has receievdd a contract from TGV, the French high-speed train. The use of sustainable and plastic-free packaging, together with all the HPP advantages, have been fundamental factors in closing the agreement. Discover these juices at our stand.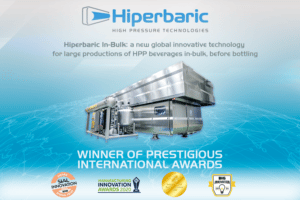 Discover all the options to reduce or avoid the use of plastic in HPP drinks from our colleague Mario González
On Friday, September 16 at 10:30 a.m., Mario González, HPP Applications Specialist, will present, "Reducing or avoiding the use of plastic for High Pressure Processing". During the presentation, Mario will discuss the different alternatives to offer sustainable HPP juice and beverages. Mario has been directly involved in the validation of HPP In-Bulk technology, as well as HPP kegs.