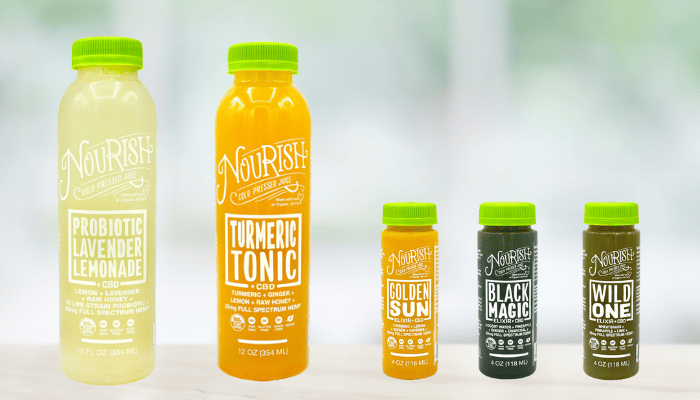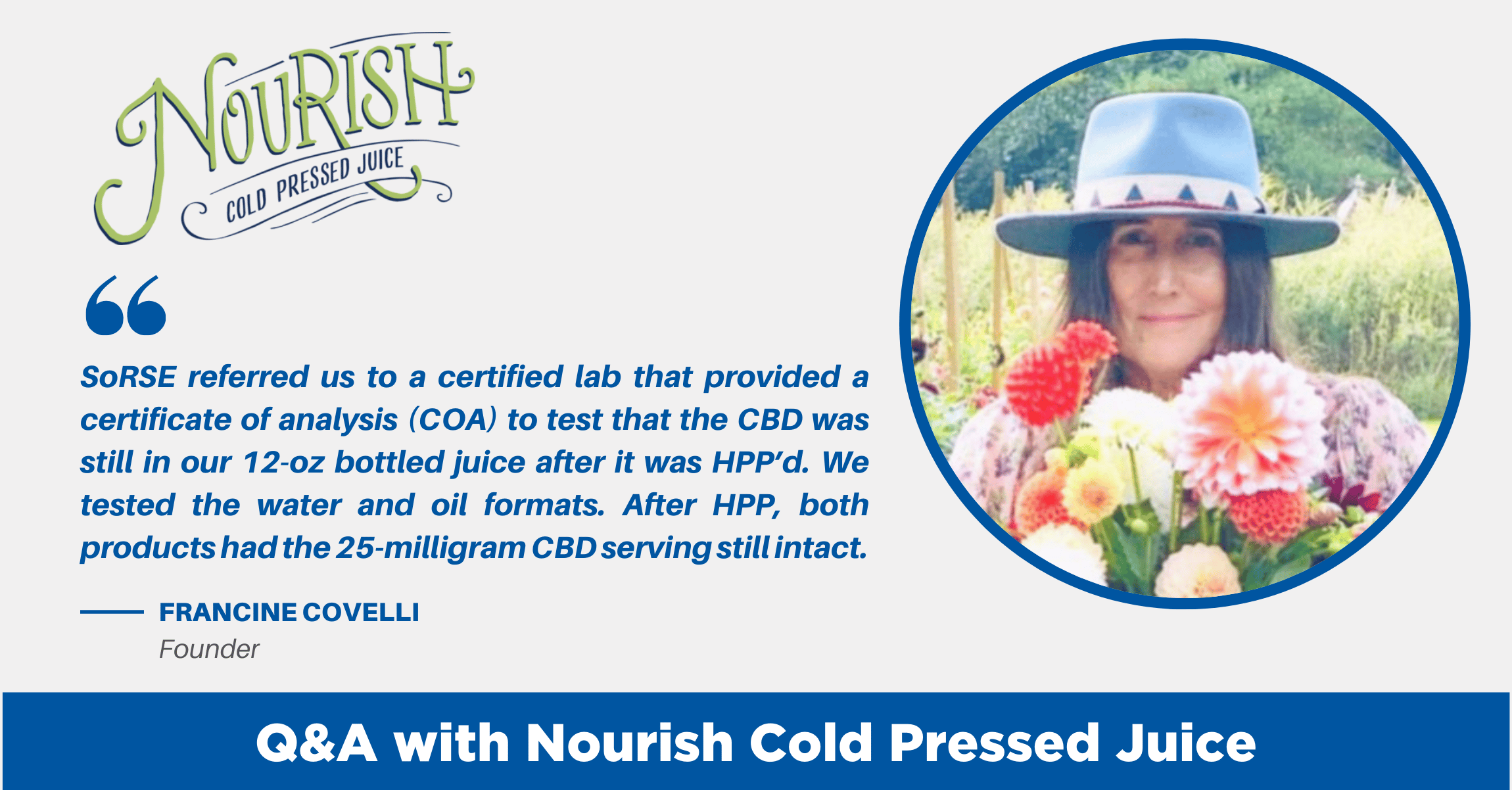 With the increasing popularity of CBD beverages, Hiperbaric sat down with Francine Covelli of Nourish Cold-Pressed Juice to discuss the latest CBD additions to her beverage line using high pressure processing (HPP) to ensure fresh quality, nutrition and extended shelf life, without preservatives. CBD is an abbreviation for cannabinoid, a natural substance found in cannabis and hemp plants, according to WebMD. Today, CBD oil can be purchased in capsules, as well as food and beauty products. Unlike THC, CBD is not intoxicating or psychoactive. CBD is not approved by the Food and Drug Administration (FDA), however, CBD proponents claim it can be used to treat a variety of ailments from chronic pain to depression and anxiety. Research is ongoing.
About Nourish Cold Pressed Juice
Operating from Organic Life Farm in Kennet Square, Pennsylvania, Nourish offers up to 26 seasonal varieties of organic cold-pressed juice in 16 oz. and 12 oz. bottles that are shipped nationwide. Nourish is USDA Certified Organic, Non-GMO, and the only Certified B Corp cold pressed juice company in the United States.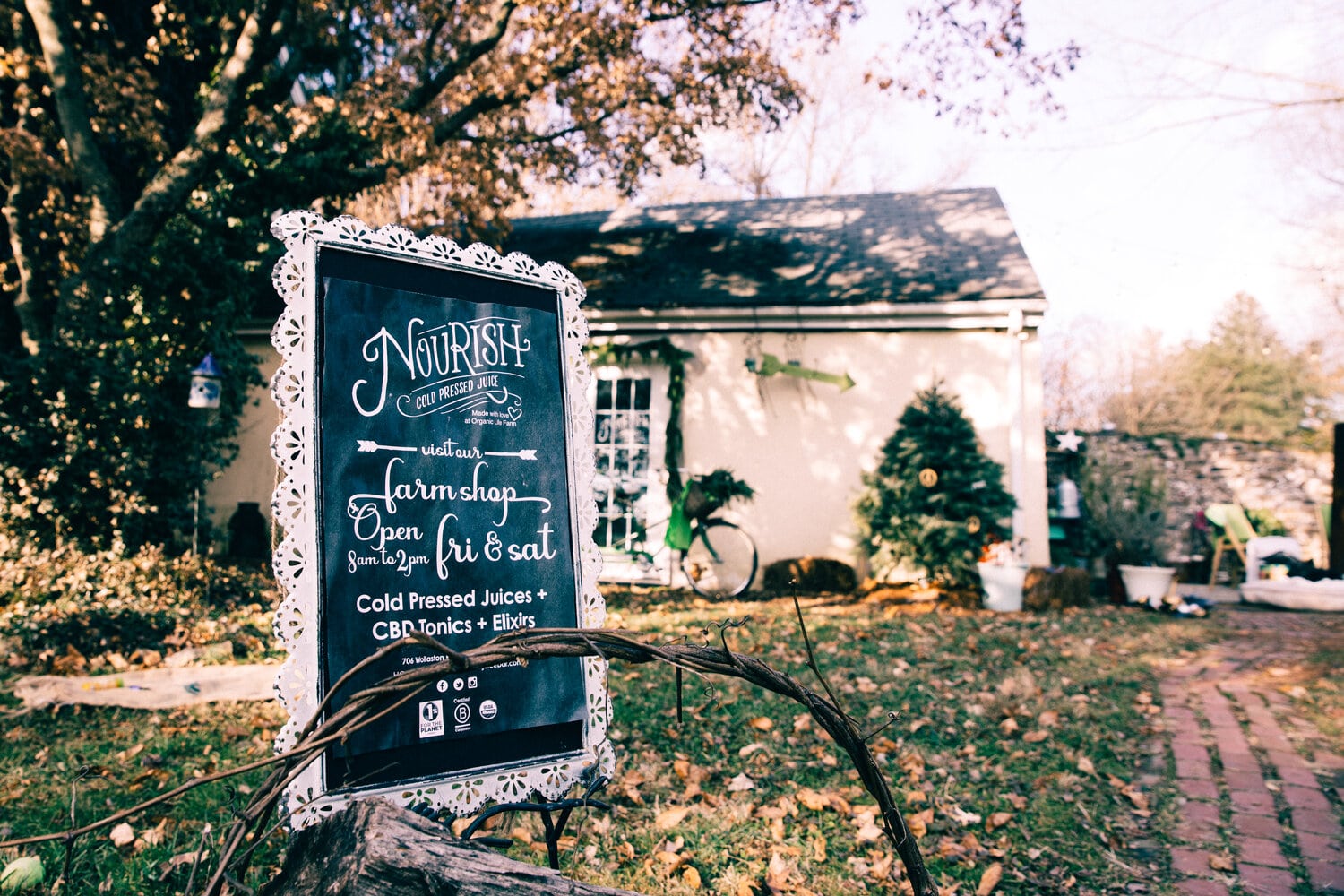 Q&A with Nourish Cold Pressed Juice
Question: There's so much excitement around CBD juices. Why did you decide to introduce this line?
Answer: As a nutritionist, I've always stayed on top of better ways to improve your health. I also had been taking CBD and experienced the health benefits personally. I knew that I could add it to our fresh-pressed juice, but was not 100 percent certain the ingredient would hold up under HPP. After testing at a certified lab, we found the CBD was still intact.
Q: Tell me about your CBD-infused juice line.
A: The first CBD product we rolled out was a Turmeric Tonic + CBD, with turmeric, ginger, lemon and honey. The juice had such a wonderful following, a loyal fan club, drinking our tonic for healing inflammation.
My second beverage was the Probiotic Lavender Lemonade + CBD. I wanted to create a lighter-flavored juice with CBD, and that product has currently become one of our biggest sellers. I can't keep it in, and then I rolled out three more: Golden Sun + CBD with turmeric, lemon and ginger; Black Magic + CBD with coconut water, pineapple and charcoal; and Wild One + CBD with wheatgrass, pineapple and lime They also have a wonderful following. We also have CBD in our Nourish Juice Keg. It is handcrafted with organic ingredients using sencha green tea, lavender, lemon, honey + CBD. We launched and served it on tap at Natural Products Expo West in March. We have three CBD lemonades that we're going to roll out in June.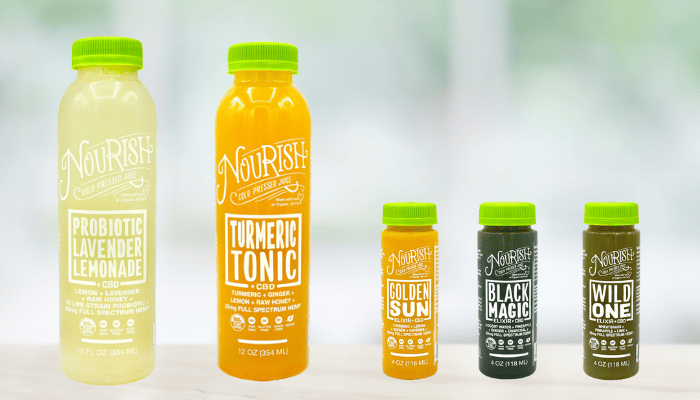 Q: How many milligrams of CBD are in the Nourish beverages, as we've seen it range from 5 milligrams to 25 milligrams?
A: We chose to put 25 milligrams in our beverages because we wanted to have the beneficial effect of CBD and the 25 milligrams felt like the perfect dosage.
Q: Where does the CBD come from? What is the source?
A: We have a partnership with two companies: Ambassador CBD and SoRSE Technology. Ambassador is USDA-certified organic like us. We use 25 milligrams of Ambassador CBD oil in our bottled juice. We use the 25-milligram dosage of water-soluble CBD in our innovative Juice Keg.
Q: What did you do to ensure the stability and quality of your CBD?
A: SoRSE referred us to a certified lab that provided a certificate of analysis (COA) to test that the CBD was still in our 12-oz bottled juice after it was HPP'd. We tested the water and oil formats. After HPP, both products had the 25-milligram CBD serving still intact.
Q: It is our understanding that right now you can only sell the CBD beverages in independent grocery markets and small business retailers. Where can your CBD juices be purchased?
A: We sell the products in our farm shop in Kennett Square, Penn. We also sell to independent grocery markets, co-ops, coffee shops, gourmet cafes and natural food stores, as well as some hotels, wellness studios, fitness studios and boutique retail locations in New York, New Jersey, Pennsylvania, Maryland and Delaware. New that California got the green light to sell CBD beverages in supermarket chains, we can sell Nourish CBD juice there.
Q: How do you see the market for CBD beverages growing?
A: I think that we're going to see the organic CBD beverage market explode when the AB 45 bill is signed nationally, legalizing the sale of hemp-derived and CBD-infused products for human and animal consumption. I feel that hand crafting organic immune-boosting ingredients with a longer shelf life will set Nourish Cold Pressed Juice apart.
Q: In your opinion, what are the health benefits of CBD?
A: It promotes a greater sense of wellbeing. It influences your mood, stress, anxiety, sleep, pain, and skin. We handcraft some of our juices with lavender, which also is calming, and lemon, honey, and alkaline water are beneficial for your body for cleansing and detoxifying. And with our organic probiotic element, it's super immune-boosting. I think we're going to see a lot more studies done to show the tremendous health benefits of CBD.
Q: What's the future for Nourish Cold-Pressed Juice?
A: As a nutritionist and whole foods chef, I love food. I love bringing handcrafted food and beverages together. I want them to not only taste yummy but also have a positive impact. I'm going to keep creating and hand crafting recipes with high-quality ingredients and products that really make you feel better, and that continue to make an impact on people + the planet! Nourish Cold Pressed Juice is female-founded, USDA-certified organic, certified B Corp, and a 1% For The Planet partner.