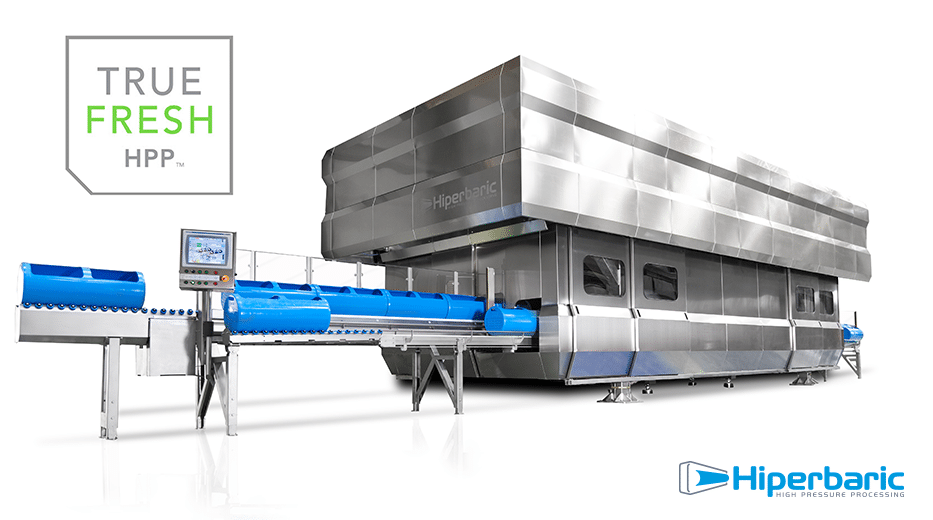 Our Customer True Fresh HPP Increases Capacity in U.S with Addition of New Hiperbaric 525 Machine.
Buena Park, CA — (ReleaseWire) — 06/09/2017- True Fresh HPP has recently added a fourth Hiperbaric 525 HPP machine to offer HPP tolling services under one facility in the United Sates with an annual capacity of 100,000,000 lbs.
They have become a food innovation solution provider, and secured a leader position in the HPP technology division after this acquisition. With this addition they can continue to offer service to large volume customers within the food industry.
High Pressure Processing is a cold pasteurization technique which consists of subjecting food, previously sealed in flexible and water-resistant packaging, to a high level of hydrostatic pressure (pressure transmitted by water) up to 600 MPa / 87,000 psi for a few seconds to a few minutes. It is the same effect as subjecting the food to an ocean depth of 60 Km deep -if an ocean this deep existed.
For more information on this press release visit: https://www.releasewire.com/press-releases/hpp-service-provider-secures-largest-capacity-in-us-with-addition-of-new-machine-818800.htm
For more information about True Fresh HPP.
TRUE FRESH HPP was founded by visionary, Alan True, Headquartered in Southern California, the Hiperbaric 525 machines are located in a 60,000 square foot cold storage facility in Buena Park, California. TRUE FRESH HPP is also USDA, FDA, Organic Certified and BBC accredited.
If you want to know more about the HPP technology and how to improve the food safety and the quality of your products, contact us, the world leading manufacturer of High Pressure Processing (HPP) equipment for the food industry.