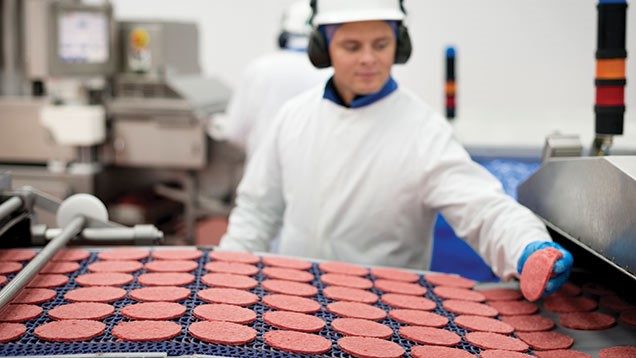 Despite the increase of vegetarian and vegan behaviours amongst western consumers and scaremongering news about meat consumption and cancer prevalence in the last years, meat processing still represents one of the most important sectors on the global food market. This is not an exception on the High Pressure Processing (HPP) sector, as meat products-dedicated machines represent 21% of HPP machines installed around the world (Hiperbaric 2017).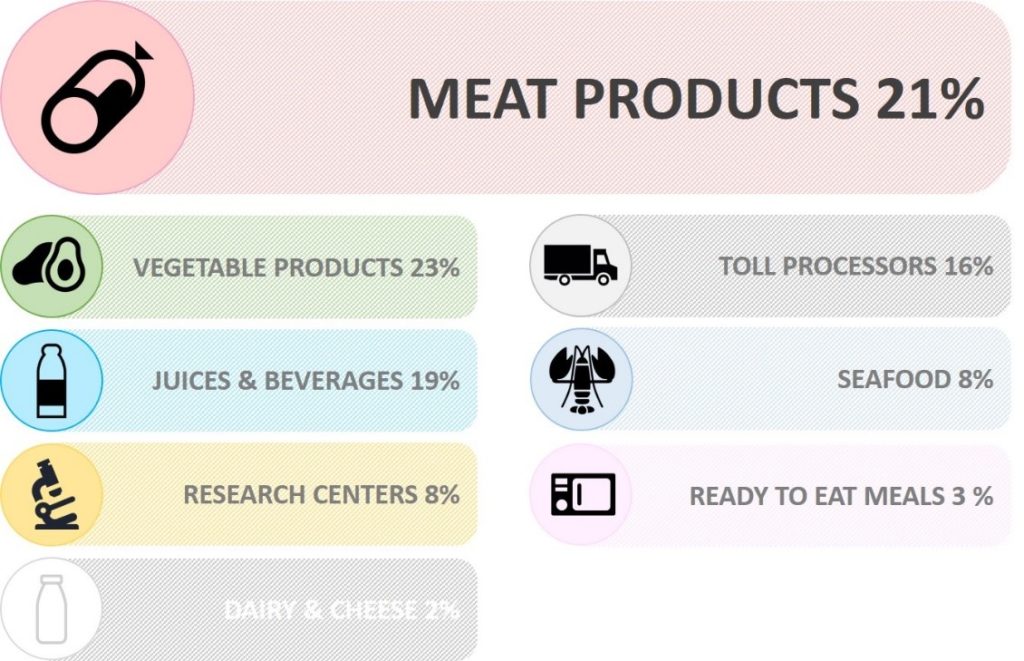 Meat market and consumption trends
In 2014 Global meat trade reached a value of 122 billion USD, with a Compound Annual Growth Rate of 8% from 2007 to 2014. In physical terms, it increased from 29 million tons in 2007 to 40 million tons in 2014.
The main destinations for meat imports were Japan (9%), United States. (8%), Germany (7%), Italy (6%) and China (6%) as they represent 35% of global imports. While China´s weight increased, gaining 3 percentage points, the share of Italy slightly decreased by 2 percentage points.
Brazil and Australia were ranked among the main suppliers of meat after the US in 2014. It's important to say that Mexico was the main destination for American meat imports, representing up to 21% of the US meat exports and up to 82% of Mexico´s total imports. Finally, top growing exporters from 2007 to 2014 were India (+29% per year) and Poland (+12% per year). The U.S. strengthened its position in the global export structure, from 11% in 2007 to 14% in 2014.
As animal welfare concerns rise amongst consumers, meat sector is perhaps the food sector which is the most subjected to criticism and pressures to reinvent itself. Companies try to comply with consumer pressures to get clean label products, minimally processed, coming from free-range animals that have not been submitted to constant antibiotic use nor had a fodder and forage based nutrition that contained GMO.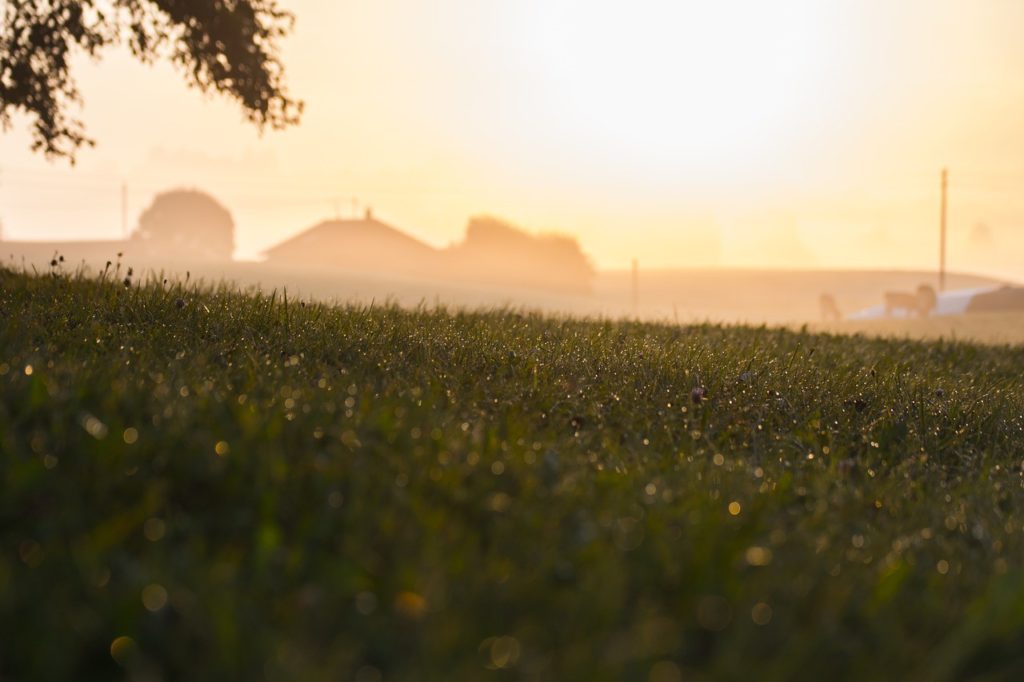 The struggle is real as consumers are demanding products that are more expensive to produce, while they aren't willing to spend the extra cost. Also, the concern about food waste has grown in the last years and it is pushing retail companies to demand longer shelf lives to their suppliers.
So, how can we improve the shelf-life without preservatives and without modifying product taste?
Brief look at High Pressure Technology
High Pressure technology's role as a preservative was discovered in the late 19th century and is often resumed as Pascalization after Blaise Pascal, who widely described effects of Pressure variation on fluids back to the 17th century.
The technology remained hidden from public for decades and was only used at lab scale until techniques for ceramic processing advanced and allowed to manufacture productive-scale machines.
Although some jams and foods were processed in Japan for preservation purposes in the 90´s, first industrial-scale machines were vertical and, because of that, they couldn't achieve pasteurising pressures nor consistently support big productions. Those machines were used for mollusk shucking and crustacean meat extraction, an application that requires lesser pressures and was discovered in early XXI century.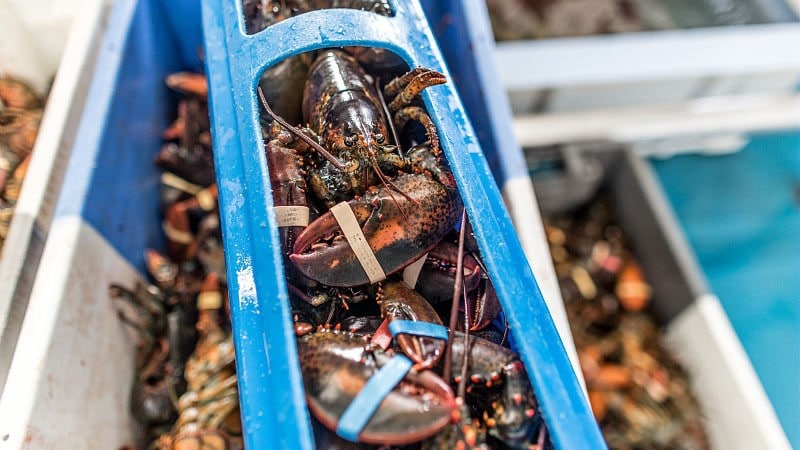 It wasn't until the last 15 years that HPP started to raise from a marginal technology to the promising status that it has these days: It has indeed been recognised at one of the main technologies to drive the future of the Food Industry. This turning point coincides with the first developments from Hiperbaric, which developed its horizontal HPP systems late 90s and installed its first machine in 2001 and became market leader in 2005, a position that the company has strongly held since then. This is possible through a long-term strategy based on continuous innovation that led to developments such as the Hiperbaric 525 in 2015.
HPP and Raw Meats
As fresh meat cuts are by definition minimally processed, the solution relies on physical preservative technologies. Since thermal methods and other energy-based technologies such as microwaves, radiation or UV are known to modify the physical properties, companies are looking into HPP as a solution to improve the shelf lives of their meat products as the technology is known to affect minimally product properties.
Back in 2001, the US FDA evaluated some strategies for microbial inactivation and stated: "Ground beef can be pasteurised by HPP to eliminate E. coli O157:H7, Listeria spp., Salmonella spp., or Staphylococcus spp."(Parker et al). Since then utilising HPP on the fresh meat market has grown significantly. HPP raw meat maintain their quality parameters throughout their shelf-life.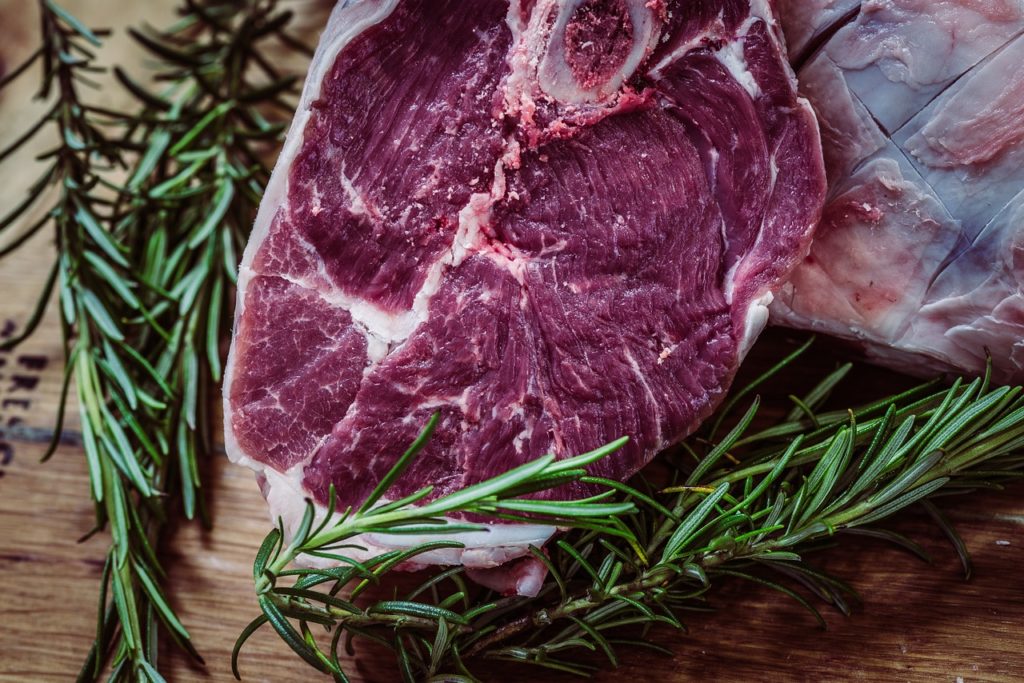 However we must keep in mind that HPP improves the shelf life by basically modifying complex molecules structures such as Carbohydrates and Proteins. As pressure modifies the internal environment of the High Pressure chamber, it affects the weaker molecular bonds inside product molecules such as Hydrogen bonds and other non-covalent bonds.
Proteins are typically folded in a determinate way called quaternary structure and this is what determines their properties as a structural compound, enzyme, co-transporter, pigment and so on.
Under pressure, proteins tend to unfold because of the breakdown of non-covalent bonds and, once pressure is dropped, they fold back to a new configuration. Since their quaternary structure/shape is modified, their properties are modified and this results on lethal damage to bacteria (hurray!) but also macromolecular structures change as food proteins are also affected.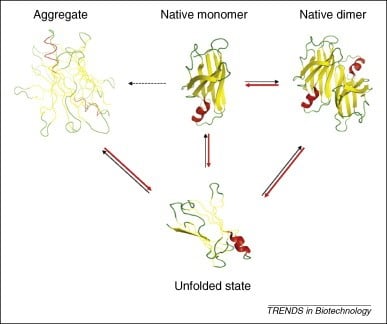 The main issue on raw meats is that both myoglobin and haemoglobin do not recover their original shape but a new one, this resulting in a change of colour to a more pale one similar to boiled raw meats. The greater the pressure applied, the deeper those changes will be (see below) also, some increase in hardness and exudation may occur.
Solutions
Actual solutions to the issue involves could be:
Applying HPP to Meats for catering
Despite HPP raw meats doesn't look similar to unprocessed raw meats, those changes in colour disappear after cooking and there is no difference between a cooked HPP filet and a cooked unprocessed filet.
The texture issue can also be greatly reduced by using skin packaging solutions that have shown to reduce both exudation and texture changes in raw meats that undergo HPP (unfortunately they don´t help on the colour issue).
Solutions like Darfresh® from Cryovac can be of use when it comes to apply HPP for raw meats.
So basically, if you supply raw meat to restaurants or have a restaurant chain, HPP can help to greatly reduce waste for your meat recipes and ease distribution chain without affecting to your product quality or need of fancy (and expensive) freezing distribution chain and storage solutions. Customer won´t notice any difference after cooking the meat, however longer shelf lives can be achieved on cooked dishes.
Use of pigments to hide or minimize changes
Paprika, saffron and others colourants can be used to hide changes in natural meat pigments (see below). Those propositions seems to meet customer demands for tastier solutions such as marinated meats with curry, barbecue or other sauces.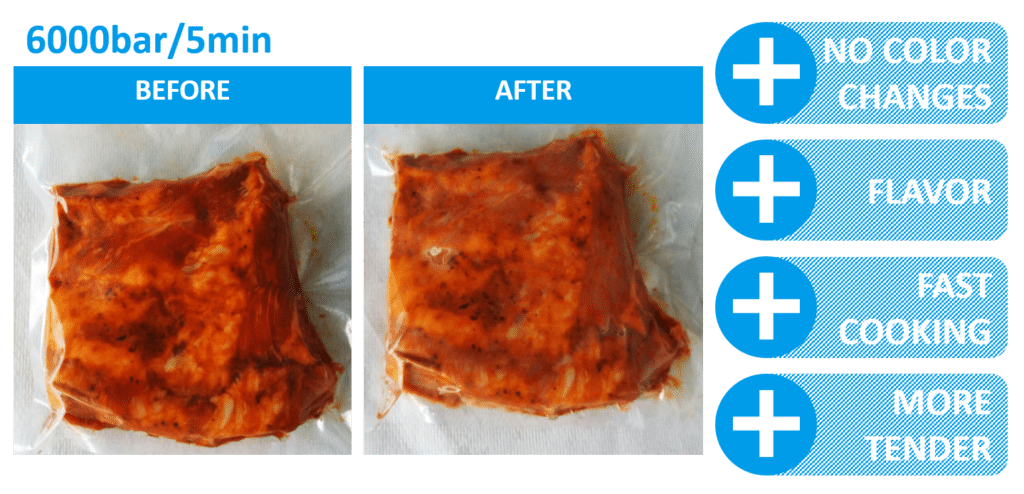 This is critical amongst millennials which have grown in the era of fast food chains and are used to intense flavors and the use of sauces.
There is an undeniable opportunity in those products as they can be healthy, tasty and natural solutions (as long as we use natural ingredients) and a higher price in those products seems acceptable for consumers.
Applying HPP to more color intense and darker meats
Although becoming more pale will make some meats such as veal, pork and chicken unacceptable for customers after undergoing HPP, darker meats such as beef, ostrich or game meats such as boar or bison, may benefit from getting paler as they will gain an intense red colour that is culturally associated in western countries to high-quality fresh meats.
Applying HPP to Ready to Eat Meals
Since cooking basically consists in modifying product properties to increase nutrient absorption and create new and unique tastes through heat-induced reactions, proteins are already modified during cooking, thus are not affected later by HPP.
Meat-based convenience foods such as ready-to-eat (RTE) meals can successfully benefit from HPP to increase their shelf lives without modifying their properties.
The key factor here is that HPP doesn't modify the taste, aroma or look of the product. Traditional thermal methods can and usually are considered as an additional cooking step, which is what, until recently, has given RTE meals a bad wrap.
On the contrary, HPP basically pasteurises the RTE in terms of shelf life and safety increases without undesirable side effects and allows us to offer gourmet solutions that taste like freshly cooked which are an extra value proposition.
We can then produce gourmet recipes that can be packed in single-serve presentations such as microwavable trays as Lifestyle Tappers does in Spain or in enormous packaging such as vacuum bags as Sandridge foods does in the U.S. Those recipes will benefit from shelf lives between 3 and 4 times the one that the unprocessed product had.
About Hiperbaric
If you want to know more about HPP, do not hesitate to contact Hiperbaric, the global leading supplier of High Pressure Processing equipment for the food industry. We started in the year 1999 and have set more than 200 installations in the World, being North America our first market, with Europe and Asia following.