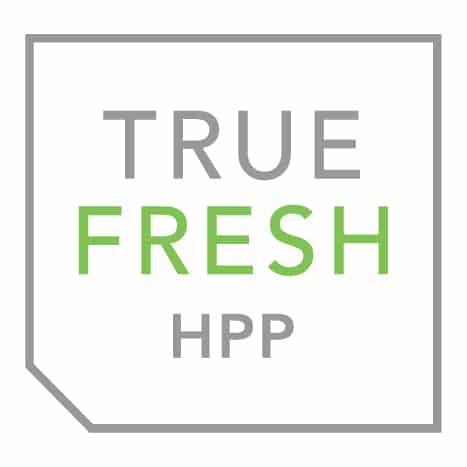 IRVINE, CA (December 1st , 2015) — True Fresh HPP is executing on its vision to be the nation's leading, large-capacity provider of state-of-the-art, high-pressure processing (HPP) and related solutions. The company currently has one operational Hiperbaric Model 525 HPP machine with the second machine operational in January, as well as 60,000 square feet of cold storage, in Southern California to provide comprehensive HPP tolling solutions to food and beverage manufacturers. True Fresh HPP services include real-time inventory management, complete product traceability and logistics support such as cross docking, case packing, palletizing and a host of other cold storage logistics solutions.
This facility will make True Fresh HPP the largest-capacity HPP service provider on the west coast. The company plans to add two more Hiperbaric Model 525s to its Buena Park, CA location in early 2016, and will be operational in Chicago, Illinois in the same timeframe. By 2020, the company expects to have 10 machines running at strategic locations in the Midwest, Northeast, and Southeast United States – and by 2025, to have 20 large-capacity HPP machines in operation.
"Ramping up capacity to this degree will crack the bottleneck on HPP processing – and give food processors and retailers alike the ability to move their products to healthier, all-natural ingredients and processing that preserves them more effectively," says Alan True, founder of True Fresh HPP. Ideally suited for already packaged food and beverages, such as juice, fresh protein, ready-to-eat salads, snacks, meals and more, HPP uses nothing but water under extreme pressure to extend product shelf life—and maximizes profitability for food and beverage manufacturers and retailers. Because HPP does not rely on additives, gases or even heat to remove food-borne pathogens, it won't diminish a product's nutritional value, taste or ingredient quality. In this way, HPP offers a uniquely "clean," marketable alternative that's aligned with current consumer trends and forecasts.
"Over the past few years, cold-pressed juice has exploded in popularity and has made HPP the fastest-growing alternative to heat-based pasteurization," says True. "And this trend is only just beginning with the global HPP market projected to hit over $12 billion by 2018. There's huge potential for food manufacturers to drive significant, net-new revenue growth by adding HPP products like these to their shelves. And True Fresh HPP will be the premier, national co-packing partner for companies requiring large-capacity HPP processing."
True Fresh HPP is innovating in the category by expanding the peripheral services that go well beyond tolling to include product development, packaging and co-branding. For companies that need assistance with product innovation and readiness, we engage experts at True Food Innovations – our sister business. Through a suite of integrated services – from packaging to R&D to marketing and testing – we can help you fast-track an idea or new product's path to the HPP tolling process. Our test kitchen, paired with our team of research and development experts, help you discover new products and processes that use HPP technology.
For more information, please visit www.TrueFreshHPP.com.
About True Fresh HPP
Founded by Alan True and headquartered in Southern California, True Fresh HPP is one of the largest HPP tolling solutions providers in the US. True Fresh's two Hiperbaric Model 525s machines are conveniently situated in 60,000 sq. ft. cold storage facility in Buena Park, California. HPP services include real-time inventory management, comprehensive product traceability and logistics support such as cross docking, case packing, palletizing and a host of other cold storage logistic solutions. Visit www.TrueFreshHPP.com.