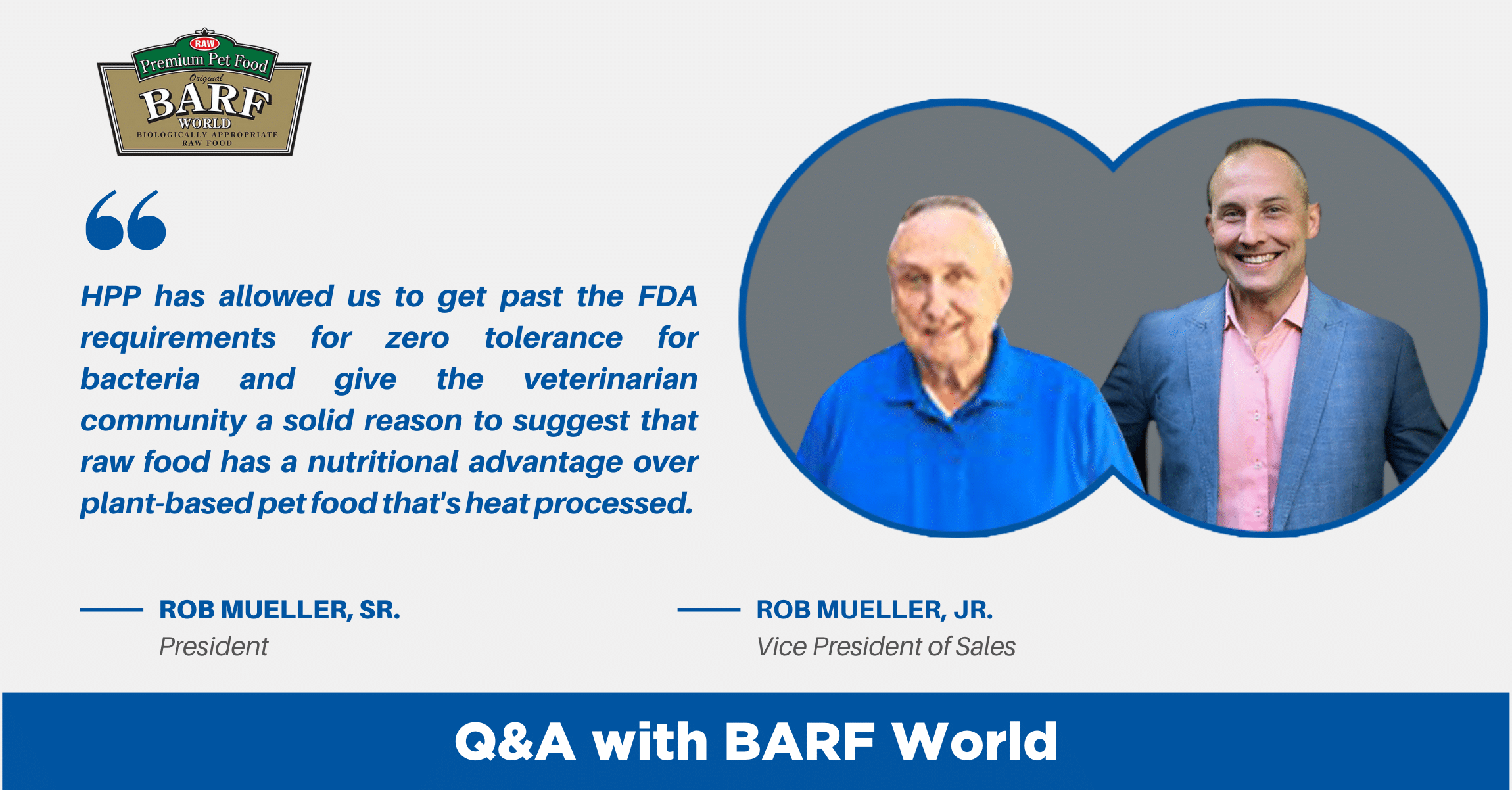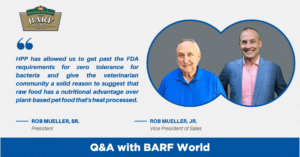 Hiperbaric sat down with Rob Mueller, Sr., president, and Rob Mueller, Jr., vice president of sales, of BARF World, a family-owned raw pet food company, to discuss how BARF World got started, how HPP has impacted their business and how the pet food world has changed.
Tell me about the history of BARF and how the company got started.
Rob Sr.: BARF World was founded in 1996 in Danville, California. Our headquarters are now in Eagan, Minnesota. In May, we bought a new building and large walk-in freezer so we can do our own frozen fulfillment We're also building our own brick-and-mortar store. We've made huge steps in '22. It's been really good for us.
What does BARF stand for?
Rob Jr.: BARF® means Biologically Appropriate Raw Food. All our diets are complete and carefully balanced, a proprietary blend of muscle meat, organs, bone-connector tissue, finely ground bone, fruits, veggies, vitamins and minerals. It's the diet nature intended for our pets to not just survive but thrive.
As far as nutrition and safety go, we feel our product is far superior to any heat-based product.
You've been involved in many businesses, including dog racing and zoos. What made you get into the pet food business?
Rob Sr.: Actually, it was quite unique how it happened. The woman who ended up becoming my partner took her dog to a distributor in Washington State. And she left her dog with this distributor for about six weeks. And the dog had several skin problems and digestive issues. When she came home, she saw her dog, and said, "What have you been feeding my dog?"
Because it had made such a difference in her dog's health, she had to find the guy that was making this food.
Within a week, she took an airplane and flew to my office at that time in Central Wisconsin. She walked in my office and said, "You don't know me. My name is Lily Noon, and you and I are going into business together." At that point, she had a $60 million (human) frozen food business. She said, "What you have done for my dog, I want to be a part of it." We ended up deciding to be partners and 20 years later we're operators of the BARF World business. In 2017, we bought out Ms. Noon's share of the business and we're close to owning the BARF World name.
How is your product HPP'd?
Rob Jr.: We use Raw Advantage (a toller) in Oregon to manufacture our products under our formulations. We run the sales office here and soon we'll be doing our own fulfillment.
It takes great partners to align with and trust to make sure your products are being made correctly.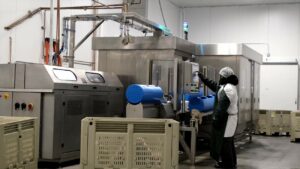 What were you using as a kill step for your products before HPP?
Rob Jr.: We were using parasitic and enzyme sprays. But as you know, it only kills a certain percentage in the bacteria log. We couldn't get it down low enough to meet FDA requirements, even though we've never had a recall in our business. That said, we wanted to make sure we never had a problem, so we decided to use HPP.
When did you first become interested in HPP? How did you find out about it?
Rob Jr.: We'd known a lot about HPP prior to the FDA's requirements. But it was really Ryan (of Raw Advantage) who stepped forward and said we're going to launch a few different safety protocols. At first, we fought it a bit because we were so successful with our parasitic sprays and the safety in our small batches. However, he just had to put his foot down at some point and say, "It's just not safe," even though we've had a perfect track record. And then we had to say, "You know what, you're right." We had to jump in together with him. And it's really been a solid, really good relationship. And he's a great guy, he makes a great product for us. So sometimes you have to trust what your partners are telling you to do.
What do you see as the main benefits of high pressure processing?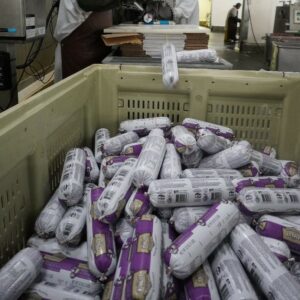 Rob Sr.: We do a lot of business with the veterinarian community. And their main objective is to provide a safe product to their clientele. And for many, many years we've had to fight the stigma of having a product that we couldn't assure was 100% free of bacteria. So HPP has allowed us to get past the FDA requirements for zero tolerance for bacteria and give the veterinarian community a solid reason to suggest that raw food has a nutritional advantage over plant-based pet food that's heat processed.
What about shelf life extension and things like that?
Rob Jr.: We've noticed that if we ask the pet owner to thaw out our pet food in the refrigerator, we can get five to seven days out of it and it's still the exact same. It smells the same, it looks the same. So, we've had a lot of success with that.
If you didn't use HPP, what would it be like, one or two days?
Rob Jr.: Maybe three days. It not only removes the parasites, but holds the enzymes at bay, which is what we like about it. Also, now that we're in the fulfillment business, it helps us extend our delivery times and sales.
What are the applications for pet food?
Rob Jr.: We have many different products and all of them are meant to make the dog healthier. Nothing we put in is going to put unwanted fat on the dog or hurt it or its coat. It's always just for health. We could go a different way and produce dry dog food, but it doesn't fit our business model and we stay true to our business model by making the very best pet food we can.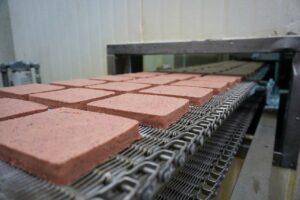 Where do you buy the product?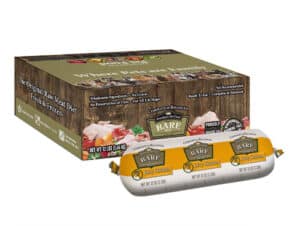 Rob Jr.: At this point, BARF World is only sold on the Internet. We ship the food in a frozen container, kind of like Omaha steaks ships right to your door. We have two-pound chubs and a 12-pack of 8-ounce patties, as well as 14-ounce freeze-dried packages.
Rob Sr.: Tell her about the 90-day challenge, Rob.
Rob Jr.: Yeah, that's a good point. We offer discounts for customers that opt to do our 90-day challenge and become an AutoBARFer. We offer free shipping. So, it's a win-win for them. And you will see a transformation in your dog in 90 days, 100% guaranteed. And I don't care what food they're on, if they're on a dry dog food, you'll see a difference in a week in their stool, their breath and all the different pieces of the puzzle. It all lines up with raw foods.
What are you seeing as far as the popularity of freeze-dried pet food over frozen?
Rob Jr.: We've been manufacturing frozen pet food for the last 20 years. However, since 2020 when the pandemic hit, we felt like we had to step up our game in the freeze-dried sector. So, we were one of the first ones to come out and push freeze-dried hard because at that point, we didn't know how long it would take to get products to our customers based on shipping and all the different stuff with COVID.
And we were right, it did take long. We did have some problems. So, for us to switch our customers over to a freeze-dried product, which has the same nutritional integrity as the frozen, we were able to say, well, even if it got stuck in a facility for an extra couple day, it didn't matter because it wouldn't go bad.
Rob Sr.: The advantage of the freeze-dried is primarily in our case for people that go on vacation because they have no provisions for being able to handle the frozen food. And the freeze-dried really converts quite easily, you just add water. Since the frozen product is 70% water, all you do is add water to the freeze-dried and it's right back to where you started.
It sounds like freeze dried product is more cost-effective for you as well. Is that correct?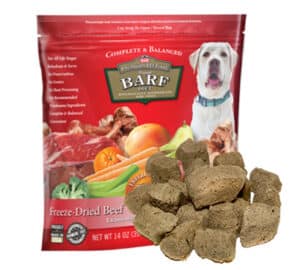 Rob Jr.: It's not just the traveling aspects with the food. There's a multitude of reasons that we've done it. A) You're 100% correct. It's a lot lighter and we can ship more of it in a big box, than we can because of the weight factor. We can ship out 80 packages in one box to one customer, which will last them twice as long as one 48-pound shipment. And so that saves them money. It saves us money. That's one big factor.
The second factor is basically we are matching customer pricing on the freeze-dried for the frozen. Even though it's a more expensive process, we pass on the savings to them because we don't have to pay the shipping costs like we would for frozen. So, it's a win-win and they get 18-months shelf life, where in the frozen we give them 12 months.
And the third thing is it's really a palpability issue with the freeze-dried because the smell is so concentrated because one piece of freeze-dried is equivalent to three in the frozen. So, one 14-ounce package, when you hydrate it, it comes up to three, three-and-half pounds of raw meat. So, it's super concentrated. The dogs just go crazy over it because the smell is so concentrated.
In addition to freeze-dried food, what do you see as upcoming trends in raw pet food?
Rob Jr.: Retail in the past has been the big thing. And then all of a sudden everybody's doing what we've done forever – mail order. And everybody's trying to get in the ring with frozen and raw meat and retail areas. Our explosion in the freeze-dried business and the treats and all that stuff, we are going to stay constant in what we do, stay in the lane of helping dogs.
I don't think there's anything crazy new coming into the ring. Except that everybody's getting into the ring. The big companies are now putting in a lot of money in raw pet food, building new plants and spending money on advertising. It gets people thinking about raw food, that'll only help us and our customers.