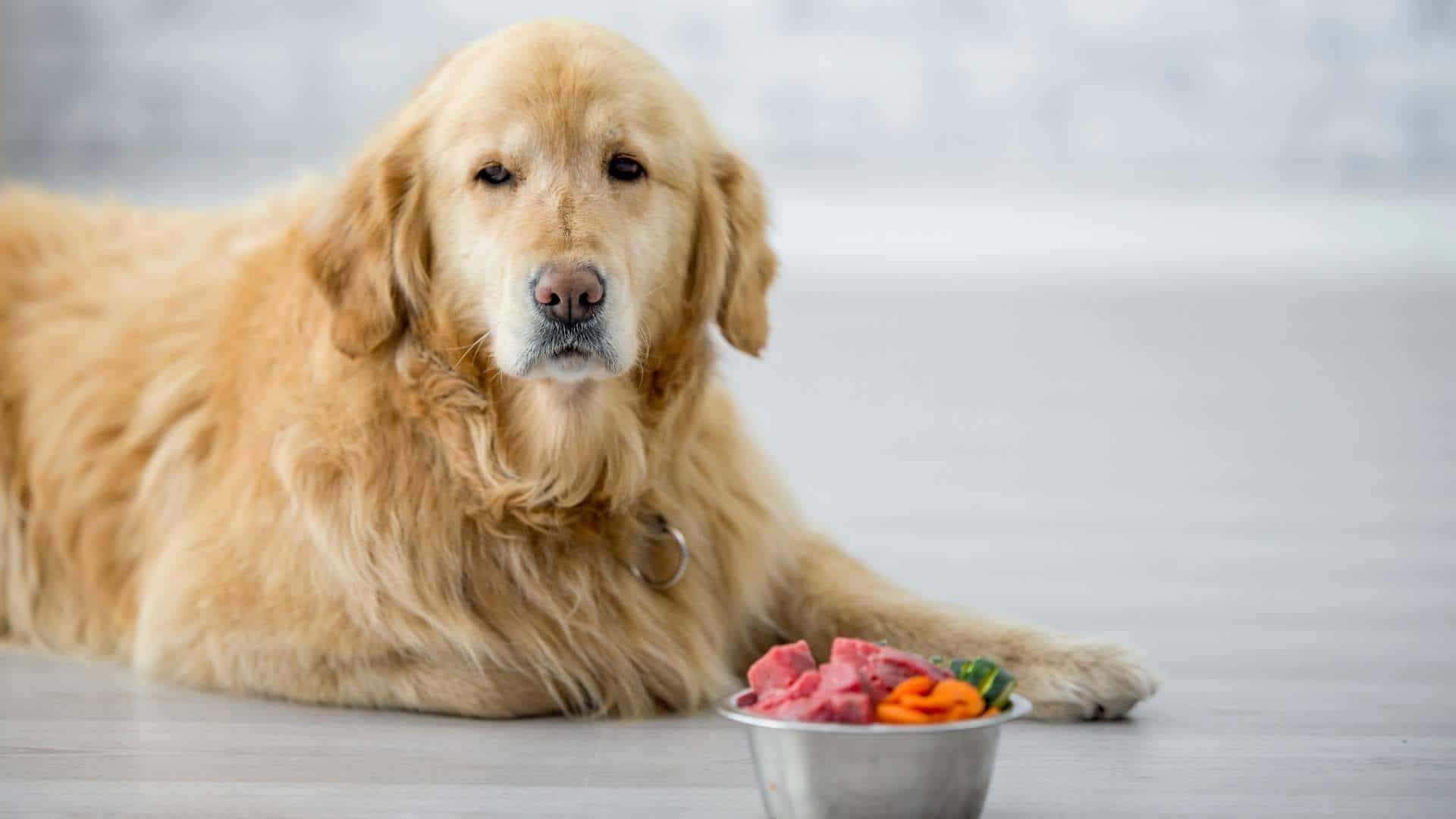 HPP has been widely reported to retain the nutritional and sensory properties of raw pet food formulations. This blog entry dives deeper and shares the results of recent clinical studies that evaluated the health effects of raw HPP raw pet food diets on dogs, which reported very promising findings. As in the case of humans, in addition to loving parents, the key to a happy, healthy life is a balanced, varied diet. Thus, pet parents should always consult a veterinarian to design a diet that will meet all the nutritional requirements of pets.
---
HPP in the Petfood Industry
Pet parents seek raw diet formulations as they have been associated with health benefits, and on many occasions a more appealing alternative to dry food formulations. However, the American Veterinary Medical Association (AVMA) and the Center for Disease Control and Prevention (CDC) highlight the foodborne pathogen risk associated with the consumption of unprocessed raw foods for pets and pet parents.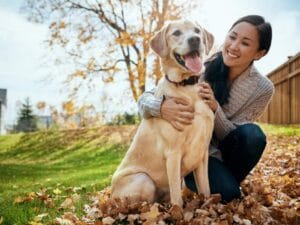 High Pressure Processing (HPP) has minimal impact on sensory and bioactive compounds of interest for human and pet foods, and minimizes risk associated with common foodborne pathogens as established in section 4 FDA's Industry Guidance Document # 245 "Hazard Analysis and Risk-Based Preventive Controls for Food for Animals".
Industry processors like Steve's Real Food have performed their own studies to assess the impact of HPP on the nutritional components of raw formulations, concluding that HPP is an adequate and safe alternative. This is shared by CEO & Owner, Nicole Lindsey of Steve's Real Food, alongside Calvin Smith (Director & Founder) of Pet Nutrition in New Zealand in our recording "Q&A with HPP raw pet food manufacturers".
In addition to safety and nutrition, HPP gives the versatility to commercialize fresh, frozen, and freeze-dried foods in the form of minced mixtures, chubs, kibbles, raw meaty bones, and many more as presented in the "Challenges and research advances of HPP for pet food" session.
In this blog entry, we discuss some of the few scientific references evaluating the health effects of raw HPP pet food formulations directly on dogs.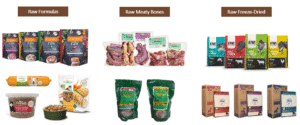 Clinical Studies of HPP Raw Pet Food Formulation
A research group of the Faculty of Veterinary Medicine in the University of Forestry (Sofia, Bulgaria) performed a series of studies to evaluate the health effects of raw diet formulations processed with HPP. The links of the consulted references are provided in the list below, and relevant findings are discussed in the next sections.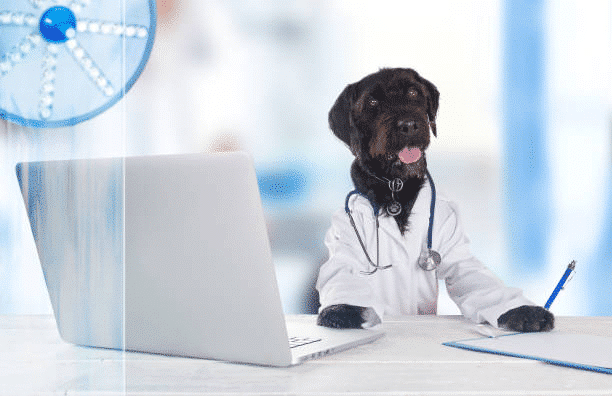 Part 1. Chemical composition and organoleptic indicators
Neshovksa, Shindarksa and Kirov (2021) elaborated three different formulations consisting of muscle, organs, and other animal by-products, mixed with fruits, vegetables, egg, oil and dairy, to meet the nutritional requirements of pets (Table 1). Raw formulations were vacuum-sealed in plastic pouches and processed at 6,000 bar (87,000 psi) with a 3 min holding time.

The values of protein, fat, carbohydrate, fiber content and other biochemical indicators remained unchanged following HPP (Fig. 1). Likewise, the energetic content reported in the 750 to 890 kcal/100 g range in the unprocessed and HPP formulations.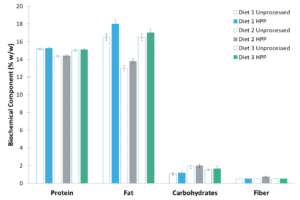 Furthermore, the authors reported no changes in the appearance, consistency or smell of raw HPP pet food formulations. Nonetheless, HPP induced slight color changes described from "Red, typical of veal" or "Pink-Brown" to "Pale red, typical of veal" or "Pale pink-brown".
As stated in our blog entry "Facts and Myths of HPP Pet Food, guidance for the industry", HPP may induce a "cooked-like" appearance due to modifications of space arrangement of myoglobin, the protein providing the red color in muscle. However, the color changes do not have major implications in the nutritional protein content as shown in Fig. 1, and has no adverse effect on health as discussed below. Furthermore, some research studies suggest that these structural changes on proteins may actually benefit the digestion of animal- and plant-derived proteins such as beef, red abalone, lentils and faba bean concentrates, among others.
Part 2. Clinical Studies: Blood Biochemical Indicators
In the second part of the investigation, Neshovska and Shindarska (2021) evaluated the influence of the raw HPP chicken diet on 20 pitbull dogs (10 female, 10 male). Participants were healthy adults (3.5 ± 0.5 years) of 21 ± 1.4 kg body weight that were fed with low-quality dry-extruded food before starting the raw HPP chicken diet to start the study. For the clinical trials, dogs were fed twice a day during 45 days and collected blood samples at days 0, 15, and 45.
The daily intake of raw HPP chicken diet improved protein metabolism, resulting in notably higher blood protein levels after 45 days (Fig. 2). Albumin levels remained unchanged, and the researchers reported that both parameters remained within the limits expected of healthy dogs. High blood protein content may be a sign of underlying health issues such as kidney failure. However, adverse health effects were discarded with hematological blood indicators, where white (leukocytes, granulocytes, lymphocytes) and red (total, platelets, hemoglobin) blood cell parameters remained unchanged and within healthy limits before and after the raw HPP diet.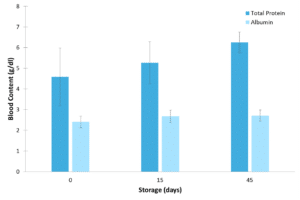 The raw HPP chicken diet also notably improved lipid metabolism, with cholesterol blood levels dropping by 14% (Fig. 3). On the other hand, the consumption of raw HPP chicken formulations did not alter the serum concentration of essential minerals like calcium (9.5-9.8 mg/dl) and phosphorous (4.0-4.1 mg/dl).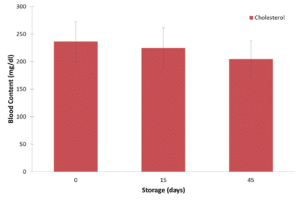 The authors concluded that "Despite the short feeding period, we observed a positive effect of raw food on biochemical parameters", and also stated "Feeding dogs raw food for a period of 45 days gave positive results on protein and lipid metabolism".
Part 3. Digestive health
The final part of this series of studies investigated the digestibility effects of the raw HPP chicken diet (Neshovksa 2021). Similarly, 10 healthy pitbull dogs fed with a low-cost dry pet food formulation before the study, followed by feeding with the raw HPP chicken diet twice a day for 45 days. The authors pointed out the difference in nutritional quality between both diets, with the raw HPP chicken formulation presenting more than 2.6 protein content despite having 1/3 of dry matter (Table 2).

At day 0, dogs consumed 300 g of food and averaged 128.7 g of feces, whereas the remaining 57.11% of intake was absorbed (Table 3). Intake increased to 500 g with a notable improvement of digestibility and reduction of feces. After 45 days of following the raw HPP chicken diet, the digestibility coefficient was 95.71% and dogs produced only 1/6 of feces when compared to day 0.

The digestibility of dogs notably improved not only in quantity, but also in quality as indicated by feces composition through the study (Fig. 4). For example, based on the formulation composition of Table 2, the average available protein per consumption in the raw HPP chicken diet is 500 g x (47.39 g protein /100 g of food) = 236.95 ~ 237 g of protein. By day 45, dogs produced 21.45 g of feces (Table 3), where 20% (~4.29 g) correspond to protein (Fig. 4), representing a 98% uptake of protein available in the raw formulation.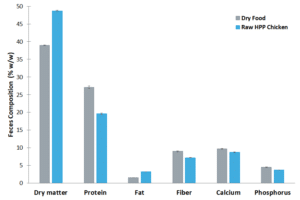 Final Remarks
Findings on the clinical studies reported with raw HPP diets here discussed are based on a relatively small sample size, but reported results are positive and very promising for pets and pet owners. As in the case of humans, in addition to loving parents, the key to a happy, healthy life is a balanced, varied diet. Thus, pet parents should always consult a veterinarian to design a diet that will meet all the nutritional requirements of pets.
If you want to learn more about HPP technology and its applications do not hesitate to contact us.