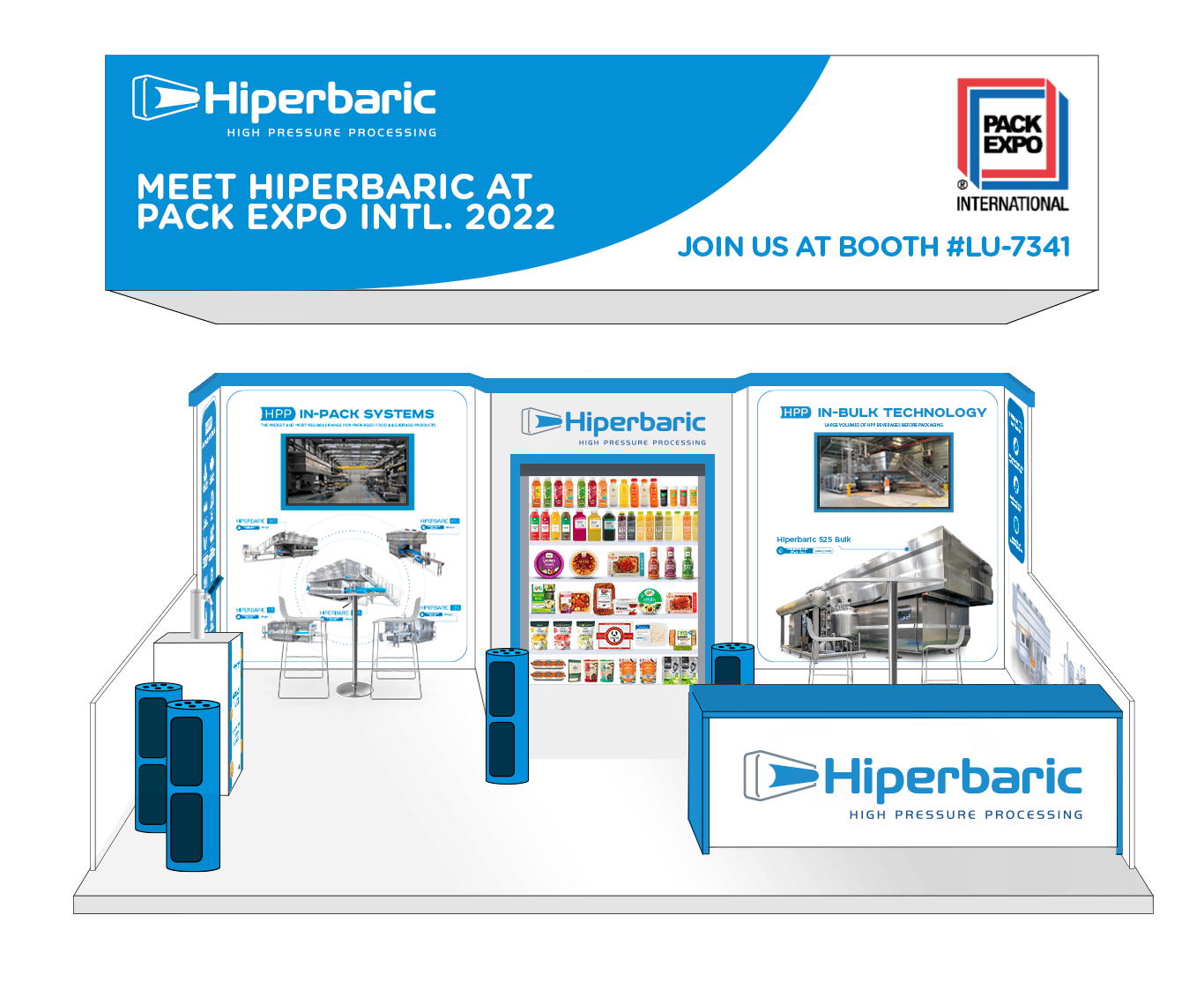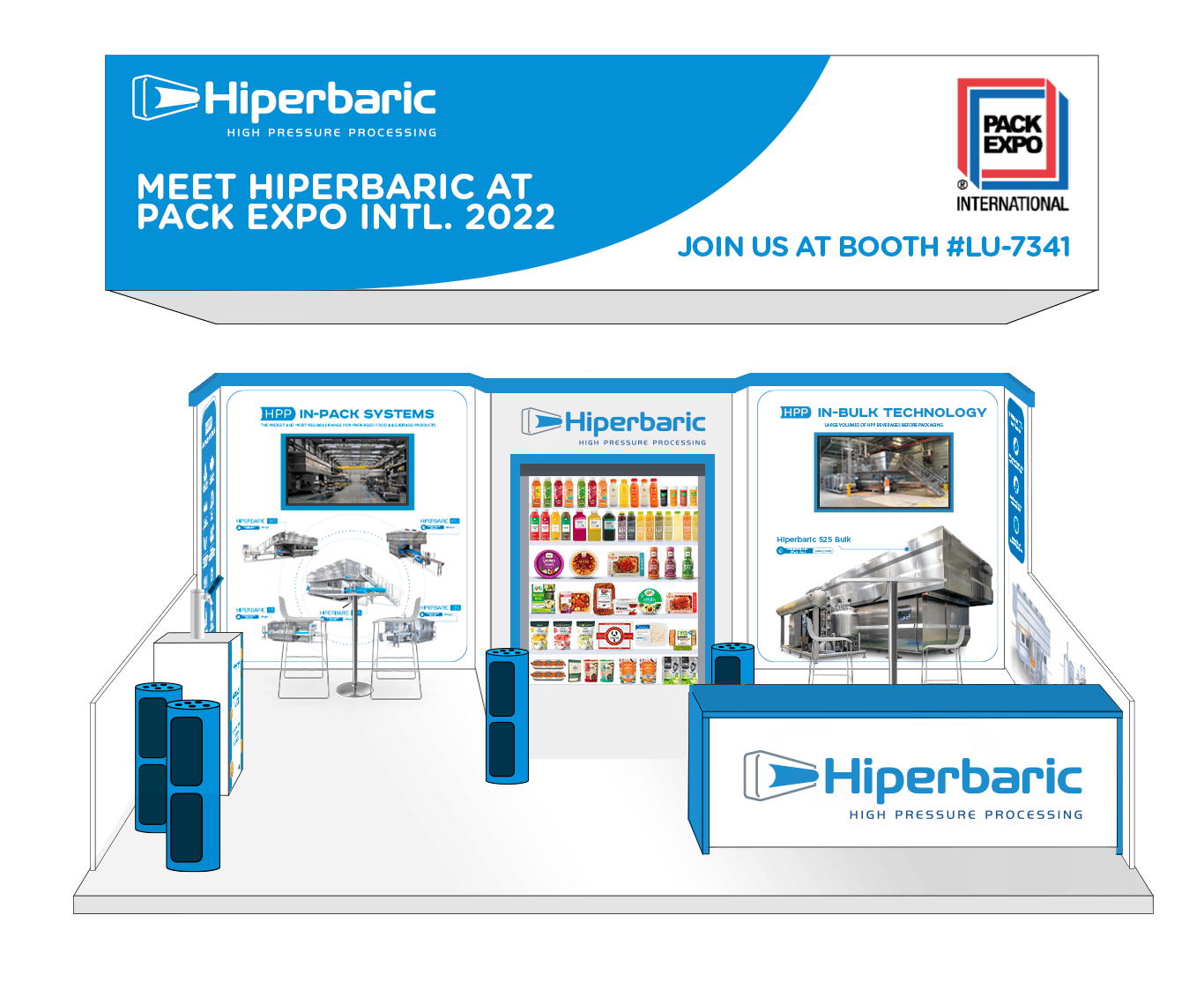 Miami (Sept. 27, 2022) – Hiperbaric, the world leader in high pressure processing (HPP) equipment for the food and beverage industry, will share the latest advancements in its HPP In-Pack and Bulk equipment at PACK EXPO International, October 23-26, 2022, in Chicago, at Booth LU-7341.
Hiperbaric's In-Pack equipment delivers the benefits of HPP through a variety of machine options. Food and beverages already in their packaging are placed into baskets and undergo HPP, a process that uses cold water and high pressure to inactivate pathogens and microorganisms found in food and beverages, increasing food safety and extending shelf life without using preservatives.
Hiperbaric Bulk technology is designed for high-volume processing of HPP beverages. The innovative technology reduces steps, simplifies the process, increases productivity, and lowers processing cost and energy consumption. The equipment design enables a filling efficiency of 90% of the total volume, almost double that of in-pack technology.
PACK EXPO International focuses on the most innovative and unique packaging and processing solutions, including automation. At the show, Hiperbaric will co-present with Evolution Fresh, a premier cold-pressed juice company and subsidiary of Bolthouse Farms. At the Processing Innovation Stage, Roberto Peregrina, director, Hiperbaric USA, and Michael Durbin, plant director, Evolution Fresh, will address the advancements in HPP beverage automation.  The event will take place on Monday, October 24 from 3:00 – 3:30 pm local time at LU-7130.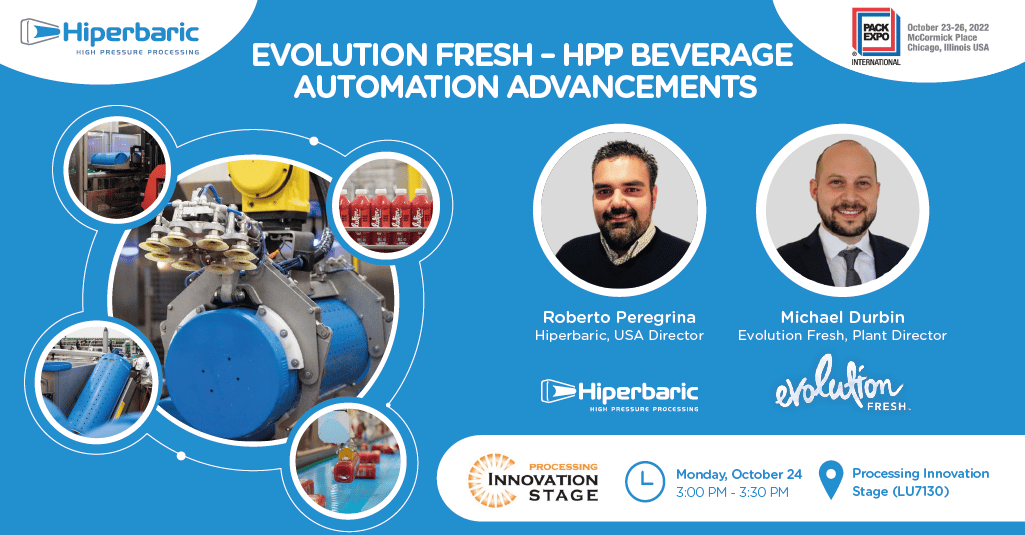 "We are looking forward to showcasing our advancements in HPP and helping companies bring better-for-you products to market," said Peregrina. "HPP technology automation can address many of today's labor challenges by increasing production line speed and efficiency, improving safety, reducing labor costs and injuries, and delivering accountability. We'll see you at PACK EXPO 2022."
During the show, Hiperbaric will also discuss its 24/7 support program for customers. The program includes access to Hiperbaric's Applications Team; complimentary HPP testing; 24/7, 365 complimentary remote support access; onsite assistance within 24 hours; and spare parts shipment within 24 hours. Hiperbaric also offers complimentary yearly equipment training workshops for its customers, and marketing and PR support to increase customers' brand exposure.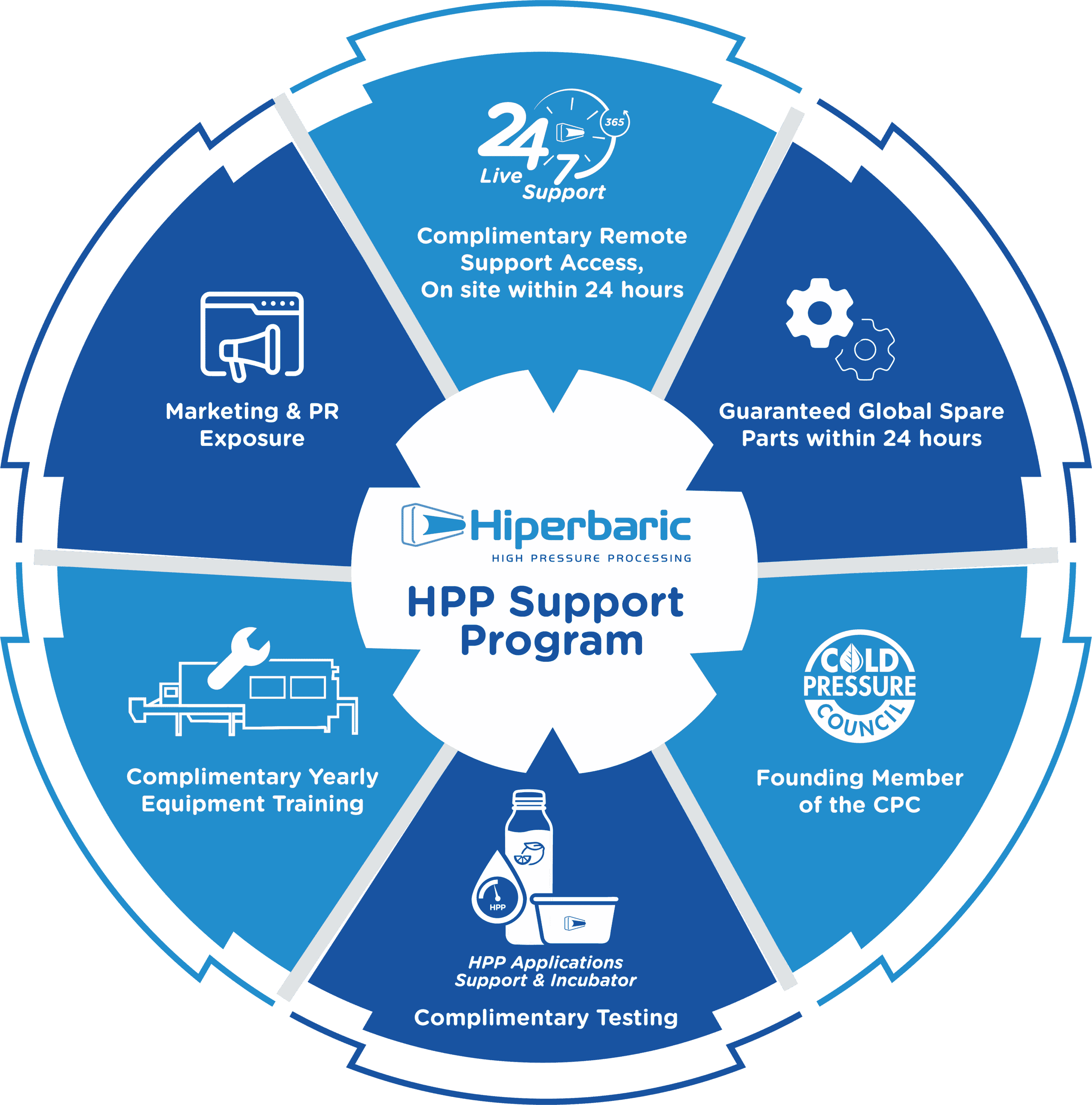 In conjunction with PACK EXPO International, the Cold Pressure Council (CPC) is hosting its annual conference on October 25. Dr. Vinicio Serment-Moreno of Hiperbaric will be presenting with Plant Veda CEO Sunny Gurnani on the topic of developing clean-label plant-based products using HPP technology.
About PACK EXPO International 2022
Produced by PMMI, the Association for Packaging and Processing Technologies, PACK EXPO International brings together exhibiting suppliers and end users of innovative packaging and processing solutions.
The attendees at PACK EXPO International include C-level executives, engineers, plant managers, research and development professionals, brand and marketing managers, quality controllers, specifiers, purchasers and packaging designers from a variety of prominent consumer packaged goods companies (CPGs) and retailers.
About Hiperbaric
Hiperbaric is the world's leading supplier of high pressure processing (HPP) equipment for the food industry.
Since its inception in 1999, Hiperbaric has designed, developed, produced and marketed its high pressure processing equipment internationally. The company is recognized for its reliability, customer support, teamwork and continuous effort in R&D.
Hundreds of companies worldwide use Hiperbaric equipment for the processing of juices and beverages, meat, fish and shellfish, fruits and vegetables, dairy and prepared dishes. A highly versatile technology, HPP can be applied to a wide range of foods.
With world headquarters in Spain, the company also has an office in Miami to serve its North American market. For more information, visit: www.hiperbaric.com.