HPP In-Bulk
LARGE PRODUCTION OF BULK LIQUIDS BEFORE BOTTLING
Hiperbaric Bulk technology is a global innovation for high volume processing of HPP beverages. This range of equipment is based on a revolutionary concept (patent pending), in which beverages are processed in-bulk prior to bottling.
This new technology reduces steps, simplifying the process and offering the highest productivity in the world, along with the lowest processing cost and lowest energy consumption. In addition, it allows the use of any type of container after HPP processing, regardless of material, design, or size.
The design of this equipment allows to obtain a filling efficiency of 90% of the total volume, approximately double that of in-pack technology. The process begins by liquids filling the inlet tank. After pressurization, the HPP beverage fills the outlet tank through sterilized tubes and is ready to be bottled in an ultra-clean filling line.
Discover Hiperbaric 525 In-Bulk Equipment liters/hour [US liq. Gallons/hour] Vessel Capacity liters [US liq. Gallons] Vessel filling efficiency
Hiperbaric 525 Bulk Main Features

This new model simplifies production, reducing stages and increasing productivity significantly. Its design is based on a 525-liter volume vessel together with a tank system where the product is stored before and after its processing by high pressure, to be later bottled.

Its capacity to process more than 4,000 liters [1,060 gallons/h], makes it the most productive installed HPP equipment in the world. In addition, it reduces the cost of processing, thanks to the lower energy consumption and the automation of the process. Hiperbaric 525 Bulk easily adjusts to large liquid production lines and allows the use of any type of packaging.
The first HPP In-Bulk equipment installed for large volumes of liquids
Speak to an HPP Specialist
First HPP In-Bulk Unit for Fresh Juice Production
Hermes Boissons is leveraging the latest breakthrough in High Pressure Processing. The French juice processor is using the world's first commercial HPP In-Bulk equipment, created by Hiperbaric, that simplifies production while delivering increased output, cost savings, and sustainable value.
For its part, the Juste Pressé brand offers natural fruit and vegetable juices processed by HPP using Hiperbaric In-Bulk technology. And it is also an innovative company: it has launched the world's first HPP juice in carton packaging, instead of plastic packaging, being more environmentally friendly and aligned with the company's philosophy.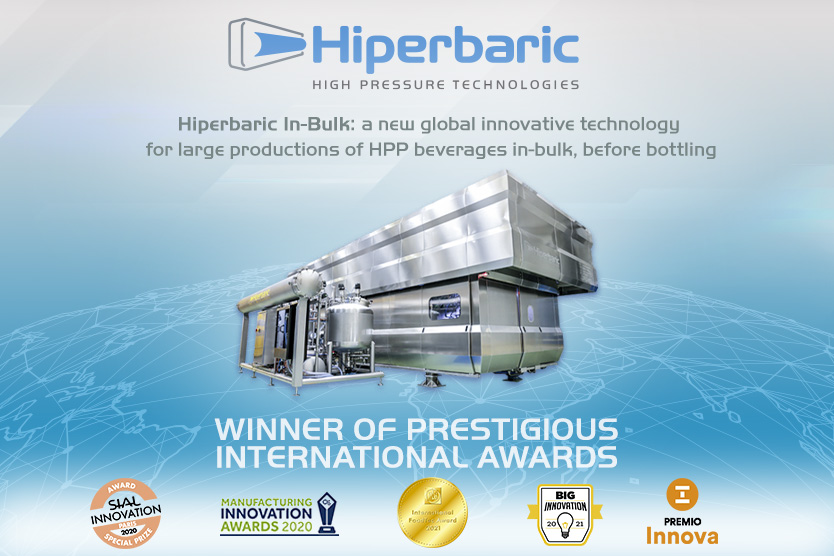 Discover all the awards received
The Hiperbaric HPP In-Bulk technology has won 4 prestigious international awards. These awards recognize Hiperbaric's innovative character and the strong R&D efforts made to develop this worldwide innovation for the production of large volumes of HPP beverages in bulk, before bottling.