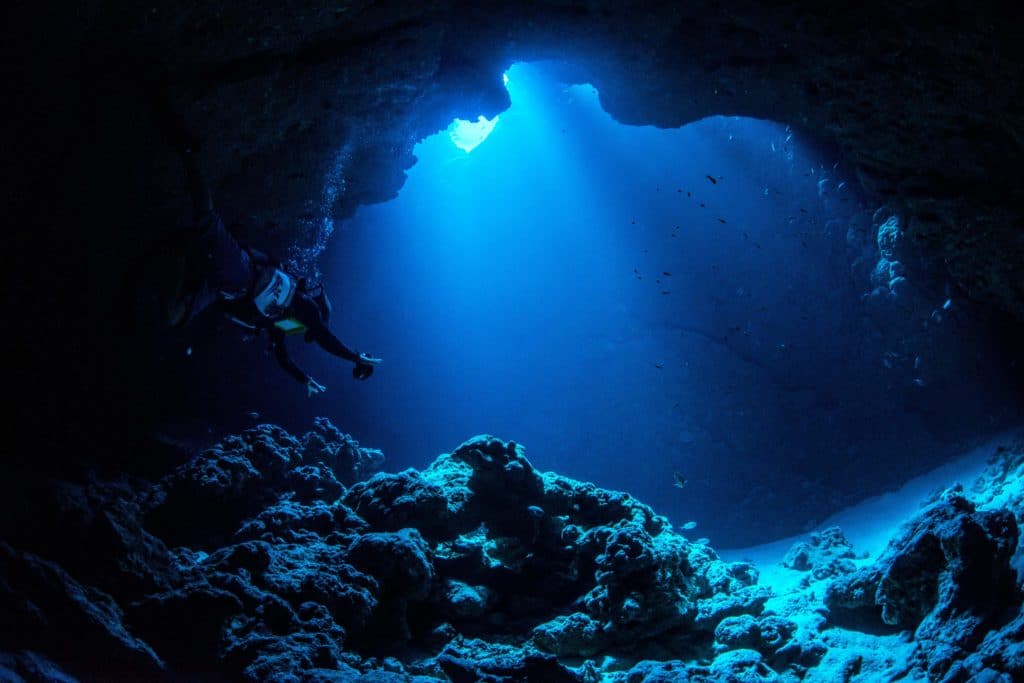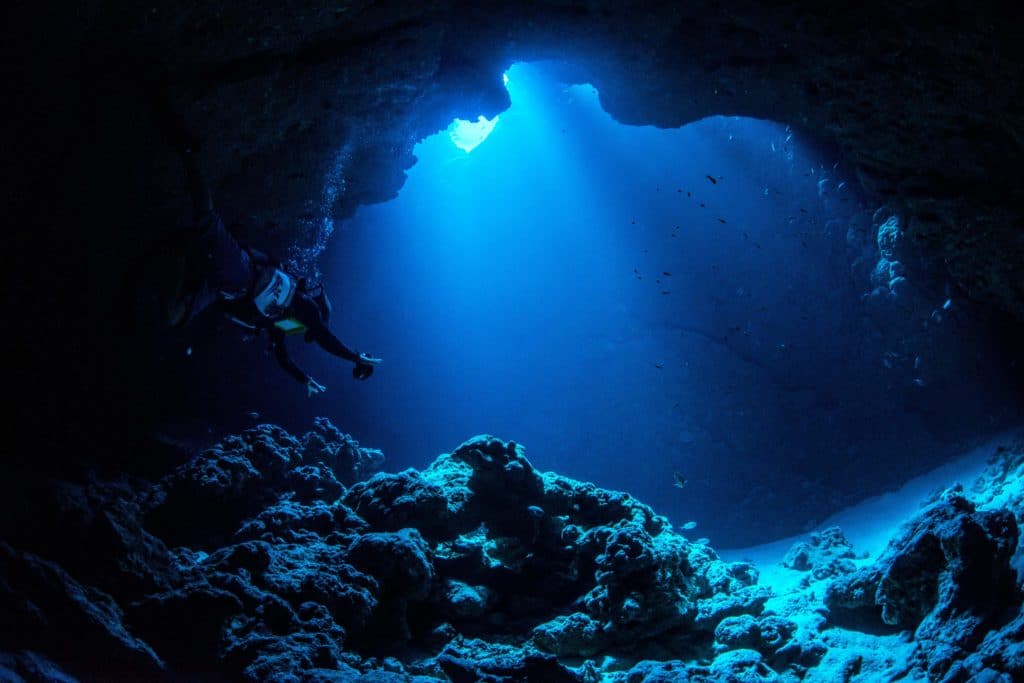 The Marina Trench is the deepest point of the oceans with an estimated depth of 10 km (~36,000 ft). Prior to the 1990's, few would have thought that a food processing technology emulating an immersion 6 times this depth (60 km; 198,000 ft), known as High Pressure Processing (HPP), would disrupt the seafood industry. In our latest blog entry, we discuss the benefits and share the most recent innovations to incorporate HPP into the production lines of raw or cooked seafood products, to meet consumers and processors demands of fresh, nutritious and safe foods.

---
In 2020, the National Fisheries Institute reported record seafood sales across the United States in the fresh and frozen categories, jointly representing nearly USD 14 billion sales volume (Blank 2021).The rich nutritional content of seafood makes it highly regarded among consumers, but it is very susceptible to microbial, chemical, and enzymatic spoilage.
High pressure processing (HPP) is a nonthermal food processing technology that is suitable to ensure safety without altering the delicate nutritional and sensory characteristics of seafood; the versatility of the technology allows processors to adapt HPP in production lines for raw or cooked seafood. The superior quality of HPP seafood is perceived by customers and recognized by experts in the field alike. In fact, HPP seafood products have won the prestigious "Seafood Excellence Global Awards" under multiple categories in recent editions (Table 1), some of which discussed over the next sections.
Table 1. HPP products awarded with "Seafood Excellence Global Awards"
Year

Company
Product Desription

Category

Guacamole with fresh spirulina

Health & Nutrition

Marinated yellowfin tuna slices

Best New Foodservice Product

Fish filets preserved by HPP

Seafood Product Line

Raw frozen king crab meat

Best Foodservice Product
Pre-cooked HPP foods
Cooking eliminates some of the pathogens present in raw seafood. However, some spoilage microorganisms might survive, and pathogen Listeria monocytogenes lurks in every food processing facility, which can lead to contamination during handling with potentially fatal consequences for the consumers.
In this case, HPP serves as a hurdle for Listeria and a shelf life extension step by eliminating yeasts and molds, while slowing down other spoilage microorganisms with minimal impact on the nutritional or sensory characteristics of cooked seafood dishes.
Terranova developed HPP ready-to-eat (RTE) cooked octopus in vacuum skin packaging with a sleek, elegant presentation (Fig. 1). Villa Food in Italy paired up with a local university and developed exquisite RTE dishes that last up to 90 days, including the appealing octopus salad shown in Fig. 1.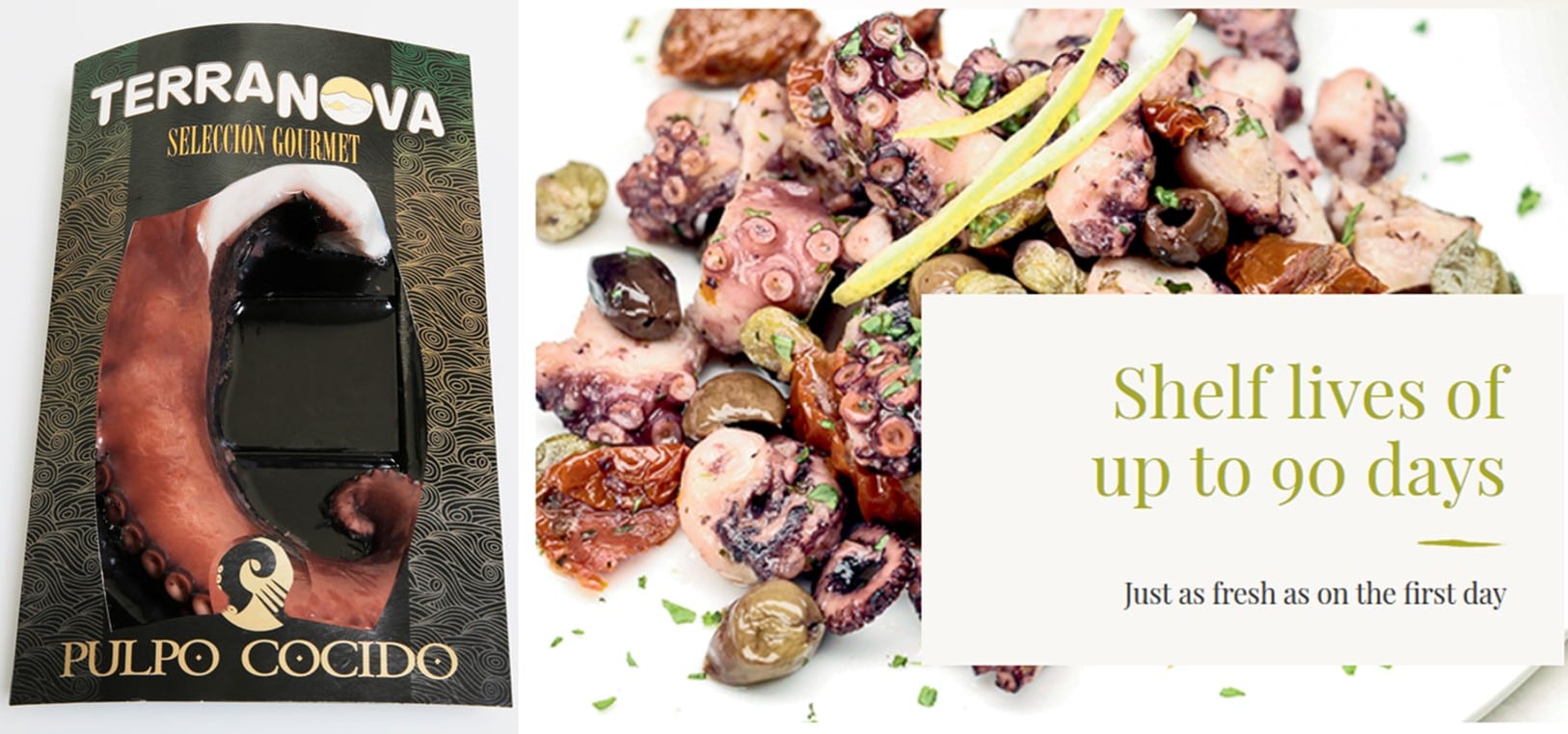 Co-packer and HPP toll processor Maryland Packaging lives up to their slogan of "HPP & Technology". Their facilities contain multiple top food technology equipment to match customer processing needs, and share "At Marlyand Packaging, we can process foods in a number of ways, but our favorite is HPP…" with two Hiperbaric 525 units installed to reach their goals.
Maryland Packaging processes premium quality RTE dishes recently launched under the Fusia Foods brand, which features some dishes that mix the main seafood portion with diverse sides in their product portfolio (Fig. 2).

Another example of successful commercial HPP pre-cooked seafood is Seafarer's Inc., a company that imports cooked crab meat from Venezuela to sell in the United States. HPP reduces risk associated with the post-cooking contamination of Listeria and Vibrio spp. as posted in our vibriosis blog post.
Cooked seafood is also mixed up with dressing and spices to create fresh and delicious deli-style salads. Sandridge Foods features a tasty and convenient deli-style salad by mixing tuna with fresh vegetables and a creamy dressing under their 1st & Main Deli brand (Fig. 3).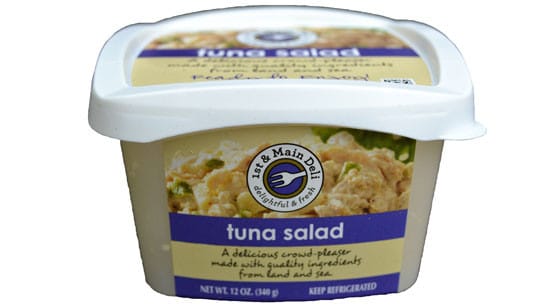 A research study processed a similar product consisting of smoked trout meat mixed with mayonnaise and spices (pH 5.6-5.8), at 6,000 bar (87 kpsi) with a 5 min holding time (Salamon et al. 2016). The authors observed that unprocessed samples showed clear spoilage signs after 7 days at temperature abuse conditions (10 °C), when the total plate count (TPC) reached 5-log10 units (Fig. 4). Conversely, the TPC of HPP samples remained below this limit at least during 26 days without using chemical preservatives (Fig. 4). Outstandingly, the HPP trout salad retained its sensory properties unaltered in samples tested at day 21 of temperature abuse storage (Salamon et al. 2016).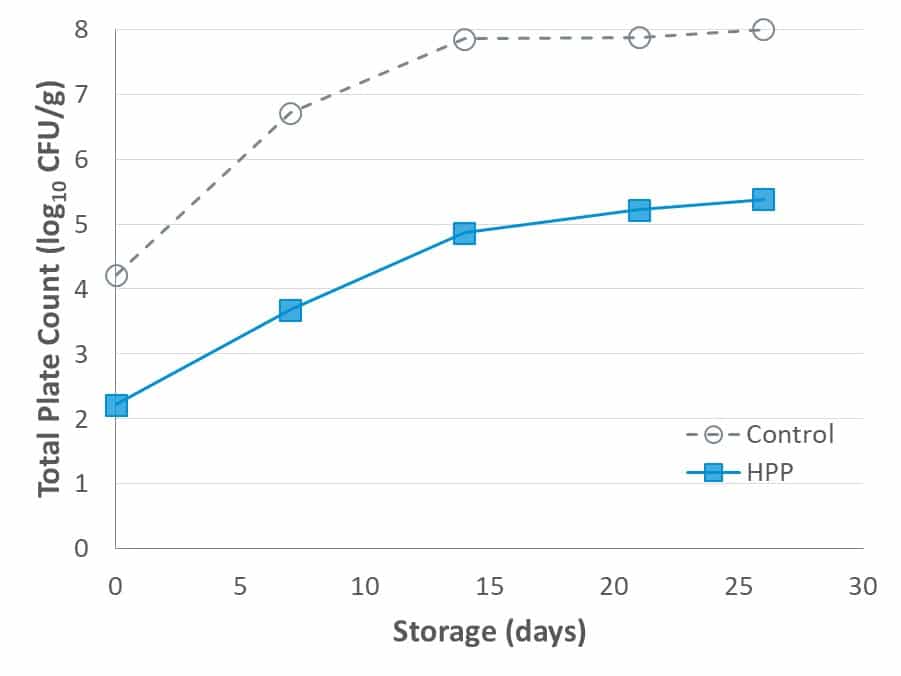 Raw HPP Seafood
The development of raw HPP seafood is feasible but more challenging, with some outstanding commercial applications. White flesh fish such as cod is better suited than red flesh fish like tuna or salmon. In red flesh fish, the protein myoglobin gives the red color. Pressure does not modify the nutritional protein content, but modifications of the tridimensional arrangement of myglobin gives flesh a "cooked" appearance.
Conversely, in white flesh fish color changes are less noticeable and taken into advantage by processors. French company Delpierre states in their website that processing at 5000 bar is sufficient to achieve 21 day shelf life of skin-packaged fillets such as bar, dorade royal, cabillaud, sardines, and maquereaux (Fig. 5), without chemical preservatives (White 2016).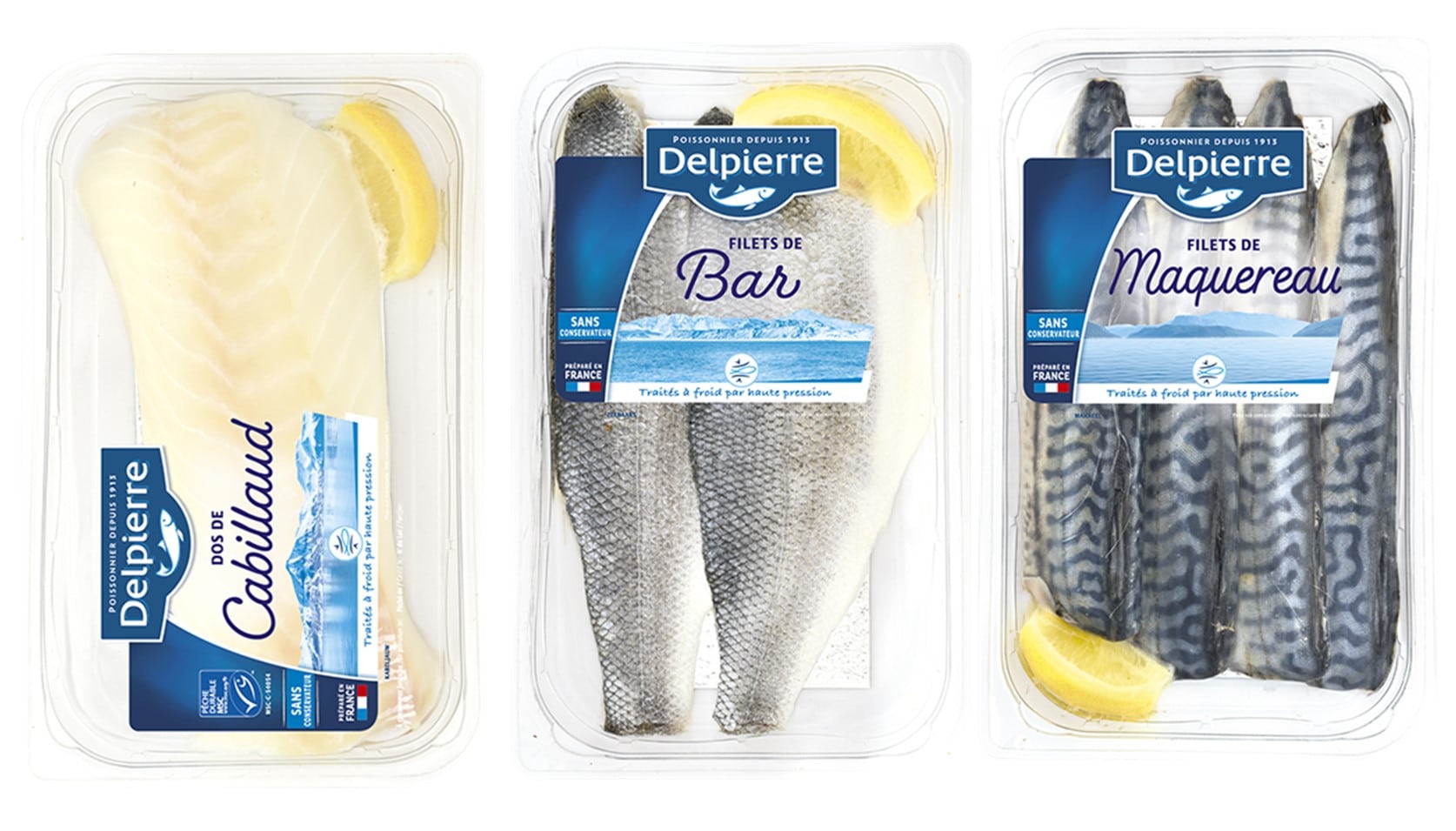 Another success story is that shared in our blog entry of Bacalaos Alkorta. Applying HPP extends the shelf life from 21 to 60 days, and takes away from consumers the hassle of desalting cod. The white appearance of this particular fish does not change after HPP, providing safety and convenience for customers and processors.
Likewise, a recent study reported that rehydrated uncooked cod samples averaged 2.5 ± 1.5 log10 for TPC following 49 days of a 6000 bar, 5 min holding time (Rode and Rotabakk 2020). The authors emphasized the transcendence of HPP research findings to minimize food waste, since raw rehydrated fish barely exhibits between 6-10 days in chilled storage (1-4 °C).
The Thai Union earned worldwide recognition with their "uncanny tuna" product line (White 2018). Sliced marinated slices of raw tuna are conveniently packaged to eliminate foodborne pathogens with HPP, and the deliver the raw taste of fresh tuna in their "Black Pepper" and "Cajun" presentations.
In cold smoked salmon (pH 5.7-6.2, aw 0.97, water phase salt 3.81-3.89%), Lebow et al. (2017) evaluated the combination of HPP (6000 bar, 2 min) and nisin. The authors reported that HPP and nisin yielded non-detectable counts at day 0 and <1 log10 growth of Listeria innocua at least by 36 days under moderate temperature abuse conditions (7 °C).
This study also evaluated the sensory response of 120 panelists after 1 day of storage. HPP samples retained their redness, but pressure increased the lightness of cold smoked salmon (Lebow et al. 2017). This affected the appearance perceived by panelists, but the consumer preference of HPP samples matches or outweighs non-treated samples in the overall liking, texture and flavor (Fig. 6).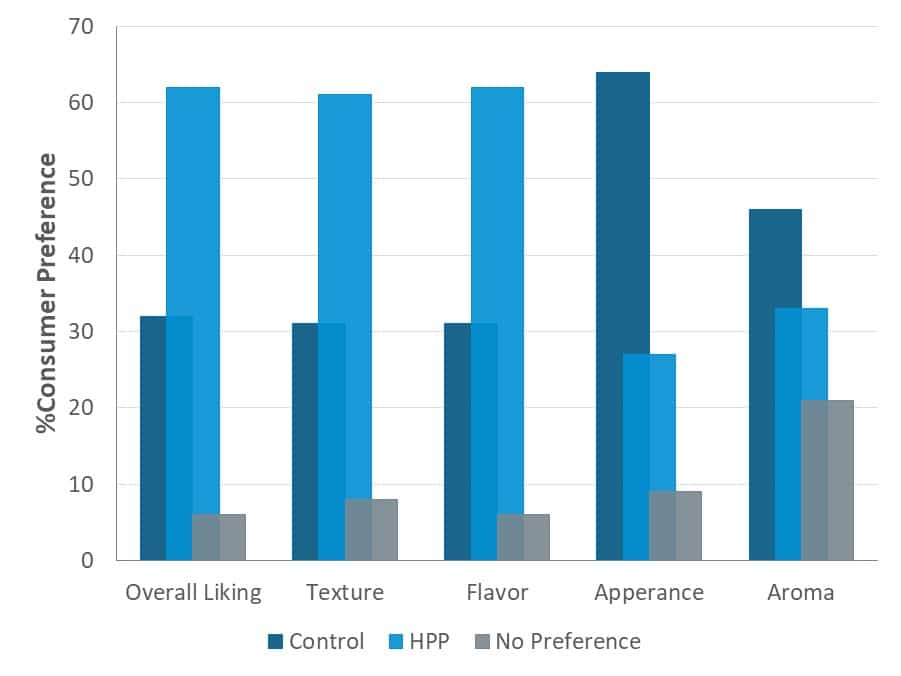 Algae had long served as part of the daily diet in Asian countries and has been gaining notoriety around the world due to its high nutritious content. Recently, research studies reported that HPP extended the shelf life of five salted seaweed varieties up to 180 days, with a greater retention of nutritional characteristics when compared to freezing (del Olmo, Picon, and Nuñez 2020).
The nobleness and benefits of HPP were also highlighted with novel algae products. C-weed launched a RTE fresh seaweed salad that exhibits the "High Pressure Certified" logo in the packaging (Fig. 7), which is available through the High Pressure Council as presented in our webinar. Furthermore, GlobeXplore combined spirulina algae with avocado for a nutritious, clean label spread (Fig. 7). Both main ingredients are sensitive to spoilage and color changes due to heat, light and other environmental factors, and only HPP is capable of retaining all their nutritional and sensory properties.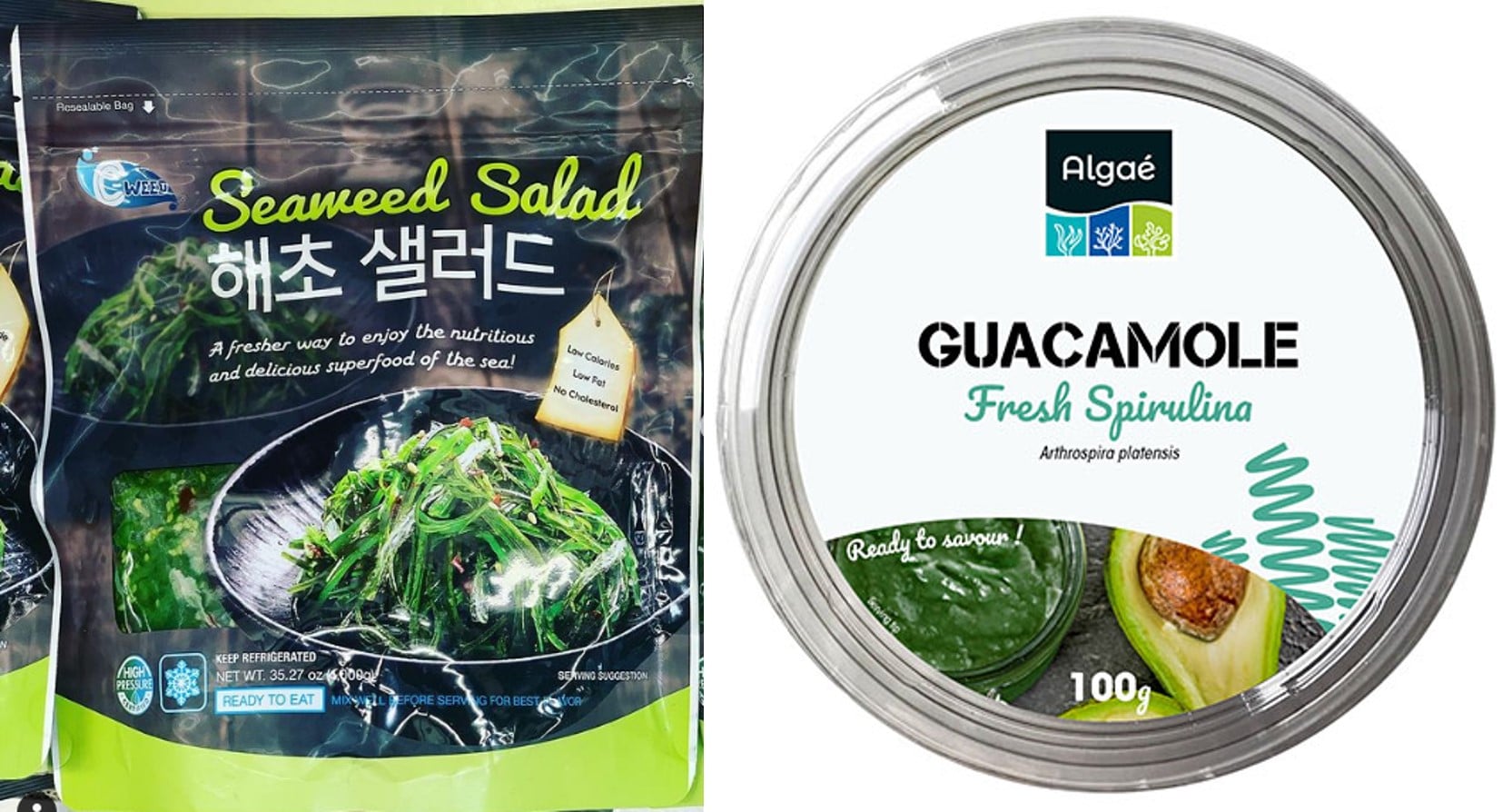 Shucking
Last but not least, the use of high pressure to shuck bivalves (oysters, clams, etc.) and crustaceans (lobsters, crabs, etc.) stands as one of the earliest HPP commercial applications, but it continues to catch the eyes of consumers and processors alike. HPP easily detaches the shell to recover 100% of edible meat without damaging muscle as shown in Fig. 8 and discussed with more detail in our Shells Away blog entry.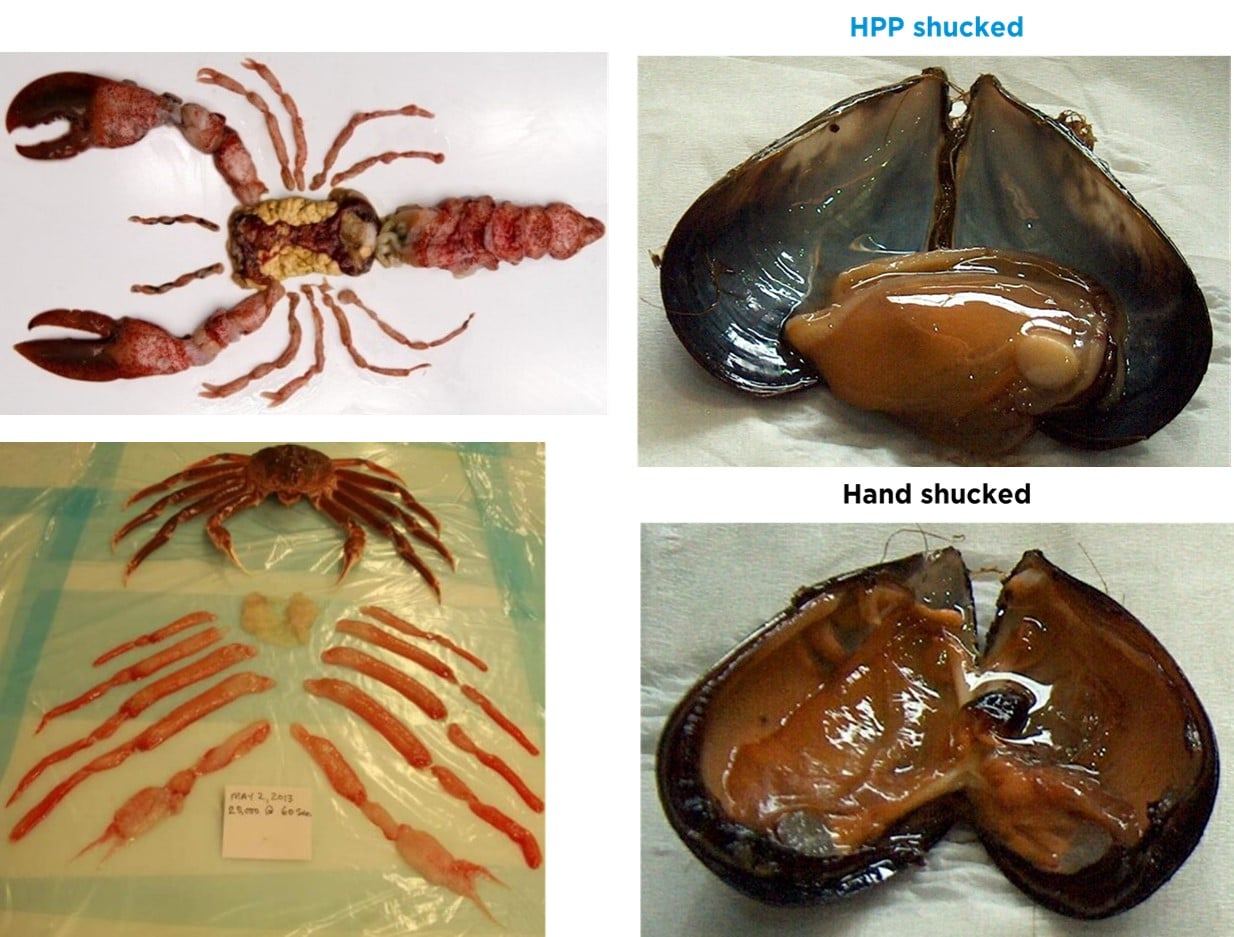 Contact us to know more!