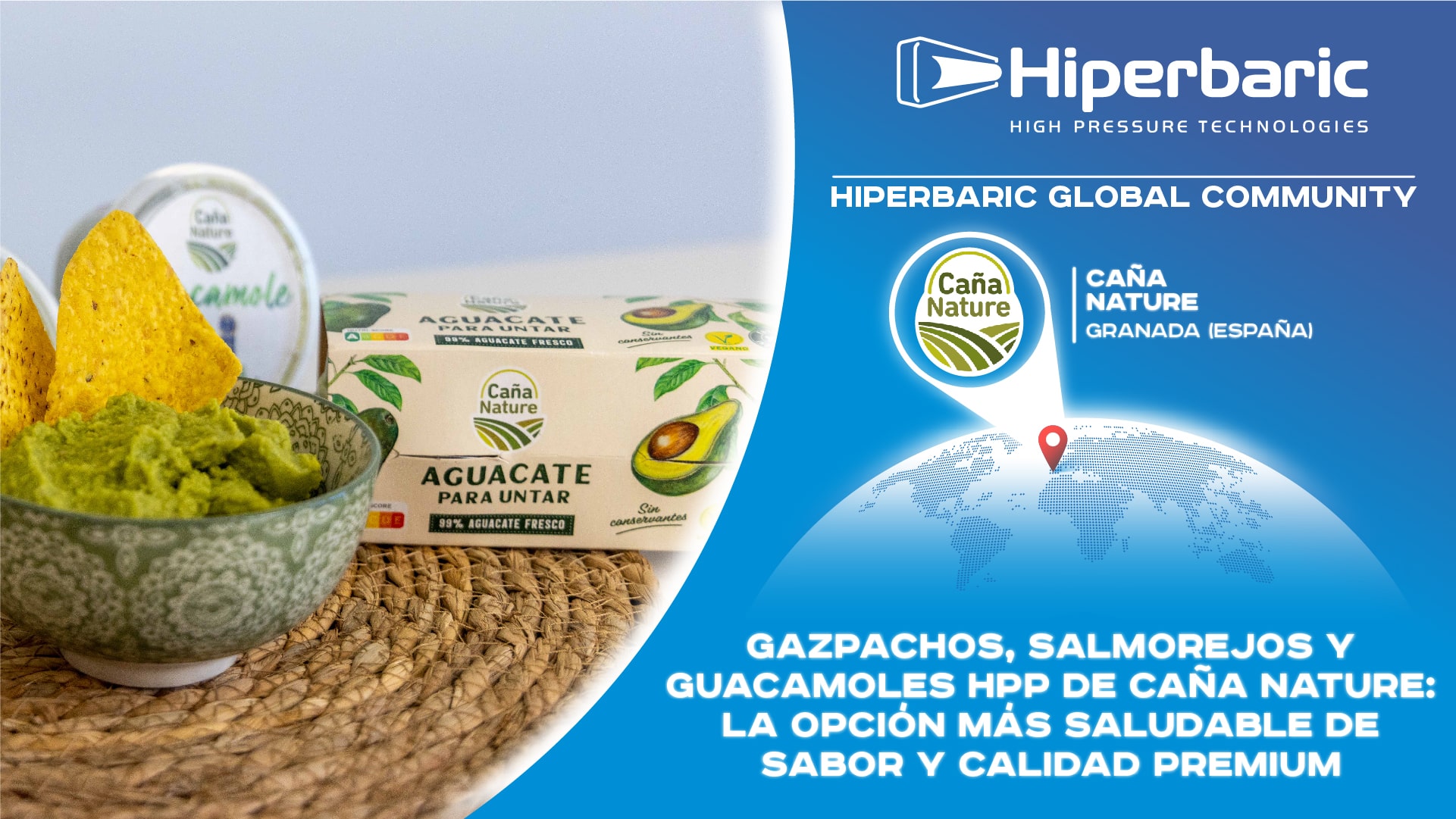 To think of the Tropical Coast of Granada, located in the southeast of Spain, is to be transported to Grupo La Caña: vegetable fields golden in the sun, avocado trees swaying in the Mediterranean breeze and a myriad of the most suggestive tropical fruits. We travel to Motril and Escúzar, in Granada, to learn about the trajectory of one of the largest avocado and tomato producers in Spain, and to understand how High Pressure Processing (HPP) and Hiperbaric technology are driving the success of its HPP product brand: Caña Nature.
Grupo La Caña, the seed from which the freshest food is born
Grupo La Caña is a company with 40 years of experience dedicated to the production and marketing of high quality fruits and vegetables. It has extensive experience in the sector and its main objective is to offer fresh and healthy products, while promoting environmental and social sustainability in its activity. "We work with more than 2,000 local farmers with fresh vegetables such as tomatoes and their different varieties, cucumbers and excellent subtropical fruits, including avocado, mango and custard apple, which we grow and harvest at the optimum time for each product," says Beatriz Molina, R&D director of Grupo La Caña. The company combines the millenary tradition of Mediterranean agriculture with the most advanced cultivation and quality control technologies.
The leap to high pressures: the innovation model with Caña Nature
Grupo La Caña goes far beyond offering "only" fresh vegetables and fruits to the market. "Thanks to our concerns and a strong entrepreneurial spirit, we looked for ways to give a second life to our products. This is where the innovation model and the Caña Nature brand emerged, with ready-to-eat products treated by high pressures," Molina points out.
Thus, in 2019 the company's business subdivision, Caña Nature, was born, which since then has been offering consumers new functionalities in the 5th range product. "And all of this is done thanks to high-pressure technologies. Without them we could not have such innovative products."
Caña Nature, "Your healthy choice".
Javier Valverde is the CEO of Caña Nature, the person responsible for leading this new business unit, and since 2020, when the brand was launched, it has not stopped growing. In 2023, the company is expected to reach a turnover of 10 million euros, which is 50% more than in the previous fiscal year.
A 100% natural offer: guacamole, avocado spread, gazpacho, salmorejo, tomato… The fresh fruits and vegetables selected by Grupo La Caña are received at Caña Nature's modern facilities, located in Escúzar (Granada). First of all, the raw material is received in cold storage chambers and then undergoes a washing and disinfection process. Then, depending on whether it is tomato or avocado, they are cut and the stone is removed manually. If they are tomato products, they go to the crushing stage and from there to packaging, either in bottles or in tubs, where they use modified atmosphere. Subsequently, once packaged, the product undergoes High Pressure Processing (HPP) and then comes the final phase of boxing and transport to its product warehouse. Once there, it will be distributed by different commercial chains in our country and outside Spain.
Hiperbaric High Pressure Technology
High pressure processing, or cold pressure, consists of subjecting products, once packaged, to high levels of isostatic pressure transmitted by water (hydrostatic pressure) of up to 6,000 bar (600 MPa or 87,000 psi), for a few seconds or minutes. This pressure is transmitted uniformly and instantaneously to all points of the product, thus achieving an effect equivalent to pasteurization, but without using heat. The pressure varies from 5000 bar for tomato-based products to 6000 bar for avocado products.
"High Pressure Processing is the best method for food preservation", says Javier Valverde. "High pressures ensure that our products keep all their nutritional properties intact, free of preservatives and additives, and with only natural ingredients, we achieve Premium Quality and a Clean Label". In addition, the high pressures give an extended shelf life to all our guacamoles, gazpachos and salmorejos and we get up to 9 weeks more shelf life without losing the properties and nutrients, and with total guarantee of food safety.
Hiperbaric, a strategic ally for Caña Nature
The relationship between Hiperbaric, the world's leading manufacturer of high-pressure HPP equipment, and Caña Nature dates back to 2019. In that year, the company acquired the Hiperbaric 300 model, and today it has expanded capacity by adding another equipment, Hiperbaric 420, with capacity to process 2,400 kg/h, and take advantage of all the benefits of HPP technology.
For Caña Nature, Hiperbaric stands out for its after-sales service, quality and reliability, "and that our machine can always be operational and the team is always available to guide us through everything. Hiperbaric's HPP technology is of vital importance to us. We know we have the best partner".
Caña Nature Gazpacho, Flavor of the Year 2022
Caña Nature's target consumer is the consumer who is aware of healthy products, concerned about having an active and healthy life at the same time. "Our products are free of preservatives, additives and therefore the products we designed were specifically oriented to them, real food products that consumers are demanding. Currently its products can be found in the main distribution chains nationwide, but they are also present in different European countries such as Germany, Poland, Austria, France, Finland or Russia, among others.
"In Caña Nature we do not only want to approach the fifth range product to the use, but we want to offer a broader product in terms of functionalities. And all this is done thanks to high-pressure technologies," says Beatriz Molina.
For the second consecutive year, Caña Nature has obtained the Top Innovation 2022 Flavor of the Year Seal, with the best consumer rating for appearance, flavor and innovative Braille labeling, a success of which they are very proud!
Fore more information, visit www.cnature.com