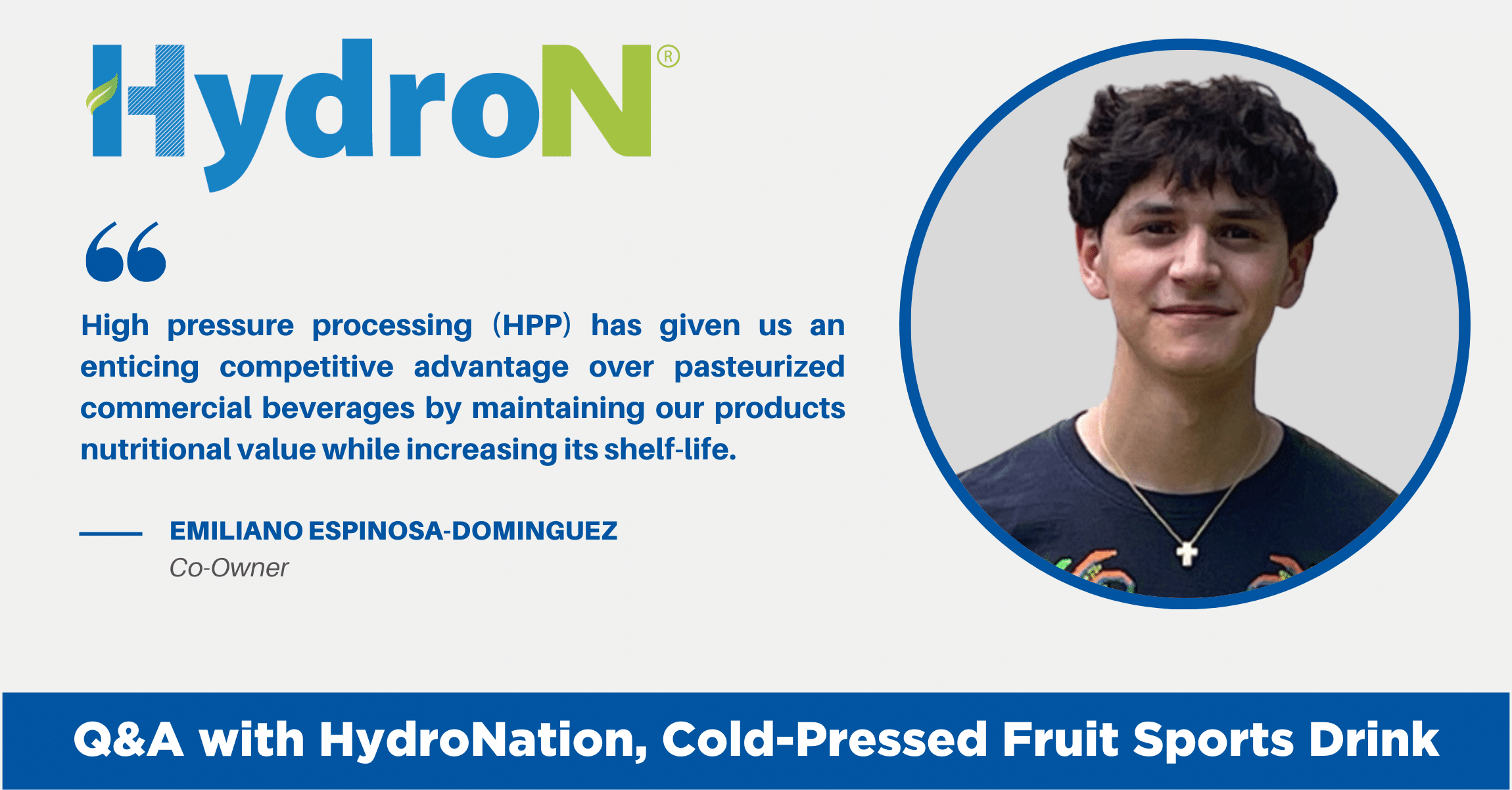 Hiperbaric sat down with Emiliano Espinosa-Dominguez, co-owner, of HydroNation to discuss how they use HPP for cold-pressed fruit sports drinks and the advantages of high-pressure processing.
About HydroNation
The concept behind HydroNation began years ago with Emiliano's desire to change the way people view hydrating sports drinks today. During his training sessions, Emiliano, co-owner of HydroNation and national rock-climbing competitor, never felt satisfied and fulfilled drinking popular sports brands due to their high sugar levels and chemical formulations. At this point, Emiliano decided he would create his own sports drink using cold-pressed fruit juices and other organic and high-quality ingredients.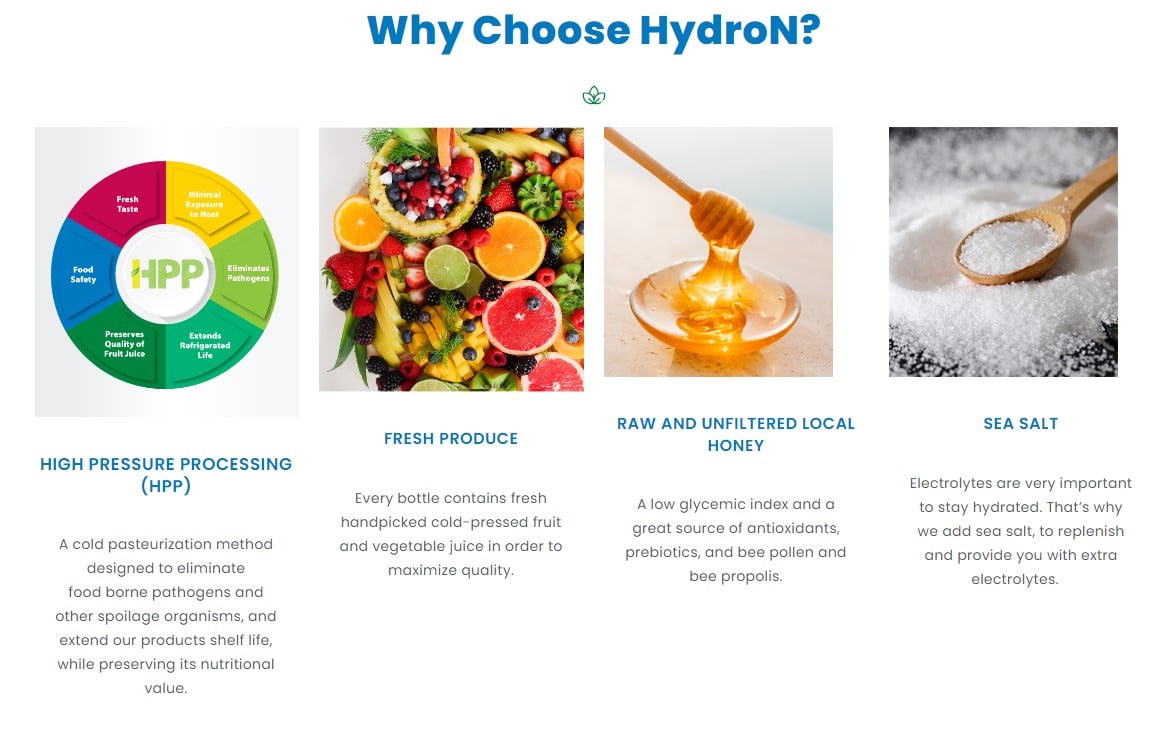 Q&A with Emiliano Espinosa-Dominguez, co-owner, of HydroNation
Tell us about HydroNation and how the business got started.
As a teenager and youth climber who competed at a high level for years, Emiliano, co-founder of HydroNation, was constantly on the lookout for the best foods and drinks to consume for optimal athletic performance. However, after trying various sports beverages over time, he noticed a lack of healthy options available in the market. It was from that point forward, Emiliano, along with his parents, decided to create HydroN, intended to provide the consumer with the necessary nutrients to meet their hydration needs by using only the highest quality ingredients possible.
How does HydroN differ from other sports drinks on the market?
When we hear "sports drinks," most of us think, Gatorade, Powerade, and Body Armor. In other words, a vast selection of colorfully watered down, overly sugary flavored drinks with salts. For years, these have been the standard when it comes to electrolyte replacement drinks. To our knowledge, there has never been a hydration drink that contained cold-pressed fruit juices among other natural ingredients and that undergoes the HPP process
Can you explain how 0g of refined sugar benefit the consumer?
As a starter, most sucrose in HydroN comes from the fruits and is less than half that in many energy drinks. Also, added sugars in HydroN come from raw honey rather than cane (refined) sugar. Even though your blood sugar levels will spike in both cases, the spike from local  raw honey is less pronounced and slower. Besides, you will not experience a sugar crash with honey as you would with refined sugar. This is because honey is lower on the glycemic index.
It is important to consider that when you frequently experience spikes in your blood sugar levels, this will cause inflammation, which in turn can lead to various health complications, including but not limited to, heart, kidney, and nerve problems.
Ideal HydroN consumer?
Whether you like to exercise frequently or adventure hiking in the inclement summer, HydroN is intended for active, health-conscious individuals seeking a natural alternative to hydrate that will support and complement their healthy lifestyle.
Can you walk us through the process to make the beverage?
We start by hand-picking fresh fruits and vegetables directly from produce wholesalers
Then we handwash and disinfect produce with non-toxic compounds
Next comes juicing. For pineapple, cucumber and honeydew, we peel, crush, and cold-press these fruits in a hydropress juicer. Celery, and parsley are juiced using a masticating juicer instead. We juice all of our citruses in a citrus juicer.
To ease blending, raw local honey is diluted in a 50:50 proportion, and a 100 X concentration of sea salt is prepared, both using purified water.
Then we create our signature blends by mixing them in a 55-gallon tank.
Then comes bottling and capping by filling 5 bottles at a time using a multi-filling device and a single capper.
Finally, we bring our product in for High Pressure Processing

Why did HyrdoNation decide to leverage HPP technology?
For as long as I can remember, at home we always prepared freshly pressed juice. When I got older, time was an issue and therefore we turned to commercial juices for convenience. To say there was a notable difference in taste, and quality is an understatement. After researching heat pasteurization and the adverse effects it has on juice and its taste, we were eager to find an alternative to increase HydroN's shelf-life while making sure its nutritional value and its fresh taste remain the same, or at least as close to it as possible. High Pressure Processing was the alternative we were looking for.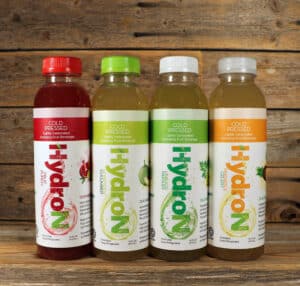 What has HPP technology brought to your company?
HPP has given us an enticing competitive advantage over pasteurized commercial beverages by maintaining our products nutritional value while increasing its shelf-life.
How are you communicating the benefits of hpp to consumers?
At demo's we verbally educate consumers of all the benefits of HPP highlighting how this process increases shelf life without compromising quality, nutritional value and safety. On our website, under "Why choose HydroN" we designed a diagram showing the benefits of High Pressure Processing.
Can you tell us about your partnership with i9 Sports and United Rocks?
At HydroNation, we strive to contribute to our community as much as we can by helping those who are disadvantaged in various ways as well by contributing to promote healthy life-styles.
United Rocks is a non-profit climbing team for children with intellectual and developmental disabilities. HydroN is the official hydration beverage of United Rocks.
I9 sports is the nation's largest multi-sport provider for children. We are partnering with them, but at a very local level with one of their franchises in our neighborhood. We hope that, as we grow, we will be able to extend this partnership state and nationwide.
Additionally, we have had the honor to contribute with product donation in a fundraising event for City House, a non-profit dedicated to help homeless youth. We hope to keep supporting this organization in the future.
What does the future look like for HydroNation?
We hope HydroN will keep growing with our current partners. Also, we hope HydroN will be available nationwide and abroad in many stores and gyms. We hope to be able to sponsor big sports leagues and go national with our current and new large partners as well.