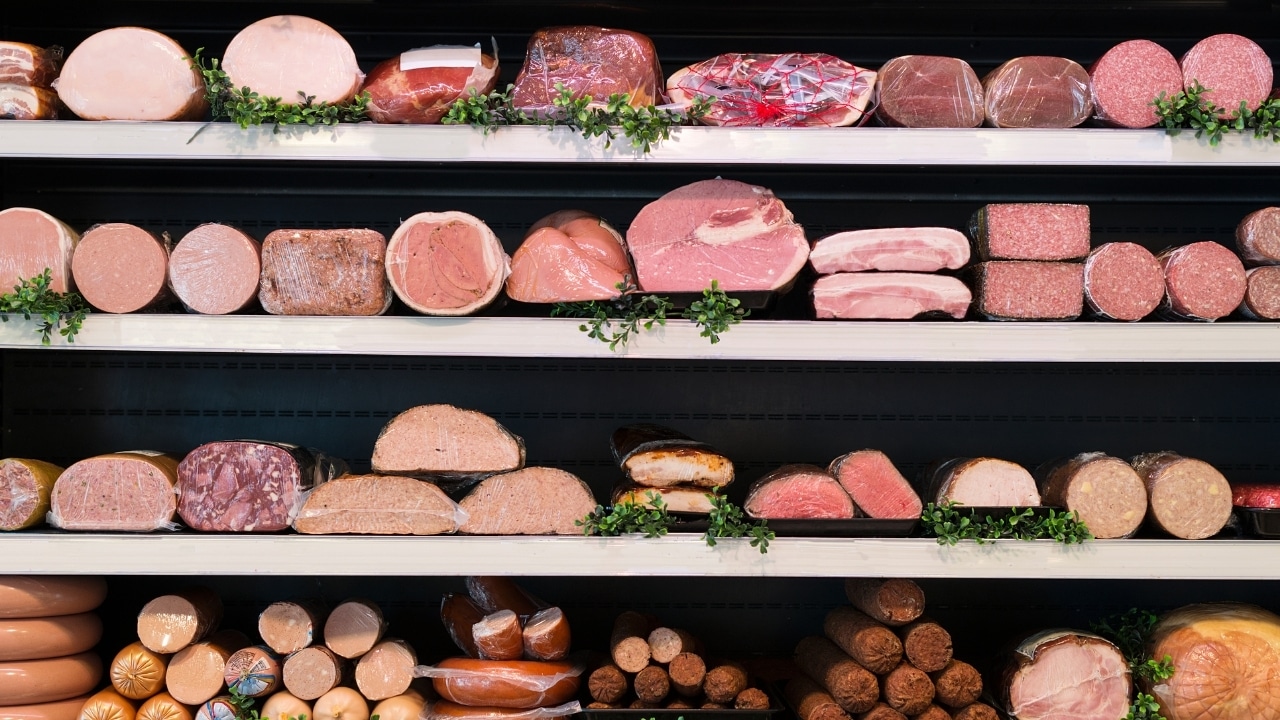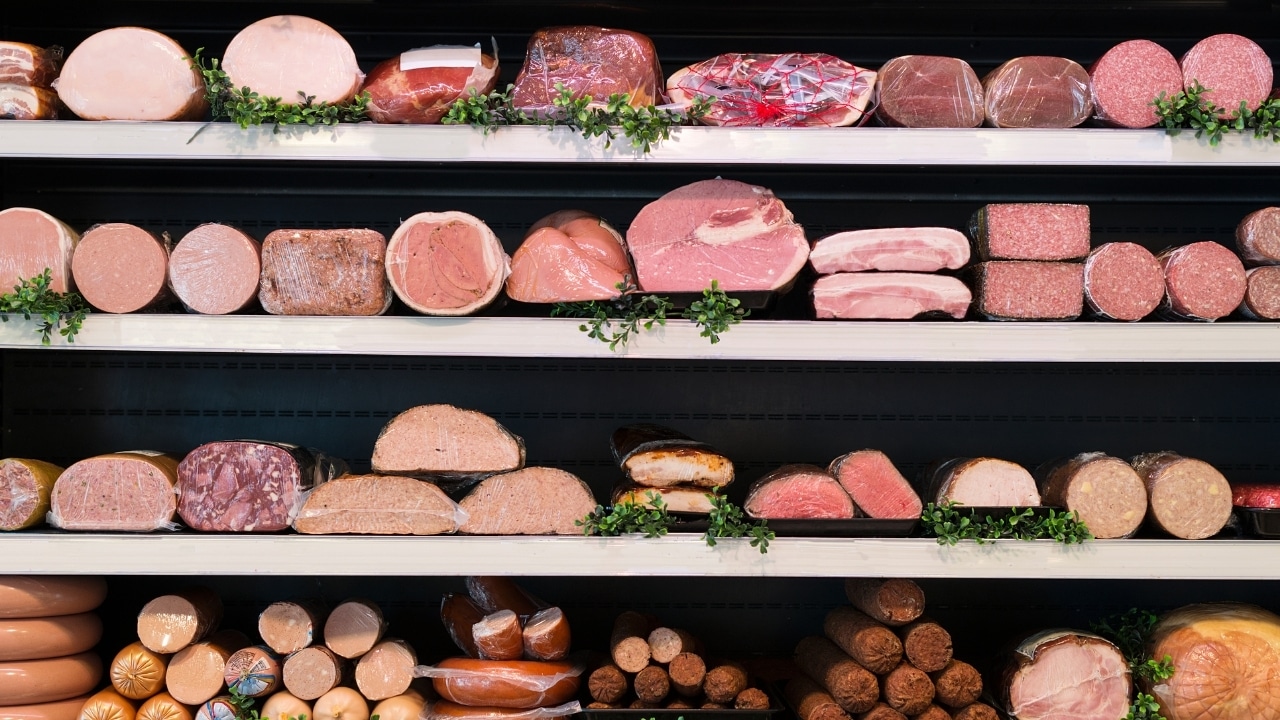 Meat products have been one of the main drivers of High Pressure Processing (HPP) technology in recent years. The need to ensure food safety and the requirement of fresh, clean and ready-to-eat products are the main reasons. We invite you to understand the relation between HPP and meat on our next webinar titled "Meating your food safety and clean label expectations using HPP" which will take place on February, 2.
---
Meat Products, drivers and beneficiaries of the HPP technology
What is the effect of High Pressure in meat products?
High Pressure Processing (HPP) is a non-thermal technology for food and beverages preservation. It applies high hydrostatic pressure in packaged products (In-Pack) or beverages before bottling (In-Bulk), during some seconds or minutes.
These are the most important advantages to apply HPP in meat products:
Premium quality. Organoleptic, nutritional and functional properties, in the case of some products, are preserved for up to three months.
Brand protection. HPP ensures food safety by achieving a 5 log reduction in pathogenic microorganisms such as Listeria, Salmonella or coli. Furthermore, by carrying over the packaged product, it eliminates the cross-contamination hazards during handling.
Market expansion. HPP extends the shelf-life from a few days to months, under cooling conditions. It allows the access to emerging markets, minimizes the use of additives such as salt and helps to reduce food waste.
Food and environmental sustainability. It is a green technology that uses only electricity to reach the working pressure and that does not generate effluents. The water used in the pressurization process is recycled.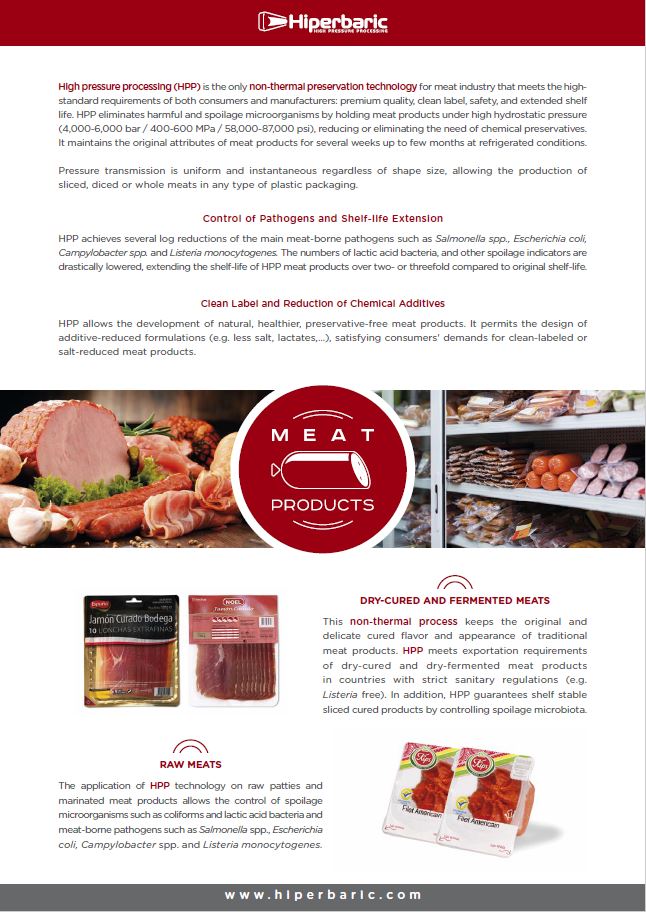 Check our Flyers, White papers and success stories to learn more.
What is the story behind these HPP products?
The roots of this technology go back to the nineteenth century, in Japan. However, it aroused a real interest in the food industry at the end of the twentieth century. At that time, the important technical and constructive limitations present in HPP units were overcome.
It started with a Listeria monocytogenes outbreak related with hot dogs and sausages of Sara Lee, which affected USA severely in 1998. Then, the need to implement pasteurization technologies that could be applied in meat products which could not be processed by heat, was obvious.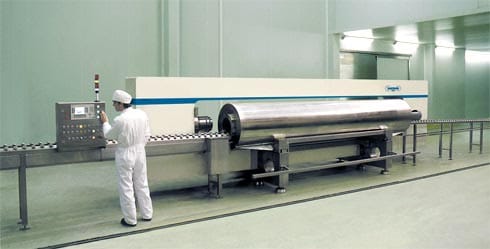 Anticipating the potential of HPP technology, Hiperbaric designed and launched the first horizontal equipment on an industrial scale. Which allowed to achieve enough pressure to inactivate pathogen microorganisms and to facilitate the operations in comparison with existing systems.
The first prototype was installed in 2001 at Campofrío Food Group (Spain) to extend the shelf-life and ensure the safety of its meat products. The results quickly attracted the interest of meat companies in the USA, Canada or Italy and HPP soon became the best preservation alternative for the food industry around the world.
Currently, of the 500 HPP units installed around the world, 19 per cent of them are for the meat sector. The reason is that, HPP technology can provide significant value to a wide variety of meat products: raw meat for catering; cured, cooked sausages, etc.; ready-to-eat meals; snacks…
Webinar: Meating your food safety and clean label expectations using HPP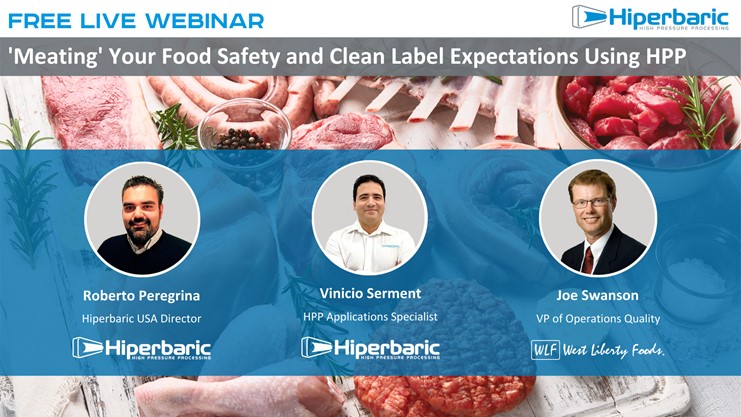 In this webinar you will discover the contribution of HPP to meat products in terms of food safety and shelf- life extension. Also, what has been the evolution and the decisions of the market,as well as, the main trends of HPP meat products. Also, we will have the success stories of West Liberty Foods, manufacturer and co-packer of HPP meat products.
We invite you to register for this interesting webinar in English that we have organized for next February 2 and that will take place at 6PM Madrid (Spain) | 12PM Miami (USA).
The agenda is as follows:
Introduction to HPP, meat market overview and HPP meat product trends. Roberto Peregrina – Hiperbaric USA CST.
Microorganism control using HPP for food safety and extended shelf life. Vinicio Moreno-Serment, Ph.D. – HPP Applications Specialist.
Case study presented by West Liberty Foods, manufacturer and co-packer of HPP meat products. Joe Swanson – VP of Operations Quality.
The event will end with a round of questions and answers so that no one goes home with doubts, but just in case, contact us. We will be delighted to help you.