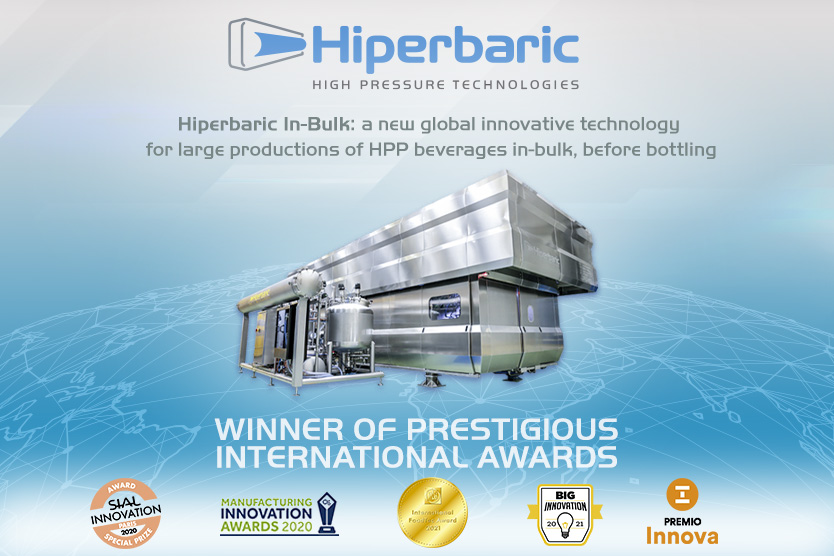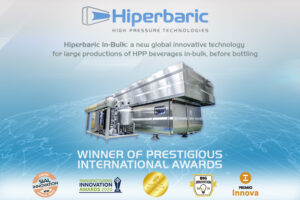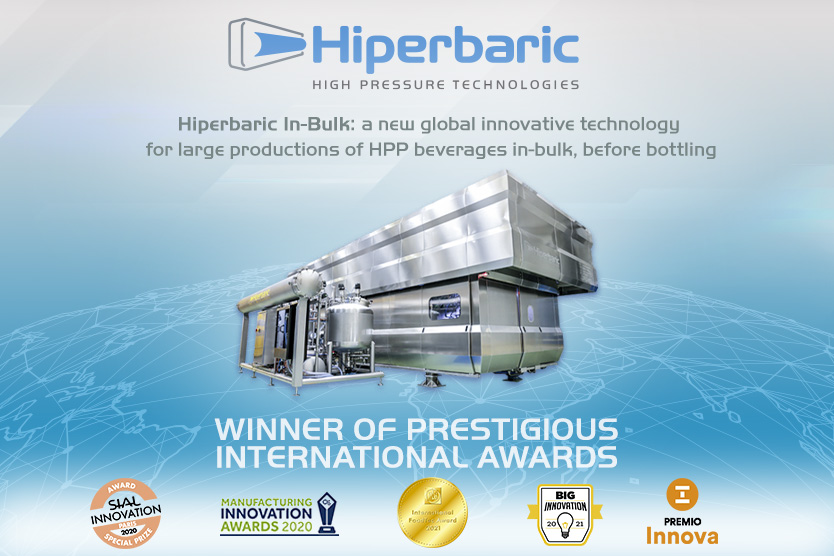 Hiperbaric HPP In-Bulk Technology has been awarded 4 prestigious international awards in the last few months. This global innovation for the large production of HPP beverages is based on a revolutionary concept in which beverages are processed in bulk (before bottling). It delivers the world's largest productivity, associated with the lowest processing cost and minimum energy consumption. The Hiperbaric Bulk technology fits perfectly into any large beverage production line and allows the use of any kind of packaging after HPP.
---
The huge impact of this breakthrough innovation has been widely recognized in the last months with 4 prestigious and international awards. Its unique concept and the multiple benefits this technology offers to beverage manufacturers have been the key factors to achieve these extraordinary recognitions.
Traditional HPP in-pack concept
Until now, industrial HPP machines have worked following an in-pack concept, processing already packed or bottled products in their final packaging. Packaged food or beverages are loaded into baskets, which are introduced in the HPP unit obtaining a filling efficiency between 45-55% of the nominal volume.
When using in-pack high pressure processing units the product has to be packed before being "cold pasteurized", but in the beverage industry, pasteurized products are packed/bottled after pasteurization. So an in-pack system requires a drastic change in process manufacturing and much more handling labor.
Secondly, the pressurized packaging should be flexible and water-resistant. Flexibility is needed to withhold pressure and recover its initial shape. This, together with water resistance, means that only plastic packaging like PET, PE or PP bottles used in the beverage industry, are appropriate for HPP in-pack restricting other packaging alternatives.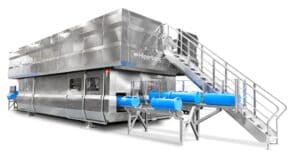 Advantages of Hiperbaric HPP In-Bulk Technology
Adapted to the production line of beverage manufacturers
Biggest troughput: +4,000 L/h
Cost reduction
Any kind of packaging
Automation: no intermediate handling needed
In order to overcome the HPP in-pack processing limitations, Hiperbaric developed the Hiperbaric Bulk Technology which is an innovative global breakthrough for large production of HPP beverages. This is a revolutionary concept (patent pending), in which beverages are processed in bulk before bottling.
The unprocessed beverage goes into the processing bag inside the vessel, occupying 90% of the total volume, which is roughly double that achieved with the in-pack technology. Thanks to it, energy (and spare parts) costs per liter are almost halved. Thanks to its great filling ratio, the throughput of the Hiperbaric 525 Bulk model can reach a maximum capacity of +4,000 L/h or 1,300 US gal/h compared to 3,200 L/h or 900 US gal/h delivered by the biggest in-pack model, an increase of 30-40% capacity.
Moeover, this unique concept implies a huge technology advancement since it adapts perfectly to the existing production line of the beverage industry: juice production > stabilization (HPP) > bottling. After being HPP'd, the processed beverage is ready to be bottled in an ESL ultra-clean filling line. Moreover, it simplifies the manufacturing process as 6 steps are required with the in-pack process and only 4 steps with the in-bulk one.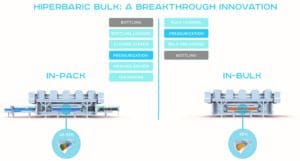 Another advantage of the Hiperbaric HPP In-Bulk technology is a huge improvement in flexible manufacturing since it allows the use of any kind of packaging after HPP, no matter the material, design or size. With the unlimited packaging alternatives offered by Hiperbaric in-bulk technology, beverage manufacturers will also reduce its environmental impact by including more sustainable and easy to recycle formats such as glass or carton, compared to plastic bottles.
While in HPP in-pack units the product in its final packaging needs to be loaded and unloaded from the baskets, all these stages are fully-automated in Hiperbaric in-bulk systems where the liquid goes directly to the ESL filling line through the tanks and pipes of the machine with no intermediate handling. This facilitates traceability and reduces drastically the labor costs since one single operator can run the equipment.
What awards has this technology received?
The organization awarded the work of professionals, companies, and institutions, related to the food industry, recognizing them for their innovation efforts. The SIAL Innovation awards are usually given during the SIAL Paris, a trade fair that takes place every 2 years in the French capital, representing an international meeting point for many professionals in the food industry.

However, this year's trade fair was virtual due to the pandemic caused by COVID-19. On October 22, a special event was held online in which the Hiperbaric HPP In-Bulk Technology was awarded in the Industrial Equipment and Technology

Hiperbaric was awarded the ProFood World 2020 Manufacturing Innovation Award at Pack Expo Connects 2020 virtual event last November. The award recognizes outstanding food and beverage processing and packaging innovation. The award was presented to Hiperbaric customer, Hermes Boissons, a French juice co-packer, for being the first manufacturer with a HPP in-bulk machine installed.
The BIG Innovation Awards recognize those organizations and people who bring new ideas to life. Whether that idea is big or small, these ideas change the way we experience the world. Nominations are individually scored by a panel of recognizable experts and leaders. The organization has announced all the winners on their social media during January 2021.

The International FoodTec Award from DLG (German Agricultural Society) and its partners is considered one of the most prestigious prizes for innovations in the world of food technology. It has recognized ground-breaking developments in innovation, sustainability and efficiency in the food technology sector since 1994. Hiperbaric HPP In-Bulk Technology was awarded with the Gold Medal, a category reserved for products offering a new concept, in which the function has been decisively changed and whose use makes a new process possible or significantly improves a known process.

The award is presented every three years at the Anuga FoodTec international tradeshow in Cologne (Germany). Due to the situation caused by the pandemic, the International FoodTec Award 2021 took place on February 2021.

Hiperbaric HPP In-Bulk technology has been recognized with Innova Alimentaria FoodTech 2023 award for its innovative character by allowing high pressure processing of large volumes of beverages.

The company, world leader in high-pressure processing, has managed to beat 19 other candidates competing for this award, which recognizes the most innovative products or services presented by exhibitors at the Alimentaria FoodTech 2023 show, which is being held these days in Barcelona.

The award highlights the ability of in bulk technology to carry out high-pressure processing of large volumes of bulk beverages before bottling, which reduces the cost of processing and energy consumption of industrial machines.