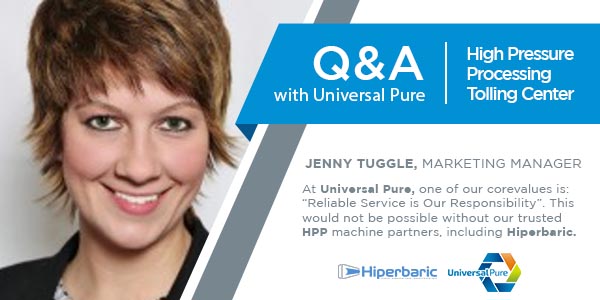 Jenny Tuggle is passionate about marketing the benefits of High Pressure Processing to the industry and consumers as well. She is currently the Marketing Manager at Universal Pure, one of the leaders offering HPP tolling services in the US, and has been with the company since 2017. Learn more about Universal Pure, the latest HPP trends, and how the leading HPP toller is marketing the benefits of HPP to manufacturers and consumers.
About Universal Pure
Headquartered in Villa Rica, GA, Universal Pure is a one-stop-shop service provider to the food and beverage industry, offering a suite of cold chain solutions across six U.S. facilities.
Companies outsource with Universal Pure for cold supply chain management and solutions: High Pressure Processing (HPP), cold storage, kitting and assembly, beverage co-packing, tempering, pre-pricing, code dating, netting, inventory control, and more. Food & beverage manufacturers leverage Universal Pure's technical expertise, quality assurance, engineering and cold chain expert resources in order to bring safe, fresh, and cleaner-label products to market.
Q&A with Jenny Tuggle, Marketing Manager
Q: What's the latest at Universal Pure? What's been happening?
A: We've been busy refocusing and fine-tuning our messaging around not only our HPP capabilities, but also our one-stop-shop approach to the cold chain. With the acquisition of Stay Fresh Foods last year, we have further expanded our capabilities, and hope to get the word out that we can offer a customized, fully integrated solution for many products and customers.
Q: What are the trends you're seeing in HPP?
A: The main trend we continue to see is with consumer demand growing for cleaner-label products, as well as ready-to-eat (RTE) options, the product applications continue to expand into emerging categories: baby food, smoothies, meal kits, pet food, and all of this includes private label brands as well. HPP proves to be a preferred method for manufacturers and retailers to provide the products consumers seek to purchase.
Q: Where do you see the HPP industry heading?
A: The HPP industry will continue to grow, especially as consumers become more aware of HPP and the benefits over thermal pasteurization techniques. Consumer messaging is just as important as B2B messaging – consumer knowledge will further drive manufacturers to utilize this great technology.
Q: How important is it to find the right HPP machine manufacturer? What do you look for?
A: As an HPP toller, finding the right equipment provider is vital. Being a 24-hour operation, it is important that our machines are running properly and efficiently 24/7, 365. At Universal Pure, one of our core values is: "Reliable Service is Our Responsibility." This would not be possible without our trusted HPP machine partners, including Hiperbaric.
Q: How does Universal Pure market the benefits of HPP to manufacturers and consumers?
A: Being a leader in the industry, it is our responsibility to educate manufacturers and consumers on the benefits of the technology. We are founding members of the Cold Pressure Council, and encourage HPP product manufacturers to utilize the High Pressure Certified seal to 1) ensure HPP standards are properly executed and 2) help raise awareness around HPP at the consumer level. Similar to other food and beverage symbols, like the Organic and Non-GMO seals, the HPP seal will hopefully aid in bringing more awareness around this great technology and the benefits associated with it. Along with the CPC membership, we strive to provide thought leadership through informative resources on our website, expert interviews with industry publications, as well as activity on our social media channels.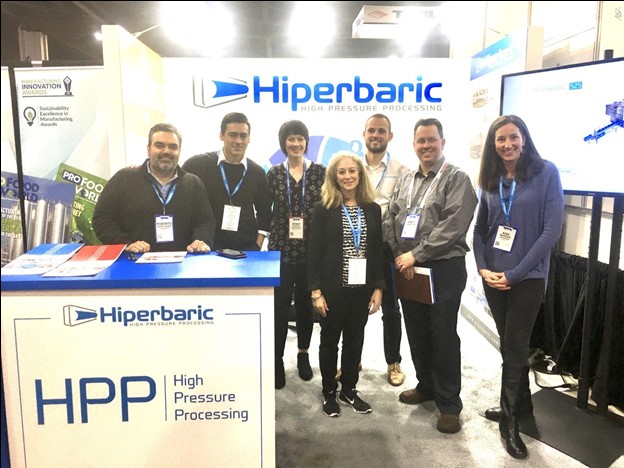 Q: What's the last HPP'd food you bought?
A: The last HPP items I purchased were dog food, orange juice, and salsa.
Q: Are you a salsa or guacamole girl?
A: Do I have to choose? I love them both!
Stay tuned! We will bring more Q&A and case studies of our clients. Please, don't hesitate to contact us, we will be more than glad to answer any question or doubt that may arise regarding HPP.