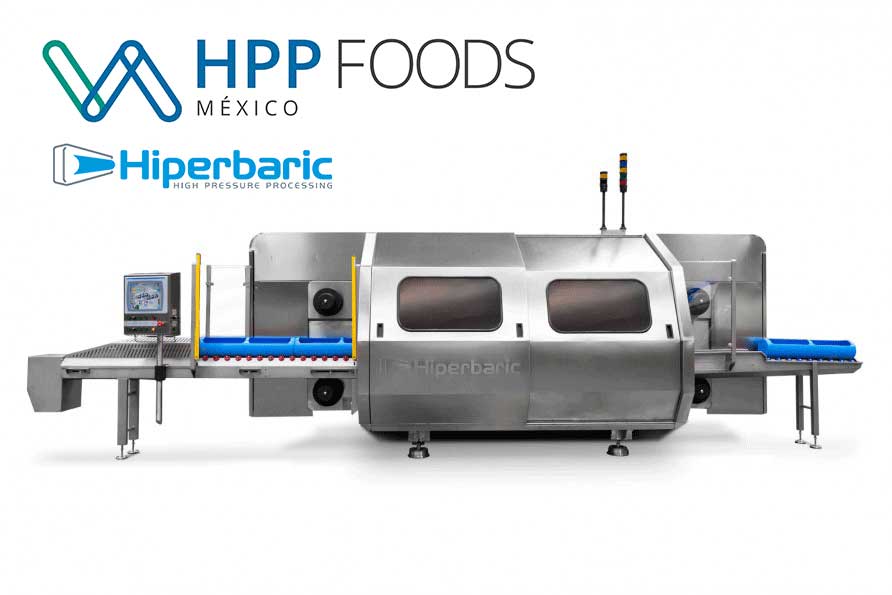 Burgos, Spain. Hiperbaric, the world leader supplier of high pressure equipment for the food industry will install a Hiperbaric 55 equipment for HPP Foods MX to offer the High Pressure Processing (HPP) technology in the region of Central México.
High Pressure Processing is an innovative technology that applies high pressure (6.000 bar / 87.000 psi) to packaged food or beverage. HPP ensures food safety by eliminating harmful bacteria without the addition of chemical preservatives. The higher retention of vitamins and natural flavors.
Hiperbaric is the word leader manufacture and distributor of HPP technology for its use in food and beverage sectors for more than 16 years. We encourage leader companies in the food and beverage industry to venture in the tolling service to meet the needs and high quality standards of consumers, and expand the applications of the HPP technology. HPP Foods MX recently purchased a Hiperbaric 55 unit to offer HPP Tolling service near México City. "Being the first company in the Central Mexico Region that will provide HPP Tolling services, represents a great achievement. We are very excited to be able to bring this innovative new technology to food and beverage producers, "said Jennifer Yrys, CEO of HPP Foods MX.
According to Jaime Nicolas-Correa, Director of Hiperbaric USA, "With this new equipment, it will be possible for another region of México to be able to use High Pressure Processing (HPP)"
For more information please contact:
HPP Foods MX
–      Email: [email protected]
Hiperbaric.
–      Telf: +34 947 473 874 / +1 305 639 9770