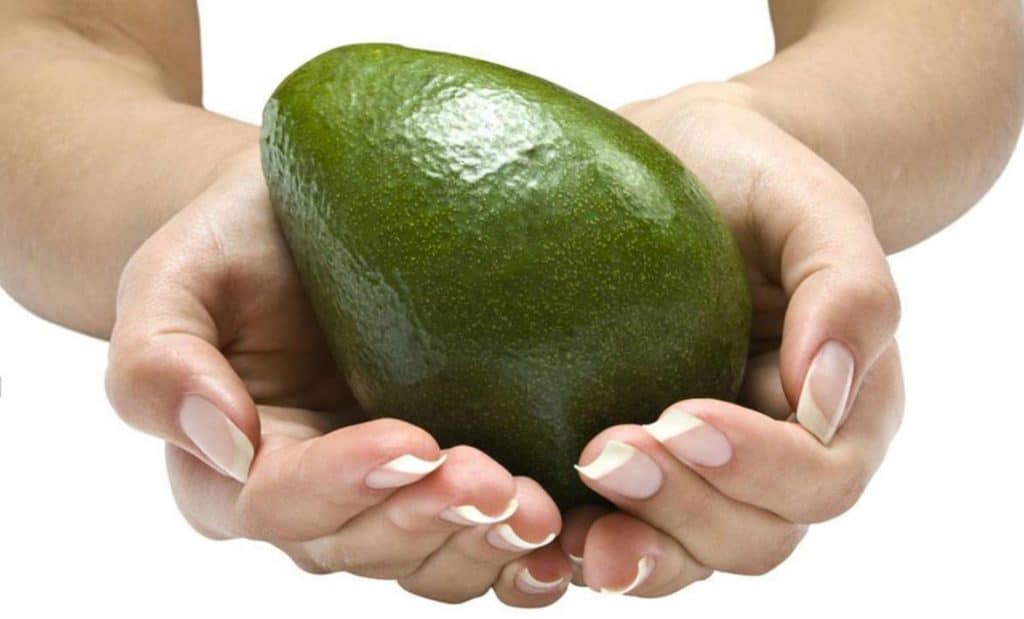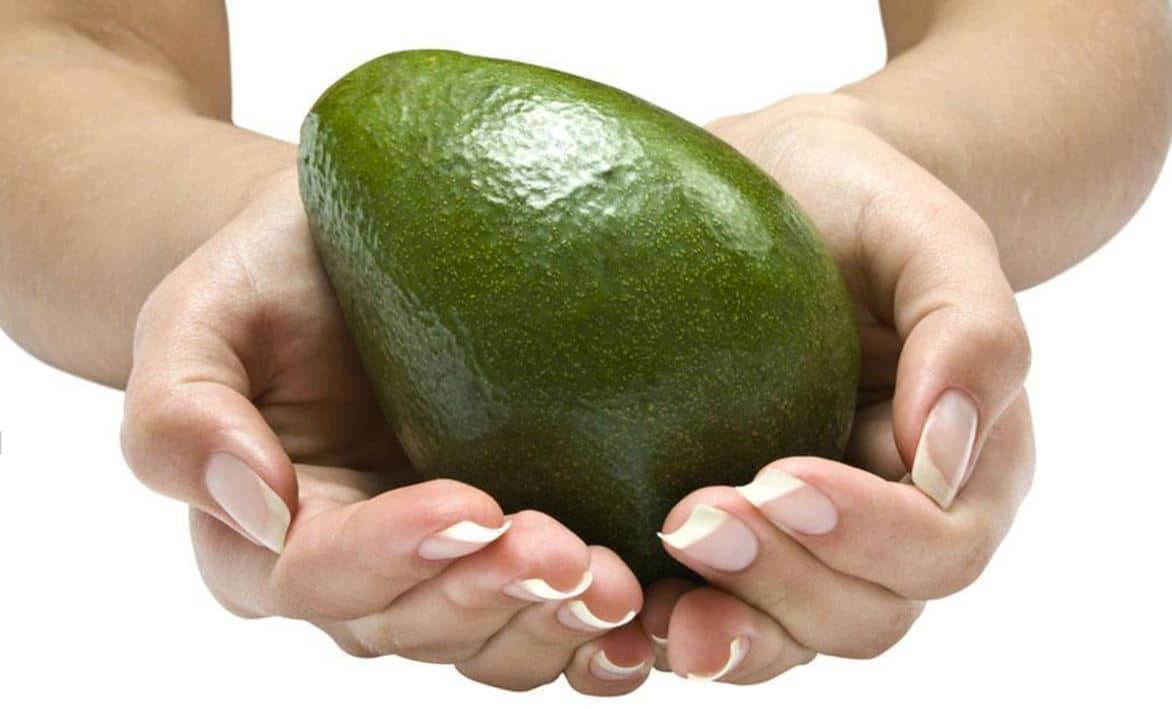 It is true that this marvelous fruit sometimes can be trickier than those chocolate eggs with the surprise inside. We have to admit we all have been there, every time we cut open an avocado, we slowly remove the halves hoping and praying to have picked the perfect one; but who hasn't had disappointment when our favorite fruit is nothing but a dark-green-mushy mass that ends up ruining our meal or even the rest of our day. The great thing is that HPP has a solution for this.
Avocados have never been easy to pick and stores only sell two varieties: The "damn hard green" or "dark soft gone", but behind scenes there's no laughing matter as avocado growers, marketers and even supermarkets often face lots of challenges to get our favorite fruit into the shelves; from managing the complex and unstoppable ripening process, up to educating new customers in how to eat this magnificent and delicious fruit.
What is true is despite all these challenges this oval-shaped fruit keeps growing in popularity which is driving its worldwide production to record highs. From 2003 to 2013 world avocado production has gone up "only by" 1.55 million tones and currently sitting in 4.72 million with a total planted surface of 516,485 hectares. This industry is showing progressively annual growth of 4.5% (FAOSTAT) and it is projected that crops for 2020 could reach 6.40 million tones (Paz-Vega R. 2015)
The following chart shows the top avocado producing countries where clearly the Americas are taking the lead.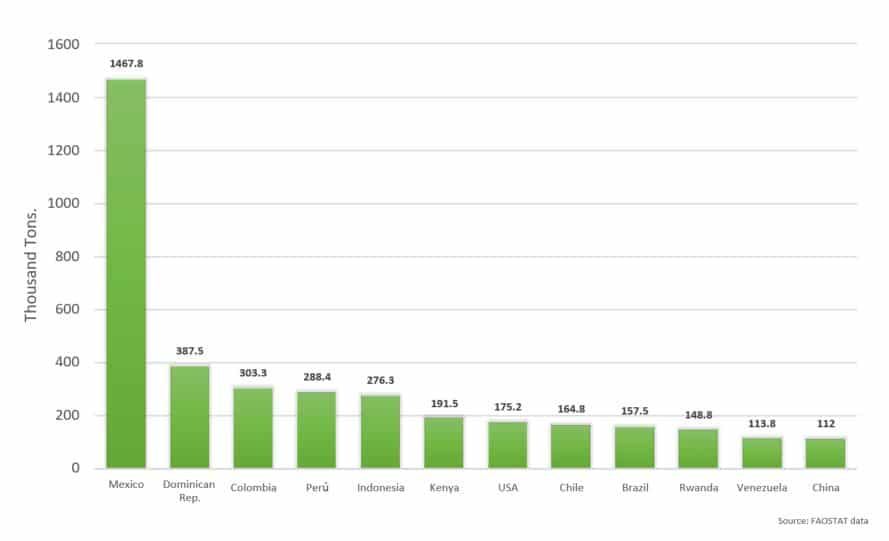 Source: FAOSTAT data
Also on the same period 2003 – 2013 countries like Rwanda have shown nearly a 400% increase in avocado production, followed by Peru and Kenya with nearly 200%. On the opposite side, countries like Spain and USA are currently showing negative figures with either using the land for other purposes or switching to imports. (FAOSTAT).
Avocado consumption on the rise.
It is interesting to showcase the countries that host the top avocado consumers so here it is a podium to show their scores (expressed in thousand tonnes).

Interestingly, between 1993 and 2013 global avocado consumption per capita showed a growth of 87%. Meaning that consumption has gone from 0.36 to 0.66 of a Kilogram worldwide. (Based on FAOSTAT data)
When it comes down to per-capita consumption, these are the top ten countries (2013).

The world's appetite for this creamy versatile fruit has grown just about every year for the past 15 years invading kitchens and menus across the globe.
Once a rare treat and even touted as the "aristocrats of salad fruits" was predominantly consumed by central and south Americans. Now as we have seen, avocados are pretty much exported or imported by the thousands of tones across the globe and found on the most remote towns.
But consumer's desire to add this fruit to just about anything has also motivated QSR's such as Burger King, Subway, Au Bon Pain, Panera Bread Co. among others, to use the beloved ingredient in their menus which not only have made consumers happy, after Subway announced it was allowing customers to add avocado to sandwiches in some 25,000 outlets around United States traffic into their restaurants increased exponentially.
High Pressure Processing of Avocados.
Hiperbaric has experienced over the last decade similar growth in the adoption of its high pressure processing technology among the avocado industry players. This has helped both growers and manufacturers in some way to revolutionize their industry.
Once harvested not all fresh fruit meets export or local standards, mainly due to small blemishes, odd shapes or external defects. The reality is that once ripe, this fruit is internally just as perfect as export grade fruit. The problem for the growers is that sometimes they could have between 10%-15% of sub-standard fruit per harvest.
Before the introduction of processing technologies, there were no choices but to sell this fruit for a fraction of the cost of production or even worst dumping it.
With the introduction of High Pressure Processing technology growers and marketers were finally benefited as they had found a way of transforming this fruit into high value-added products that are now included to their export sales portfolio.
Now this ugly-duckling fruit has a fundamental value and plays a very important role in the avocado industry helping in its sustainability and profitability.
Although both products share some similarities, fresh avocados will be the main industry driver and by no means is it intended to imply that processed avocados would take or replace fresh fruit.
However, in a constantly changing market where convenience is one of the main purchase drivers for consumers, it is believed that HPP avocado products could work synergistically with fresh without cannibalizing each other.
Before going into explaining how this technology could be applied in the industry let's see what google trends show when people is searching for: fresh avocados vs. guacamole

It is interesting to see that the word guacamole has more coverage across the world perhaps as it is the most common form of eating avocados.
Benefits of HPP technology applied in the avocado industry.
Exploit industry's capacity.
The avocado industry could be benefited in many ways with the use of High Pressure Processing as it is possible to create new revenue opportunities by adding value to fruit that otherwise would have been rejected but not only that, it this gives the industry the opportunity to create a point of difference against competitors and capitalize in new global trends.
High Pressure Processing technology allows avoiding or reducing the use of artificial preservatives (depending on the recipe and the objectives in shelf life), thus offering natural, organic products that comply with the most demanding microbiology criteria in the most demanding export markets.
Ensure food safe products to market.
High pressure processing ensures the elimination of pathogenic bacteria, making foods safe to eat. This allows companies to protect their brand but more importantly their consumers. High pressure processing is regarded as safe intervention for high risk products.
Countries are tightening their microbiological criteria and imposing restrictions to food products. Traditional methods like freezing or adding preservatives are unable to eliminate pathogenic bacteria.
Explore markets where fresh avocado is unable to reach.
HPP technology enables companies to reach markets where long distances could compromise quality or shelf life. Also is it possible to extend the shelf life of processed products for over 60+ days refrigerated and 2 years frozen.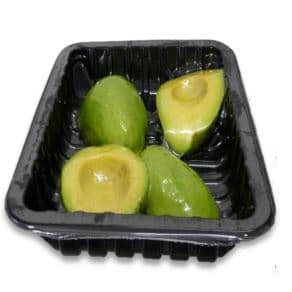 Although this technology has been applied to avocado products for over 15 years, the constant demand for fresher appeal, naturality and safety has pushed out the demand for these products. As this technology will deliver taste, texture and natural attributes similar to those given in fresh produce. Also color is maintained right through the shelf life however HPP treated product will oxidize in a slower rate compared to ripe avocados and once the pack is opened it will behave just as fresh cut avo!.
In countries where strict withholding periods and quarantine regulations are in place HPP technology enables companies to reach these markets. Once avocados are processed the restrictions are reduced as risks of pests and diseases in product are eliminated.
The challenges and costs involved on consumer education in countries where avocados are unknown are also minimized, consumers don't have to deal with all the fuss of ripening, peeling and cutting avocados, they could simply: "open, dip, eat and repeat!" In fact processed avocados could well be a platform where fresh avocados rely to familiarizing consumers with the fruit.
HPP processed products could also reduce complex shipping and storage conditions. Marketers, distributors and customers are also benefited as shelf life is now known reducing this way shrinkage in the trade.
HPP Guacamole, simply brilliant!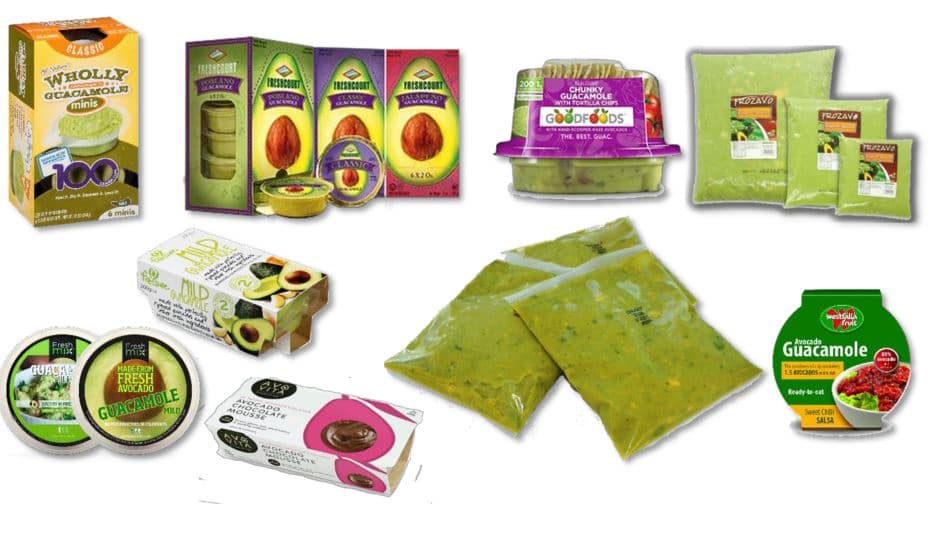 High Pressure Processing technology started its industrial evolution hand in hand with the avocado processing industry and thanks to their trust in our company, our machines currently exceed 15% of the total number or machines installed across 6 continents and over 30 countries.

If you want to know more about the HPP technology or how to improve the food safety and the quality of your products, do not hesitate to contact us.