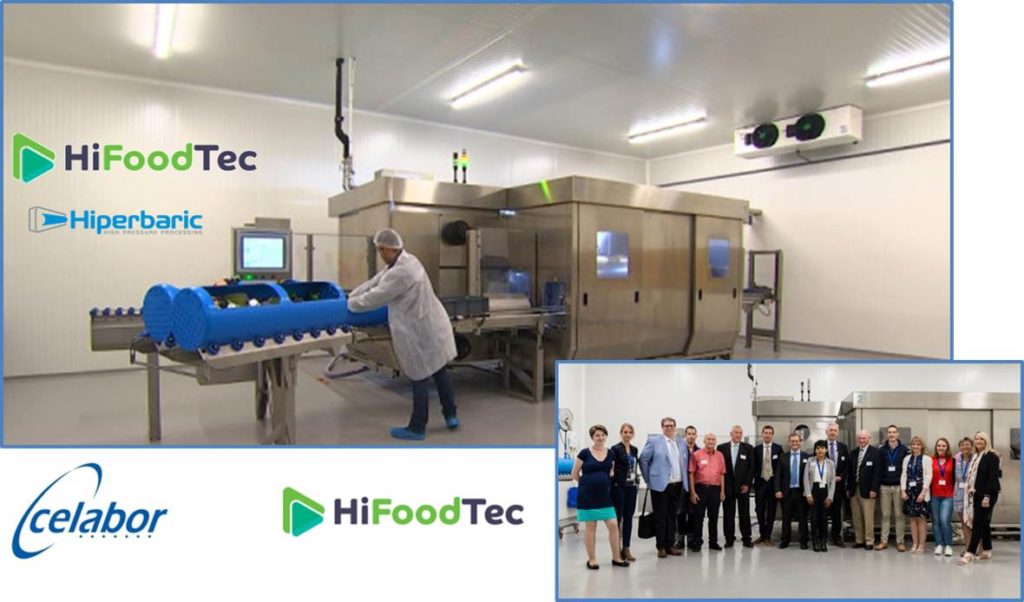 Hiperbaric, the worldwide leading company in the design, manufacture and marketing of high-pressure machines for the food industry, has installed a Hiperbaric 135 for the Belgian company HiFoodTec. Thus becoming the first Tolling centre in the Walloon region to offer companies high pressure processing technology (HPP, High Pressure Processing) for food and beverage products.
Le texte en français est à la fin de l'entrée.
High Pressure Processing is an innovative technology for food preservation through the application of extremely high pressures (6,000 bar / 87,000 psi), which are transmitted through water, inactivating pathogenic and spoilage microorganisms that are in food. Unlike classic techniques, such as pasteurization, this cold process keeps intact the organoleptic properties of food, and its content in nutrients and vitamins, offering a fresh product with a longer shelf life without the need to use additives.
HiFoodTec has been recently inaugurated in the presence of local authorities, food producers and the Minister of Economy, Industry, Research, Innovation, New Technologies, Employment and Training of Wallonia, Mr. Pierre-Yves Jeholet. All this confirms the already well-known importance of high-pressure technology in the local economic development of the food industry.
HiFoodTec is able to boost the access of HPP technology and its implementation to different companies in the region. On one hand, the Celabor technology centre will provide qualified technical support (trial period, product adaptation and packaging) for the development of new products; and on the other hand, the sheltered workshop Jean Gielen will make available to all SMEs and interested companies their solid experience in Tolling services for food processing (packaging, labelling, co-packing and storage).
"The food industry can now benefit from the joint of the technological experience of Celabor and the food processing expertise of the company Jean Gielen, who join forces with HiFoodTec to allow access to HPP technology through the Hiperbaric 135 offering a service of high added value" says Yves Houet, CEO of Celabor.
In addition, HiFoodTec has launched an information campaign to raise awareness of this technology to manufacturers, distributors and consumers, which began in mid-June with a first day focused on the manufacture of food with clean label through HPP. It was organized with the support of the competitiveness pole Wagralim.
This reaffirms the confidence that, over the years, companies around the world place in Hiperbaric as the supplier of HPP technology to introduce their innovative products to the market and to do so with guarantees of food safety, longer shelf life and clean label.
For more information contact:
Email: info@hifoodtec.be
Tel.: +32 (0) 87 / 32 24 53, +32 (0) 471 / 769 517
HiFoodTec ouvre ses installations comme le premier centre de sous-traitance HPP belge avec un Hiperbaric 135
Hiperbaric, leader mondial dans la conception, fabrication et commercialisation d'équipements haute pression pour l'industrie alimentaire, a installé une Hiperbaric 135 pour la société belge HiFoodTec. Il devient ainsi le premier centre de sous-traitance de la région wallonne à proposer aux entreprises la technologie de traitement à haute pression pour les produits alimentaires et boissons (HPP, High Pressure Processing).
Le traitement à haute pression est une technologie innovante pour la conservation des aliments grâce à l'application de pressions extrêmement élevées (6 000 bar / 87 000 psi) qui sont transmises par l'eau, inactivant les microorganismes pathogènes et les microorganismes de contamination présents dans les aliments. Contrairement aux techniques classiques, telles que la pasteurisation, ce procédé à froid conserve intactes les propriétés organoleptiques des aliments et leur contenu en nutriments et en vitamines, offrant un produit frais avec une durée de conservation plus longue sans devoir utiliser des additifs.
HiFoodTec a été récemment inauguré en présence des autorités locales, des producteurs alimentaires et du ministre de l'économie, de l'industrie, de la recherche, de l'innovation, des nouvelles technologies, de l'emploi et de la formation de la région wallonne et de la présence du Monsieur Pierre-Yves Jeholet. Tout ceci confirme l'importance déjà bien connue de la technologie haute pression dans le développement économique local de l'industrie alimentaire.
HiFoodTec est en mesure de renforcer l'accès de la technologie de traitement à haute pression et sa mise en œuvre à différentes entreprises de la région. D'une part, le centre technologique de Celabor fournira un support technique qualifié (période d'essai, adaptation des produits et emballages) pour le développement de nouveaux produits ; et d'autre part, l'entreprise de travail adapté (ETA) Jean Gielen mettra à la disposition de toutes les PME et des entreprises intéressées, une solide expérience dans les services de sous-traitance alimentaire (emballage, étiquetage, co-packing et stockage).
Selon M. Yves Houet, PDG de Celabor : "L'industrie agroalimentaire peut désormais bénéficier de l'expérience technologique conjointe du centre technologique Celabor et de l'expertise agroalimentaire de l'ETA Jean Gielen, qui s'associe à HiFoodTec pour permettre l'accès à la technologie HPP à travers d'une Hiperbaric 135 offrant un service à haute valeur ajoutée"
En plus, HiFoodTec a lancé une campagne d'information pour sensibiliser les fabricants, les distributeurs et les consommateurs à cette technologie, qui a débuté à la mi-juin avec une première journée axée sur la fabrication d'aliments sans additifs (clean label) à haute pression. Il a été organisé avec le soutien du pôle de compétitivité Wagralim.
Cela confirme la confiance que, d'année en année, les entreprises du monde entier placent dans Hiperbaric, comme le fournisseur de référence de la technologie HPP pour introduire leurs produits innovants sur le marché, avec des garanties de sécurité alimentaire, une durée de conservation plus longue et clean label.
Pour plus d'information veuillez contacter :
Email: info@hifoodtec.be
Tel.: +32 (0) 87 / 32 24 53 / +32 (0) 471 / 769 517