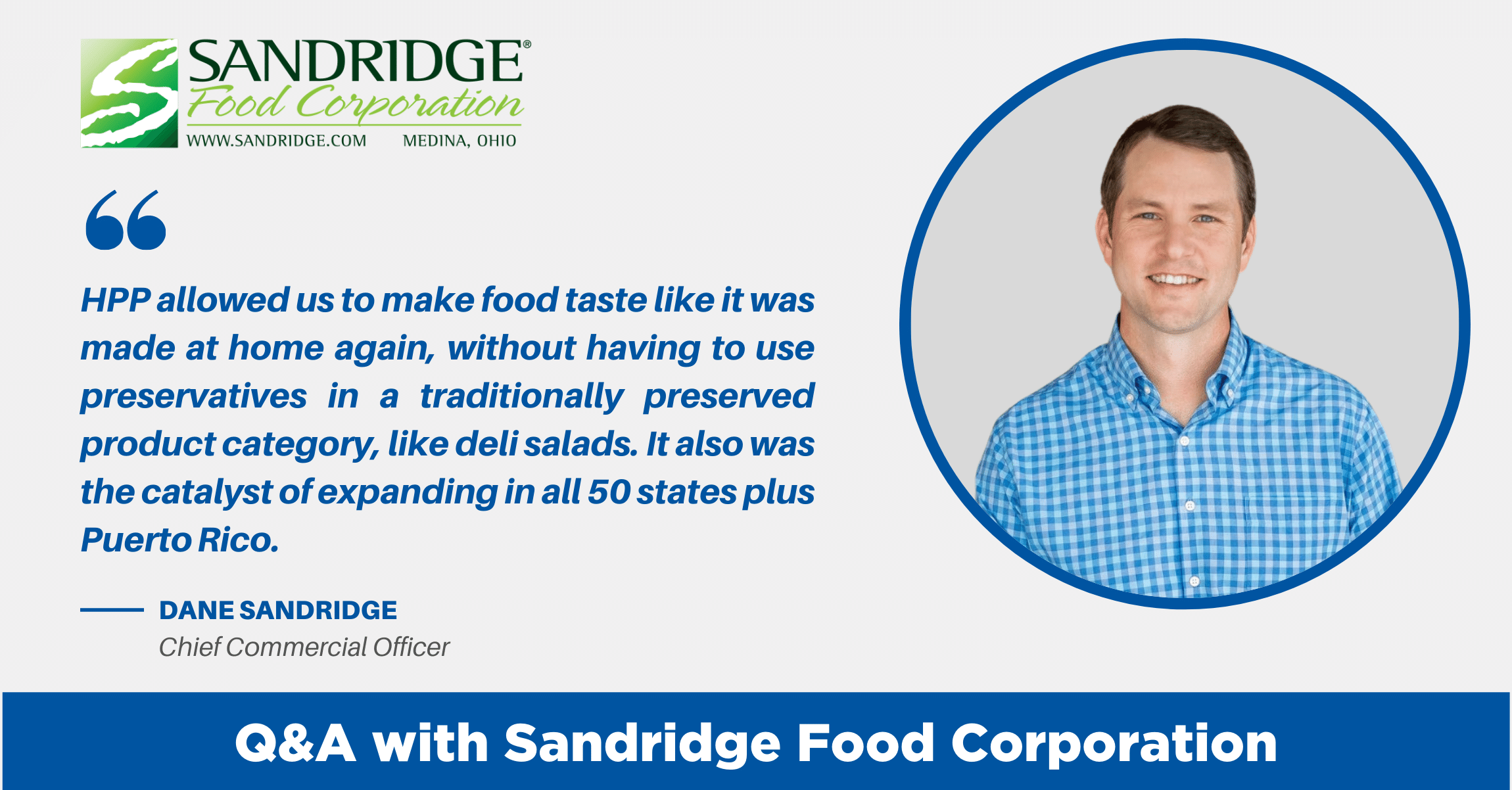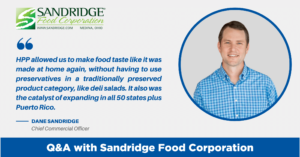 Ready-to-eat (RTE) foods are one of the most popular foods that undergo high pressure processing (HPP). HPP allows manufacturers to gain national distribution by extending shelf-life, while enhancing food safety and maintaining a clean label. Hiperbaric has held a webinar where the latest advances and improvements in RTE and HPP have been discussed. Guest panelists include Sandridge Food Corporation. If you want to watch the recording, you can download it here.
---
About Sandridge Foods
For over 50 years, Sandridge Food Corporation of Medina, Ohio, has built its reputation as a leader in fresh food manufacturing for retail and food service. That reputation comes through the hard work and creativity that goes into every recipe – from custom product development by its team of culinary research experts to implementing innovative technologies that seal in the flavor and freshness of its recipes. Fore more information, visit Sandridge.com.
Q&A with Dane Sandridge, Chief Commercial Officer
Q: How long has your company been using high pressure processing?
A: I think in 2008 was when we placed our first order when the first machine arrived in our building. So, we've been actively working and researching the process for roughly 12 years or so.
Was that all with Hiperbaric?
Yes, our first Hiperbaric machine was purchased and placed in the newly constructed production area in 2008. My father, our CEO, was a food science major from Ohio State who expected our teams to learn everything the technology could achieve from a food safety and culinary standpoint, before we pushed a sales strategy to the market. This afforded us a unique opportunity where we spent all of our time testing and learning the reactions of pressure on ingredients.
Our culinary and food safety teams launched our first HPP items to the market in 2009.
Q: How many machines do you have today?
A: We have two Hiperbaric machines in our building today.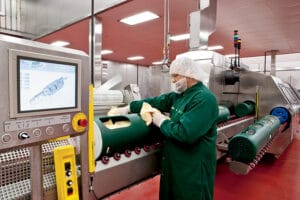 Q: Do you recall how the partnership with Hiperbaric came about?
A: It all started with our Ph.D. microbiologist at that time that shared with my father the technology and the opinion that high pressure processing would be something that could benefit us.
Our vice president of our facility, Jim Meadows, was tasked with the exploration and operational considerations. Through Jim's investigation, he found that it came down to two companies and realistically the salesperson at the time for Hiperbaric was very knowledgeable and worked well with Jim. Hiperbaric impressed Jim with their approach to continually improving. It is one of our core values at Sandridge as we push ourselves and our co-workers to improve daily. Not just improve things going forward, but also improving things that we have been doing for a while.
Q: What do you see as the biggest benefit for high pressure processing and why?
A: From my perspective, I am fortunate to see the benefits HPP brings to our business from the advantage point of Innovation, Sales and Marketing.  I hear firsthand from our customers, and understand the impact of clean label products and what that means to our consumers in both Foodservice and Retail.
My brother is our chief operating officer, and my father is our chief executive officer, both food science majors. I was an economics major undergrad and then went back to culinary school. Together we bring a holistic approach to looking at the business and how we value food technology — we invest in strong leaders in the fresh food industry. With HPP, the food safety benefits are great, but for me, it was the food safety benefits without having to acidify products, without having to use preservatives in a traditionally preserved product category, like deli salads. It allowed us to make food taste like it was made at home again.
HPP allowed us to extend that shelf life enough to stick with our core values of trying to make better, cleaner-tasting food.  We were seeing chicken salads that tasted like we made them today with no preservatives, no acidifiers, that have a shelf life of 50/60 days. Therefore, the shelf-life extension was a benefit from the culinary aspect for us, but it also allowed us to expand our geographical selling region.
Q: Can you talk more about expanding your geographic base with HPP?
A: Yes. Prior to HPP, we were a regional Midwest business only servicing the 12 states, plus Florida, around our production facility in Medina, Ohio, with our fleet of trucks.  We are now in all 50 states plus Puerto Rico. HPP was the catalyst in getting that relationship started with the retailer and helped drive the future growth west of the Mississippi!
Q: Can you quantify your growth, especially since you've expanded to all 50 states?
A: One third of our food products produced today use HPP, followed by our kettle and sous vide operations (which don't use HPP). So, anything new that's coming out of our salad area is an HPP product. HPP is the reason we're talking to customers today.
Q: What percentage of your business is ready-to-eat (RTE) foods?
A: All of it. Our product categories are really separated into three worlds: sous vide, kettle cooking and HPP. Those three categories have allowed us to produce the entire plate of food.
Q: Tell me more about the retail side of your business, and which brands are yours vs. private label?
A: Grandma's is really our No. 1 longest-standing brand, and I think my grandparents would be pleased with the market growth over the years. We still have a larger percentage of private label partners and we take a lot of pride and care in the brands that trust us to produce food with their name on it. Our whole philosophy is that we want to create the best, safest food in the industry regardless whose brand is on the package.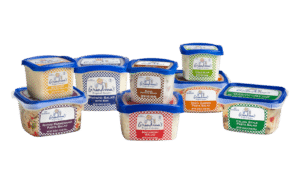 Q: In your opinion, what do consumers demand in your sector?
A: It's a very great question nowadays. I think it's the category, if you look at deli salads or HPP salads, generally consumers are pushing for the shorter ingredient statements, cleaner-tasting products, the items that have the same traditional flavors we're accustomed to.
We look at it as just trying to find a way to produce food that feels less manufactured. So, we want you to believe that it was made in the back of the house.
Q: Are there any new products that are being developed now or are out in the marketplace?
A: We had some exciting new products that launched this year. We expanded our Grandma's branded retail products into pasta salad around Memorial Day, right in time for summer and the holidays. Our culinary team worked closely with our customers to develop proprietary offerings to support their fresh refrigerated foods growth.
We have some exciting new opportunities this year with a customer that only wanted to have their products HPP'd, and we are excited about the opportunity to expand the HPP benefits with their line to service their customers!
Q: Are you at liberty to disclose the product?
A: We just started shipping the products this week so we unfortunately cannot talk about it just yet, but we are looking forward to sharing once they're in the market with our retail partner!
Q: What services besides HPP does Sandridge offer?
A: We invested in a state-of-the-art sous vide facility in Morton, Ill., in 2013, as the best way to retain moisture and flavor in cooked proteins, while providing supreme food safety. Investments in the technology include unique searing/grilling capabilities that are highly sought after to create prepared foods that look and taste homemade. This technology has been central to the company's growth from a wet salads category provider to a full solution of freshly prepared foods that fill the entire dinner plate.
Recognizing the commitment to be the leader in taste, texture and flavor, I was part of the team that traveled to Europe in 2017 to learn about techniques that often put European fresh-food producers ahead of U.S. manufacturers. The trip resulted in the investment of state-of-the-art European-style kettle cooking technology – advanced chilling equipment to maximize food safety.
Lastly, we take meticulous care and responsibility of the cold chain in fresh refrigerated foods to ensure our products get to the end user the way we've engineered them. We have a fleet of our own semi-trucks and it's been something that we've built as another service. We set this process up before HPP and then with the added shelf life that HPP brings, it has turned out to be a great advantage. We are close to 40 semis nowadays and it has brought a competitive advantage.
We love being a family-owned company, a culture that extends to our employees. We have a father-son tandem truck driving team and a husband-and-wife team that drive to the West Coast. They pick up our West Coast ingredients on the way back, and it's been an advantage.
Q: Do you think the retailers understand HPP's benefits?
A: The retailers are getting much more educated on HPP. There's still a learning curve because it's a unique process. I think the retailers understand the benefit of the extended shelf life and the shorter ingredient statements, the cleaner products. But I think we're all in the same camp of struggling on how to convey that to the consumer.
Q: Switching gears to HPP machines, how important is it to find the right HPP machine manufacturer for your company?
A: Our head of maintenance and Jim Meadows (Vice President of Facilities & Process Improvement) talk about the importance of finding the right HPP vessel manufacturer. Hiperbaric has been important to them because of all the extra support and exceptional customer service. The 24/7 tech support, the customer portal and the aftercare services. They can't talk enough about the customer service aspect of Hiperbaric.
Hiperbaric's pump system was what separated them from other companies and vessels. But the customer service and all the additional support post-purchase has been the reason our folks are attached to Hiperbaric as a company and their vessels.
Q: Moving to the industry's future, where do you see the HPP industry heading?
A: I think it's going to be a norm for the industry. The possibilities are endless from the culinary aspect and product innovation. The new things that we can do with the machine that they really hadn't thought of before is incredible. I think that the industry is still very much in its infancy stages, and we're going to see this as a great way to offer more fresh foods.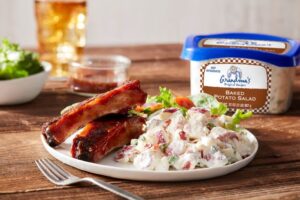 Q: So, the last question is it's kind of a funny one, but do you remember the last HPP food you purchased?
A: I am definitely a guacamole purchaser and with a 3-year-old and 1-year-old at home, they eat guacamole like it's going out of style!
Q: Is there anything else you wanted to add before we end the interview?
A: I think it's a really fun world for us. We are very passionate about trying to create exceptional flavors and HPP has given us an avenue to do that. So we're here to help any way we can to get the word out to any other folks.
WEBINAR: Scaling Your Ready-to-Eat (RTE) Products Using HPP Technology
Interested in learning how to gain national distribution for your ready-to-eat (RTE) products, while enhancing food safety and maintaining a clean label?
You can now watch the recording of our webinar "Scaling Your Ready-to-Eat (RTE) Products Using High Pressure Processing (HPP) Technology".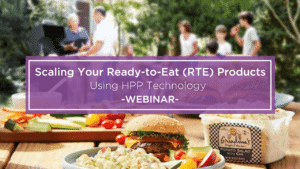 Guest panelists include Sandridge Food Corporation, with participation from Dane Sandridge, Chief Commercial Officer, Dan Zakri, Senior Director of Innovation, and Jack Bothwell, Manager of Innovation.