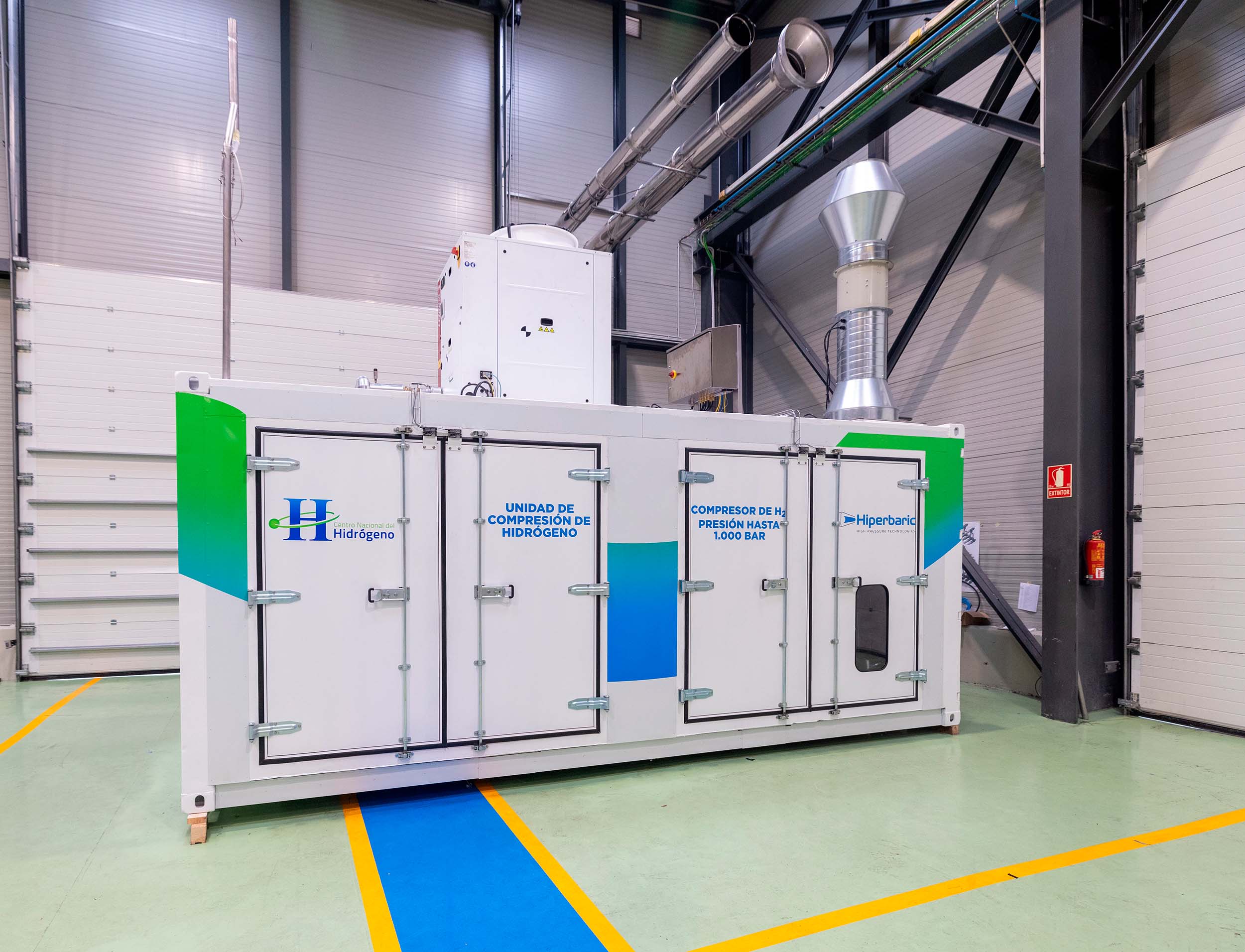 The company has completed the manufacture of the first high-pressure hydrogen compressor unit for sustainable mobility, which has been delivered to the National Hydrogen Center (CNH2) in Puertollano.
The hydrogen compression technology is necessary for refueling vehicles powered by this gas and aims to be installed in the future network of hydrogenerators that will populate the road map of the countries in the coming years.
The world leader in high-pressure technology for food and beverages has supplied the first compressor that can fill hydrogen storage tanks up to 1,000 bar pressure to refill the tanks of the latest generation of fuel cell vehicles.
Burgos, September 20, 2021. Hiperbaric reaches a milestone in its history by becoming the first Spanish manufacturer of High-Pressure Hydrogen Compressors for the global hydrogen market. The company has delivered to the National Hydrogen Center (CNH2) the first Spanish innovation hydrogen compressor for sustainable mobility. The equipment, which has been installed at the hydrogen plant in Puertollano, Ciudad Real, will supply hydrogen at 900 bar pressure, which is the highest hydrogen storage pressure for a latest-generation hydrogen plant. The new Spanish technology can reach a refueling pressure of up to 1,000 bar.
Puertollano Hydrogen Station will have a supply capacity of 260 kg of hydrogen per day, which can supply more than 100 passenger cars in 24 hours, with a purity of more than 99%.
For Andrés Hernando, CEO of Hiperbaric, "this advanced technology will further promote the viability of green hydrogen as a valid energy source for day-to-day use by reducing the refueling process in terms of time and facilities for users".
This industrial technological development will allow Hiperbaric to be prepared to meet the strong supply demand in the coming years of compressors of similar characteristics for the installation in Spain and other countries of a wide network of hydrogenerators, which allow the circulation of fuel cell vehicles.
Hiperbaric has been a world leader in High Pressure Technologies for different sectors for more than 20 years and has 1,000 compressors installed in the five continents.
Keys to Hydrogen Compression Technology
The Spanish multinational develops hydrogen compression technology with the design of H2 compressor units capable of compressing hydrogen and filling storage tanks from 500 to 1,000 bar pressure. They are safe, compact and reliable; a complete, standard and advanced solution that adapts to any level of production and demand.
Hydrogen compression technology can be applied in different fields, especially for refueling fuel cell vehicles at hydrogen refueling stations, for energy storage or in different industrial applications.
The equipment supplied by Hiperbaric offers multiple advantages in terms of production, design and maximum energy efficiency. It consists of a hydraulic piston compressor, focused on hydrogen compression in refueling stations. This compressor operates without piston lubrication, which guarantees maximum gas purity by avoiding possible contamination with oil and ensuring total isolation. In addition, the unit is highly efficient thanks to a cooling system. The Hiperbaric H2 compressor is designed and manufactured in accordance with the most stringent international directives and standards.
Hydrogen fuel dispenser every 150 kilometers
Hydrogen is presented as one of the alternatives to the use of fossil fuels, to which the negative effects of global warming are largely attributed. In this sense, it will play a relevant role in the decarbonization of the economy thanks to the zero emission of harmful gases. In fact, hydrogen-powered vehicles have zero CO2 emissions and reach, as of today, up to 600 kilometers of autonomy, allowing a complete report in less than five minutes.
The 'Hydrogen roadmap: a commitment to renewable hydrogen' approved by the Government of Spain sets the objectives to promote this sustainable energy vector. The goal is for our country to reach climate neutrality, with a 100% renewable electricity system, by 2050. At European level, diesel and gasoline cars will cease to be sold from 2035, as well as hybrids and plug-in hybrids. In fact, European Union will oblige member countries to install a hydrogen refueling station every 150 kilometers.