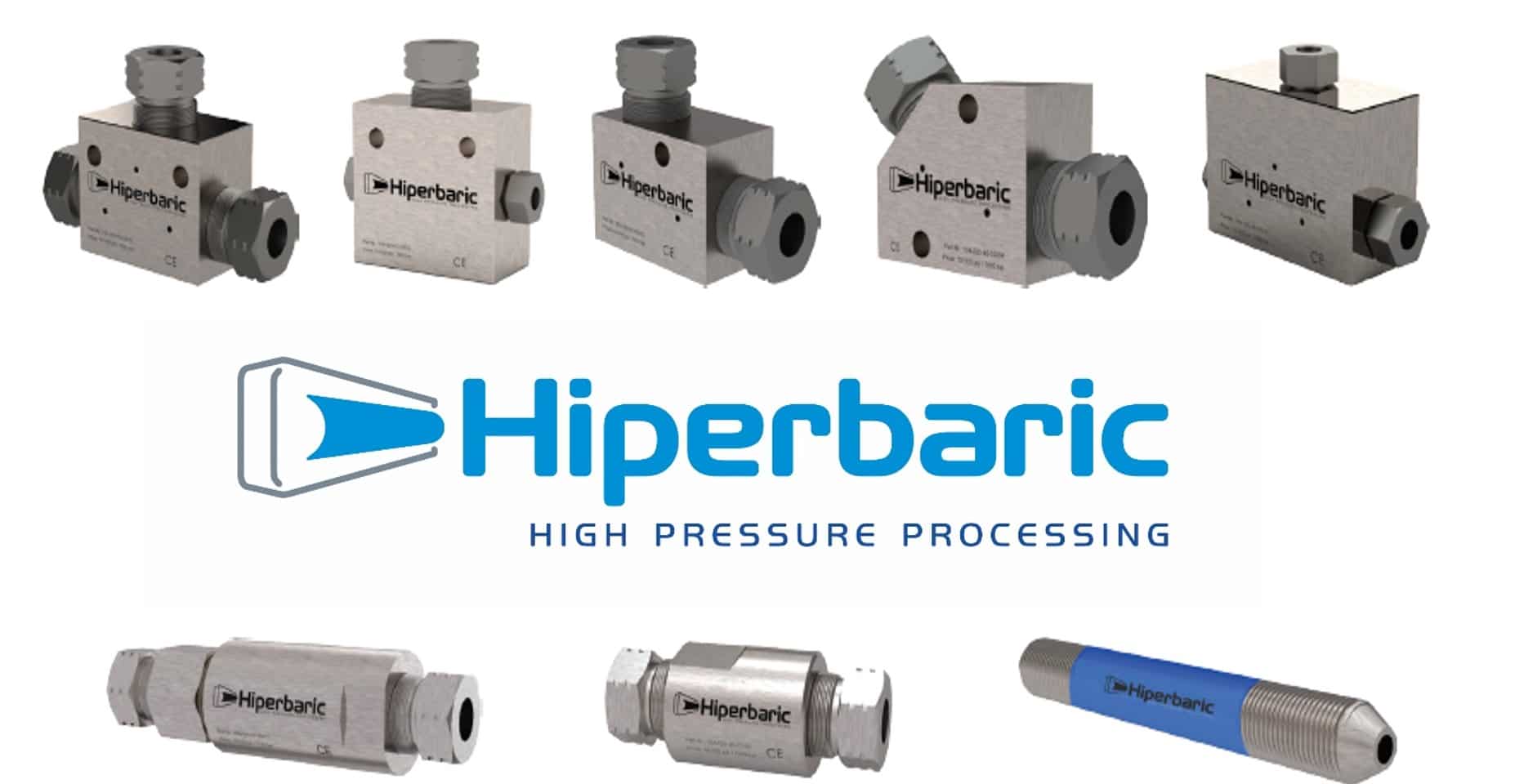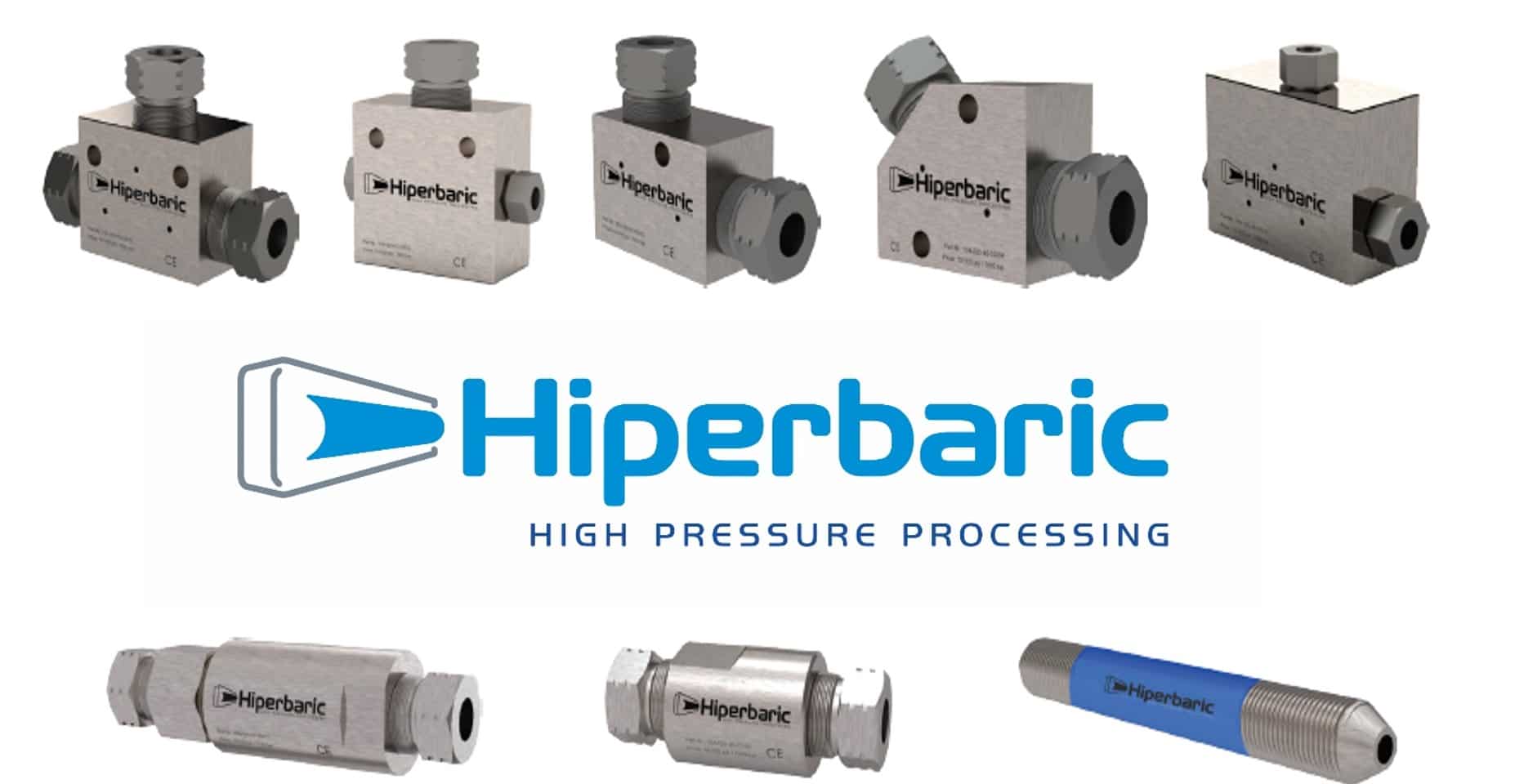 Hiperbaric provides a wide range of components and fittings for our HPP machines. We pride ourselves in taking continues improvement to the next level. By doing so, we're able to offer not only the most reliable and cost effective machines and components, but also an aftersales team made of experts available 24/7.  Being specialized in High Pressure Technologies allows Hiperbaric in focusing on bringing the best of the technology to our customers worldwide.
---
Hiperbaric has been designing and improving High Pressure Processing (HPP) machines since 1999. We are known for our leadership in the HPP technology, counting with a high qualified team of experts in this field that provide a service of excellence to our clients all around the world. One of the many advantages that distinguish us from the competition is our exclusivity and quality since we design 100% of the components that make up our advanced HPP units (vessels as well as intensifiers).
Our fittings and components
Innovation
Our HPP R&D efforts and advancements have led us to become industry leaders. We're recognized by our customers for manufacturing reliable and long-lasting components, made with robust materials that translate into more cycles, ultimately increasing operational efficiencies and return on investment (ROI).
Our drive for innovation led us to develop a proprietary technology:  long-lasting high pressure tubes and connectors for the HPP industry. Our Hiperbaric CJ Pipe is the first HPP pipe capable of withstanding a long-lasting life of at least 50,000 cycles in extreme conditions and under pressures of 87,000 psi/6000 bar.
Also, Hiperbaric's new high pressure fittings have improved dramatically, not only providing an increased life span in components but also upgrading to a more robust material and design for high pressure processing machines.
Our commitment to service
Hiperbaric offers a wide range of solutions, including access to our Hiperbaric portal, where it is possible to place orders in real-time, with the guarantee of processing them in less than 24 hours.
Also, through this portal, each client has access to an extensive database of technical information such as manuals, instructions, and common queries. Therefore, the client can request all the assembly protocols of the supplied parts.
In addition, clients can access the e-store, a virtual store with exclusive components to their machine. Customer can check item prices in real time, which saves time, and optimizes the ordering of spare parts.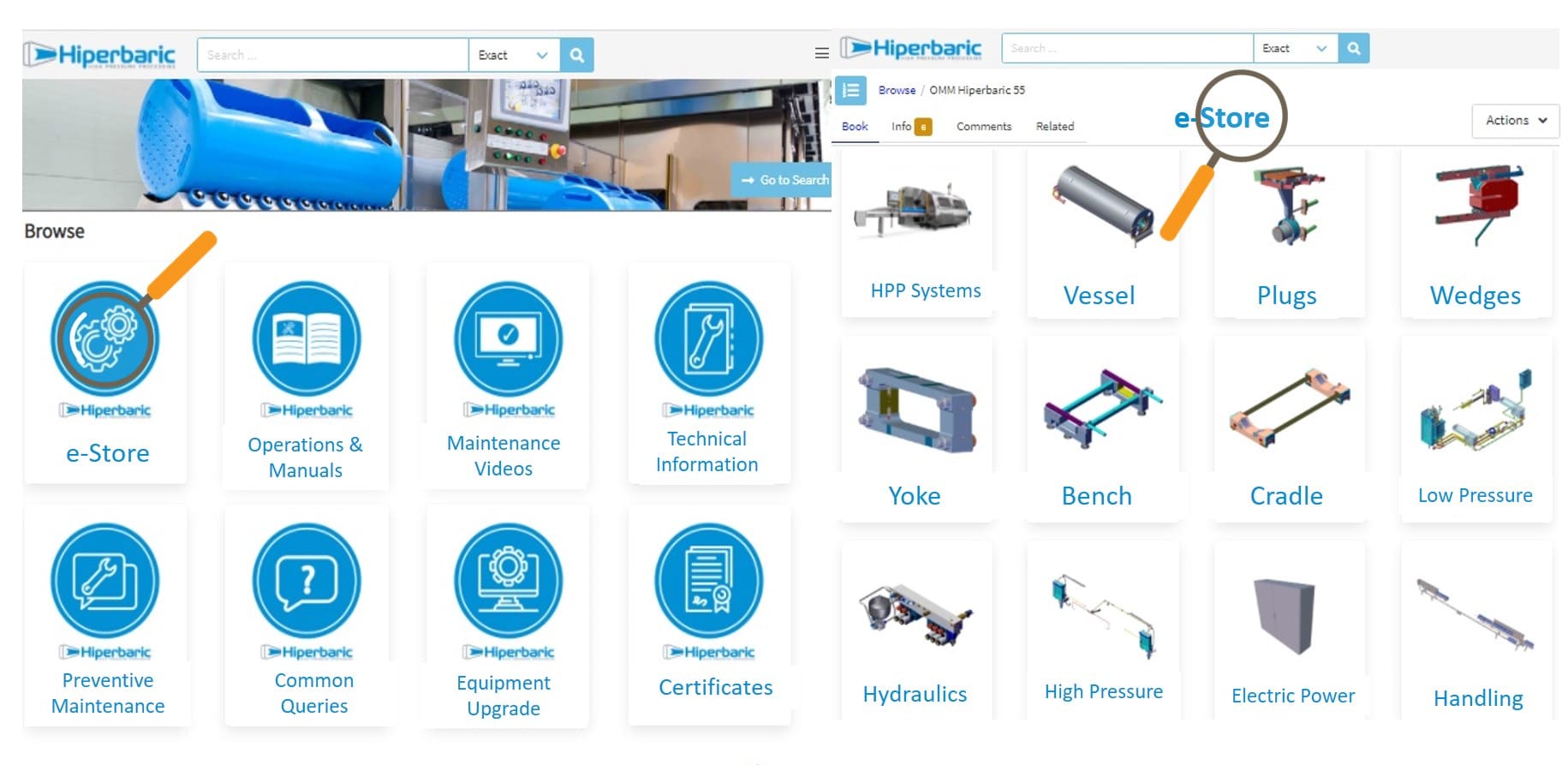 All in all, the Hiperbaric portal provides an optimized solution in real-time for our customers. Ultimately, this has led to an increase in customer satisfaction and a more efficient experience.
Our After-sales and Spares Team
Hiperbaric takes pride in the personalized service offered all over the world. Our aftersales team is committed to making sure all Hiperbaric HPP units are running smoothly at all times, and in the case of operational issues, we're ready to find a solution instantly.
We make this possible by offering a 24/7 call service, which consists of a team of specialized engineers in HPP.

Our aftersales manager, Carlos Pampliega, states, "Our daily work consists of solving all kinds of queries and problems that the client may have with the machine. We try to improve your productivity based on quick and concise responses with 24/7 customer service. At the same time, once the machine is operational, we transfer all these incidents to the Engineering department to continue working on increasing the reliability of the machine.''
Hiperbaric also counts with an efficient spares team, who provides 24/7 support to our clients and manages all the orders and their associated logistics. We make sure that the delivery of spares parts arrives in 24 to 48 hours in any country of the world.
And finally but not less important…
Our standards
Hiperbaric has machines in more than 50 countries in the world, on the 5 continents. So in order to provide a safe, reliable and high quality product all over the world, we meet the most demanding standards and regulations in the world:
European Pressure Equipment Directive 2014/68/EU (European Union);
The American Society of Mechanical Engineers Certificate of Authorization ASME Boiler and Pressure Vessel Code, Section VIII, Div. 3 (USA);
National Board of Boiler & Pressure Vessel Inspectors. Certification of Authorization "NB" (USA and Canada);
National Board of Boiler & Pressure Vessel Inspectors. Certification of Authorization "R" (USA and Canada);
Underwriters Laboratories Certification. cUL (USA and other countries outside the EU);
Do you want to know more?
If you have any questions, get in touch with us or follow us on social media to stay up to date with the latest news on food safety and HPP.