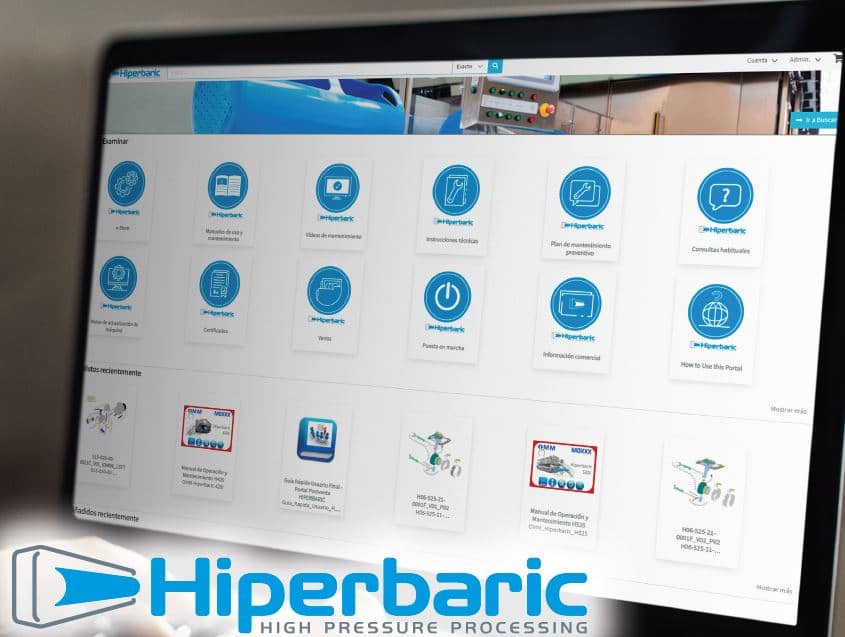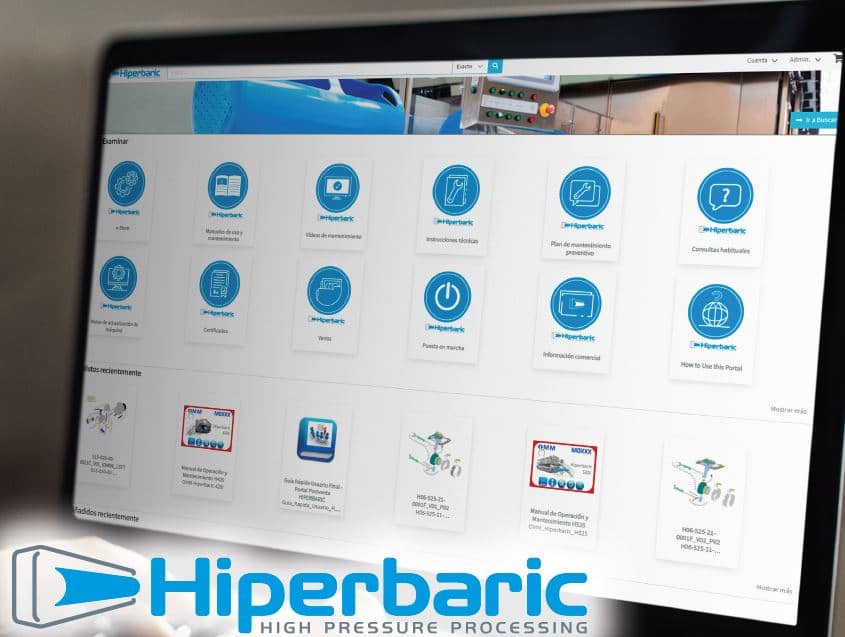 We have launched our "Hiperbaric Portal", a website exclusively dedicated to our HPP customers. This portal allows us to offer exceptional support in the industry as a manufacturer of HPP equipment. It is an online platform where users can access specific equipment manuals, request and buy spare parts, view commercial catalogs, training documents as well as real-time estimates and request orders directly from Hiperbaric.
---
Hiperbaric takes one more step in consolidating its leadership in the exciting world of high pressure processing (HPP) for food and beverages with the launch of the Hiperbaric Portal, a website for the exclusive use of its customers. This virtual platform allows to optimally manage the process of consulting and ordering spare parts for HPP equipment.
Hiperbaric's international presence, with over 250 clients in 48 countries and more than 300 industrial HPP units installed around the world, has always required a highly efficient after-sales service to maintain its competitive advantage. This new management system is a constant reinforcement of the extraordinary support provided by the company's After-Sales team, made up of highly qualified, committed and customer-oriented engineers.
"Our after-sales service is characterized by reliability and immediacy since our goal is to guarantee fast and efficient service," says Miguel Hernando, Hiperbaric's industrial general manager. "For this, we need to develop a management system with which our clients place their orders online and work more efficiently and fluidly with their teams," he highlights.
With a modern, user-friendly, and intuitive design, the Hiperbaric Portal has been developed with Documoto and offers the following:
Eliminates the manual ordering process, as it combines interactive spare parts catalogs with online sales.
Saving time in consultations, thanks to the equipment documentation library accessible to technicians and customers. The Hiperbaric Service team will always be available to answer questions.
Main advantages of using the Hiperbaric Portal
The Hiperbaric Portal is a more user-friendly platform, which provides many benefits to our clients, including:
Easy ordering of spare parts
Possibility of adding items simply by clicking on it from an interactive page or by typing its code.
Ability to save shopping carts to add more items before sending it.
Minimization of errors when purchasing items
Navigation through interactive 3D manuals.
Consultation of item information.
Viewing a picture of the item before purchasing
Check item prices in real time
Possibility of consulting the prices of items in real time (without having to request an offer each time), eliminating the waiting time for receipt of the corresponding offer.
Optimization of order management deadlines
Orders enter Hiperbaric's ERP system immediately, optimizing order management deadlines.
Complete list of spare parts available
Complete visualization of all the components that are integrated in the machine.
FAQ & Updates
Constant updates of improvements for the operation of the machine.
Publication of documents of machine updates that are produced
Interactive manuals with the latest news.
Technical instructions for various maintenance operations
The equipment use and maintenance manuals are a very practical tool for the customer's technical team.
Product container catalog / Hiperbaric equipment range
On this website you can access the list of materials required for each team.
Specific technical documentation on some of the main applications of HPP technology
This service is another way that Hiperbaric remains at the forefront of HPP equipment manufacturers and continues to have the best support in the industry.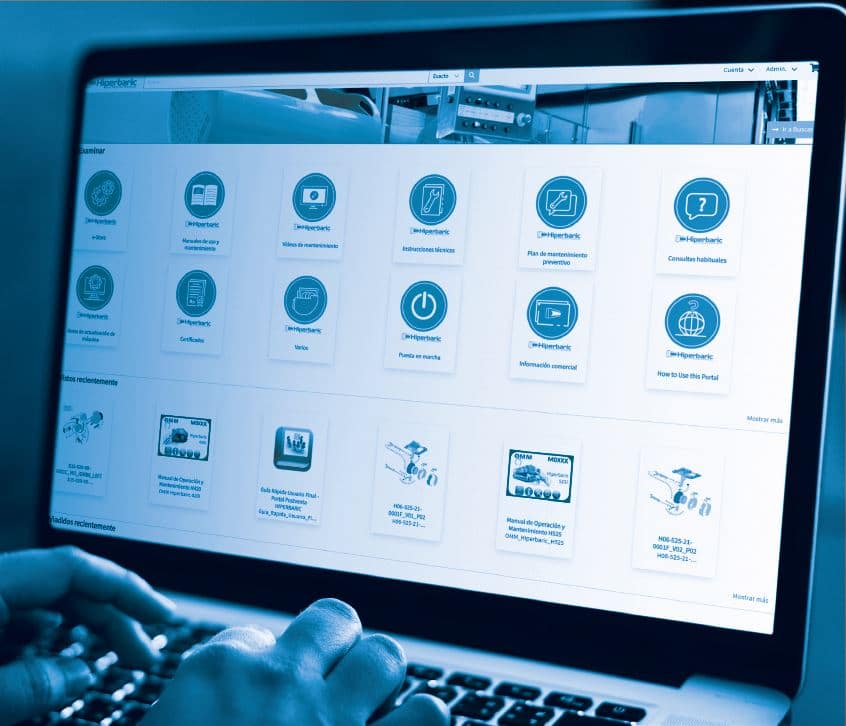 Do you want to know more?
If you have any questions, get in touch with us or follow us on social media to keep up to date with the latest news on food safety and HPP.