44th WEFTA meeting . 9-11. Junio. Bilbao (Spain), hosted by AZTI (Tecnalia).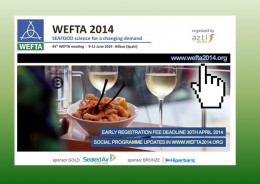 The theme "SEAFOOD Science for a changing demand" will be covered and elaborated through the following seven session topics:
Safety evaluation and emerging risks
Seafood quality reassurance
Integrity, authenticity and differentiation of products
Sustainable use of catches and farming
Advances in seafood processing technology and smart control
Product innovation, consumer acceptance and expectations
Seafood from the world for the European cuisine
As an innovative aspect, it has also been organized a session focusing on the industry, including market and technology sections.
The event will be focused in the R+D+i oriented to global societal needs, looking for innovative solutions to meet the new demands, regarding that the Global Seafood Markets in 2030 will be characterized by:
Demand for seafood is expected to increase strongly
The value of attributes and information are increasingly important
Product innovation increases demand
Aquaculture is competitive – Innovations are leading to rapid technological progress
Welcome to Bilbao!