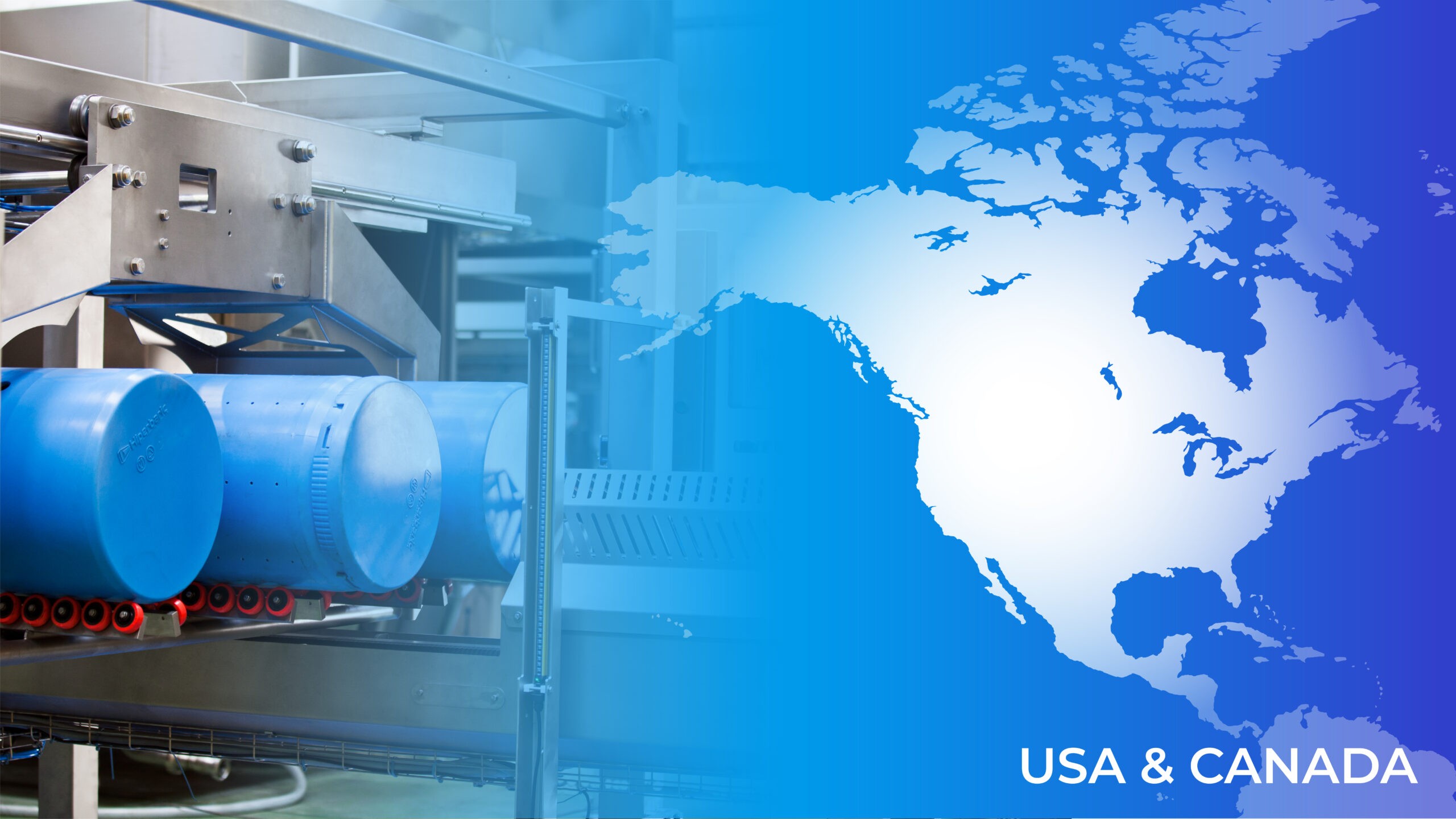 High pressure processing (HPP) is a novel technology that has been commercialized for more than 20 years all over the world with no history of product recall or consumer health concern. Although HPP is quite flexible and it can be successfully applied to a wide range of food sectors, there are no specific regulations across all of the different HPP products or countries. Aware of the ambiguity and importance of this topic for food safety, in this blog you will learn how HPP products can achieve regulatory compliance in North America.
Having reviewed the regulation of HPP products in Europe, Oceania and Asia in our last entry, it is now the turn of North America, focusing on the United States of America (USA) and Canada:
United States of America (USA)
In the USA, there are two food regulatory agencies: FDA (Food and Drug Administration) and USDA (United States Department of Agriculture). Each one has different competencies:
FDA: juices, ready-to-eat products (sauces, dressings, dips, spreads), dairy, fish, seafood, eggs.
USDA: meat products, ready-to-eat meat products (cured and fermented meats), processed eggs, raw fruits, and vegetables.
In the US, where the USDA and FDA are responsible for evaluating and monitoring the safety of HPP foods, they establish HPP technology does not require approval.
USDA contemplates HPP as a "post-lethally and post packaging intervention" for the control of Listeria monocytogenes, whereas FDA contemplates HPP as an "alternative food processing technology".
Specific requirements for foods compatible with HPP are:
Juices and beverages: process validation is required as described in the "Juice HACCP Regulation". Processors shall demonstrate a 5 log reduction of pertinent pathogens (i.e., monocytogenes, Salmonella spp. and Escherichia coli O157:H7) for a period as long as the desired shelf life before the product is placed in the market.
Sauces, dressings, dips, spreads: Regulation to ready-to-eat foods applies in this case (see here a draft guidance for its implementations). It is required a reduction between 5 and 6 log for monocytogenes depending on how risk is assessed. To be able to demonstrate such a reduction, process validation is the most common way. Depending on the nature of the food, other pathogens may be considered in the process validation.
Ready-to-eat meat products: The FSIS-USDA supervises that companies have the HPP correctly implemented. It is required the absence of monocytogenes. Processors shall demonstrate a 2 to 3 log reduction of the pathogen. Currently, several scientific literature can be used to document the safety of this kind of product.

Canada
Health Canada does not consider High Pressure Processing (HPP) as a novel food, but, in the case of using this technology to control biological hazards, HPP validation may be required.
Table 1 – Validation requirements for specific HPP applications
Purpose of HPP treatment
Validation Requirement
1. Shelf-life extension
Validation is not required unless a food safety hazard(s) may be introduced by the extended shelf life
2. Technical effect
Validation is not required for non-food safety purposes
3. Lethality treatment
Validation is required demonstrating the intended log reduction is achieved
4. Post-lethality treatment of ready-to-eat (RTE) food to support applying a reduced Listeria monitoring frequency based on a lowered risk
Validation is required demonstrating at least a 3-log reduction of L. monocytogenes is achieved

Note: Treating RTE meat and poultry products for 3 minutes at 87 000 psi (600 MPa) has been validated as achieving at least a 3-log reduction in L. monocytogenes

Packaging
Packaging materials intended for foods treated with HPP are the responsibility of the manufacturer who will ensure that they are suitable for the process and do not introduce any hazards to the food, as found in Division 23 of the Food and Drug Regulations and Section 186 of the Safe Food for Canadians Regulations.
It is highly recommended to contact the Food Packaging Materials and Incidental Additives Section of the Bureau of Chemical Safety if the manufacturer wishes to use packaging materials not previously evaluated for HPP. A list of all packaging materials (including those acceptable for HPP treatment) accepted by the Canadian Food Inspection Agency (CFIA) is available on the CFIA website.
Historical context – Novel food
Historically, HPP-treated foods sold in Canada were regulated as Novel Foods under Division 28, Part B of the Food and Drug Regulation. In order to treat the products with HPP, several manufacturers requested the corresponding authorization. As time goes by, the regulatory agency issued "Letters of No Objection" about several HPP-treated products. Some examples are shown in the table below.
Table 2 – Letters of no objection issued by Health Canada for specific applications
Health Canada, over time, has become familiar with HPP and how this technology is applied as an alternative food processing treatment to achieve food safety. Thanks to the available scientific literature about HPP-related assessments, Health Canada changed their mind and stated that is no longer consider a novel process, and, consequently, food products treated with HPP will no longer be considered novel foods and as such are no longer subject to pre-notification.
Do not hesitate to contact us if you have any questions on the subject.