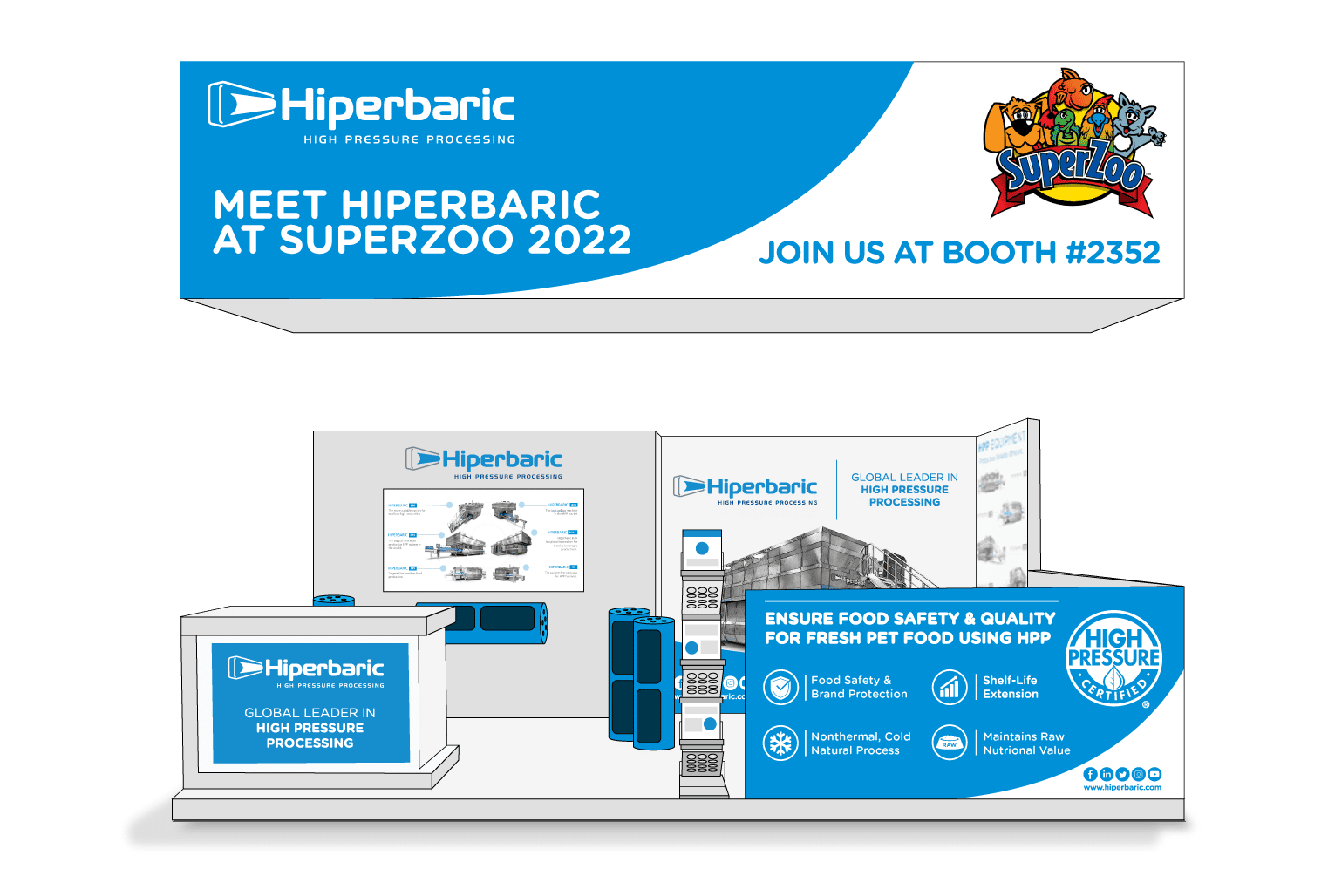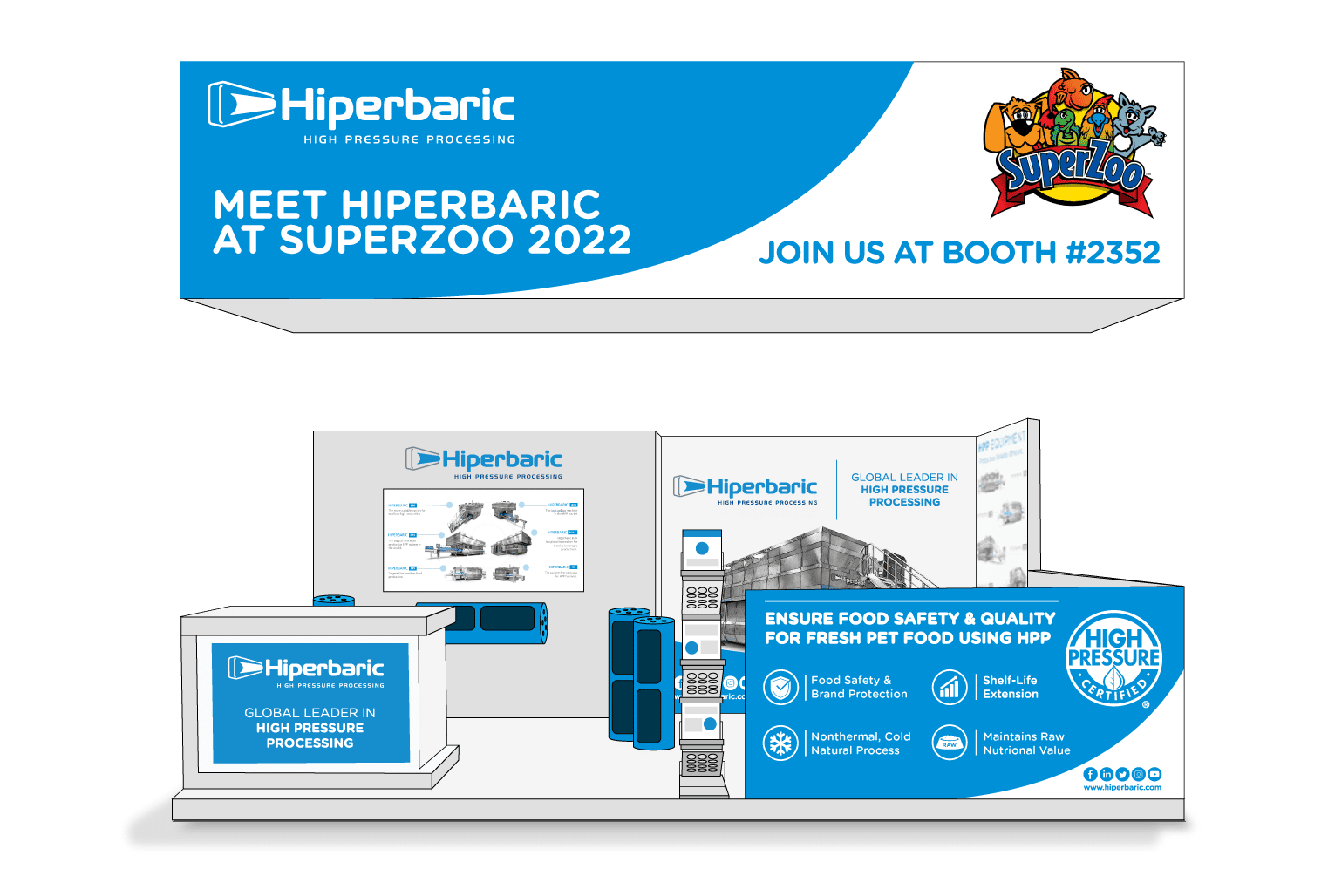 Miami (Aug. 22, 2022) – Hiperbaric, the world leader in supplying high pressure processing (HPP) equipment for the human and pet food industry, will showcase the latest innovations in raw pet food and high pressure processing (HPP) at SuperZoo Aug. 23-25 in Las Vegas.
Hiperbaric will share the latest innovation in recycled pet food packaging, manufactured by Thanh Phu, a Vietnamese packaging company expanding its presence in the U.S. This fully recyclable packaging can undergo the HPP process for raw pet food. Hiperbaric will also share the latest innovations in freeze dry manufacturing, with Parker Freeze Dry of Winsted, Minn., whose equipment is used to freeze dry pet food and is compatible with the HPP process.
Pet humanization is a growing trend. As demand for pet food products with greater nutritional value over traditional offerings increase, companies are looking at better ways to serve customers.
"HPP shows great promise for raw pet food, as it inactivates fooborne bacteria, keeps nutrients intact, promotes health benefits and extends shelf life," said Roberto Peregrina, Executive Director, Hiperbaric USA.
As Hiperbaric expands its presence in HPP and raw pet food, it looks to collaborate with companies whose products or equipment can be used with high pressure processing, further promoting the benefits of HPP and raw pet food.
Thanh Phu offers packaging that has been tested and successfully undergone the high-pressure Hiperbaric process. Testing was conducted at Hiperbaric's U.S. facility in Miami. The high-pressure process works well for solid refrigerated meats that need to retain their shape and wet pet food in a pouch that does not need to retain a defined shape.
Thanh Phu's pet food packaging is third-party certified fully recyclable, according to Daryle McDonald, Thanh Phu's Business Development director. They have received third-party validations from Europe and the U.S. "Our products contain Veloflex™ technology, a mono-material low-density polyethylene, which is the easiest material to recycle, as well as a high oxygen barrier, which benefits extended shelf life," McDonald said.
Hiperbaric will have the Thanh Phu pet food bags on display at its Booth #2352.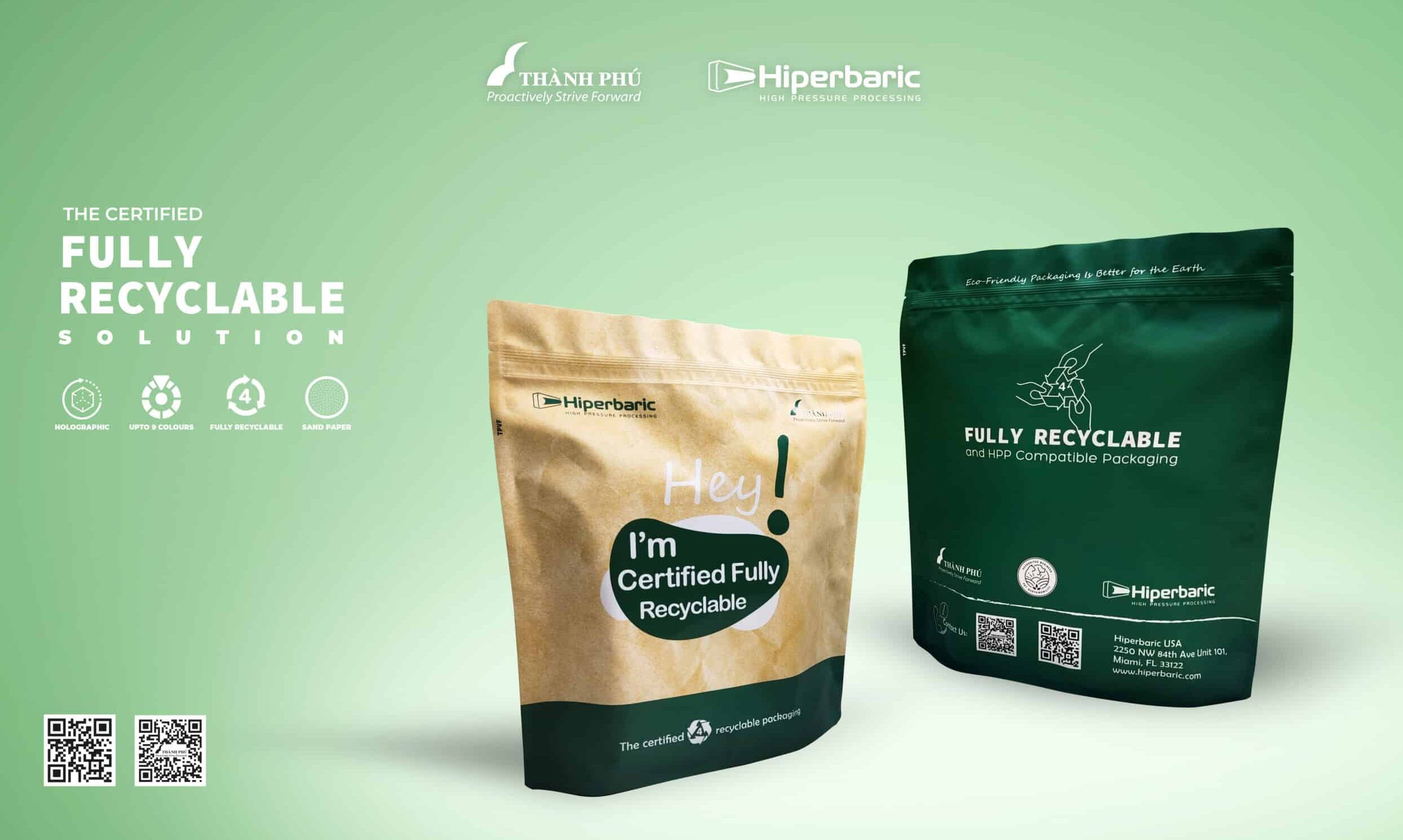 Hiperbaric also will share information from Parker Freeze Dry. Typically, a processor will run its product through the HPP process prior to freeze drying.  HPP has shown significant success in the removal of pathogens from products. Freeze drying is the next step in keeping the product "clean" or shelf stable.  "When processed in the order described, the freeze drying process creates a shelf stable product that is ready for packaging," said Jerad Ducklow, executive vice president, Sales & Marketing.
HPP is a nonthermal process that applies water and high pressure to products in their final packaging to eliminate foodborne bacteria, promote clean labels, maintain nutrition and taste, and extend shelf life.
Among its many applications is raw pet food. HPP is used as a "kill step" to achieve the Food & Drug Administration's required 5-log reduction in raw pet food, as well as promote fresher ingredients and extend shelf life.
HPP has been widely reported to retain the nutritional and sensory properties of raw pet food formulations. It has become increasingly popular as a method of pathogen control since the Food Safety Modernization Act (FSMA) was introduced in 2011.
Hiperbaric is considered a resource on HPP and pet food, publishing several documents on the subject including white papers, flyers and case studies. Companies like Nature's Variety, Steve's Real Food, Kiwi Kitchens and Primal, among others, use HPP in their pet food processing.
HPP benefits for pets and pet parents include food safety, cross-contamination prevention, fresh ingredients, clean label, health attributes (e.g., brighter coats, improved digestion) and a variety of formats and packaging.
HPP allows the commercialization of fresh, frozen, and freeze-dried foods in the form of minced mixtures, chubs, kibbles, and raw meaty bones. With the extended shelf life, HPP allows producers to expand sales into geographic regions that they previously couldn't serve, due to limited shelf life.
About Hiperbaric
Hiperbaric is the world's leading supplier of high pressure processing (HPP) equipment for the food industry.
Since its inception in 1999, Hiperbaric has designed, developed, produced and marketed its high pressure processing equipment internationally. The company is recognized for its reliability, customer support, teamwork and continuous effort in R&D.
Hundreds of companies worldwide use Hiperbaric equipment for the processing of juices and beverages, meat, fish and shellfish, fruits and vegetables, dairy and prepared dishes. A highly versatile technology, HPP can be applied to a wide range of foods.
With world headquarters in Spain, the company also has an office in Miami to serve its North American market. For more information, visit: www.hiperbaric.com.