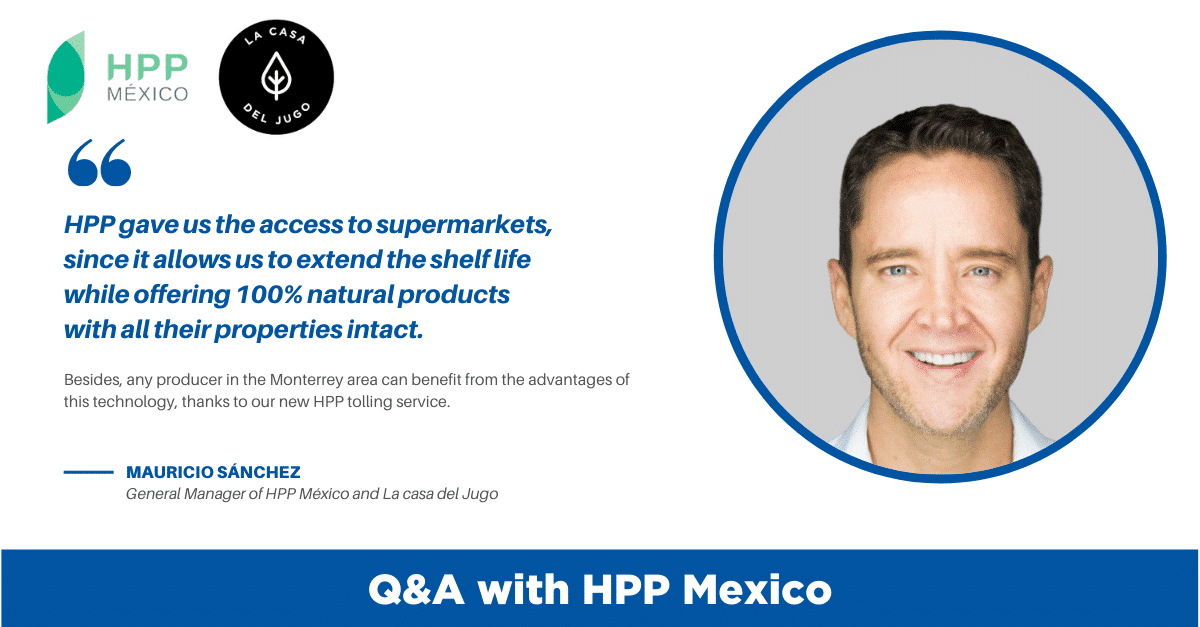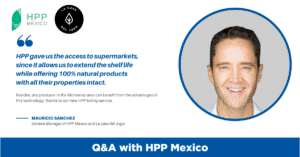 In this Q&A, we chat with Mauricio Sánchez, General Manager of HPP Mexico and La Casa del Jugo, a company located in Monterrey with more than 5 years of experience in high pressure processing (HPP). Mauricio tells us the entire history of the company, emphasizing the recent HPP tolling service they offer under the name HPP Mexico.
About the company
La Casa del Jugo is a Mexican brand of HPP vegetable juices that recently started to offer HPP tolling services in the Monterrey region, under the name of HPP Mexico. An incredible story in which they began by educating people about healthy consumption habits, went on to offer their juices in supermarkets, and finally decided to offer their HPP services to other Mexican producers.
Q&A with HPP Mexico and La Casa del Jugo
Question: Hello Mauricio. Tell us a bit about your company and how it all started
Answer: We started offering online education where we explained how to take care of our health through changes in our eating habits. We considered that one of the most practical ways to incorporate a large number of nutrients, vitamins, fresh enzymes and minerals, is through juices, especially those made from vegetables.
For this reason, we recommended users prepare their own juices at home and drink them at the beginning of the day. This ensured the intake of a large number of nutrients and avoided the consumption of processed products with preservatives and chemical additives.
Users claimed we should offer our own juices as that would save them a lot of time and make it easier for them to stick with the program. That's when we started selling our fresh vegetable-based juices, already bottled, at a small stand in Monterrey.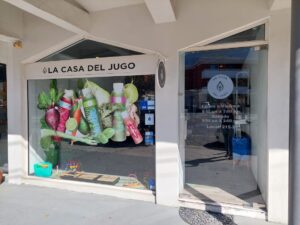 Q: How did you learn about HPP technology and why did you decide to implement it?
A: The juices we sold barely lasted 2 or 3 days in the fridge, so people had to buy them very frequently. Even so, the business was quite successful at the beginning, so much that one day a supermarket from the north approached us and said: "hey, we want your vegetable juices on our shelves, we don't have anything like it and we see that people demand this kind of product".
At this point we needed a technology that would extend the shelf life of our product while keeping all the nutrients, minerals, vitamins and enzymes intact, to continue offering the best possible product, as freshly squeezed at home. Investigating, we found high pressure processing (HPP), which was already used in other countries, mainly the United States and Europe. We had finally found the right technology to offer our products to the retail channel.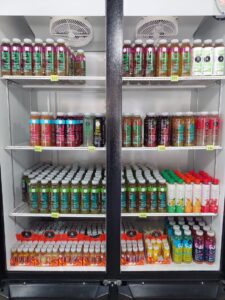 Q: How did you get into the HPP tolling business?
A: At the same time that we closed the agreement with the retail chain, we acquired the HPP machine, which involved a significant investment effort. Despite our expansion, we saw that we had spare capacity. Besides, there were not many HPP machines in the Monterrey region and there were manufacturers with interesting products with great potential to apply this technology. We realized this was an opportunity to accelerate the return of investment of our HPP unit. That is how HPP Mexico was born.
Q: How has the HPP tolling business evolved? And what kind of products do you process?
A: Little by little, people approached us and we saw that there really was an opportunity to make the operation profitable and that is how we began to process other types of products. The first products that we started processing were fruit purees and porridges for babies since HPP allows them to offer a 100% natural product. Later, we gained some clients for whom we process cold brew coffee, who were looking to increase shelf life, and also other companies producing cold brew tea. We hope to continue growing and to be able to install a bigger machine in the near future.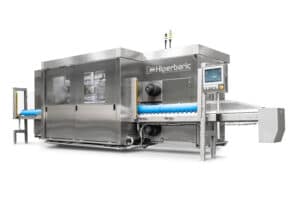 Q: What are the products with the greatest potential in your region?
A:I see a very strong potential for dressings and sauces because a fresh sauce breaks down after two or three days. For this reason, most of the sauces that you can find, also the hot sauces that we Mexicans like so much, are usually full of preservatives and additives to extend the shelf life or they add vinegar, which changes the flavor of the sauce.
Avocado and guacamole are kings in Mexico, especially in the Michoacán area. HPP technology is the spearhead that this industry has chosen for its development and international expansion.
Another interesting option is fresh fruit in their own juice and I also see opportunities in meat products such as cold cuts.
Q:What other services do you offer besides HPP?
A:Our main business is the HPP tolling service, although we have begun to offer other complementary services, especially for the beverage sector, such as extraction and packaging. We also have the capacity for refrigerated storage and distribution. Thus, we can deliver the product directly to the retailer. In short, we offer an integrated solution including the main steps of the production chain.
In the case of sauces, we have a provider that outsources the service so that our client only has to contact us and we manage everything.
In addition to these integrated services, something that sets us apart is our immediacy. We can be quoting in less than a week when we receive a request from a client and can be sending the final product in 4-6 weeks at the latest with all the requirements.
Q: What do you value most when purchasing an HPP system?
A: In our case, the first thing we were looking for was a trustful partner, a company with worldwide recognized experience. Another fundamental aspect was to find a company that offered a very high-level service, since this is key to guarantee that your operation runs smoothly. On the other hand, once we purchased the machine, Hiperbaric's applications department advised us, especially in our beginnings, to guarantee the quality of the product and they have always been available to resolve any doubts we have had.
The service we received in every way from Hiperbaric is extremely good and we firmly believe that we made the right decision in choosing our HPP partner.
Q: How many kilograms of food do you process per year?
A: Around 270 or 280 tons of product per year.