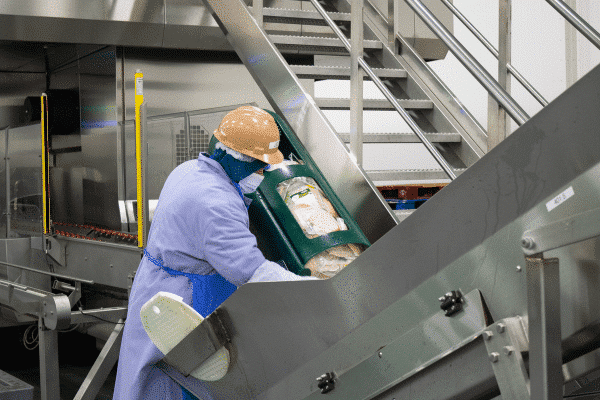 High Pressure Processing (HPP) benefits for meat and poultry include food safety, premium quality, clean label and extended shelf life
Burgos (Spain), Jan. 19, 2022 – Hiperbaric will share the latest technology developments for HPP meat and poultry at the International Production & Processing Expo (IPPE) in Atlanta Jan. 25-27. The company will exhibit at Booth #BC10131.
With recalls becoming an increasing challenge among meat manufacturers, HPP can be leveraged as an effective method to inactivate foodborne pathogens.
According to the World Health Organization, despite efforts to ensure food safety, every year 550 million people worldwide contract a foodborne infection. Of those, 220 million are children under 5 years old. Although numerous guidelines exist for safe practices and comprehensive controls, the number of annual outbreaks of certain pathogens is increasing, creating demand for better food safety measures.
HPP can help solve this problem. High pressure processing is a non-thermal preservation method that uses cold pressurized water to inactivate foodborne bacteria, while enhancing quality, taste and nutrition, and increasing shelf life. HPP is a game-changer for many meat brands on the market, including o Hormel Foods, Maple Leaf, Sofina, West Liberty Foods, Cooper Farms, BRF, Noel Alimentaria y Espuña.
HPP maintains the nutritional content of raw meats, but color change occurs at relatively low pressure levels (2,500-400 bar). Marinating meats improves color retention demonstrated by Old Neighborhood Foods in their broad commercial applications. Andrew Demakes, director of Operations for Old Neighborhood Foods, states in a recent Q&A, "Our newest, biggest initiative is our new marinated meats line, which has been a huge success and one of the main reasons we've invested in a new HPP machine."
Old Neighborhood Foods has been able to expand their business from regional to national operations, due to HPP benefits of extended shelf life.
Additionally, an application that has recently gained more notoriety is in the pet food industry, where companion animals and processors have benefited from HPP technology (Q&A with Pet Food Manufacturers).
To educate attendees about the benefits of HPP and pet food, Hiperbaric's Vinicio Sermet, US applications manager, will present an IPPE 2022 TechTalk session, "Fresh, Nutritious and Safe Pet Food with HPP" at Booth #C10611, Thurs., Jan 27 at 10am EST.