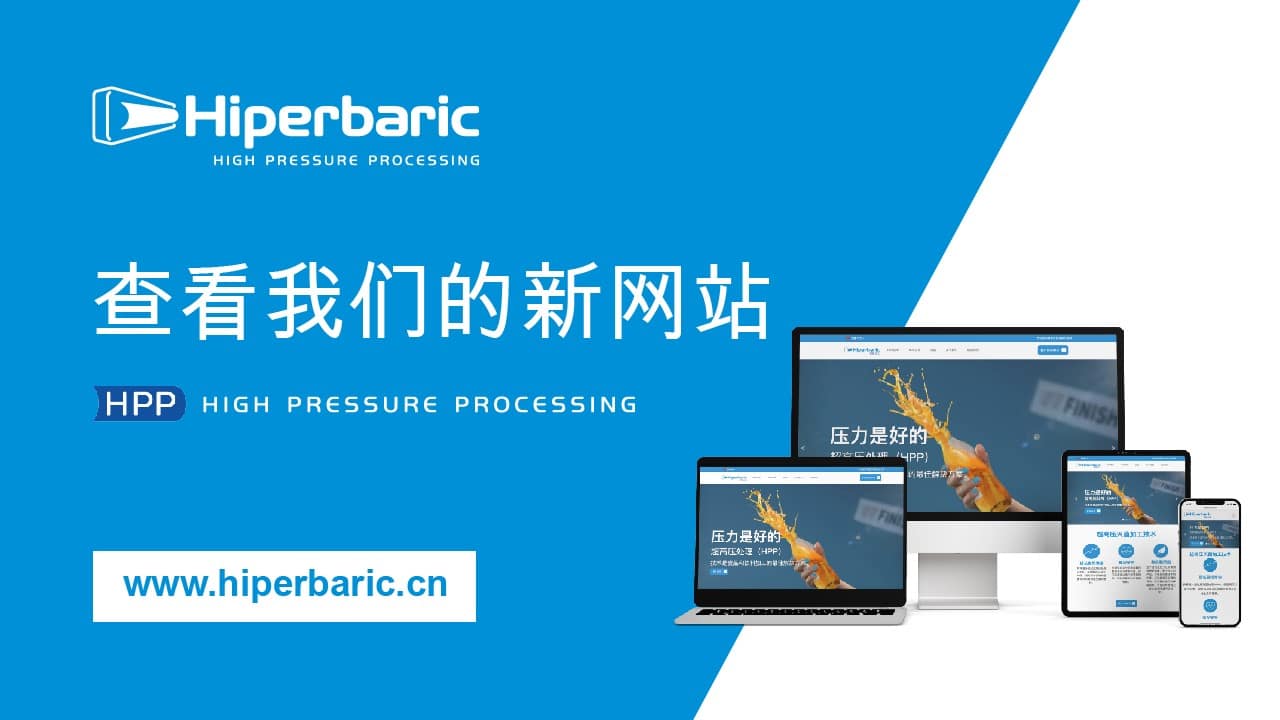 Healthy, clean label and with an extended shelf life HPP food and beverage products are gaining popularity among Chinese brands and consumers. With the aim of continuing to open horizons, Hiperbaric, global leader in high pressure technologies, launches its new Chinese website to spread the benefits and advantages of High Pressure Processing (HPP) for the food and beverage industry.
Dynamic, vibrant and in a thriving and unstoppable expansion. We are talking about China, the most populous country on the planet, which has become a world's leading power thanks to a constantly growing middle class. This region has contributed about 700 million middle class people since 2009 and by 2030, it is expected that 65% of the Chinese population will belong to this social range.
Consumer trends in China
Consumer behavior changes constantly and rapidly. However, when it comes to food and personal care, Chinese consumers are increasingly demanding more healthy products and foods, minimally processed, with no colorants nor preservatives, with a longer shelf life and all their organoleptic properties intact, such as flavor, color and texture. This is where high pressure processing (HPP) finds a perfect breeding ground for the development of food and beverage products processed by this non-thermal technology.
Food Safety as a priority: the uncertainty caused by the COVID-19 pandemic has changed the attitude and behavior of Chinese consumers, who increasingly require brands to guarantee food safety. Not only do they want brands to maintain transparency of how products are produced, but they also expect more advanced technologies to be applied in product manufacturing, packaging and storage. With this been said, HPP technology is a guarantee of food safety.
HPP inactivates foodborne pathogens (Salmonella, E.Coli, Listeria, Vibrio, norovirus, etc.) and spoilage microorganisms (lactic acid bacteria, coliforms, etc.), meeting the requirements of the strictest food authorities.
Proactive wellness and functional foods: much of the population wants to adopt healthy eating habits. This is reflected in brands launching new products with healthy attributes. It is quite easy to find HPP products in this category, especially from European and North American companies that can export their products to the Asian giant. According to Mintel Global New Products Database, the largest number of beverage launches worldwide corresponds to functional beverages, which reached a total of 1,975 placements in the market.
E-commerce and proximity: among all the countries in the world, China's food markets have proven to be very competitive when it comes to food retailing. Online retail has also made its appearance in today's consumer world. The Internet has made it easy for people to order online products such as beverages, ready meals, local specialties, organic foods, and imported foods. In addition, home delivery services have also become a complement to online retail.
Mercado HPP en China
In China's, ready to eat meals (RTE), local fruit juices and beverages as well as meat products are the main applications in the area processed by high pressure processing (HPP). For meat products, HPP is presented as a real strategic option for the fight against E. coli, Salmonella spp. and Listeria monocytogenes in this product category.
Hiperbaric, as a global leader in the design and manufacture of HPP equipment, has around 60 HPP systems installed in the Asia and Oceania region, of the more than 350 machines installed with the seal of the company all over the world.
These are some of the leading brands in China that have Hiperbaric HPP equipment, such as Chic Foods, Luohe Shuanghui or Chia Meei drinks or juices and vegetable products such as Bless Cold Pressed Juices, among others.
New Hiperbaric's website in Chinese
Given the current market trends in the Chinese market, we launch a new website in this language, which addresses content related to high pressure processing (HPP) technology.
Food and beverages consumers, brands and manufacturers can find interesting information, flyers, videos, infographics and whitepapers on HPP technology in their local language. We also have illustrative material of our equipment, both of our traditional HPP in-Pack technology for pre-packaged products as well as the innovative HPP in-Bulk technology for the production of large volumes of HPP beverages before bottling. Clear, segmented and effective information to explore in depth our industrial HPP solutions.
At Hiperbaric, our after-sales service Assistance Point offers the most reliable and efficient original components, parts and spare parts on the market for the perfect functioning of your High Pressure Processing (HPP) equipment. We work around the world 24 hours a day and with total flexibility.
We are also present on WeChat and other video platforms like Youku. Our goal is to reach all Chinese food and beverage manufacturers who wish to offer products aligned with current consumer demands: natural, preservative-free, ready-to-eat, with a longer shelf life, and with all the flavor and nutritional properties.
You can get more information on our new website hiperbaric.cn.