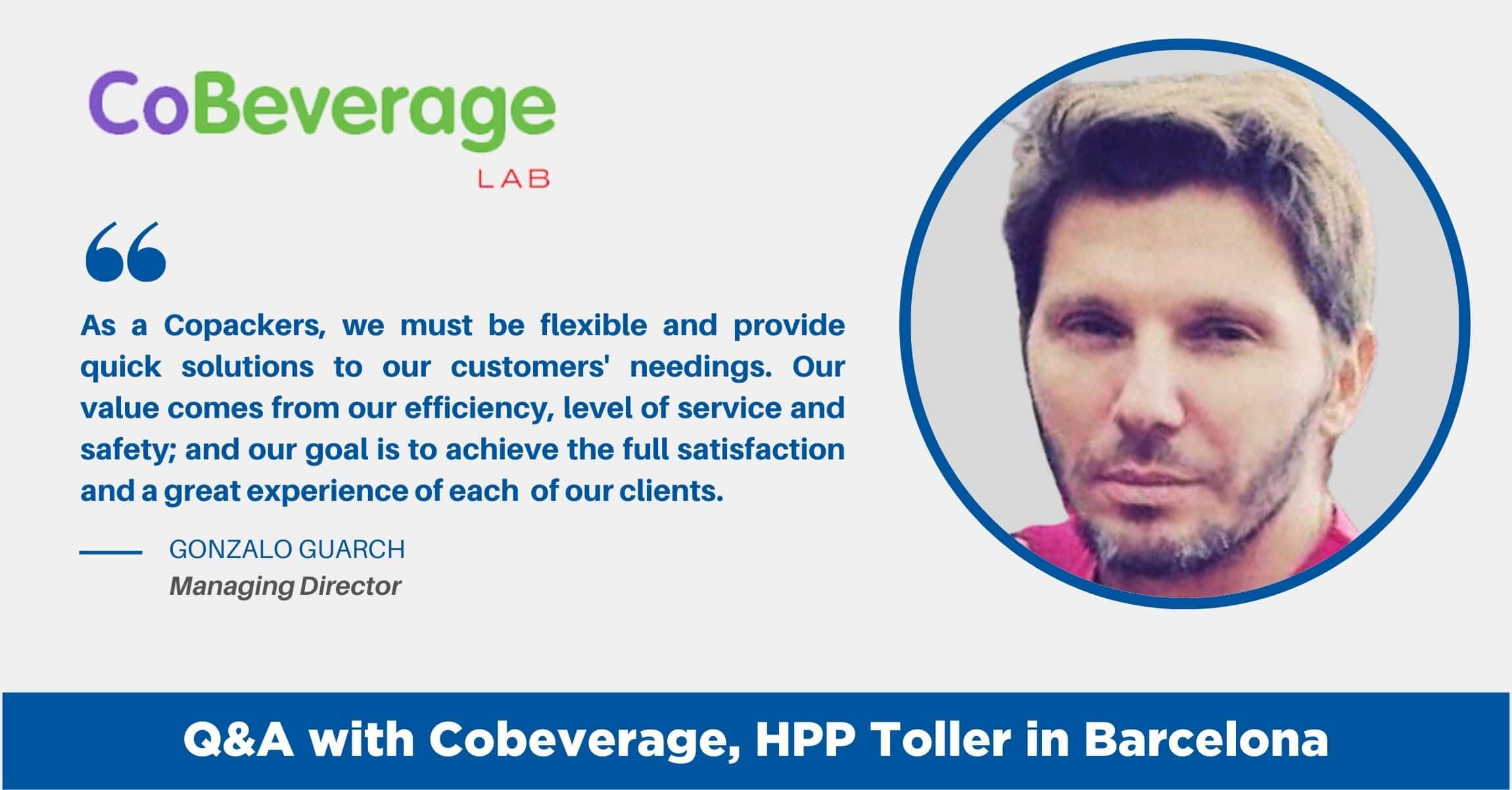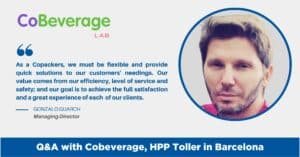 Hiperbaric sat down with Gonzalo Guarch, Managing Director of Cobeverage, to discuss the benefits of outsourcing to HPP tolling partners: reduced capital investment, increased production capacity, and access to the latest HPP technology equipment.
About Cobeverage
The company is dedicated to producing natural and isotonic juices and drinks that are customized to the unique needs of its clients. They uphold the highest quality standards and have an innovative permanent philosophy that guides their production process. With a passion for creating healthy cold-pressed juices and smoothies that are accessible to everyone, the company uses only natural ingredients without any added colorants or preservatives.
Their expertise in product development allows them to create customized recipes that are tailored to the specific requirements of their clients. The LAB pillar, or laboratory, is an essential component of their success, enabling them to achieve differentiation and innovation in their products. The company is fully committed to quality and food safety, ensuring that its products meet the highest standards. Their flexible approach allows them to adapt to the changing needs of their customers and deliver exceptional service every time.
Q&A with Gonzalo Guarch, Managing Diretor of Cobeverage
How did you discover the HPP technology?
Drinking fruit juice. According to the manufacturer, it was a fresh product with an extended shelf life. When I heard that the fruit juice I was about to drink had a shelf life of over 50 days, I was immediately skeptical. As someone who values fresh, natural ingredients, the idea of a juice lasting that long without any kind of treatment or preservative seemed too good to be true. I couldn't help but wonder if the manufacturer was hiding something or using some kind of trick to make the juice last longer. It is clear that I was totally wrong.
What would you say are the most important benefits of HPP? How does an HPP product adapt to the current consumer preferences?
For us, as a juice and beverages company, HPP (High Pressure Processing) is an innovative technology that has many advantages over traditional preservation methods, including both ecological and economic benefits.
One of the main benefits of HPP is that the high pressure pumps only require water and electricity. This means that it is a more sustainable and eco-friendly option than many other preservation methods, which often rely on chemical additives or other harmful substances. In addition to these ecological benefits, HPP also offers us significant economic advantages. By extending the shelf life of our juices, HPP helps to reduce waste and increase efficiency in our supply chain. This means that we can produce and distribute our products more efficiently, reducing costs and increasing profitability.
But, most importantly, HPP offers a safe and effective way to ensure food safety. By neutralizing bacteria and germs without the use of chemicals, HPP helps us to prevent foodborne illnesses and other health risks. This makes it an ideal choice for us because at Cobeverage we are committed to providing safe, high-quality food products to our customers.
When and why did you decide offering HPP services could be a profitable business?
It's quite easy: Food that remains fresh for ten times longer, without texture, appearance, or flavor being affected in any way; nutrients and vitamins fully preserved; and the product is ready to be transported and sold. Tell me if it doesn't sound good for a profitable business!
What do you value the most when acquiring an HPP system? What are the strong points when it comes to purchasing an HPP machine?
An HPP machine, specifically a Hiperbaric one, is a high-tech piece of equipment that requires precision and expertise to operate effectively. The process of high-pressure processing (HPP) is a delicate one, and even the smallest mistake can result in a product that doesn't meet Cobeverage's standards of quality assurance.
That's why the team behind the Hiperbaric machine is so important. They are a group of highly specialized and qualified individuals who work together to ensure that the machine is tuned to perfection, like a symphonic band. Each member of the team has a specific role to play, from the engineers who design and build the machine at Hiperbaric to the operators who run it on a daily basis in our facilities.
How has the HPP tolling business evolved? And what kind of products do you process?
Of course, food safety, shelf life, and taste are important but because HPP uses extreme pressure instead of heat, the nutritional value takes also importance so is the same that a fresh, untreated equivalent. Another evolution is the clean label, HPP makes it possible to introduce a product into the market without the use of preservatives. Moreover, HPP fits completely in the current trend of less salt in food products.
We specialize in creating high-quality beverages, including drinks, juices, and smoothies. In addition, we offer a wide range of other products that are expertly processed using our cutting-edge HPP machines. These products include meats and poultry, fish and shellfish, baby food, fruit and vegetables, ready-made meals, pureed food, salads and dips, dairy products, and even animal feed.
Are there any new or innovative HPP applications you've recently seen? What HPP applications do you think have more potential for the near future?                           
One of the most exciting things about HPP is that it can be used to treat a wide variety of product groups. This means that there is a huge potential for new applications of this technology in the food industry As research and development continues, new product groups are being explored and tested with HPP. Taking into account that this is an innovative process and the parameters (pressure, temperature, and time), can be set precisely for each product, the potential is amazing and limitless.
For a food manufacturer that is considering to start using your HPP services, what are your recommendations before they start HPPing their product? 
When it comes to food products, consumers are increasingly looking for options that are innovative, free of preservatives, and fresh. This means that manufacturers need to be able to meet these demands if they want to stay competitive in the marketplace.
However, not all manufacturers have the resources or expertise to develop and validate new products that meet these requirements. That's where our team comes in. We understand the challenges that manufacturers face when it comes to developing new products, and we have the knowledge and experience to help them succeed. Our team of experts can work with manufacturers to evaluate their current products and determine whether they meet the latest requirements for innovation, freshness, and preservative-free formulations. If the products do not meet these requirements, we can offer guidance and support throughout the development and validation process.
By using our technology, manufacturers can increase the value of their products and meet the evolving demands of consumers. We can help manufacturers to improve the shelf life, safety, and quality of their products, while also ensuring that they are innovative, fresh, and free of preservatives.
What is the unique value your companies offer to food manufacturers? (What do your customers value the most about your services: traceability, timing, customer service, availability, logistics, etc)
Cobeverage is not only in the high pressure business, we also manufacture Cold Pressed natural fruit juices. As copackers, we must be flexible and provide quick solutions to our customers' needs. Our value comes from our efficiency, level of service, and safety; and our goal is to achieve the full satisfaction and a great experience of each and every one of our clients.
What does the future hold for your company?
We as a company are currently investing in a new R&D department to provide more coverage of products susceptible to HPP treatments and to increase the range of possibilities of HPP technology.
Discover the full Q&A with Cobeverage and Youngstown, HPP toller in the US, in this session of HPP Innovation Week 2023: