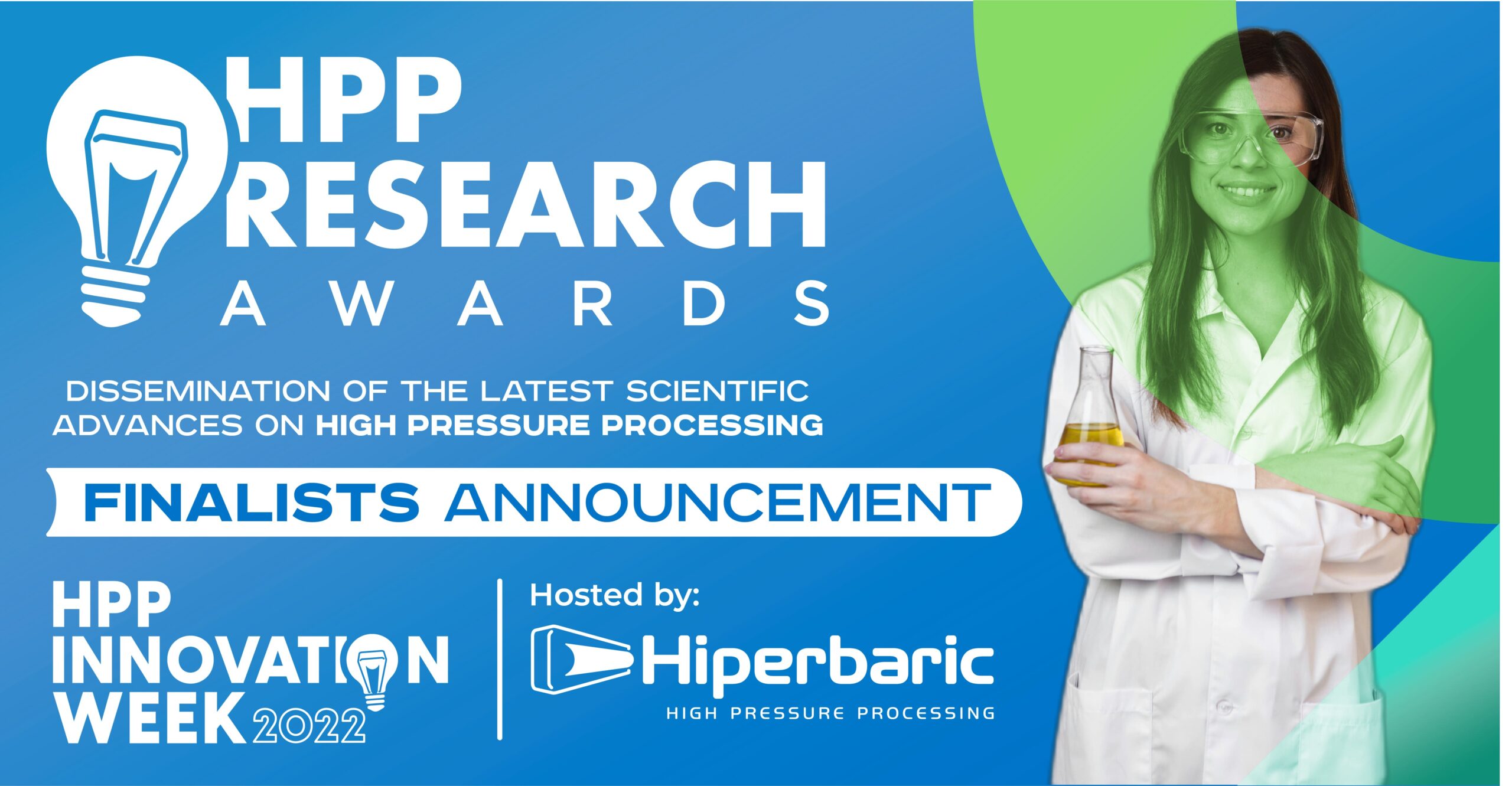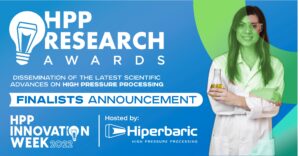 With subjects ranging from the raw pet food, to chickpeas or even cheeses, this first iteration of Hiperbaric's HPP Awards will showcase the diversity of HPP applications. As a new addition to this year's HPP Innovation week, young researchers will be sharing their cutting edge research with this year's participants. Each day three innovative projects will be spot lit in an effort to promote fresh ideas within the food and beverage industry. 
As this year's HPP Innovation Week grows closer, so do the HPP awards. This first edition of the HPP Awards will acknowledge young researchers for their contributions in the field of High Pressure Processing.
An international judging panel, consisting of independent HPP experts and a member of our HPP Applications Department reviewed each submission thoroughly and selected three finalists for each category: Human & Pet Nutrition, Food Safety & Shelf-life Extension, and Sustainability & Product Development.
On top of a cash prize (600€, 300€, 150€ respectively), each finalist will have the opportunity to present their research during the last session of each day of HPP Innovation Week 2022. Each finalist will give a 15-minute presentation with 5 additional minutes for questions. First place winners will be additionally rewarded with the opportunity to disseminate their research through Hiperbaric's website and media pages.
So who are the finalists?
Human and Pet Nutrition
In the Human and Pet Nutrition category our three finalists are:
NOOPUR GOSAVI with: Understanding and modeling calcium infusion using high pressure processing
CRISTINA SERRA with: Development of a tool to evaluate the efficacy of high pressure processing to guarantee food safety of acidulated raw pet food
PRAKHAR CHATUR with: The Effect of High Pressure Processing on Textural, Bioactive and Digestibility Properties of Cooked Kimberley Large Kabuli Chickpeas
Finalist will present their researches during the last session of the first day, June 21.
Food Safety and Shelf Life Extension
In the Food Safety and Shelf Life Extension category our three finalists are:
CATHERINE ROLFE with: Acid-, Cold- and Pressure-adapted E. coli O157:H7, L. monocytogenes, and Salmonella spp. in Validation of High-pressure Treated Juices
ELIZABETH BUERMAN with: High pressure processing of heat and pressure resistant fungi as affected by pH, water activity, sulfites, and dimethyl dicarbonate in a diluted apple juice concentrate
JAVIER ROCHA PIMIENTA with: Bacillus cereus spores and Staphylococcus aureus sub. aureus vegetative cells inactivation in human milk by high-pressure processing
Finalist will present their researches during the last session of the second day, June 22.
Sustainability and Product Development
And last but not least, in the Sustainability and Product Development category our three finalists are:
ALICE MARCINIAK with: Production of highly purified fradctions of ⍺-lactalbumin and β-lactoglobulin from cheese whey using high hydrostatic pressure
RITA INÁCIO with: Optimization of Raw Ewes' Milk High-Pressure Pre-Treatment for Improved Production of Raw Milk Cheese
ARIANNA CUBEDDU with: Suitability Assessment of PLA Bottles for High-Pressure Processing of Apple Juice
Finalist will present their researches during the last session of the third day, June 23.
Thank-you to all the participants who submitted their work. These diverse topics showcase the large potential of high pressure technology. HPP Innovation Week spotlights existing applications of this technology and makes room for the generation of novel ideas through the collaboration of different types of experts in the field.
On June 23, the winners will be announced during the last conference of the day. To learn more about HPP Research Awards and about the HPP technology and its applications, register for free for HPP Innovation Week 2022 and you can watch all the content whenever you want, on demand.