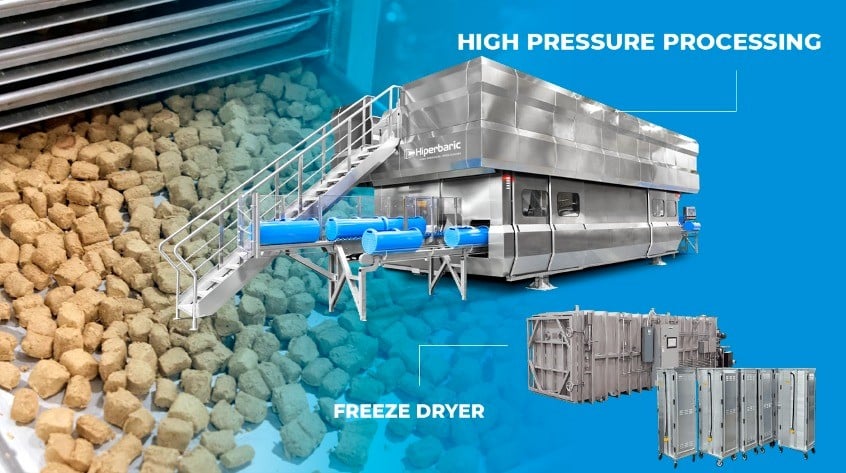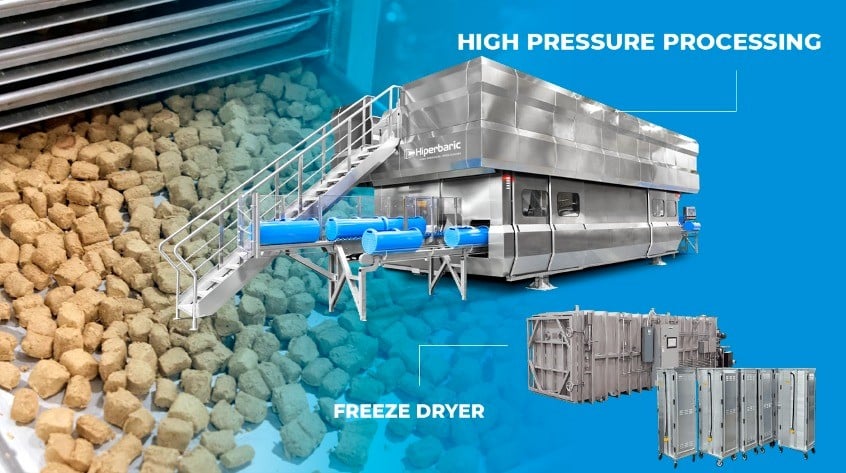 Raw pet food is becoming increasingly popular as more and more pet owners look to provide their furry friends with the healthiest, most natural diet possible. While raw food may be a healthier option than traditional thermally processed kibble, it also comes with the risks of potential bacterial contamination. That's why high pressure processing (HPP) and freeze-drying have become an important part of the raw pet food industry: It helps ensure that your pets are getting safe and nutritious meals without sacrificing any of the benefits of feeding them fresh ingredients.
The global pet food market, currently a $115B USD industry, is expected to reach $163B USD by 2029. One of the biggest growth areas is in raw pet food, as the benefits of raw meat pet diets are becoming more widely understood. Studies have shown raw meat diets offer pets increased energy, more vibrant skin and coat, better oral health, improved digestion, less gas and odor, and smaller stools.
HPP Key to Food Safety
There's a challenge to overcome, however: delivering raw meats to pets presents the risk of pathogen transmission. Fresh, human grade meats have naturally occurring bacteria. An FDA study showed that of 196 raw pet food samples tested, 15 tested positive for Salmonella, and 32 tested positive for Listeria monocytogenes. By comparison, there were zero cases of either pathogen in dry or semi-moist dog food. So how can pet parents feed their pets with the superior nutrition of raw meat and ensure it is safe at the same time? High pressure processing (HPP).
High Pressure Processing (HPP) is a technology that is becoming increasingly popular in the pet food industry for preserving raw pet food and treats. HPP uses extremely high pressures, up to 87,000psi. Harmful bacteria lose their ability to function and reproduce, reducing the risk of pathogens such as Salmonella and Listeria in the final product. This is crucial for pet owners who prefer to feed their pets raw food but are concerned of food safety.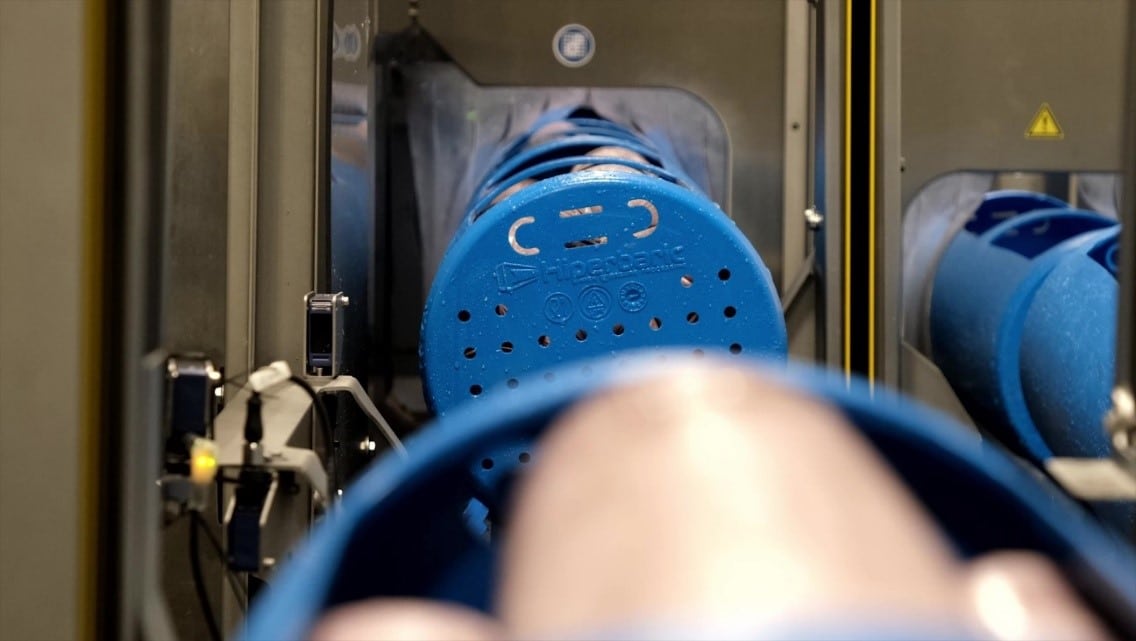 One of the main benefits of using HPP for raw pet food is that it is a nonthermal process that takes place at 4-25 °C (40-75 °F). Traditional pasteurization methods rely on heat to kill harmful bacteria, which can lead to the destruction of important enzymes and vitamins. With HPP, these nutrients are preserved, providing pets with a more nutritious diet. Additionally, HPP can be used on a wide range of products such as meat, fish, and vegetables, giving pet food manufacturers a variety of options to choose from.
Freeze-Drying for Raw Pet Food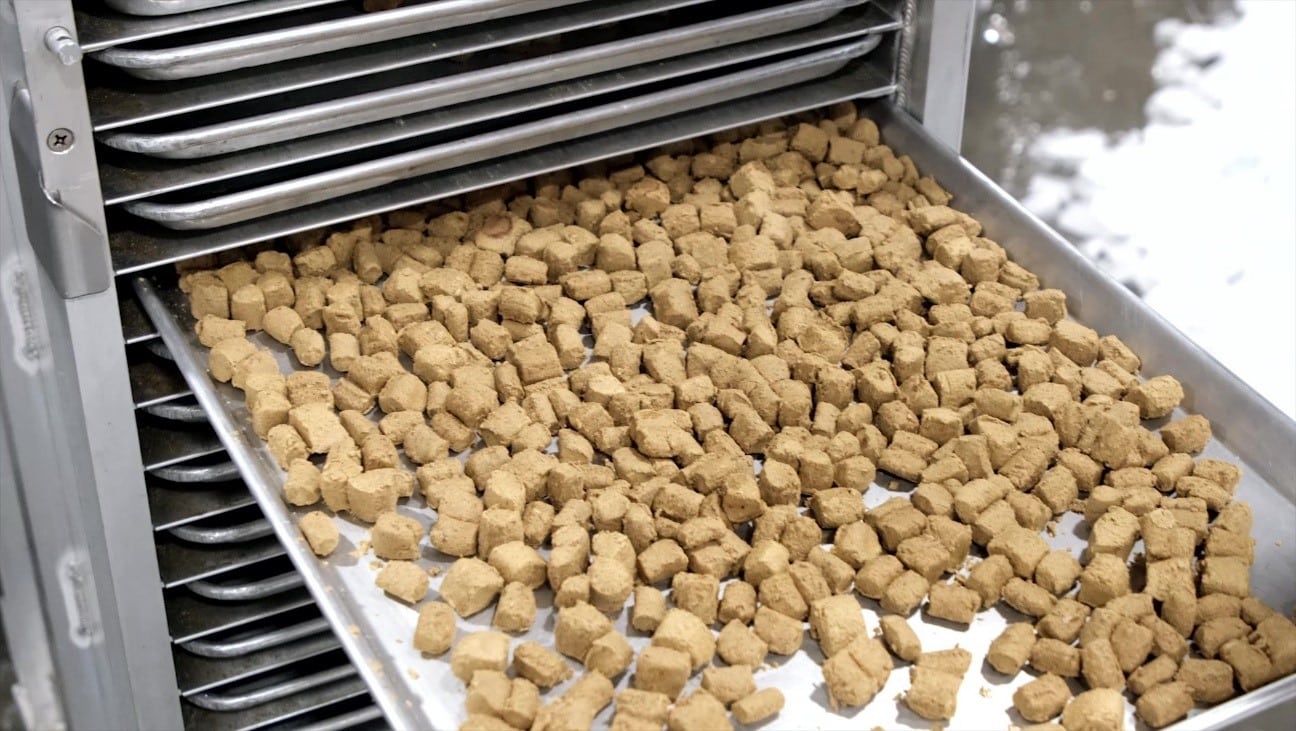 Another preservation technique that has been gaining popularity in the pet food industry is freeze-drying. It involves freezing the food and then removing the ice crystals through a process of sublimation. This yields a low-moisture lightweight, shelf-stable product that retains its nutritional value and shape.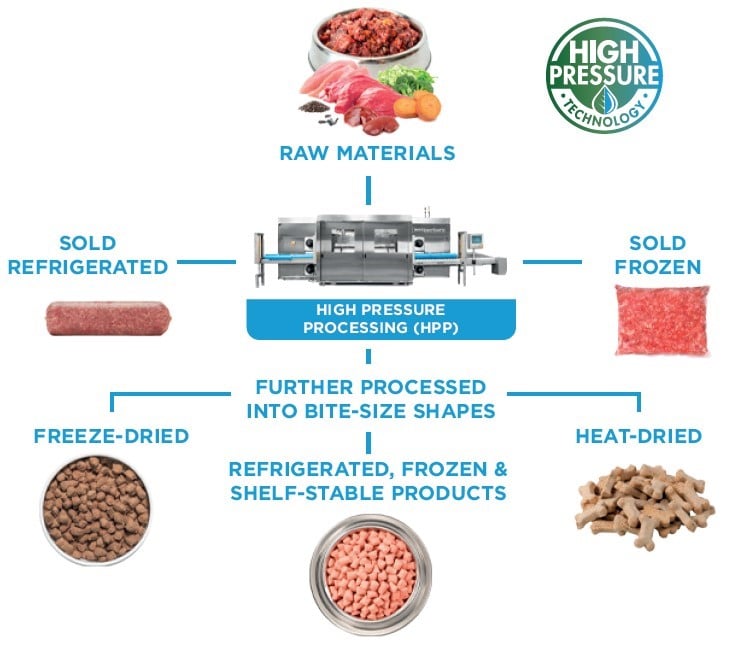 Compared to traditional methods, the freeze-drying process is a "cold-drying" method that presents less degradation of the product. This process typically retains the natural colors and shapes of the product. Manufacturers also take advantage of lighter weights and the ability to minimize refrigeration costs often incurred post processing with other methods. However, pathogens may survive the freeze-drying step.
Manufacturers have started to incorporate HPP and freeze-drying in their pet food production process to offer the pet owners with high-quality, safe and nutritious options. For instance, some manufacturers have started to use HPP to reduce the risk of harmful bacteria and then follow up with freeze-drying to extend the shelf-life of the product. This way, the pet food stays fresh for a longer time and maintain its taste, texture, and nutritional value, allowing manufacturers to distribute their products over a wider area and reducing the need for preservatives.
How the process work?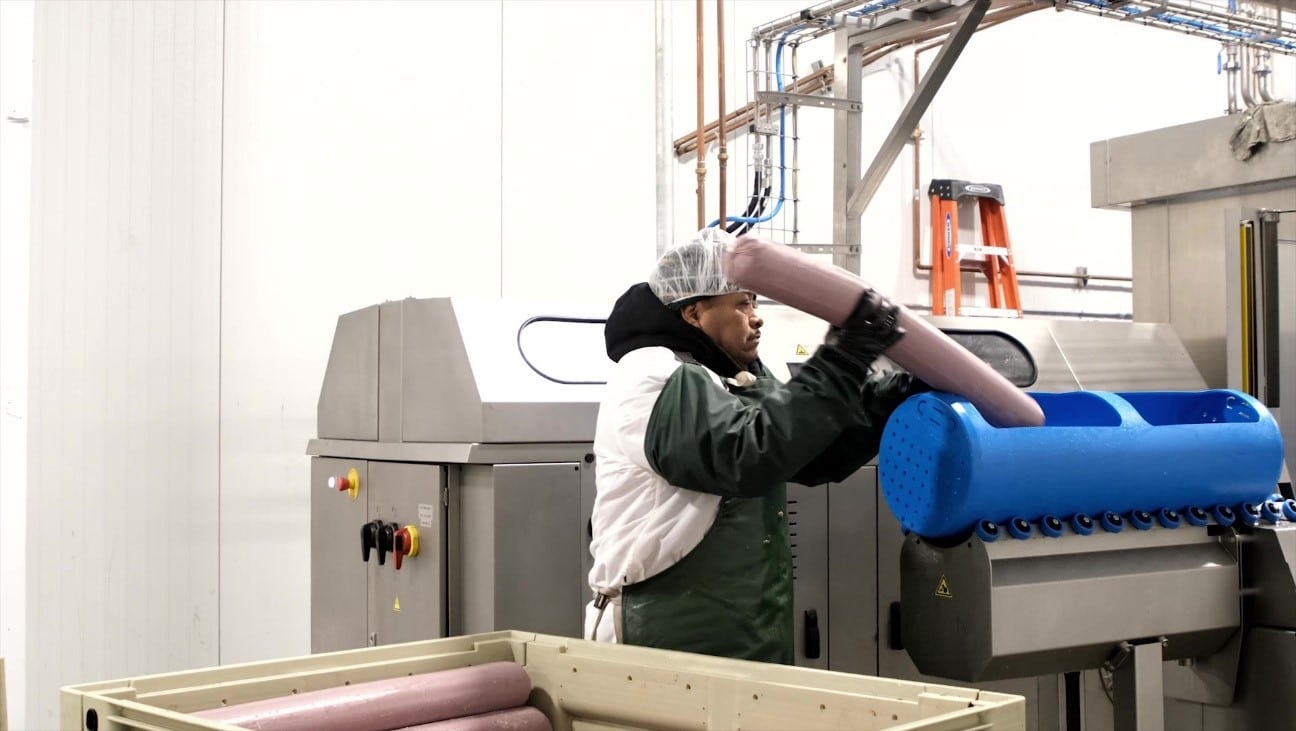 First, baskets are loaded with packaged raw pet food products, and the baskets enter the high-pressure chamber. The chamber is filled with water and sealed. High-pressure intensifiers then pump water inside the vessel, which injects up to another 15% water volume to increase the pressure up to 87,000 psi. Once the maximum pressure level is reached, bacterial inactivation occurs and the pressure is released.
After HPP, the product can be sold refrigerated or frozen or sent to a clean room to be further processed into bite-size shapes (nuggets or patties). The processed products can then be sold refrigerated or frozen, or further dehydrated by heat or freeze drying.
Workshop: HPP and Freeze Drying of Raw Pet Foods and Treats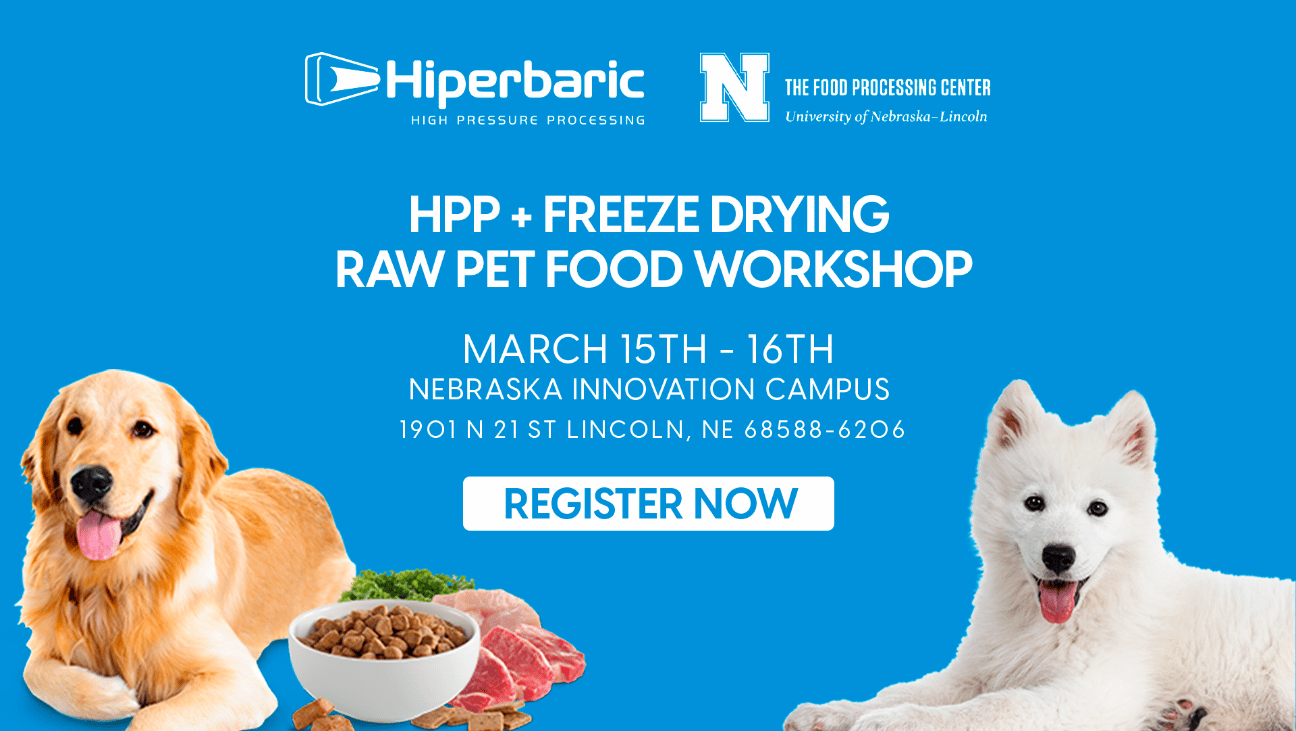 Hiperbaric has partnered with the University of Nebraska-Lincoln, to host the "High Pressure Processing and Freeze Drying of Raw Pet Foods and Treats Workshop", March 15-16, at the Nebraska Innovation Campus, Food Innovation Center.
The introductory and hands-on workshop will provide participants an opportunity to interact with industry experts and university researchers and learn about HPP, freeze drying, water activity, product shelf-life, food safety regulations, market trends and best practices. The workshop combines lectures, pilot plant demonstrations, and visits to HPP and freeze-drying co-manufacturing facilities near Lincoln, Nebraska.
The workshop is geared towards product developers who want to learn more about best practices of using HPP and freeze-drying technology in pet food manufacturing, or food industry professionals with the goal of expanding their HPP and freeze drying knowledge base.
The two-day raw pet food workshop will focus on the following topics:
Pet Food Processing: Trends and Innovations
HPP Equipment, Operation and Process Variables
Freeze Drying Equipment, Operation and Process Variables
Microbial Food Safety, Validation and Product Shelf-Life Extension
Packaging Considerations with HPP and Freeze Dried Pet Foods
Working with Co-Manufacturers in Recipe Development, Raw Meat Processing, High Pressure Processing, Freeze-Drying and Packaging Solutions
The workshop fee is $450 per person, which includes a digital badge for workshop completion, access to the workshop materials for up to six months after conclusion, meals and break refreshments, campus parking, and participation in the Networking Social. Due to the hands-on activities and demonstrations in the pilot plant, seats in the workshop are limited, and early registration is encouraged.
Registration is available at https://bit.ly/petfoodworkshop.