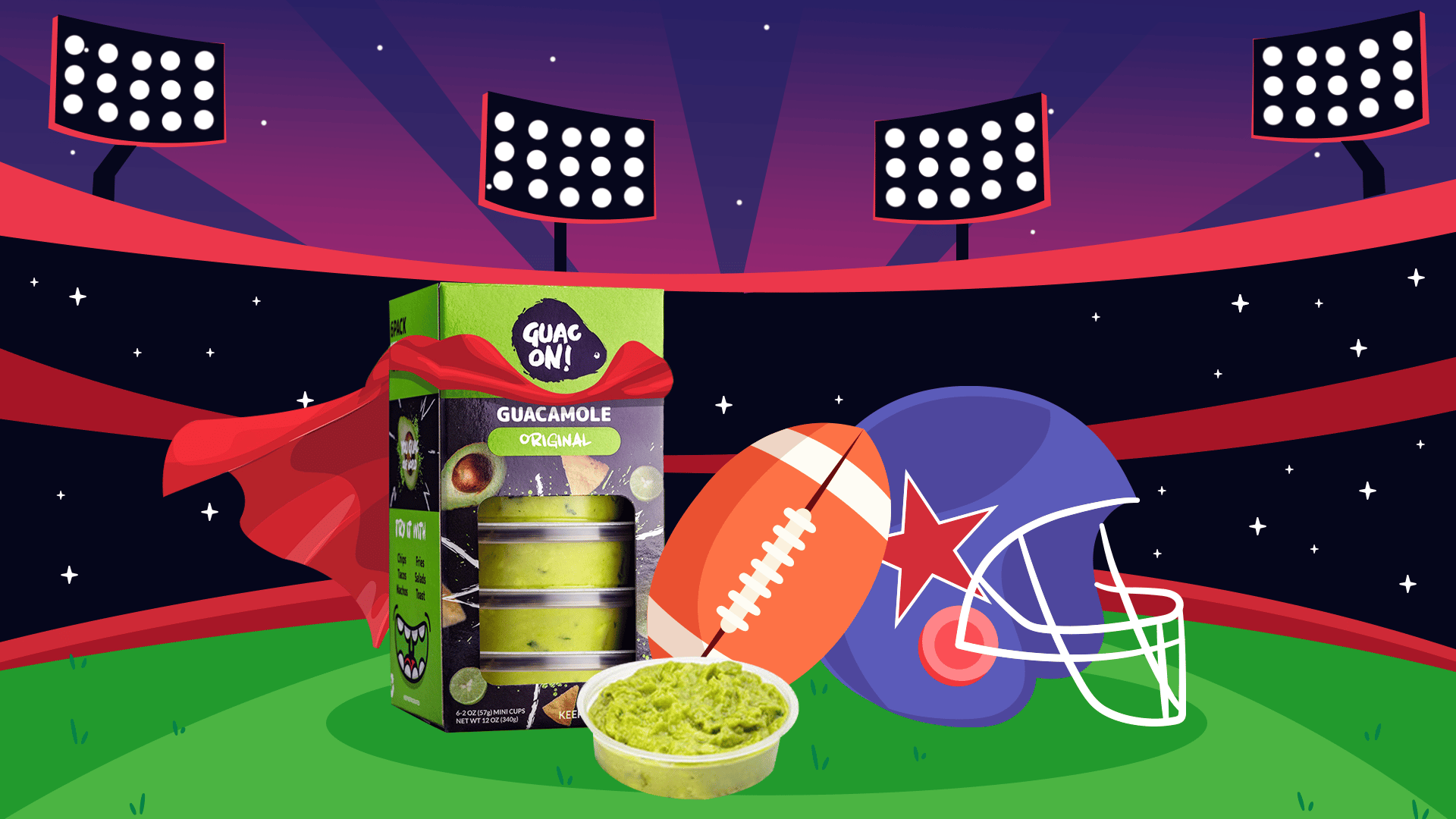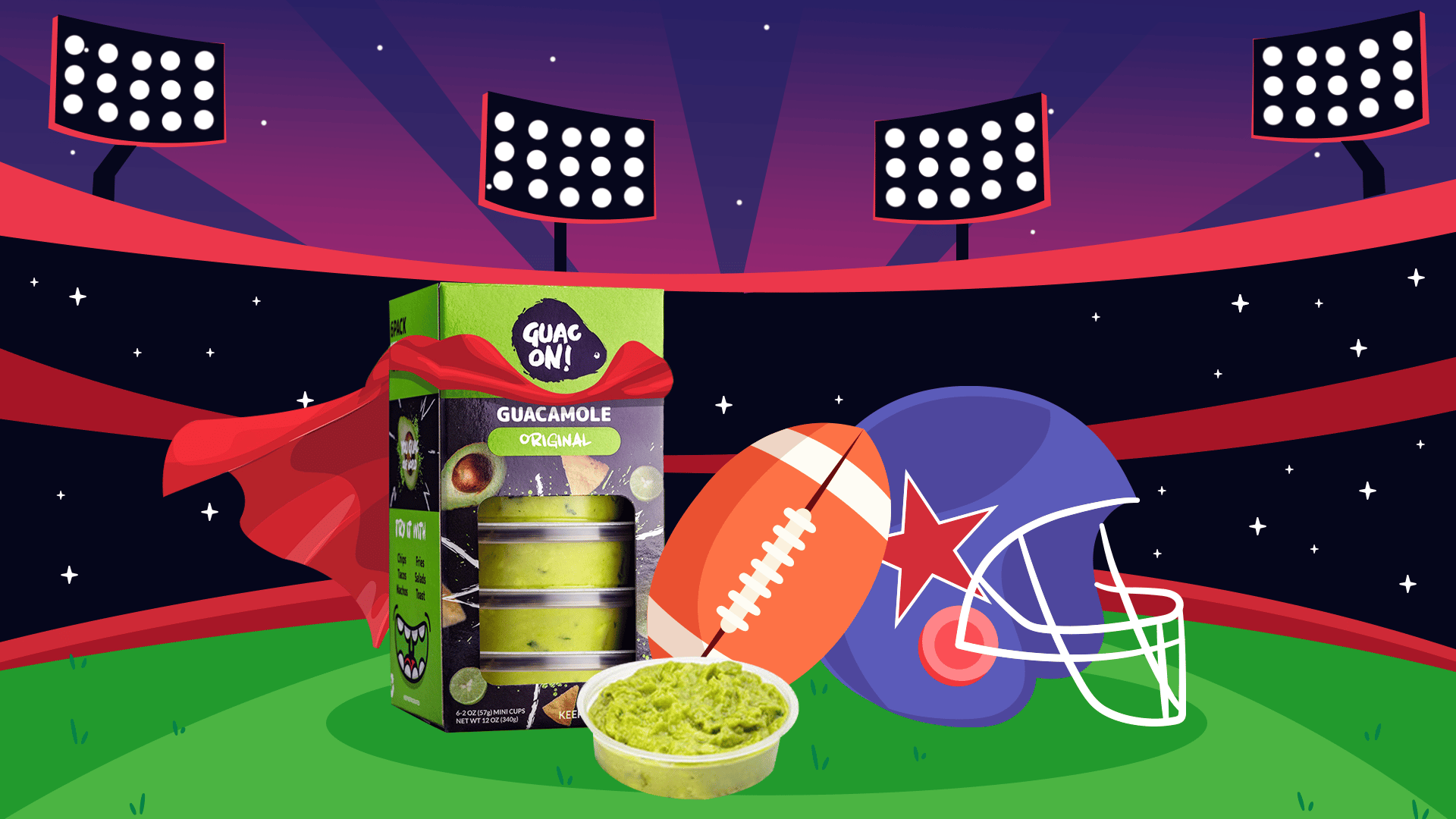 The Super Bowl is a highly anticipated event in the United States, with millions of people gathering to watch the championship game of the NFL. One of the most popular snacks at the event is guacamole, a traditional Mexican recipe made from avocados. Mexico is the leading producer of avocados in the world, exporting over 2 million tons of the fruit in 2020, with the United States being the largest importer. Many avocado growers and processors, such as RV Fresh Foods, are using high pressure processing (HPP) to prevent food waste and extend the shelf life of their products while maintaining their freshness and flavor.
Super Bowl LVII, The Biggest Touchdown for Mexican Avocados
The Super Bowl is one of the most highly anticipated events of the year, bringing together millions of people to watch the championship game of the National Football League. While the main attraction is the football game itself, the Super Bowl is also known for its delicious food and drinks, including one of the most popular snacks of all time: guacamole.
Mexico is one of the largest producers of avocados in the world, supplying much of the demand for the beloved fruit in the United States and beyond. As the popularity of guacamole continues to grow, so too does the demand for high-quality, fresh avocados. The creamy, rich flavor of the fruit makes it a perfect base for dips, spreads, and sauces, like guacamole.
According to data from the Mexican Avocado Producers and Packers (APEAM), in 2020, Mexico exported over 2 million tons of avocados, with the United States being the largest importer of the fruit. The demand for avocados in the United States has continued to grow, with the country consuming over 1.9 million tons of the fruit in 2020 alone. On average, 53.5 million pounds of guacamole are eaten every Super Bowl Sunday, which is enough to cover a football field more than 20 feet thick.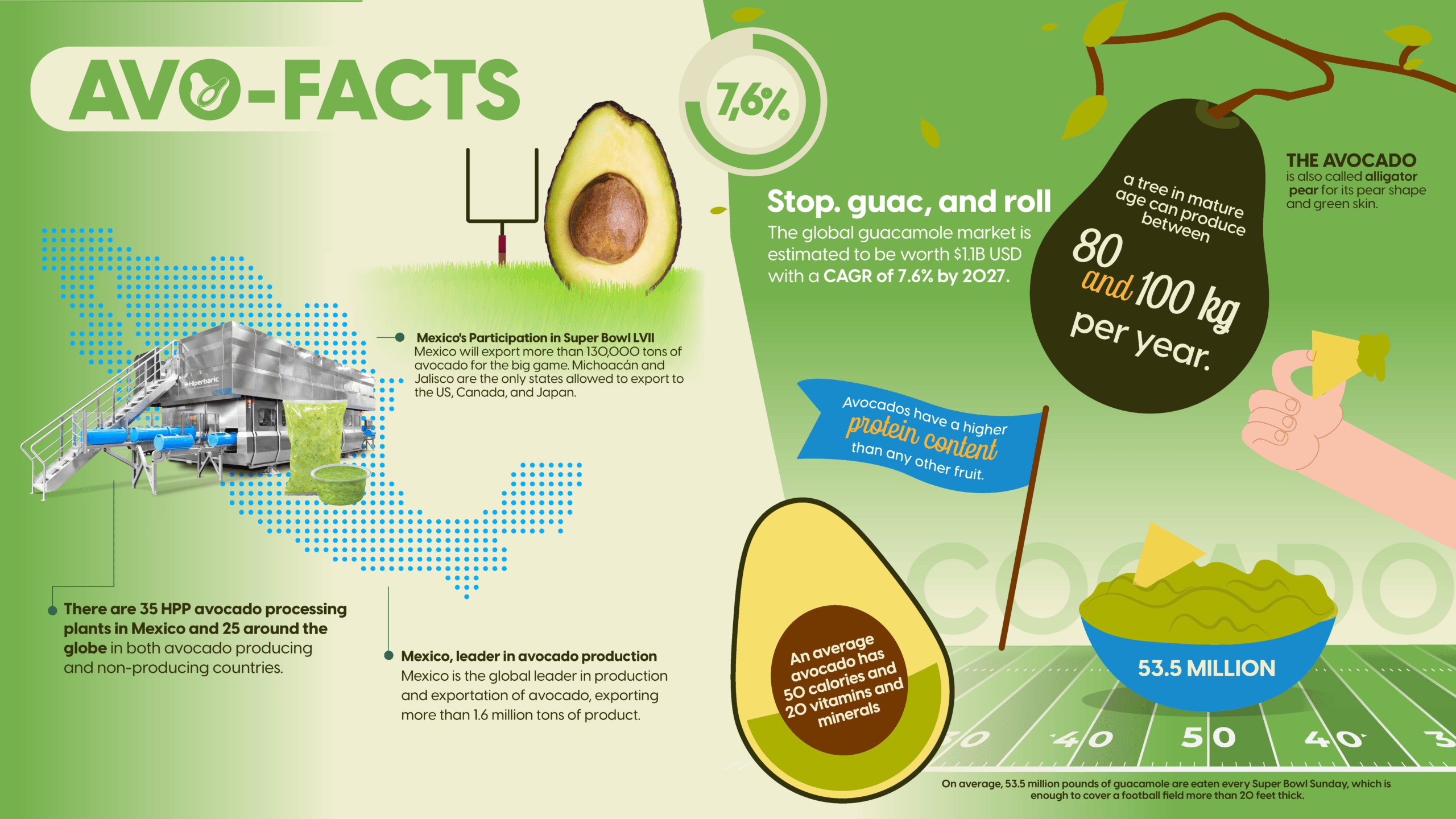 Game-winning Technology: High Pressure Processing (HPP)
One of the challenges for the avocado industry is keeping the fruit fresh, especially during transportation. Avocados are delicate and can easily become overripe or spoil if not handled properly. To overcome this challenge, many avocado growers and processors are using innovative technologies to prevent food waste and extend the shelf life of their products while maintaining their freshness and flavor.
One of these technologies is High Pressure Processing (HPP). HPP is a non-thermal pasteurization technique that uses high pressure to kill bacteria and extend the shelf life of food products. This process is gentler than traditional pasteurization methods, as it does not use heat, which can affect the quality and taste of the food. Instead, HPP uses water pressure to inactivate bacteria and other microorganisms that can cause spoilage. This results in a product that is safe to eat and has a longer shelf life, without sacrificing taste or nutrition.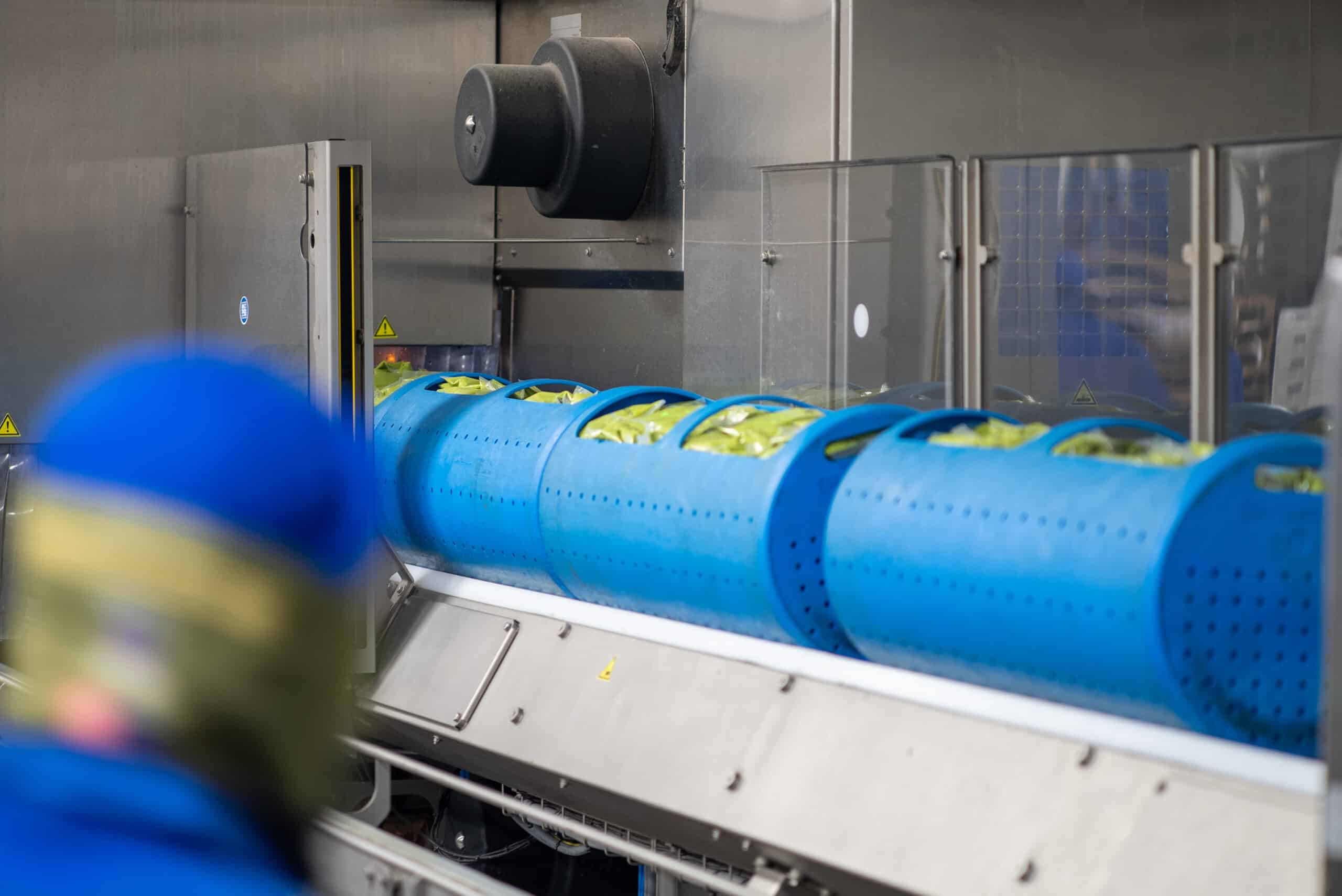 For the avocado industry, HPP technology has several benefits. By extending the shelf life of avocados up to 60 days, HPP allows growers and processors to transport their products further distances, reducing waste and increasing profitability. The technology also enables them to produce guacamole and other avocado products in larger quantities, meeting the growing demand from consumers.
For the consumer, HPP-processed guacamole offers several advantages. It is a convenient, fresh and safe ready-to-eat snack, making it perfect for on-the-go snacking or for adding to your Super Bowl spread. It is also free from preservatives and artificial ingredients, making it a healthier alternative to other dips and spreads.
RV Fresh Foods and Guac On Scoring Big with HPP
One of the most popular snacks at the Super Bowl is guacamole, which has become a staple of game-day spreads across the country.
Guacamole is a Mexican dip made from mashed avocados, lime juice, cilantro, and other ingredients such as tomatoes, onions, garlic, and jalapenos. Guacamole is so popular that it has become a multi-billion-dollar industry, with many brands offering their own versions of the classic recipe.
One such brand is Guac On, a guacamole brand produced by RV Fresh Foods, a leading producer of avocado products in Uruapan, Michoacan, Mexico. Guac On is known for its high-quality, all-natural ingredients and delicious taste. The company sources its avocados from the best growers in Mexico, ensuring that its guacamole is made with only the finest, hand-selected fruit.
In addition, Guac On uses HPP to extend the shelf life of its guacamole products, allowing them to be distributed nationally and internationally. This process enables the company to provide customers with a fresh and flavorful guacamole that is available year-round, without the need for preservatives or artificial ingredients. The result is a product that is both delicious and convenient, making it a popular choice for busy families and party planners.
Whether you're a fan of classic guacamole, spicy, or chunky, Guac On has a flavor for everyone. The company offers individual-sized cups, perfect for snacking on the go, as well as larger containers for parties and gatherings. So, as you prepare for this year's Super Bowl, be sure to add Guac On to your game-day spread for a delicious and convenient snack that everyone will love.