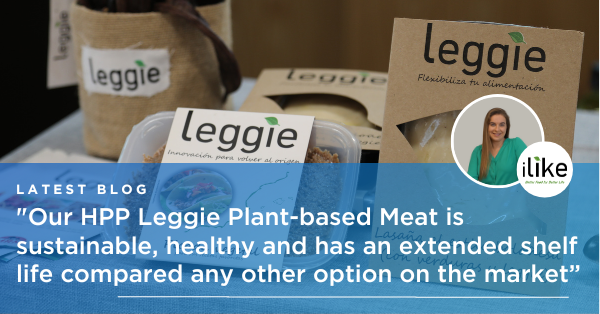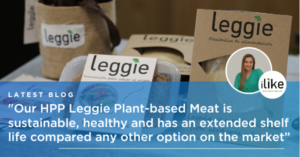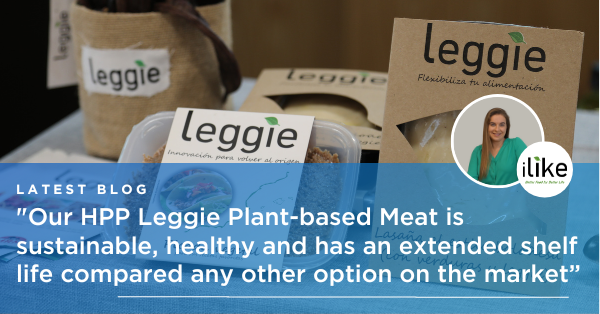 Similar in appearance to meat, the new Leggie product is composed entirely of vegetable ingredients, including the Mediterranean legume carob. It was developed by researchers from the Centro Superior de Investigaciones Científicas (CSIC) and the Universidad Francisco de Vitoria and is marketed by the Spanish company MRM, a user of Hiperbaric's HPP technology. Marta Miguel, co-founder of ILike Food, the company that developed Leggie, explains why this new plant-based ingredient is an ideal meat substitute.
In our desire to continue spreading the benefits of high pressure technology and new food developments, Hiperbaric is organizing a new webinar focused on one of the most booming trends of recent years: vegetable meats. Under the title "Plant-based Meats HPP: the revolution of a sustainable and healthy food" " on September 20th, Hiperbaric will host an online session dedicated to this trend, in which we will be accompanied by the brands MRM and ILike Food. You can register by clicking on this link.
In recent years, plant-based meat has become an increasing trend as consumers continue to seek out healthier and more sustainable alternatives to animal-based meat. Amidst this, research institutions, industry, and food brands have recognized an opportunity to offer such products given the considerable rise in consumption. This led to the creation of Leggie, a new plant-based ingredient with a similar appearance and texture to meat, but healthier – low in saturated fat and cholesterol and high in fiber – and more sustainable for the planet.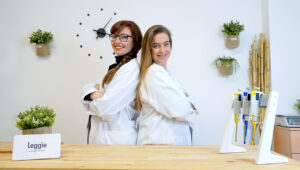 Marta Miguel, a researcher at the Centro Superior de Investigaciones Científicas (CSIC), and Marta Garcés, a lecturer at the Universidad Francisco de Vitoria (UFV), are the researchers who developed this plant-based meat from the Mediterranean legume carob, treated by high-pressure processing (HPP). "The project was born 10 years ago, but it was only in 2018 that we were able to create this completely new product and ingredient, capable of replacing meat, healthy, environmentally friendly and with a neutral and very pleasant taste."
Marketed under the Leggie brand, "it is made from a cereal and legume base, contains no additives or allergens, and is a product with great versatility and multiple culinary applications," says Marta Miguel. One of the most innovative aspects of this new gastronomic development is the use of carob as one of the main raw materials, a legume of Mediterranean origin that, in addition to containing high quality proteins and being highly digestible, has a low water and carbon footprint. "In addition to the functional excellence of the product (which it has), another factor that was very important to us was that the taste should be excellent, and that is why we collaborated with haute cuisine chefs such as Mario Sandoval," she notes.
More and more alternatives to meat from vegetable sources are appearing on the market, "but they tend to be extremely processed products that include a large number of ingredients and additives of dubious nutritional quality," he explains. "Our product, being made with only six natural ingredients, is a healthier and more balanced option compared to other similar foods currently on the market," he adds. The use of carob rather than soy protein, a common element in many vegetable meats, means that Leggie does not contain allergens.
The ingredient is protected by trade secret and sublicensed to the meat and ready meals company MRM, a user of high-pressure processing technology, which has Hiperbaric 55 high-pressure equipment. "After talking to many ready meals companies, we decided to work with MRM because they were already using this processing technique, which we considered the best for our product". And so it was that since 2021, MRM and the ILike Food spinoff sealed an agreement for this non-thermal treatment to improve their products.
High Pressure Processing, key to extending Leggie's shelf life
High Pressure Processing (HPP) is a useful tool to improve the formulation of this type of products as it improves their safety, extending their shelf life and allowing a cleaner label with fewer ingredients and minimally processed, without additives or preservatives. "We commercialize Leggie with high hydrostatic pressure technology, in order to avoid the use of preservatives in the final product". The researchers especially highlight the good nutritional properties, but also emphasize its sensoriality, which adapts easily to recipes and dishes, achieving a sensory experience very close to the original dish or recipe, to which is added its ease of use. In terms of shelf life, thanks to the high pressures they achieve up to 60 days of extension with the product in perfect conditions.
Marta Miguel reveals the ingredients of the new product: rice flour to texture the matrix, carob, extra virgin olive oil, vegetable fiber, water, and salt. "Nutritionally it is very balanced. It is not enriched with certain nutrients, for example, proteins, because the intention was not to develop a food solely for vegetarians or vegans, but rather a food for all audiences so that everyone can introduce it into their diet and reduce meat consumption."
"Leggie is a product that is aimed not only at vegan or vegetarian consumers, but also at all those who want to reduce their meat intake for ethical or health reasons, or because of the impact of the beef sector on society," explains one of the co-founders. It is not easy to explain our product to the general public, but we are finding more and more consumers who are very conscious of their diet. Currently, it can be found on the Tappers (MRM) website and at the catering service of the Francisco de Vitoria University.
University-Company Transfer
The Leggie concept is a clear example of the successful transfer of research to the food and commercial industry through the start-up of iLike Food Innovation, a technology-based company (EBT) of the CSIC and the UFV. This company is a spin-off of disruptive innovation in the Agri-Food and Gastronomy area, whose main objective "is the development of ideas that help to find solutions to the challenges proposed by the food industry worldwide".
In addition, various forms of industrial property rights established by law have been utilized, such as patents, trade secrets, and trademark registration of the Leggie ingredient (at the national and European level), depending on the strategic needs at each point in time.