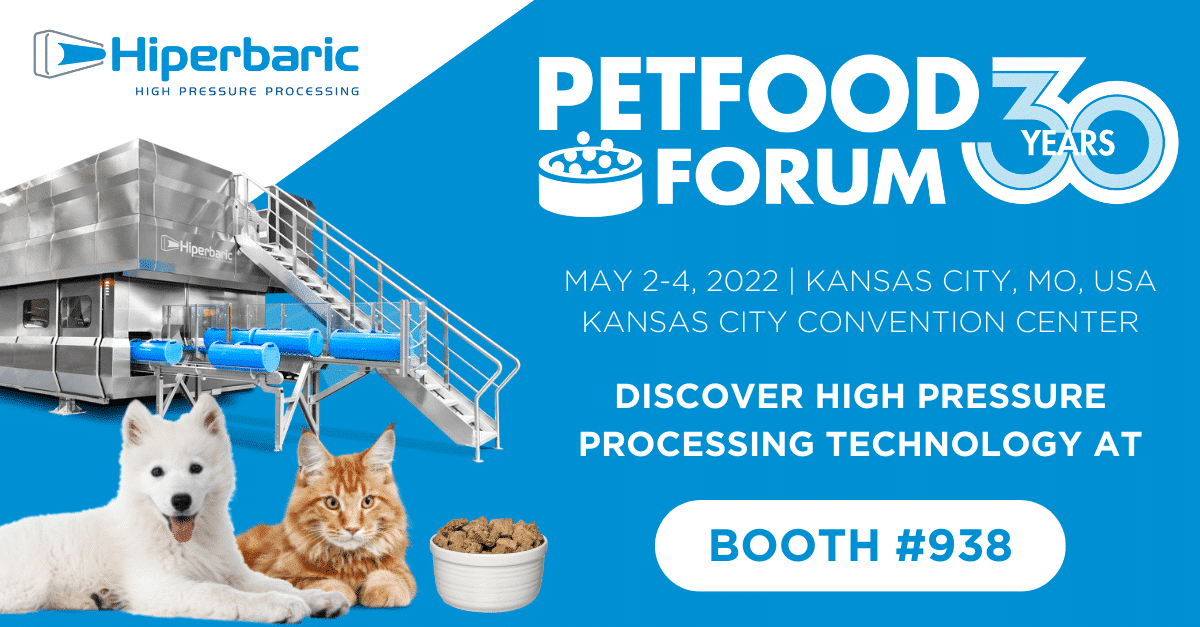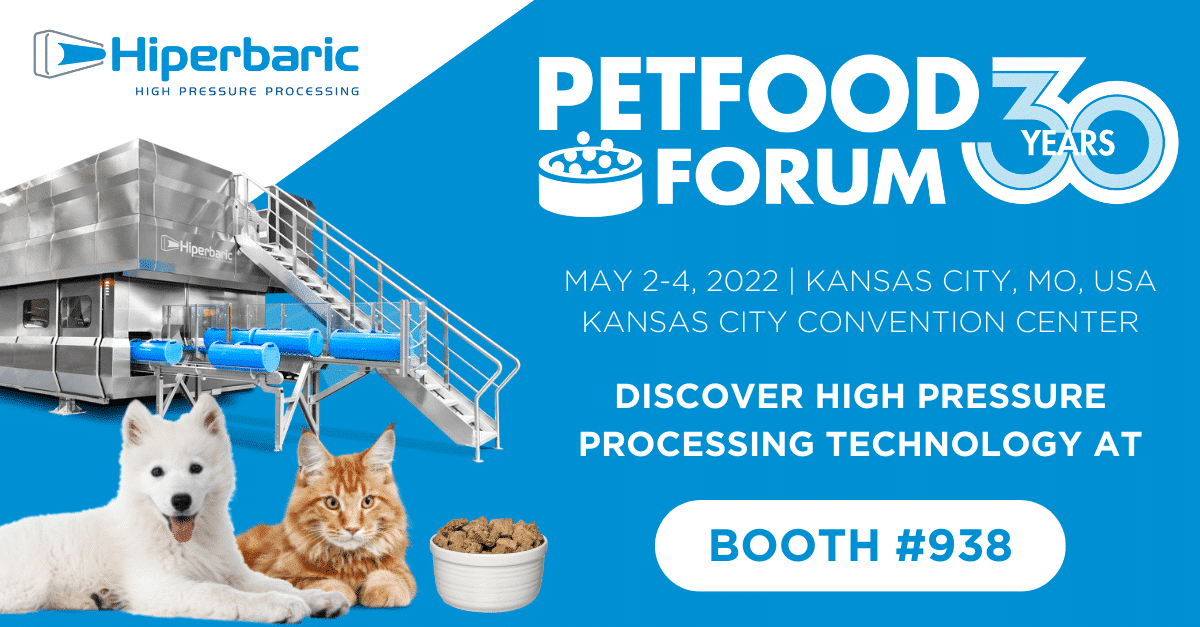 High Pressure Processing (HPP) benefits for fresh pet food include food safety, fresh ingredients, clean label and extended shelf life
---
Burgos (Spain), April 26, 2022 – Hiperbaric will share the latest scientific studies for HPP and fresh pet food at Pet Food Forum May 2-4 in Kansas City. The company will exhibit at Booth #938.
Vinicio Serment-Moreno, US Applications & Food Processing specialist, Hiperbaric, and Nicole Lindsley, founder and CEO, Steve's Real Food of Cottonwood, Utah, will present on "Challenges, Research Advances of High Pressure Processing of Fresh Pet Food."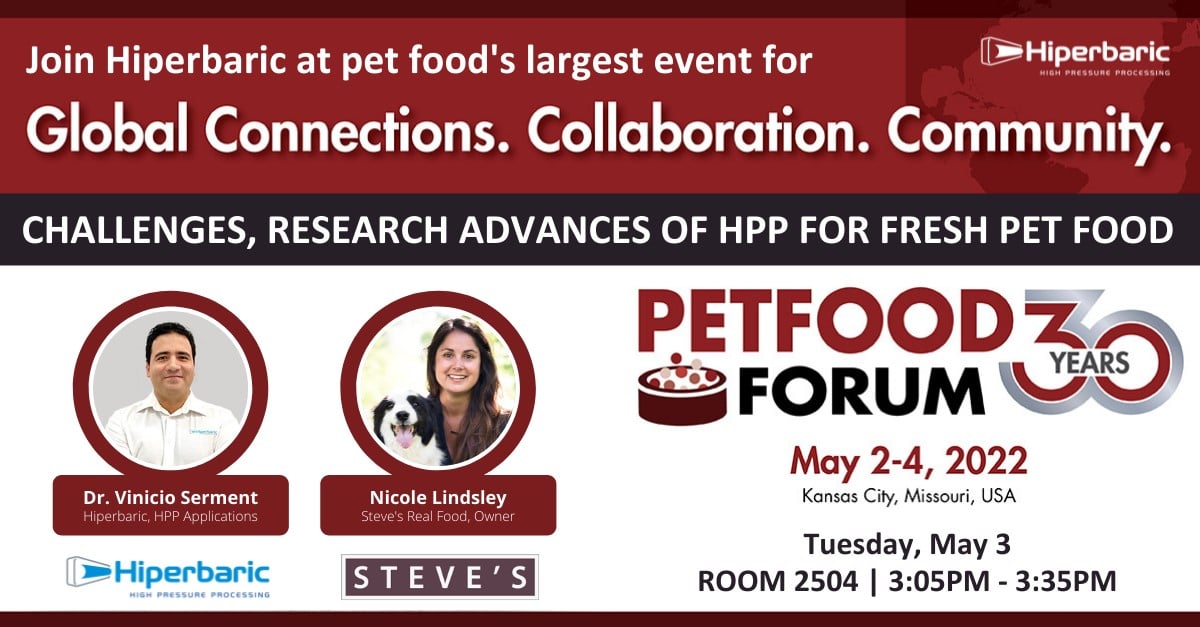 The session will educate pet food manufacturers, suppliers and pet parents on the recent innovations of High Pressure Processing (HPP) technology for fresh pet food. The discussion will include challenges and trends, risks associated with raw pet food consumption and safety and nutritional advantages HPP provides for the pet food industry through a recent research study conducted by Steve's Real Food.
High Pressure Processing (HPP) technology is revolutionizing pet food processing, offering food safety, freshness, extended shelf life and new market opportunities. HPP is a non-thermal technology that uses cold water and high pressure to eliminate common foodborne pathogens such as Salmonella and E. coli and slows the growth of spoilage microorganisms.
HPP has been widely reported to retain the nutritional and sensory properties of raw pet food formulations. HPP has become increasingly popular as a method of pathogen control since the Food Safety Modernization Act (FSMA) was introduced in 2011.
High Pressure Processing (HPP) has minimal impact on sensory and bioactive compounds and minimizes risks associated with common foodborne pathogens as stated in the Food and Drug Administration's Industry Guidance Document "Hazard Analysis and Risk-Based Preventive Controls for Food for Animals".
Pet food companies like Steve's Real Food have performed their own studies to assess the impact of HPP on the nutritional components of raw formulations, concluding that HPP is safe and effective. Lindsey and Calvin Smith, director & founder, Pet Nutrition, in New Zealand discuss the studies in "Q&A with HPP raw pet food manufacturers".
In addition to safety and nutrition, HPP allows the commercialization of fresh, frozen, and freeze-dried foods in the form of minced mixtures, chubs, kibbles, raw meaty bones, and many more as presented in the "Challenges and research advances of HPP for pet food".
About Hiperbaric
Hiperbaric is the world's leading company specialized in industrial equipment for High Pressure Technologies.
Formed in 1999, Hiperbaric designs develops, produces, and markets its high pressure processing equipment internationally. The company is recognized for its trust, customer support, teamwork and continuous R&D efforts.
Hiperbaric has installed more than 350 HPP machines in more than 40 countries across five continents, making the company the global leader in HPP technology with the most reliable and economic machines on the market. Hundreds of companies worldwide use Hiperbaric equipment to process juices and other beverages, meat, seafood, fruits and vegetables, dairy, dips and sauces, ready-to-eat meals and pet food.
With headquarters in Burgos, Spain, a U.S. office in Miami, and commercial and technical offices in Mexico, Asia and Oceania, Hiperbaric continues to explore HPP technology with new applications in different industrial sectors.
In our desire to conquer new markets, since 2018, Hiperbaric developed a new line of industrial machinery for Hot Isostatic Pressing (HIP) used for critical industrial components focused on the aerospace, energy, oil & gas, automotive or medical implant sectors. In 2021, Hiperbaric launched another innovative line of business: high pressure hydrogen compression, from renewable energies, to participate in the challenge of sustainable mobility.