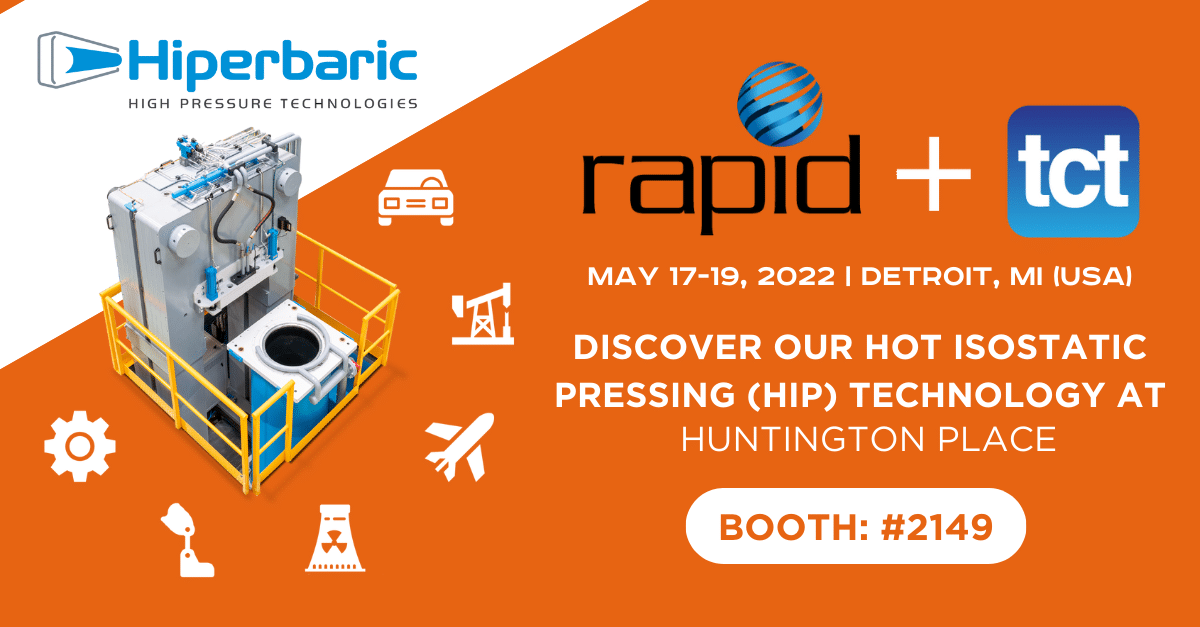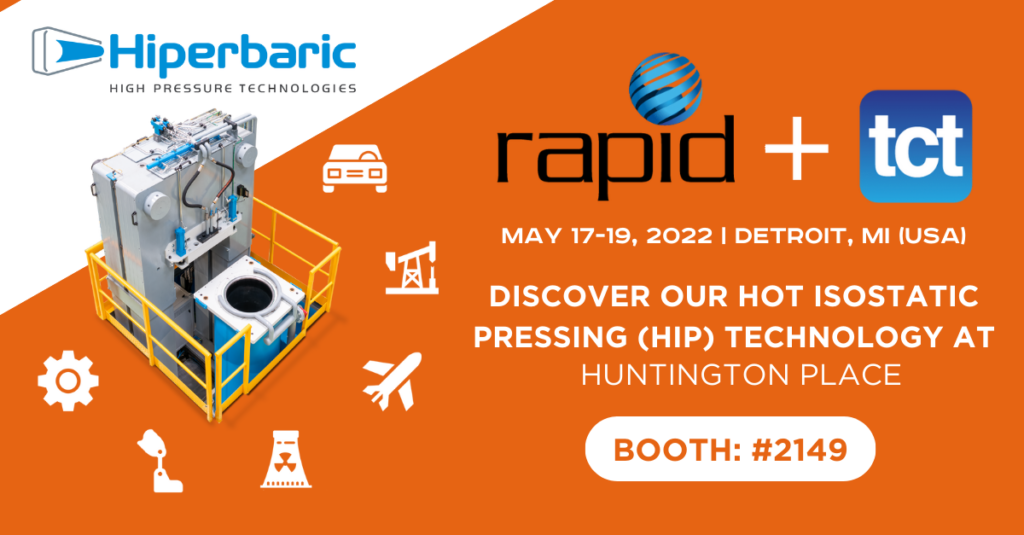 Hot Isostatic Pressing (HIP) Tecnology is addressed to the most demanding sectors interested in manufacturing more reliable and precision components subjected to extreme working conditions. 
Hiperbaric, world leader in High Pressure Technologies industrial equipment, will share the latest technology developments for Hot Isostatic Pressing (HIP) Technology May 17-19 in Detroit (USA). The company will exhibit at Booth #2149.
Hot isostatic pressing (HIP) is a manufacturing process used to densify metal and ceramic parts. It is based on applying high levels of pressure (up to 2,000 bar / 200Mpa) and temperature (up to 2,000 °C) through an inert atmosphere to mainly metallic and ceramic parts and components, in order to densify them and give them excellent mechanical properties.
HIP for Additive Manufacturing
Hot Isostatic Pressing technology is the best post-processing solution for densifying advanced materials and critical industrial components developed through additive manufacturing (AM). This tecnique gathers a series of manufacturing techniques that enable direct printing of a component from a CAD file. Several AM technologies exist, each have a series of advantages and disadvantages. As well as a different state of technological maturity. We can therefore find them in different sectors. A well stablished technology is laser powder-bed based while a younger Binder Jet technology will help make the implementation of AM more widespread.
Hot Isostatic Pressing (HIP) technology applies temperature and pressure to a wide range of metal and ceramic components. By doing so, HIP technology is able to densify these materials improving their properties and prepares the microstructure of the components for its lifecycle in a wide range of industries.
Hiperbaric designs and manufactures HIP presses that thanks to its Wire Winding technology and Fast Cooling technology are safe and high performing.
RAPID+TCT 2022
For more than 30 years, RAPID + TCT has defined the crucial role of additive manufacturing and empowered the establishment of an industry that continues to conceive, test, improve and manufacture new products at a faster, more cost-efficient pace. The two industry leaders in 3D technology events, SME and Rapid News Publications, have teamed up to produce the annual RAPID + TCT event, which takes place May 17 – 19, 2022 in Detroit, MI.