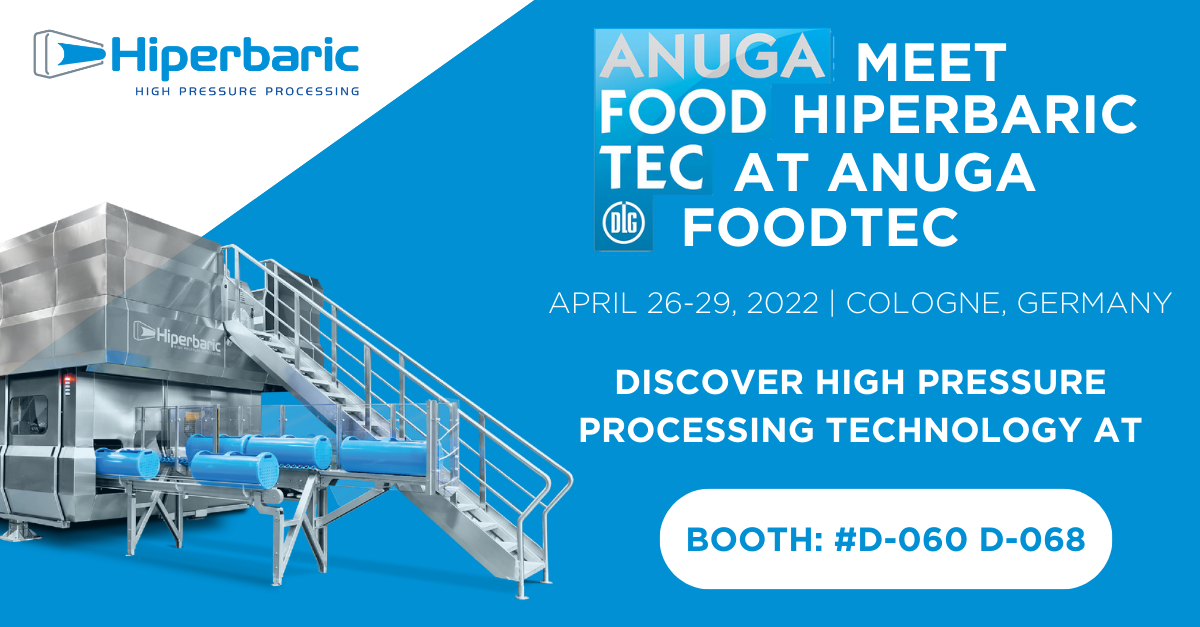 Hiperbaric shares latest Technology developmets for HPP whit its Hiperbaric Bulk technology: a global innovation for high volume processing of HPP beverages.
Hiperbaric wins The International FoodTec Award with its Bulk technology. The company will exhibit at Hall 5.1 Booth #D-060 D-068
High Pressure Processing (HPP) benefits for food and beverages includes food safety, clean label and extended shelf-life.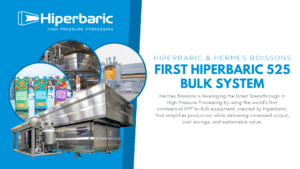 Hiperbaric, the world's leading high-pressure technology company, will share the latest technology developments for HPP at Anuga FoodTec in Cologne from April 26th – 29rd of 2022. The company will exhibit at Hall 5.1. Booth #D-060 –D-068.
Hiperbaric will present at Anuga FoodTec the latest technological innovations, industrial equipment, applications and HPP products for all types of applications such as juices and beverages, fruits and vegetables, meat products, dairy o seafood. The company has a turnover of 52 million euros in 2021 and about 350 HPP equipment installed worldwide.
International FoodTec Award: Hiperbaric Bulk.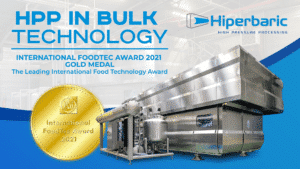 Among the innovations presented, the Hiperbaric Bulk technology stands out: a global innovation for high volume processing of HPP beverages. This range of equipment is based on a revolutionary concept in which beverages are processed in-bulk prior to bottling.
This new technology reduces steps, simplifying the process and offering the highest productivity in the world, along with the lowest processing cost and lowest energy consumption. In addition, it allows the use of any type of container after HPP processing, regardless of material, design, or size.
The design of this equipment allows to obtain a filling efficiency of 90% of the total volume, approximately double that of in-pack technology. The process begins by liquids filling the inlet tank. After pressurization, the HPP beverage fills the outlet tank through sterilized tubes and is ready to be bottled in an ultra-clean filling line.
Likewise, it allows the use of any type of packaging, while traditional HPP in-pack equipment requires the use of flexible and waterproof packaging, generally plastic. Hermes Boissons, a French juice and beverage producer and co-packer with more than 30 years of experience, has been the first to implement this technology.
"We are proud to receive this award that recognizes companies and professionals who have carried out technological innovations within the food industry," said Andrés Hernando, CEO of Hiperbaric. "In our 20-year history, innovation has been a fundamental pillar and we will continue to dedicate an important part of our resources to R&D activities, in order to offer unique solutions in the context of high pressures."
Hiperbaric invests more than 10% of their revenue in R&D efforts, with more than 20% of their employees involved in these projects. An effort that has led to this milestone with which large juice and beverage producers will be able to increase the production capacity of their HPP products by 30-40% and reduce the Total Cost of Ownership (TCO) by 50%.
High Pressure Processing (HPP) Technology:
HPP is a non-thermal (5ºC – 20ºC) food and beverage preservation method, based on the use of high isostatic pressure uniformly and instantaneously transmitted by water for a few minutes. It achieves an effect equivalent to pasteurization, except without the use of heat and it has a lot of benefits:
Fresh-like, Premium Beverages. HPP is a non-thermal process that helps preserve the color, flavor and fresh attributes of beverages, which can be similar to a freshly squeezed juice.
Food Safety. Numerous scientific journals and validation studies state that HPP technology can achieve a 5-log reduction of relevant pathogenic microorganisms in juices, as required by the FDA in the United States.
Extended Shelf Life. Depending on the application and HPP recipe, it is possible to extend the shelf life of beverages anywhere between 6 weeks and 3 months, in some cases, even longer.
Clean Label. HPP is a non-thermal process and does not require preservatives or additives. Products can be marketed as a clean label product that is "cold-processed", "non-thermally processed" or "natural". It is also possible to obtain the High Pressure Certified ® Mark, which helps consumer identify the benefits delivered by HPP.
Functional and probiotic beverages. By using HPP, the nutritional and functional properties remain intact, maintaining its probiotic character and enzymatic activity.
Technology with no limitations on packaging. Previously with the In-Pack units, it was only possible to use flexible plastic packaging such as, bottles, bags, bag-in-box and containers. However, now with the new range of Hiperbaric Bulk technology, it is possible to use glass, cardboard, or 100% biodegradable packaging.