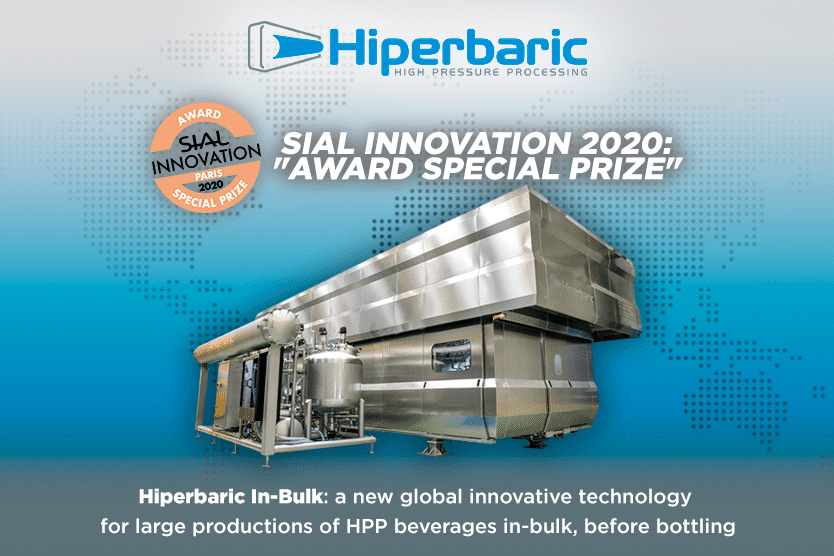 Hiperbaric received the SIAL Innnovation 2020 award on October 22 in an online event broadcast and organized from the French capital.
Paris (FRANCE), OCTOBER 22, 2020
The organization awarded the work of professionals, companies, and institutions, related to the food industry, recognizing them for their innovation efforts. The SIAL Innovation awards are usually given during the SIAL Paris, a trade fair that takes place every 2 years in the French capital, representing an international meeting point for many professionals in the food industry.
However, this year's trade fair was virtual due to the pandemic caused by COVID-19. On October 22, a special event was held online in which the winners of the different categories were announced. A live panel was organized including each winner to discuss current trends and the innovations they were awarded for.
Hiperbaric, the global leader in high pressure technology, received the award in the Industrial Equipment and Technology category for its Hiperbaric HPP In-Bulk technology. This non-thermal technology is a global innovation for high pressure processing (HPP) of large volumes of bulk liquids, prior to packaging. An innovation that aims to revolutionize the HPP juice and beverage industry, since it allows maximizing productivity, automating the process and adapts perfectly to the production lines of beverage producers. Likewise, it allows the use of any type of packaging, while traditional HPP in-pack equipment requires the use of flexible and waterproof packaging, generally plastic. Hermes Boissons (ex Tropicana Europe), a French juice and beverage producer and co-packer with more than 30 years of experience, has been the first to implement this technology.
"We are proud to receive this award that recognizes companies and professionals who have carried out technological innovations within the food industry," said Andrés Hernando, CEO of Hiperbaric. "In our 20-year history, innovation has been a fundamental pillar and we will continue to dedicate an important part of our resources to R&D activities, in order to offer unique solutions in the context of high pressures."
Hiperbaric invests more than 10% of their revenue in R&D efforts, with more than 20% of their employees involved in these projects. An effort that has led to this milestone with which large juice and beverage producers will be able to increase the production capacity of their HPP products by 30-40% and reduce the Total Cost of Ownership (TCO) by 50%.
The company began its trajectory in the field of high pressure technology in 1999 with the development of its first HPP (High Pressure Processing) equipment. This non-thermal technology applies high isostatic pressures (up to 6,000 bar) to extend the shelf life of food and guarantee food safety in a natural approach, without the need to add additives or preservatives. Hiperbaric is the world leader in this technology, in part thanks to its continued dedication to R&D activities.
About SIAL Innovation
The SIAL Innovation awards are usually given at SIAL Paris, a trade fair that brings together companies and professionals from the food industry. SIAL Innovation, recognizes the main innovations that have taken place in the agri-food industry, encompassing the latest launches of food products and capital goods. The award aims to give visibility to companies that provide the most groundbreaking solutions.