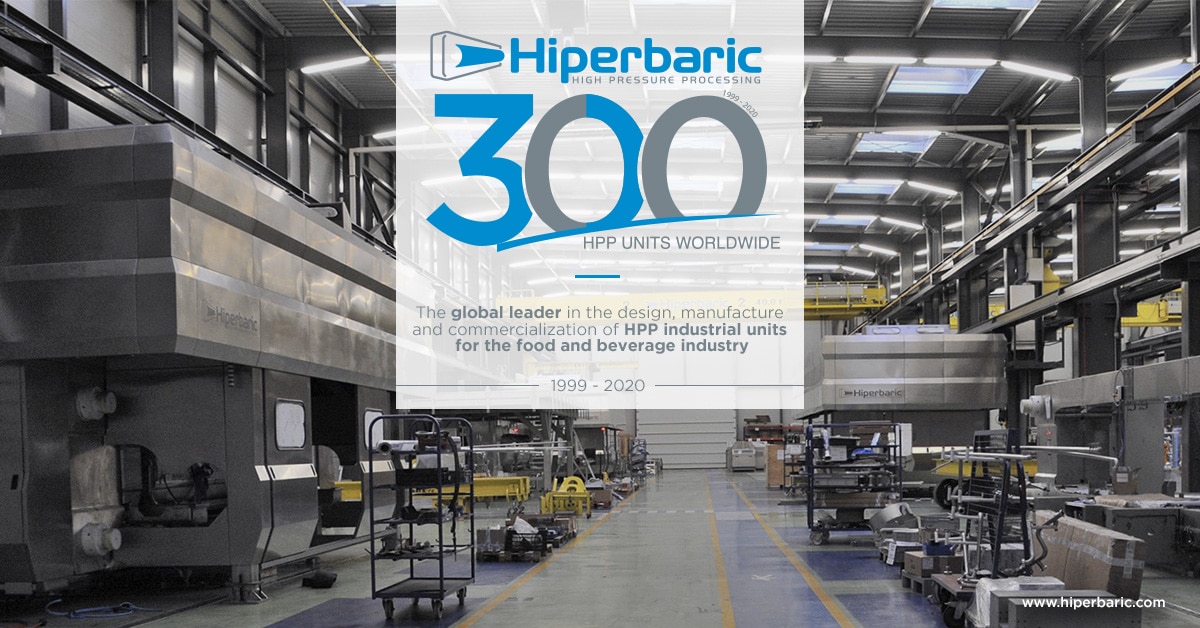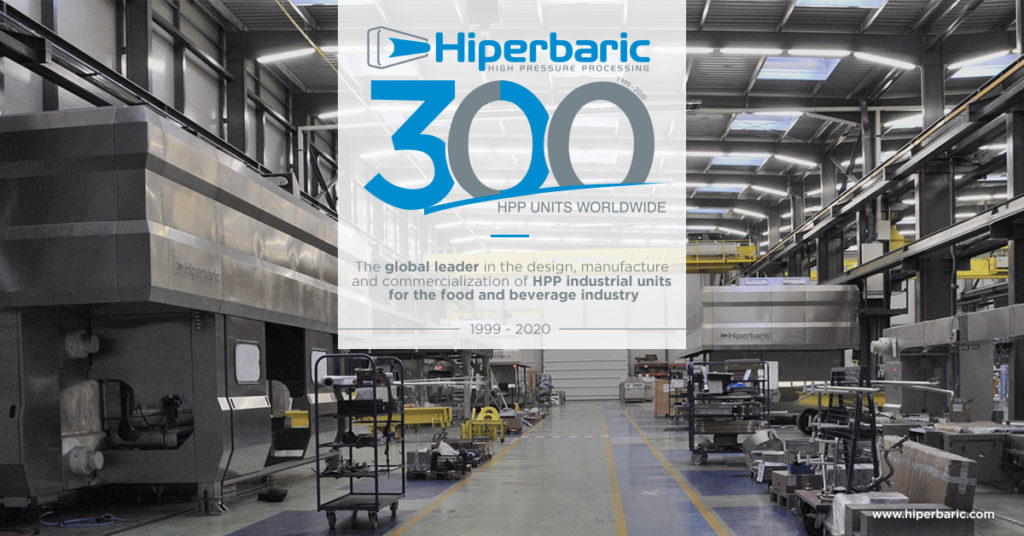 Hiperbaric has come to an agreement to install its 300th machine with Calavo Growers, one of the most representative leaders in the Mexican avocado industry. With this milestone and more than 20 years of experience, specialization and innovation, Hiperbaric consolidates as the global leader in HPP technology with more than 60% of market share worldwide.
---
Hiperbaric installs its 300th High Pressure Processing (HPP) machine at Calavo Growers Inc. The unit will be located in the industrial plant the company has in Uruapan, Michoacán (México). The model is a Hiperbaric 300, one of the most economically competitive HPP machines, with a capacity of 3,100 lbs. per hour. It perfectly adapts to the needs of this historic Mexican company dedicated to the production of different avocado products.
After 20 years of experience and specialization in the design, manufacture and commercialization of High Pressure Processing (HPP) equipment for the food industry, Hiperbaric consolidates its world leadership with more than 250 clients and 60% of the global market share.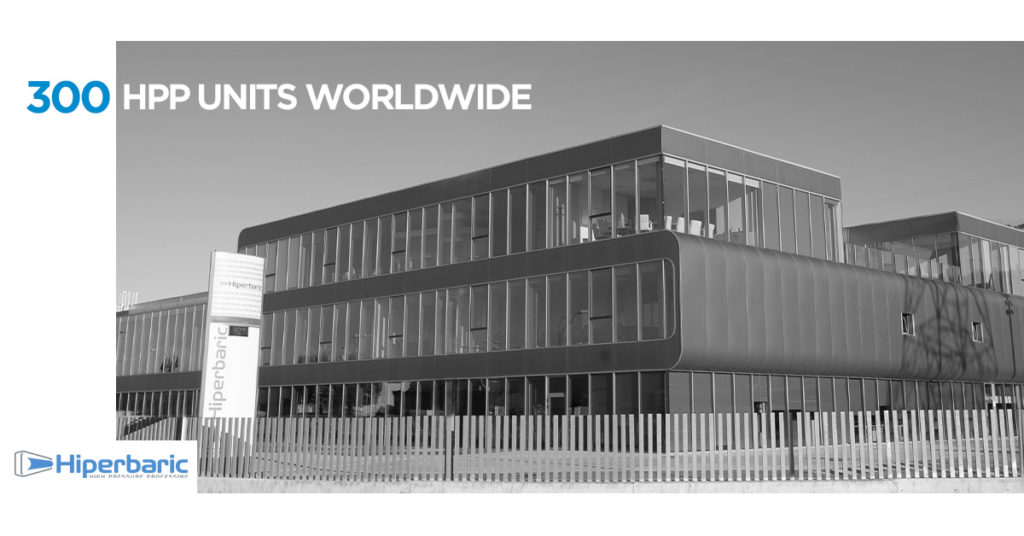 The reliability of our units; the immediate and personalized attention offered by our spare parts, after-sales and applications technicians; as well as numerous product research and engineering developments are some of the pillars supporting this leadership.
This milestone joins two other remarkable events: the inauguration in November 2019 of the expansion of our facilities in Burgos (Spain) and the installation of the first Hiperbaric 525 Bulk in the French company Hermes Boissons, an exclusive innovation by Hiperbaric for the processing of large volumes of beverages before bottling.
Calavo Growers se une a la amplia cartera de clientes de Hiperbaric
"We are proud of this accomplishment and that Calavo, one of the pioneers in the avocado industry, trusts Hiperbaric as their HPP partner. As a former professional in the avocado industry, I am proud to see the growth and strength of this industry, as well as the advances that are promoted within it for the conservation of avocado products. Hiperbaric's HPP technology allows producers to create safe, great-tasting, nutritious products, without preservatives, while extending shelf life," says Roberto Peregrina, director, CST.
Calavo Foods, the company's processed products division, manufactures nearly 100 patented brands and flavors of fresh-frozen and refrigerated guacamole using HPP technology in its 90,000-square-foot facility.

"Calavo is synonymous of quality because we have always been one step ahead in all production areas, from the definition of standards for avocado handling to the implementation of HPP, which guarantees the safe production of healthy and tasty guacamole, with a 50 days shelf life. Partnering with Hiperbaric is a step forward to keep leading the avocado industry by providing high-quality products," said Ron Araiza, Vice President, Foods Division.
Calavo becomes part of a long list of companies around the world, which have benefited from the added value that provided by Hiperbaric's industrial HPP equipment and customer service.
20 years evolving together with recognized international brands
Twenty years ago, the Spanish company Campofrío acquired in 2002 the first horizontal HPP equipment in the world, also a Hiperbaric 300. This first machine broke with the standards of the time by industrializing a technology that until then was used almost exclusively in laboratories.
Today, hundreds of international brands and products are marketed thanks to Hiperbaric's HPP technology. We have the widest, most reliable and most advanced range of equipment on the market to produce innovative, safe and minimally processed foods and beverages that maintain all the nutritional and sensory characteristics of the fresh product.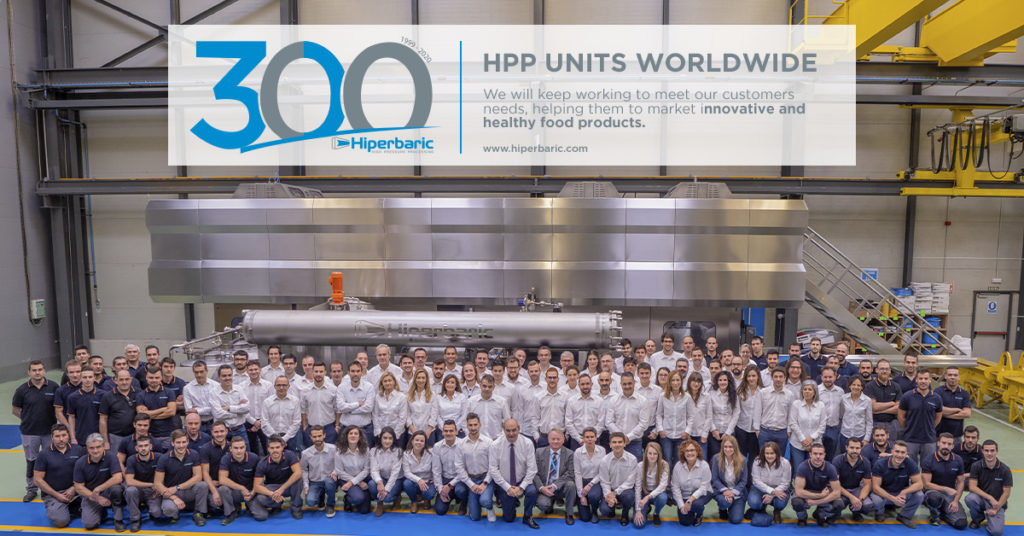 A wide variety of food companies rely on Hiperbaric. From juices and beverages producers such as Evolution Fresh, a company owned by Starbucks, Suja, a Coca-Cola company or PreshaFruit, a real pioneer in Australia, to manufacturers of ready-to-eat products like The Soup Spoon, Tappers or Villa Food. There are companies that use HPP even to optimize seafood meat extraction such as for the meat extraction of crustaceans Cinq Degres Ouest and Green Head Lobster. Also, keeping a remarkable mention to those deli meat producers such as NOEL or Espuña that paved the way for the industrial implementation of horizontal HPP units. All of these companies have something in common, they trust Hiperbaric's expertise and knowledge.
"These 20 years of innovation and growth have given rise to important synergies and collaborations around the world and many more will follow, because satisfying the present and future needs of our clients is the driving force behind us", emphasizes Andrés Hernando, CEO at Hiperbaric.
Contact us if you wish to know more about the multiple benefits of High Pressure Processing.