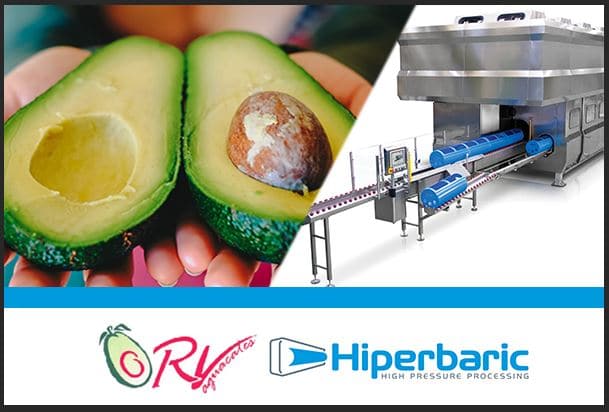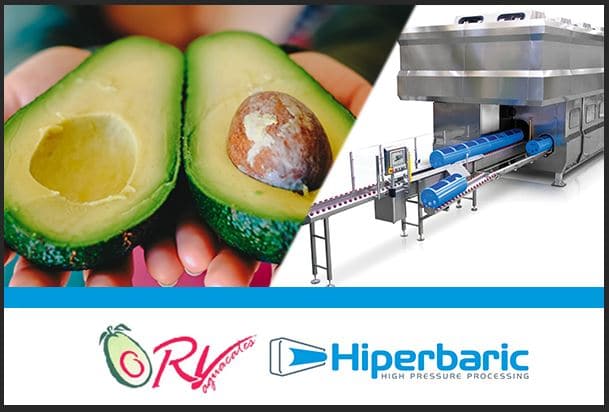 Burgos, Spain. Hiperbaric, the world leader in the manufacture and distribution of high pressure equipment for the food industry, will install, thanks to RV Fresh Foods, a Hiperbaric 420L equipment for processing avocados in Mexico.
High Pressure Processing is an innovative technology that applies high pressure (6.000 bar / 87.000 psi) to packaged food or beverage. HPP ensures food safety by eliminating harmful bacteria without the addition of chemical preservatives. The higher retention of vitamins and natural flavors.
HPP and Avocados:
As we explained in our article "HPP and the Avocado, a History of Love". High Pressure Processing allows avocado producers a chance to distinguish their product from competitors, in addition to significantly reducing the amount of product rejected.
HPP technology helps to reduce or completely avoid the use of chemical compounds (depending on the final product and the desired shelf life), achieving natural products and expanding the commercialization areas.
RV Fresh Foods, a success story:
RV Fresh Foods, a division of RV Aguacates is a 100% Mexican company with years of experience in the export of fresh avocado and now venturing into the processing of such. The company seeks to expand its product portfolio and continue to consolidate within the industry and vertically integrate its operations.
According to Ramon Valencia, Managing Director of the group: "Our commitment is to supply the best quality products to our customers in a timely manner. This has led us to achieve sustained development based on the quality of our products. "
Thanks to the investment in this equipment RV Fresh Foods will be able to offer even more products based on avocado and develop other products using High Pressure Technologies (HPP)
According to Roberto Peregrina, Director of Hiperbaric USA, "Thanks to the confidence of our customers, we consolidated once again our presence in Mexico and we achieved that in the Michoacán region, which continues to implement state-of-the-art technology such as high hydrostatic pressures, helping to the development of export markets for high value-added products. "
This reaffirms the increasingly important trust that companies around the world place in Hiperbaric year after year as supplier of HPP technology, to be able to introduce their products on the market with guarantees of food safety, extension of shelf life and clean label.
If you want to know more about HPP technology and how to improve the safety and quality of your products, do not hesitate to contact us.