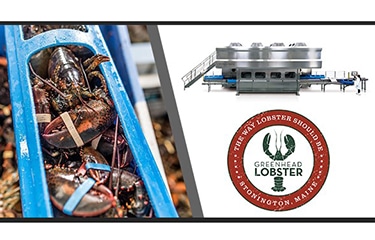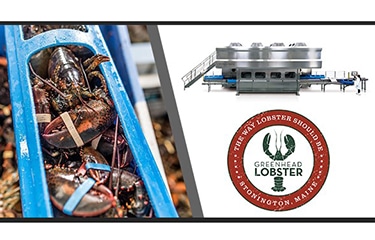 The benefits of high-pressure processing (HPP) were immediately obvious for Stonington, Maine, U.S.A.-based seafood company Greenhead Lobster when it upgraded its operations, courtesy of a partnership with equipment developer Hiperbaric, in 2019. According to Greenhead Lobster Owner Hugh Reynolds, HPP's value to the company has only increased in the years since, due in large part to pandemic trends. 
---
*This article originally appeared in Seafood Source written by Madelyn Kearns* 
Greenhead Lobster began using the 420i Hiperbaric model for HPP at its Bucksport, Maine-based production facility in fall of 2019 to extract lobster meat from shells. The upgraded processing method allowed the company to establish and expand its direct-to-consumer business before the pandemic made landfall in the U.S. in March 2020, Reynolds said. "We had already known about some of the benefits of HPP for the consumer experience with lobster. Our primary product was frozen, raw lobster tails, and we'd already leveraged HPP to give the consumer a better experience of eating a lobster, not only in preserving the flavor, but also the meat detaching from the shell," he recently told SeafoodSource.
During the COVID-19 pandemic – which has driven more consumers to cook and eat at home – Greenhead's direct-to-consumer business has further flourished, Reynolds said.
"We've seen a big pick-up in our raw, frozen tail business, and that indicates that people are interested in cooking seafood at home rather than going to the restaurant. People are really not afraid to dive in and prepare a lobster dinner using HPP frozen, raw lobster tails," Reynolds said.
Additionally, because of its HPP approach, which extends "the shelf-life of our ready-to-eat lobster meat," Greenhead has been able to reach new markets, Reynolds said."We have been able to extend the offering of fresh lobster beyond New England," he said.
Reynolds said he expects the trend of Americans eating more lobster at home will continue post-pandemic, even as foodservice operations get back to full capacity. "I don't see that trend changing," Reynolds said. "I think it's going to continue."
Processing 30,000 pounds of lobster per day, Greenhead distributes its products in both fresh and frozen formats to restaurants, retail channels, and directly to consumers via its website. Reynolds said the company was drawn to its HPP partner, Hiperbaric, because it was also a family-owned business, and "conducted itself with integrity and transparency."
"They were very forthright with what the machine would and could not do, their investigative stage was very genuine, and they've done everything they said they were going to do. They were very hands-on through ownership and management," Reynolds said.
Hiperbaric specializes in HPP machines and services for companies within the food and beverage industries, including seafood, meats, dairy, premium juices, and other beverages, as well as wet salads, baby food, and pet food. Its HPP equipment has enabled Greenhead Lobster to more easily adhere to food safety procedures and inactivate harmful foodborne bacteria, Reynolds said.
The machinery also offers an "instant death" for crustaceans that is humane and "prevents lobster from having any stress that would diminish its flavor profile or the quality of the product," Reynolds said.
Ultimately, the HPP process and equipment allow Greenhead to get the most out of its supply, according to Reynolds.
"Our slogan was, 'It's not how much lobster you buy, it's how much you get to eat.' What we mean by that is when you have HPP, all the meat comes out. When you don't have HPP, you're going back in there trying to get what's stuck to the shell," he said.
Photo courtesy of Greenhead Lobster