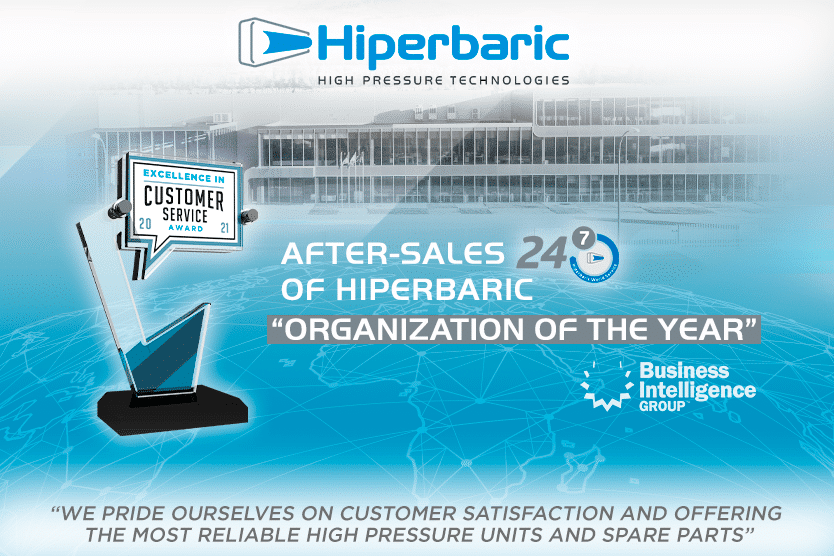 Hiperbaric has been awarded the Excellence in Customer Service Award 2021 by U.S.-based Business Intelligence Group.
Hiperbaric is the global leader in High Pressure Processing (HPP) technology in the last 20 years due to the reliability and efficiency of its HPP equipment and the design and automation of turn-key solutions for food & beverage manufacturers.
The Spanish-based, multinational company has more than 250 clients across the five continents that use HPP equipment to process their products.
Miami, FL (USA)
Hiperbaric has received the Excellence in Customer Service Award 2021 by U.S.-based Business Intelligence Group. Key factors in achieving the award were the company's after sales service, access to spare parts, preventative maintenance and continuous collaboration with clients.
"We are honored to receive this award in customer service excellence," said Miguel Hernando, COO/Industrial General Manager, Hiperbaric. "Customer service is paramount to all of us at Hiperbaric. We take pride in our 24/7 support team, the Hiperbaric Portal and ongoing, open dialogue with our customers."
Hiperbaric is the world's leading manufacturer of High Pressure Processing (HPP) equipment for the food industry. HPP is the only non-thermal preservation technology that meets the high-standard requirements of consumers and manufacturers: fresh quality, clean label, safety and extended shelf life.
Hiperbaric encompasses all the stages in the value chain from equipment production to its commercialization and installation, with a lifetime aftersales service with the aim of ensuring the quality of the service and the product.
Roberto Peregrina, Hiperbaric USA director said: "The Hiperbaric aftersales service offered to customers has had success due to a combination of reliable units, a powerful online platform store and a strong and unparallel team ready to assist all day, every day."
Hiperbaric is the only company offering a 24/7 after sales service in real time in the HPP industry. One of the company's largest value-adds, its clients benefit from a completely free hotline service available from anywhere at any time and day, hosted by an engineering team fully dedicated to HPP. This allows them to offer the most immediate, efficient and reliable response to minimize the time and consequences of the incident. This service is complemented with on-site assistance at the client's facilities. In addition, a ticketing system for incident management helps manage all these situations in an optimized manner.
Hiperbaric's Spares department also contributes decisively to the excellence of our After-Sales Service: "The logistics system in place plays a very important role in ensuring that our customers' parts can be delivered according to their needs," says Ramón Bustamente, Purchasing director at Hiperbaic.
The company's spare parts and components are exclusively produced and provided by Hiperbaric from four strategic locations: the headquarters in Spain, Miami (USA), Mexico, Singapur, Australia and New Zealand. The location of these warehouses with the after sales technicians spread around the globe allows the company to provide immediate service in case of emergency.
Hiperbaric Portal
Hiperbaric Portal, the world's only e-store for HPP equipment, is an easy way for the client to buy spares: it allows them to place orders, to consult available spares with their prices and specifications and to find manuals and videos about the functioning and maintenance of the equipment.
A key aspect of Hiperbaric's customer service is that all its machines are connected via internet. This allows the team to quickly identify the problem and guide the operator, knowing exactly what the incidence is and what needs to be done. All this is possible because of a fault diagnosis service integrated into the A / C / S machine with specific aids for solving plant failures, monitoring critical parameters and analyzing data (Big Data).
Another great advantage of having all the systems connected is a predictive notification system to avoid future breakdowns. Thanks to this, the system can automatically notify the client's maintenance team to carry out certain recommended actions or replace specific spare parts according to their expected life cycle in order to avoid future incidents.